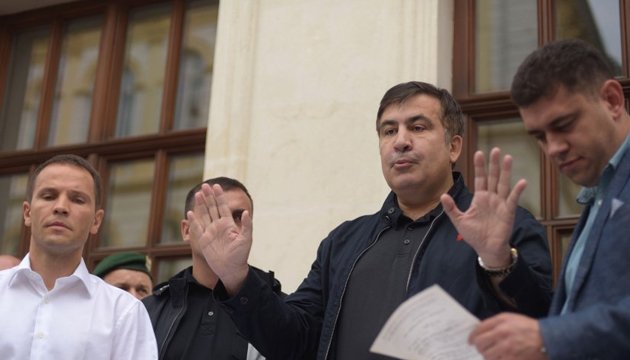 Saakashvili says he will testify only to SBU
The leader of the Movement of New Forces party, Mikheil Saakashvili, has come to the Prosecutor General's Office for questioning and said that his case should be considered by the Ukrainian Security Service (SBU), and only then he will testify, an Ukrinform correspondent reports.
"We demand that the criminal case be handed over to the SBU's investigating body. Only then we will come for questioning. If the SBU summons me today, I will definitely come for questioning. I will not kiss [Prosecutor General] Yuriy Lutsenko's hand," he said.
Saakashvili's lawyer, Ruslan Chornolutsky, told journalists that the case was under investigation by the SBU, and "today we are not obliged to come to the PGO for questioning."
He added that investigators of the Prosecutor General's Office do not have authority, because the SBU's investigation department had been determined as an investigation agency.
"After receiving a summons by post, Mikheil Saakashvili filed a lawsuit on December 15 against the group's senior prosecutor, Dombrovsky, with the demand to immediately transfer the criminal case to the pre-trial investigation body, namely the Investigation Department of the Main Directorate of the SBU in Kyiv and Kyiv region," Chornolutsky said.
After that, Saakashvili and his lawyer left the building of the Prosecutor General's Office.
Saakashvili is accused of assisting members of criminal organizations and concealing their criminal activity (Part 2, Article 256 of the Criminal Code of Ukraine).
op