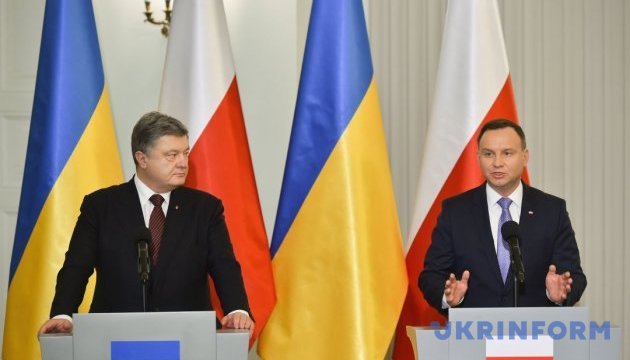 Duda says exhumation will resolve disputed historical issues between Ukraine and Poland
Ukraine and Poland have to strive for the truth in terms of history, but so as to build a bridge of friendship between the two countries, rather than reopen old sores, Polish President Andrzej Duda has said.
He said this at a joint briefing with Ukrainian President Petro Poroshenko in Kharkiv on Wednesday, December 13, an Ukrinform correspondent reports.
"In the context of history, we must take care to strive for the truth at all costs and make sure that lies don't cast a shadow on relations between our countries, and above all between our peoples," Duda said.
He added that the presidents of both countries had agreed not to carry out regular perpetuation related to the periods preceding the Second World War, in its course and immediately after it, which are not based on scientifically proven evidence.
"I mean first of all exhumations. This is a very important element. Today I addressed Mr. President with a very clear appeal that we must return the consent to exhumation both on the other and this side of the border so that in each case perpetuation could be carried out after research," Duda said.
In this context, he said that it was very sad to hear about the cases of destruction of monuments, because it affects the feelings of those whose relatives perished. "But I am also worried about the fact that through perpetuation they falsify history and create the facts that were not in history," he said.
Duda called on politicians to be moderate in their speeches and not to act emotionally, "because it's complicated."
"In order to build the future, we must strive to approach this calmly and move to the truth, but in such a way that, through this truth, we could build a bridge of friendship between our peoples, rather than reopen old sores and destroy what has been built up so far," he said.
op