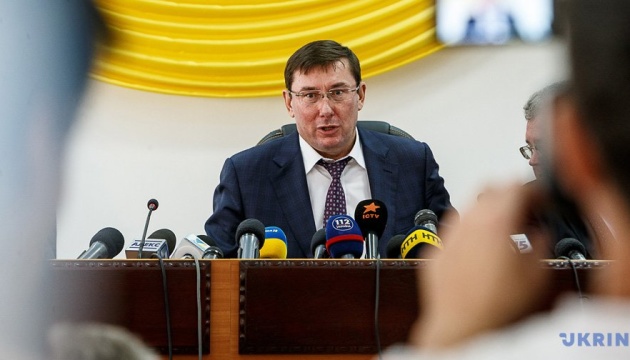 Saakashvili received $500,000 from Kurchenko - prosecutor general
Ukrainian Prosecutor General Yuriy Lutsenko has said that Mikheil Saakashvili, the leader of the Movement of New Forces party, has received half a million U.S. dollars from Ukrainian businessman Serhiy Kurchenko in order to organize protest rallies.
He stated this during a press conference in Kyiv on Tuesday, an Ukrinform correspondent reports.
"It was established that a person close to Saakashvili, citizen Severion Dangadze, applied through an authorized person to Serhiy Kurchenko, who is hiding from prosecution of Ukrainian law enforcement agencies in Moscow, with a proposal to finance Saakashvili's activities in exchange for the interests of members of an organized criminal group. We recorded the receipt of about half a million dollars from the Russian side to the entourage of Saakashvili, about half of which was handed to Severion Dongadze," Lutsenko said.
He noted that several Ukrainians, who were in Moscow, were collaborating with investigators and provided closed testimony in this criminal proceeding. "It is their activity that allows us to disclose audio and video evidence of funding of Saakashvili's activities by Serhiy Kurchenko and other members of a criminal organization directly related to the Federal Security Service of the Russian Federation," Lutsenko added.
He said that investigators had concluded that Kurchenko financed Saakashvili in order to "seize state power in Ukraine and assist members of a criminal organized group in stopping their criminal prosecution and restoring control over the assets they acquired in their time in a criminal way."
As reported, employees of the Prosecutor General's Office and the Security Service of Ukraine searched Saakashvili's apartment at Kostiolna Street in Kyiv on Tuesday morning. After the search, Saakashvili was detained and put into a minibus. At the same time, the politician's supporters surrounded the minibus and prevent it from traveling.
Later, the SBU reported on its website that Saakashvili had been detained as part of a criminal proceeding opened under Part 1, Article 256 of the Criminal Code of Ukraine (assisting members of criminal organizations and covering their criminal activity).
op