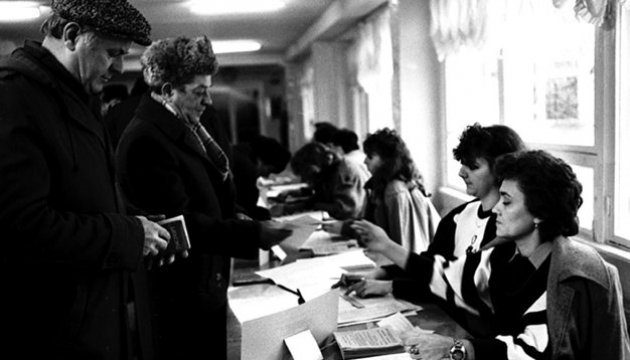 Ukrainians mark 26th anniversary of independence referendum
An all-Ukrainian referendum on Ukraine's independence was held in Ukraine on December 1, 1991. Most voters approved the declaration of independence, which was adopted by the Verkhovna Rada on August 24, 1991.
A total of 346 MPs voted for the declaration of independence.
The results of the referendum were expected not only by Ukrainians, but also the whole world - the capitals of the main international players of the planet were well aware that the fate of the Soviet Union is solved in Ukraine, because, despite the proclamation of independence of Ukraine, a seemingly democratic Russia did not leave hopes to get Ukraine involved in another "updated union." "Not to support independence means to support dependence" - that was the main argument of those who saw the future of their homeland only in an independent status.
There was no region or settlement where the idea of Ukraine's independence was not supported by the majority of citizens. In particular, 54.19% of citizens voted for independence in Crimea, 57.07% in Sevastopol, and over 80% of citizens in Donetsk, Luhansk, Odesa, and Kharkiv regions. More than 95% of citizens voted in favor of Ukraine's independence in Ivano-Frankivsk, Lviv, Ternopil, Volyn, Rivne, Zhytomyr, Kyiv, Khmelnytsky, Cherkasy, and Vinnytsia regions.
For the third time in the 350 years of Ukraine's heroic and simultaneously tragic history - from the War of Liberation of the middle of the 17th century - Ukraine gained its independence. It was the all-Ukrainian referendum that gave the Declaration of Independence of Ukraine the legal force that allowed stating that the Soviet Union ceased to exist as an object of international law, and a new independent state, Ukraine, appeared on the political map of the world.
On the next day, December 2, 1991, Ukraine's independence was recognized by Poland and Canada, and on December 4 by Lithuania and Latvia. The All-Ukrainian referendum of December 1, 1991 was held one day with the first presidential elections. Leonid Kravchuk was elected president of Ukraine.
op