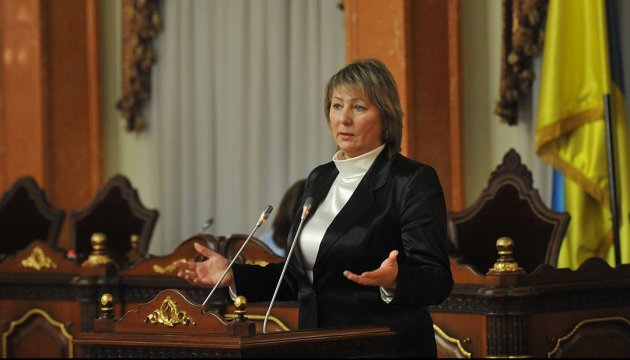 Valentyna Danishevska elected head of Supreme Court of Ukraine
Valentyna Danishevska has been elected head of the new Supreme Court of Ukraine.
A total of 67 out of 111 current judges voted for her candidacy through secret ballot, an Ukrinform correspondent reports.
"The number of votes of judges who did not support any candidate -11, the number of votes for Bushchenko - 12, Danishevska - 67, Kravchuk - 27," the head of the counting commission, Supreme Court Judge Mykola Himosh, said.
After announcing the results of the vote, Danishevska was sworn in as a member of the High Council of Justice.
Three candidates were nominated for the post, in particular, Danishevska, Volodymyr Kravchuk and Arkadiy Bushchenko.
The new head of the Supreme Court is elected for a term of four years.
Danishevska was born in Zaporizhia. In 1983, she graduated from Odesa Mechnikov State University under the specialty "jurisprudence."
She worked as a judge of the Arbitration Court of Zaporizhia region.
From November 10, 2017, she served as a judge of the Cassation Economic Court of the Supreme Court of Ukraine.
Danishevska has been the founder, ultimate beneficiary owner and head of the Commercial Law Center charitable organization since 2001.
In 2015, she was elected to the Public Council under the Ministry of Justice of Ukraine.
She is a judge of the permanently functioning Court of Arbitration at the Association of Ukrainian Banks.
op