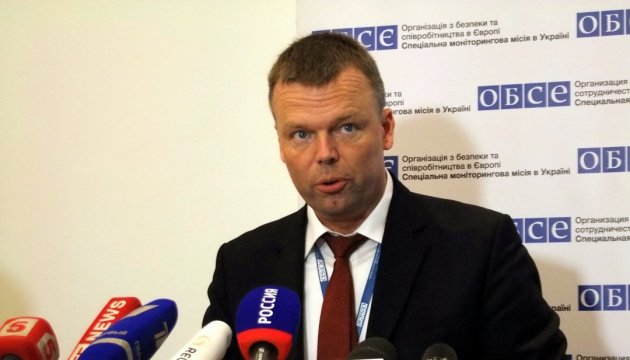 OSCE SMM records 27,000 ceasefire violations caused by proscribed weapons - Hug
The OSCE Special Monitoring Mission (OSCE SMM) to Ukraine has recorded nearly 27,000 ceasefire violations caused by weapons forbidden by the Minsk agreements.
OSCE SMM Principal Deputy Chief Monitor Alexander Hug said this at a briefing on Friday.
"Last week the OSCE Special Monitoring Mission to Ukraine recorded 5,892 ceasefire violations. That brings the total so far this year to over 325,000 ceasefire violations. Almost 27,000 of those ceasefire violations were caused by proscribed weapons - weapons that should have been withdrawn beyond the lines agreed by the sides in Minsk a long time ago," Hug said.
He noted that last week the mission observed 48 such weapons in violation of the relevant withdrawal lines.
In total, this year the SMM recorded more than 3,880 weapons in violation, including over two-thirds in areas not controlled by the Ukrainian government.
op