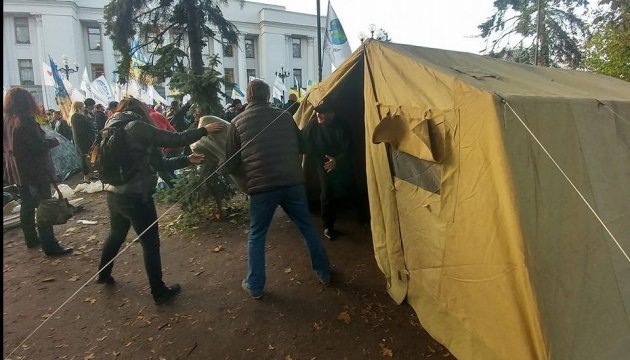 Near 500 protesters gather near parliament building
Protesters have put up tents outside the building of the Verkhovna Rada and are demanding changes to the rules of parliamentary elections, the cancellation of parliamentary immunity and the creation of an anti-corruption court, an Ukrinform correspondent reports.
About 20 army field tents were put up right in front of the parliament building on Hrushevskoho Street. Another 15 tents are located on the territory of the Mariyinsky Park adjacent to the Constitution Square. There are also about 20 small tourist camps with no visible signs of someone residing in them.
About 500 protesters were registered near the tents as of 09.50. Some of them had breakfast near a large field kitchen set up on Hrushevskoho Street. When asked by an Ukrinform journalist who helps with the supply of products, the protesters said it was former Odesa Regional Governor Mikheil Saakashvili, the leader of the Movement of New Forces.
The area of the rally is enclosed with metal fences. Law enforcement officers are maintaining public order. The territory of the rally can be accessed from both sides of Hrushevskoho Street through two entrances, where police check the contents of bags. The traffic on the street is open.
op