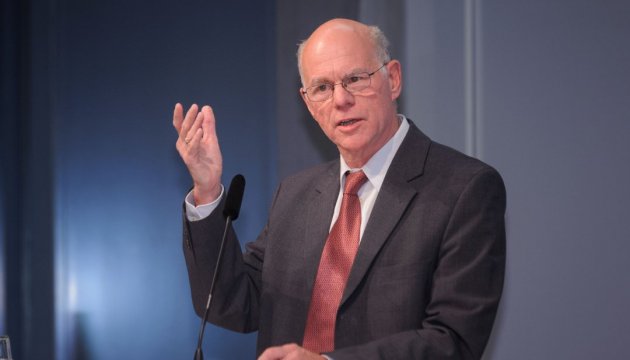 President of German Bundestag expresses support for Oleg Sentsov, Kirill Serebrennikov
President of the German Bundestag Norbert Lammert has expressed solidarity with filmmakers Oleg Sentsov and Kirill Serebrennikov.
He said this at the meeting of the 137th Inter-Parliamentary Union (IPU) Assembly in St. Petersburg, Russia, DW reports.
"We cannot talk about the importance of pluralism and at the same time prevent journalists and cultural figures from manifesting the pluralism inside the country, which happens in many countries of the world... Unfortunately, this happens in Russia as well," Lammert said.
In this regard, he recalled the case of Ukrainian director Oleg Sentsov, who was sentenced by the Russian authorities to 20 years in a maximum security penal colony, and the case of Russian filmmaker Kirill Serebrennikov, who is under house arrest now.
"On behalf of the German delegation, I would like to express our solidarity with such people as Serebrennikov and Sentsov wherever these people are," he said.
Earlier this month, the Verkhovna Rada of Ukraine called on the parliaments of the IPU member countries to boycott the 137th IPU Assembly initiated by the Russian side saying Russia violates the statutes of the Inter-Parliamentary Union and the UN Charter. Thus, Ukraine does not attend the IPU events in St. Petersburg.
Ukrainian filmmaker Oleg Sentsov was detained by Russian security services in Crimea in May 2014 on charges of plotting terrorist attacks on the peninsula. August 25, 2015, the North-Caucasian Military Court in Russia's Rostov-on-Don sentenced Oleg Sentsov to 20 years in a penal colony for alleged "plotting acts of terrorism."
Artistic director of the Moscow's Gogol Center Kirill Serebrennikov was detained in August on suspicion of embezzling $1.1 million in government funds. Currently, Serebrennikov is under house arrest.
ol