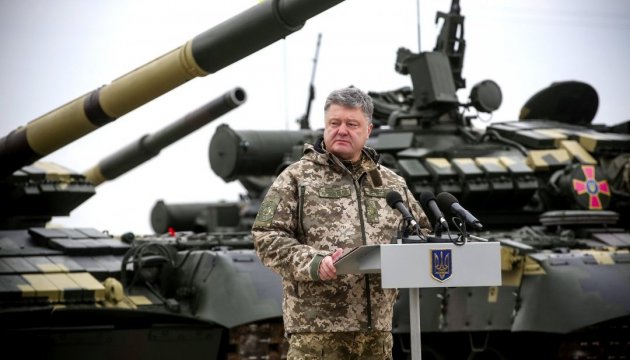 Feats of UPA heroes inspire current Ukrainian defenders - Poroshenko
Ukrainian President Petro Poroshenko has appealed to the Ukrainian people on the occasion of the 75th anniversary of the establishment of the Ukrainian Insurgent Army (UPA), the press service of the head of state has reported.
"Today, on October 14, on Ukraine Defender Day and the holiday of the Protection of the Blessed Virgin, we celebrate the 75th anniversary of the creation of the Ukrainian Insurgent Army, an army that was truly national from the first days of its creation to the end of the struggle against the inmates of their native lands, since it was fully formed and supported by the local population," the president said.
He noted that the years of Stalin's terror, the horrors of collectivization and the Holodomor-genocide, and subsequently the invasion of the Nazis, had strengthened the Ukrainians in the conviction of the need for an armed struggle for independence.
"UPA soldiers set themselves the goal 'of fighting for the complete liberation of all Ukrainian lands and the Ukrainian people from the invaders and gaining the Ukrainian independent and united state. The best sons and daughters of the Ukrainian people courageously resisted two powerful totalitarian regimes, each of which sought to absorb us, to enslave or destroy Ukrainians. They remained loyal to the Ukrainian cause and did not stop the struggle, even realizing its doom at that time. And finally they won," Poroshenko said.
The president also noted that members of the national liberation movement were recognized by the state, and their feats would always remain an example for future generations. According to him, the memory of the victories of the warriors of the Ukrainian Insurgent Army inspires current Ukrainian defenders who oppose Russian aggression and gives them strength and courage.
"And we believe in their victory," Poroshenko said.
op