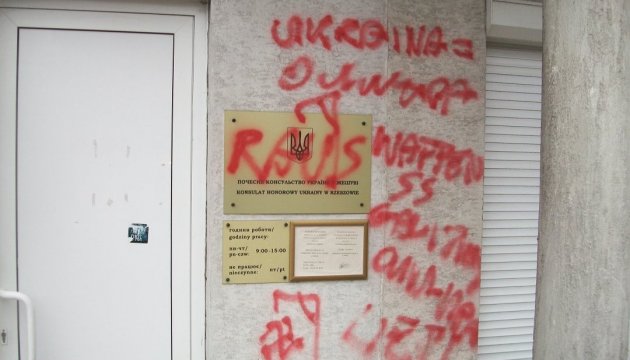 Police detain vandal who painted inscriptions on Ukrainian consulate in Rzeszow
A vandal, who painted with red paint anti-Ukrainian inscriptions on the building of Ukraine's honorary consulate in Rzeszow on September 30, has been detained by the Polish police, admitted his guilt and is ready to suffer a respective punishment, local police spokesperson Adam Szelag has told an Ukrinform correspondent.
"The police identified and detained this person last Friday (on October 6). This is a 35-year-old resident of Rzeszow. He was charged under an article on appeals for hatred on ethnic grounds. He admitted his guilt and voluntarily expressed his readiness to suffer a punishment," Szelag said.
According to him, the man could not clearly explain the motives behind his actions. At the same time, the police spokesman said that this person was not associated with any radical organizations.
The vandal faces up to two years in prison.
As reported, the vandal wrote on the consulate building in Polish "Ukraina = OUN - UPA, Waffen SS Galitzien," gallows and the inscription "Raus" (in German "Out") near Ukraine's emblem, and an inscription in Russian "No."
After the crime was committed, the Ukrainian Embassy in Warsaw sent a note to the Polish Foreign Ministry, in which, in particular, it asked the Polish authorities to guarantee security to all Ukrainian consular institutions in Poland.
op