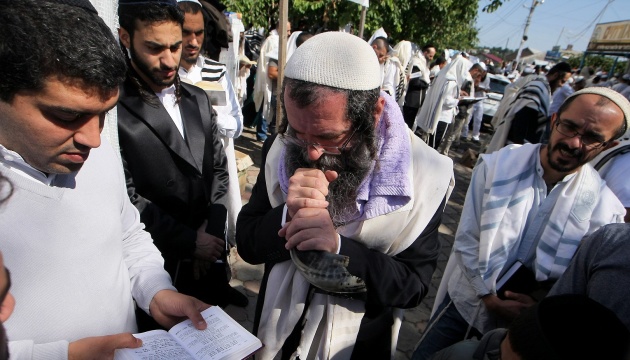 Hasidim start arriving in Ukraine for Rosh Hashanah
Ukrainian border guards have started to register organized groups of Hasidic pilgrims who arrive in Ukraine to celebrate the Jewish New Year - Rosh Hashanah, the State Border Guard Service has reported.
According to the report, in total, the service is waiting for about 40,000 pilgrims.
"In particular, nine charter flights with Hasidic pilgrims have arrived at the capital's airports over the past 24 hours. In turn, border guards are taking all measures to ensure that the registration of this category of travelers is conducted at a proper level and at the same time does not create any inconvenience to other passengers of the airlines," the statement reads.
To this end, the management of the Kyiv separate checkpoint increased the number of workplaces and border guard units. A group of servicemen of the mobile border unit has been added to strengthen and provide security measures at the crossing points at the Boryspil and Zhuliany airports.
According to border guards, there are currently no problems with registration or violation of rules by pilgrims in Kyiv's airports.
It should be noted that in total, almost 2,200 Hasidic pilgrims have already arrived in Ukraine. Most of them arrived in the country through Boryspil Airport, as well as through airports in Lviv, Odesa, Kherson, and the Krakivets and Mohyliv-Podilsky checkpoints.
Last year, employees of the State Border Guard Service in almost 260 cases registered more than 30,000 pilgrims who traveled in organized groups. Most of them were registered at the Boryspil, Kyiv, Lviv and Odesa airports, as well as at border crossings with Poland, Romania, and Slovakia.
op