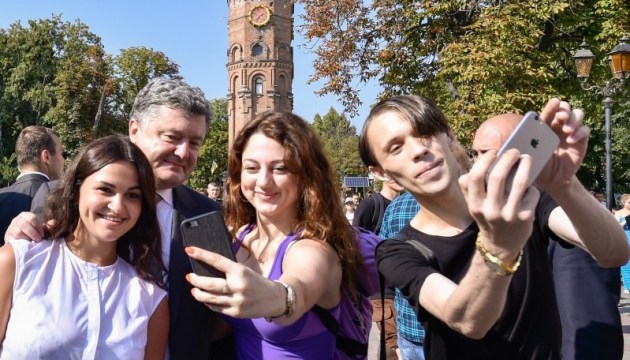 Independence Day an important holiday for Ukrainians - Poroshenko
Ukraine's Independence Day is a state holiday marked every year on August 24, and it is now of particular importance for Ukrainians, President Petro Poroshenko has said.
He said this while opening a building of the children's regional hospital in Kropyvnytsky, Kirovohrad region, where he is on a working visit, an Ukrinform correspondent reports.
"From year to year Independence Day is becoming a holiday ever greater and even more important than the New Year, Christmas and Easter. It marks our repeated birth, the resurrection of our dreams, and the novelty of our state," Poroshenko said.
According to him, Ukraine saw an extremely important event over the past year - on June 11, 2017, Ukrainians got the visa-free regime with the EU. Despite fierce efforts by Russia to prevent the ratification of an agreement between Ukraine and the European Union, this document was ratified, he added.
"In addition, the 26th year of independence is important, because we have overcome the deep crisis caused by the war. It's not just Russian troops at the front, and it's not just the supply of modern weapons. It's the closure of Russian markets, the closure of orders for Ukrainian production facilities, it's a trade war, and terrorist operations on our territory prepared by terrorists who are trained in Rostov, Kursk, Belgorod and other regions. We have overcome these challenges," Poroshenko said.
He said that following Russia's occupation of Crimea and part of Donbas, the Ukrainian authorities had managed to restore economic growth. "Ukraine has been demonstrating economic growth for five consecutive quarters. De-shadowing and the fight against corruption have brought a fundamental increase in revenues to the state budget, which helped spend part of funds not only on defense capability, but also on raising social standards," Poroshenko said.
He said that Ukraine had managed to retain this positive dynamics.
op