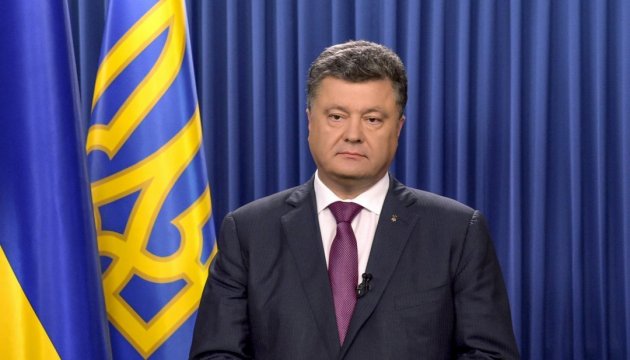 Ukraine to do all to release Ciygoz and other political prisoners - Poroshenko
The Ukrainian authorities will continue to do everything to release Ahtem Ciygoz, who was illegally detained in the occupied Crimea, Ukrainian President Petro Poroshenko has said.
"The Ukrainian authorities will continue to do everything to free Ahtem Ciygoz and all political prisoners of the Kremlin. We are proud of your courage and strength of spirit, Ahtem. Ukraine is with you!" he wrote on his Facebook page on Thursday.
Poroshenko also cited a statement by Ciygoz, which he made in his last speech before the verdict and which fully reflects the criminal nature of the farce trial organized by Russia against Ukrainians and Crimean Tatars who defended their homeland: "They don't judge those who betrayed, who had goals and motives aimed at changing the territorial integrity of Ukraine, who subsequently abducted and killed people, who illegally assumed the right to govern and judge. They judge those who defended the laws of the country, international norms and rules. The farce trial is organized by the occupying country, which has no right to do so."
The court debate involving Ciygoz and his defense team ended in the occupied Crimea on August 9.
According to lawyer Nikolai Polozov, the verdict in the Ciygoz case will be announced on September 11.
On August 7, a prosecutor demanded that a leader of the Crimean Tatars, Ahtem Ciygoz, be sentenced to eight years in prison.
Ciygoz was arrested in January 2015 for participating in a rally in support of the territorial integrity of Ukraine opposite the building of the Crimean parliament on February 26, 2014. The protesters were resisted by pro-Russian activists, including from the Russian Unity party, which was led by the current "head" of Crimea, Sergey Aksenov. The Russian authorities of the annexed Crimea accused Ciygoz of organizing mass riots during the rally.
op