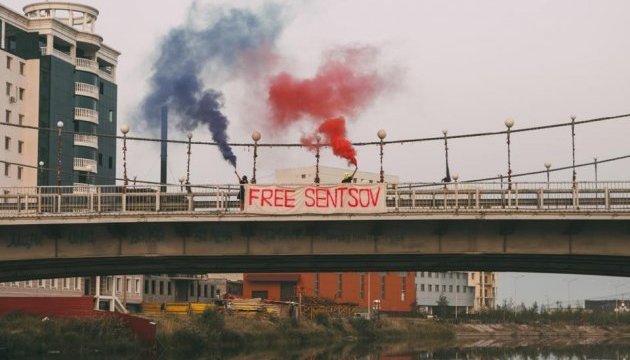 Pussy Riot holds action near colony where Oleg Sentsov serving sentence. Video
The Pussy Riot activists held an action in support of Oleg Sentsov in Russia's Yakutsk, near the penal colony where the Ukrainian filmmaker now services sentence on trumped-up charges.
Pussy Riot activist Masha Alekhina informed about the action on her Facebook page.
"Yakutsk, Russia's Republic of Sakha, a bridge across the Lake of Saysary. The penal colony No. 1, where Oleg Sentsov is held, is twenty minutes, seven and a half kilometers from here. We used a linen canvas and pink spray paint to make a banner and placed it on the bridge so that the passers-by and residents of houses across the street could see it," she wrote.
Alekhina also stressed that "the Sentsov and Kolchenko case is one of the main and key political cases in the history of our country."
As a reminder, Ukrainian director Oleg Sentsov and Crimean activist Oleksandr Kolchenko were detained by representatives of Russian special services in Crimea in May 2014 on charges of "plotting terrorist attacks."
In August 2015, the North Caucasian District Military Court sentenced Sentsov to 20 years in a maximum security penal colony. He is serving his sentence in Yakutsk.
The Russian "Memorial" human rights organization recognized Sentsov and Kolchenko as political prisoners.
ol