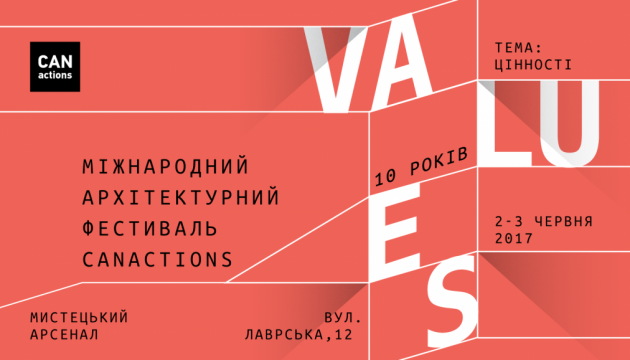 Mystetskyi Arsenal to host International Architecture Festival CANactions
June 2-3, the 10th International Architectural Festival CANactions will be held at the Mystetskyi Arsenal in Kyiv.
This is reported by the press service of the Mystetskyi Arsenal.
"The theme of the anniversary festival is VALUES. Special guests of the festival are world's leading architects Florian Idenburg, Martin Rein-Cano and Hans van der Haijden. They will conduct lectures for the wide audience," the statement reads.
In addition, the Sound Sculpture workshop by Wendy Anderson and Situation&VALUEtion workshop by Grisha Zotov will be held at the festival. Wendy Anderson is the curator at the University of the Arts in London and Grisha Zotov is the founder of the Amsterdam-based architectural studio Architectural Prescription.
Another guest of the festival Jord den Hollander will hold the workshop Cycling Cities Kyiv, comparing conditions for cycling in different parts of the world. This project has been already held in Amsterdam, Beijing, Budapest, Milan, Havana, Mexico, Taipei, and Tirana.
The International Architectural Festival CANactions is the largest architectural event in Ukraine. Established in 2008, in 10 years it has been attended by 120 speakers and over 36000 visitors from over the world. The goal of the anniversary 10th festival is to discuss the values in architecture, urban policy and life in general. CANactions team aims to create conditions for ideas exchange and dialogue within the plane of contemporary architecture.
ol