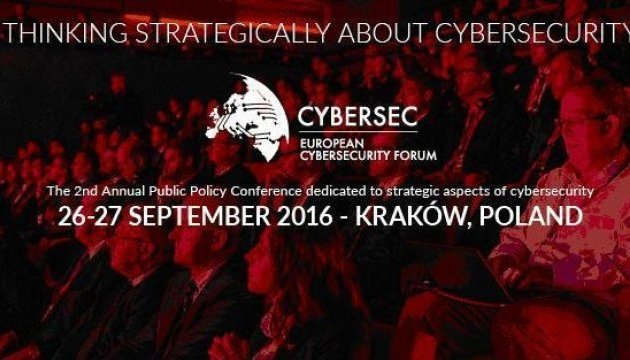 Krakow to host 2nd European Cybersecurity Forum in September
September 26-27, 2016, Krakow, Poland, will host the 2nd European Cybersecurity Forum - CYBERSEC, the Annual Public Policy Conference dedicated to strategic aspects of cybersecurity. 
This is reported by the Forum organizers.
The invited experts will focus on building a regional cybersecurity system for Central and Eastern Europe, cyberdefence of NATO member states, cyber education and cyber innovations as well as public-private partnerships," the statement reads.
As noted, the ever growing number of cyberattacks is a "dark side" of the fourth industrial revolution. It is a problem that realistically jeopardise states and millions of citizens alike.  It also gravely affects the private sector which is increasingly becoming a direct or indirect target of cyberattacks, suffering huge financial losses as a consequence. The dynamics of hostile acts in cyberspace will only increase in the coming years; therefore, it is so crucial to enter into a dialogue now that takes into account a cross-stakeholder and comprehensive approach to the problem. European Cybersecurity Forum will aim to develop ideas and make strategic decisions in this area.
This years' CYBERSEC Forum will bring together more than 600 delegates, including key policy makers, the representatives of international organisations, expert circles, and leading media as well as world's leaders in the private sector.
The discussions will be held in several sections. State Stream will be devoted to facilitate strategic cross-stakeholder co-operation among the countries of Central and Eastern Europe in order to develop a regional cybersecurity system. The Military Stream will focus on issues related to cyberdefence of NATO member states. Discussions will draw upon conclusions of the July NATO Summit in Warsaw, during which a declaration of strategic cooperation between NATO and the EU in the area of cybersecurity and hybrid threats was made, and cyberspace was recognized as an operational domain of warfare. The Future Stream will examine the challenges posed by an increasing shortage of cyber professionals. Under the Business Stream, the experts will concentrate on creating mechanisms for effective public-private partnerships and the cybersecurity of industrial control systems.
CYBERSEC 2016 will culminate in the publication of recommendations for strengthening the cybersecurity of the European Union and NATO.