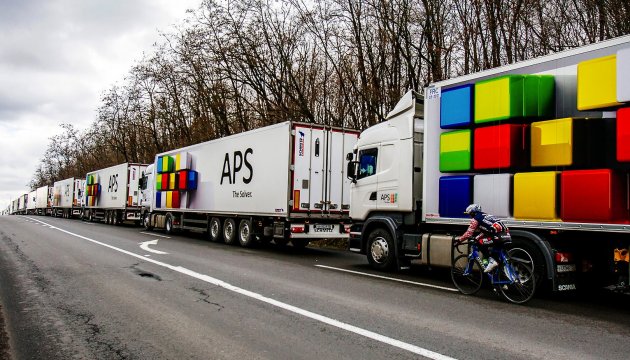 Russian trucks blockade – activists set up roadblocks in Lviv, Rivne and Volyn regions
All Ukraine western Region have joined efforts to halt the passage of Russian transit trucks to Europe via Ukraine. Transcarpathian activists, who were first to start the blockade last night in Uzhhorod have already discussed their action plan with the local authorities.
They decided to delegate the governor of Transcarpathian region Hennady Moskal to visit Kyiv to demand the Cabinet ban the Russian carriers for transit through Ukraine.
One of the organizers of the truck blockade in Transcarpathia region Mykola Marchyshak told Ukrinform.
"The number of trucks outside the Transcarpathian roadblock has dropped. Truck drivers pass information to each other on the radio about the blockade, this is why the Russian truck just are not heading here. Also, they are being blocked before they reach Transcarpathia - our fellow activists in the Lviv, Rivne and Volyn regions have organized roadblocks. In the Volyn region, they block customs where, in particular, Russian trucks that are not permitted to transit via Poland enter Ukraine. Truck drivers understand the situation, we have no conflicts with them, the drivers make a U-turn," said Marchyshak.