Radosław Sikorski, MP of the European Parliament, former Minister of Foreign Affairs of Poland
Ukraine is already being perceived as a NATO member in terms of assistance in weapons it gets
31.07.2023 17:40
Radosław Sikorski, MP of the European Parliament, former Minister of Foreign Affairs of Poland, and former Marshal of the Polish Sejm, recently came to Ukraine, bringing assistance to the Ukrainian army divisions. He drove one of the cars that were later transferred to the Ukrainian military in the east of the country.
In an exclusive interview with Ukrinform, a renowned European politician explained why he was bringing assistance for the Armed Forces of Ukraine (AFU) personally, described his perspective on Western assistance for Ukraine, and his thoughts on the fatigue of the war in the West. He also offered his predictions regarding Ukraine's accession to the EU and NATO and assessed the state of relations between Kyiv and Warsaw following parliamentary elections in Poland.
UKRAINIAN MILITARY COMMAND KNOWS BEST HOW TO WIN THIS WAR
- Mr Marshal, it is the third time that you are coming with assistance for the AFU as part of the group of volunteers. What did you bring this time, and what divisions is it intended for?
- I would like to note that this is an ongoing initiative of Mr Mateusz Wodzinski, who is known under the username Exen on Twitter (X network – ed.). He has already brought over 120 vehicles to Ukraine. This time, I have fundraised the money among my family and friends. So yesterday (on 26 July – ed.), we transferred the Ukrainian military seven pickup trucks and over 20 drones. We went as far as Kramatorsk: one of our groups was just 18 km away from the collision line, while another one visited Chasiv Yar, which is just 5 km from the frontline. We transferred pickup trucks to specific divisions, such as to the 26th separate artillery brigade.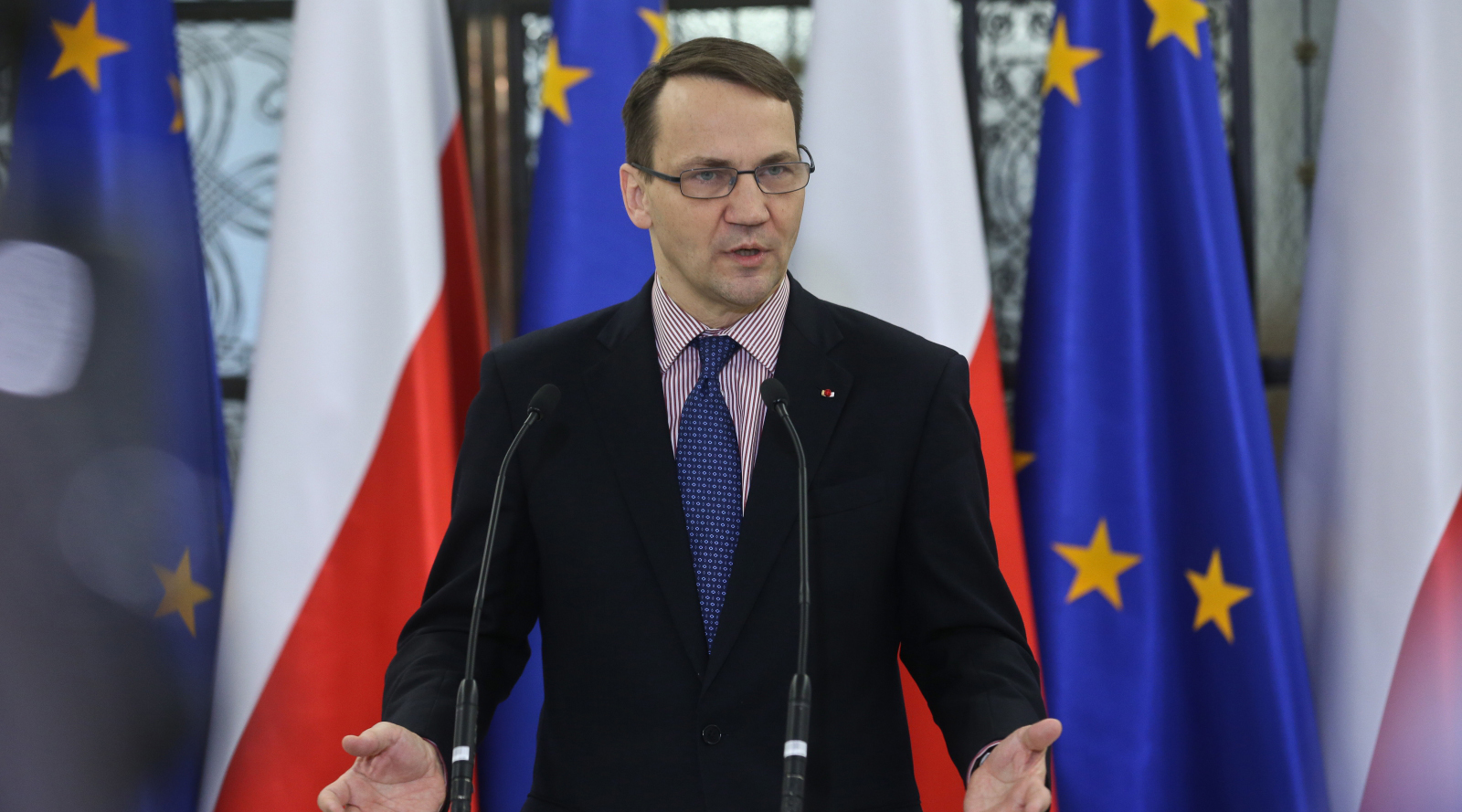 - Why is it so important for you to go to the east of Ukraine personally? After all, you could just buy vehicles and transfer the fundraised money to the volunteers, couldn't you? I know that you have even taken your son along on this trip.
- Last time, we visited Kherson with my wife (famous American writer and journalist Anne Applebaum – ed.).
First, I am an old war correspondent (in 1986–1989, Sikorski used to be a war correspondent of UK publications in Afghanistan and Angola – ed.). Second, I know how people appreciate direct support. This boosts their morale. I also wanted to avoid some red tape. It will also be easier for me to tell the sponsors that we delivered these pickup trucks to specific military personnel from specific units. Eventually, we were joined by two sponsors – one from Australia and another one from the USA. They will also confirm that the mission has been completed. I hope that this will help raise even more money for the Ukrainian military.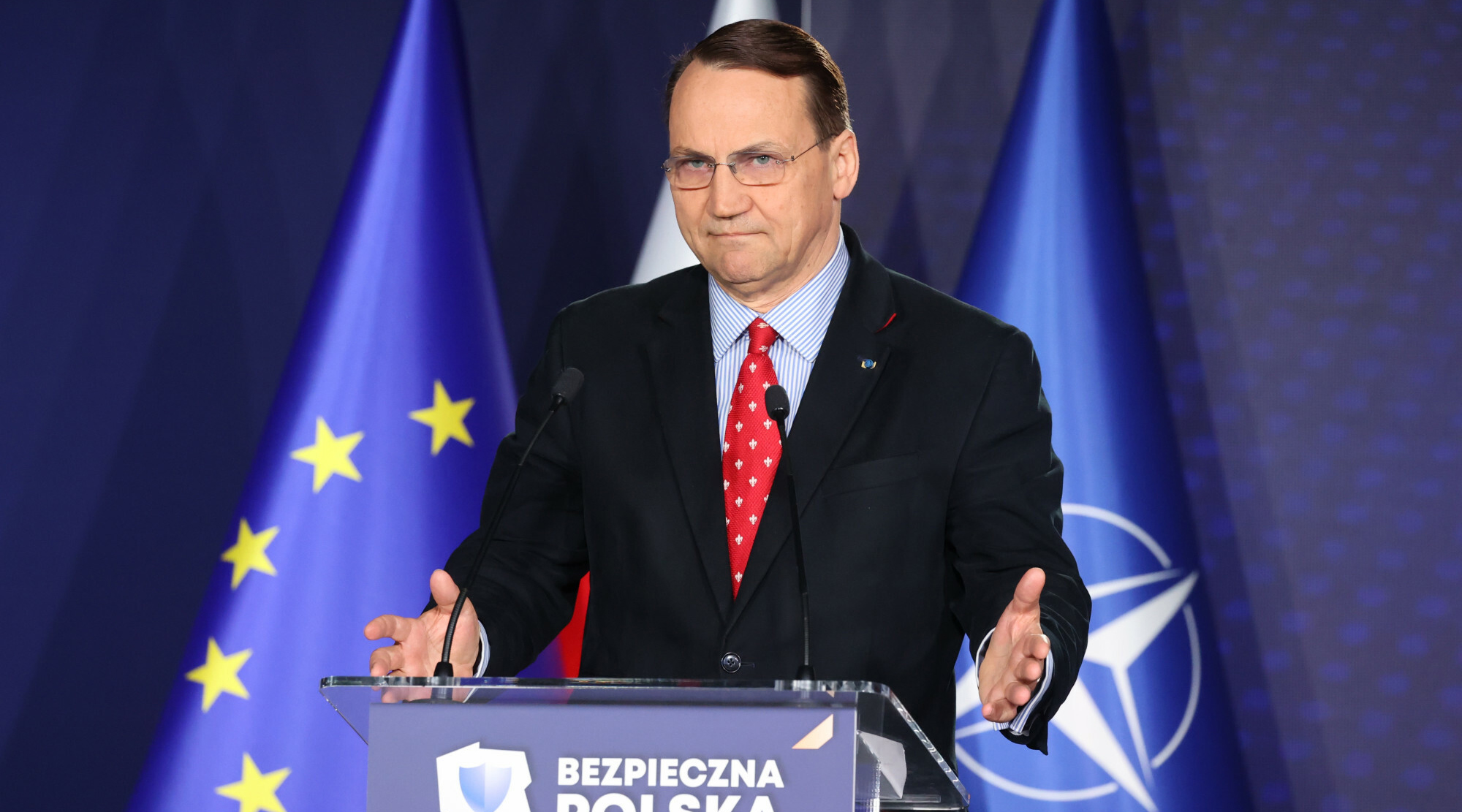 - During the trip, you had the chance to talk to the Ukrainian military; you know their needs and the issues they now face on the frontline. What are your thoughts on your way back to Europe? What messages would you like to communicate to your party colleagues in Poland and the European Parliament?
- I will bring good news to Poland and the rest of Europe. In particular, the Ukrainian military praised Polish Krabhowitzers. We visited one of the divisions using high-precision Excalibur artillery shells. The Ukrainian military is very satisfied with receiving these new, very effective weapons. I am thrilled that the role of Poland is highly appreciated and that Polish military equipment is so effective.
In Sloviansk, we visited the Honorary Consulate of Latvia. It's fantastic that Ukraine is working towards functioning normally and that Ukraine's friends are working to support Ukrainian society and the Ukrainian army.
I hope that the West has provided Ukraine with sufficient weapons to resume the counteroffensive. And if did not provide enough weapons, we should not pressure Ukraine to speed up the hostilities. I highly appreciate the Ukrainian military command and consider that they know the situation better and understand the enemy the best, as well as are best fitted to decide on the pace to choose to achieve victory in this war.
UKRAINE MAY JOIN THE EU BY 2030
- In your opinion, is it possible to speed up some processes in the matter of providing Ukraine with military assistance, like training Ukrainian pilots and transferring F-16 fighter jets to the Ukrainian army?
- I have flown the F-16 when I received the first fighter jet for the Polish army in the role of the Minister of Defence (in 2006 – ed.). The pilot in the two-seater cockpit handed the control over to me at the time. It seemed to me that controlling this plane was quite simple (laughs). I believe that maintenance of the combat system is more difficult in an aircraft of this type. I'm pretty sure the Ukrainians will master flying the F-16 quite fast, just like they did with all other types of weapons, and they'll also learn how to make the most of its capacities.
I understand that there may be some frustration in Ukraine regarding the level of arms supplies. But then again, this level is higher than I could even imagine before the war. Second, the objective challenge is that the West has been enjoying a peaceful life for 30 years and has stopped not only making weapons and ammunition but has also been shutting down production lines. Third, Ukraine has gradually received large batches of various military equipment. Creating logistics chains for every type of armoured personnel carrier, tank, or launcher is a daunting task. Europe and the United States are only now exhibiting faster response, signing agreements with defence-industrial corporations, which, regrettably, requires a considerable amount of time.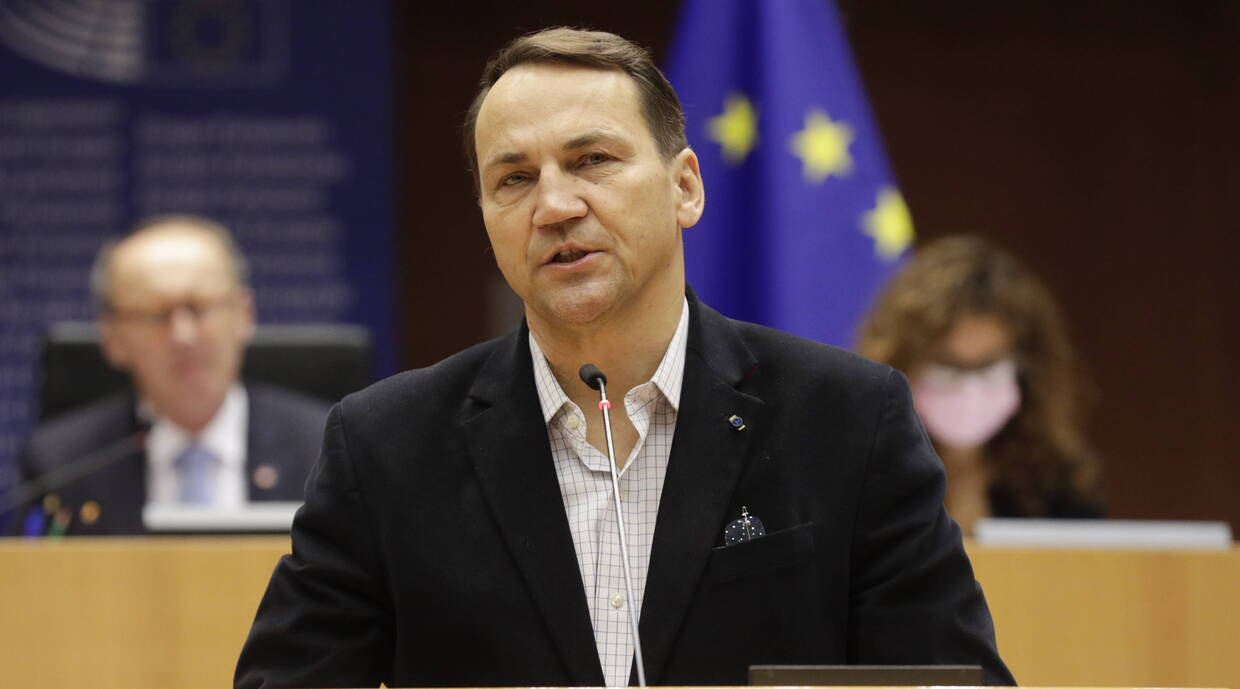 - How would you assess the decision made at the NATO meeting in Vilnius in July regarding Ukraine? Is the glass half full or half empty?
- The societies of Western countries do not want a direct war with Russia, they will not go for it. However, Ukraine is receiving even more weaponry than the Alliance countries are obligated to provide their ally in the event of aggression against them, according to the organisation's documents. The Washington Treaty does not require member states to go to war but just respond to it. Therefore, this response is present. This is why, in a certain sense, Ukraine is already perceived as a NATO member. Yet, this will happen officially, one way or another, after the end of the war.
- It may take some time though...
- Unfortunately, colonial wars usually last quite a long time. It is, therefore, important to expect unexpected events, which will undoubtedly happen.
- What do you mean by this?
- Someone should eliminate the initiator of this war or at least remove him from power. Or, the Russian military would like to stop dying without any sense, like they did in 1917 (Bolshevik's coup – ed.).
- It could also be some continuation of the actions of the Wagner PMC.
- This event has demonstrated the poor state of Russian politics, the vulnerability of Russia's territory, and deep divisions among Russia's security forces.
- In the autumn of this year, Ukraine will be assessed by the European Commission in terms of its progress as an EU candidate. Do you assess the chances of receiving a "green light" to start negotiations on Ukraine's membership in the European Union?
- The changes for this are 50%. It is noteworthy that in this particular case, Ukraine will engage in negotiations pertaining to 35 chapters, which Kyiv will be required to acknowledge. We are all impressed with how brave and determined Ukrainians are. However, it is also widely acknowledged that over the past quarter-century, Ukraine has unfortunately acquired a reputation for being a corrupt nation. Consequently, it is imperative that it demonstrates a greater level of resolve in combating this gangrene.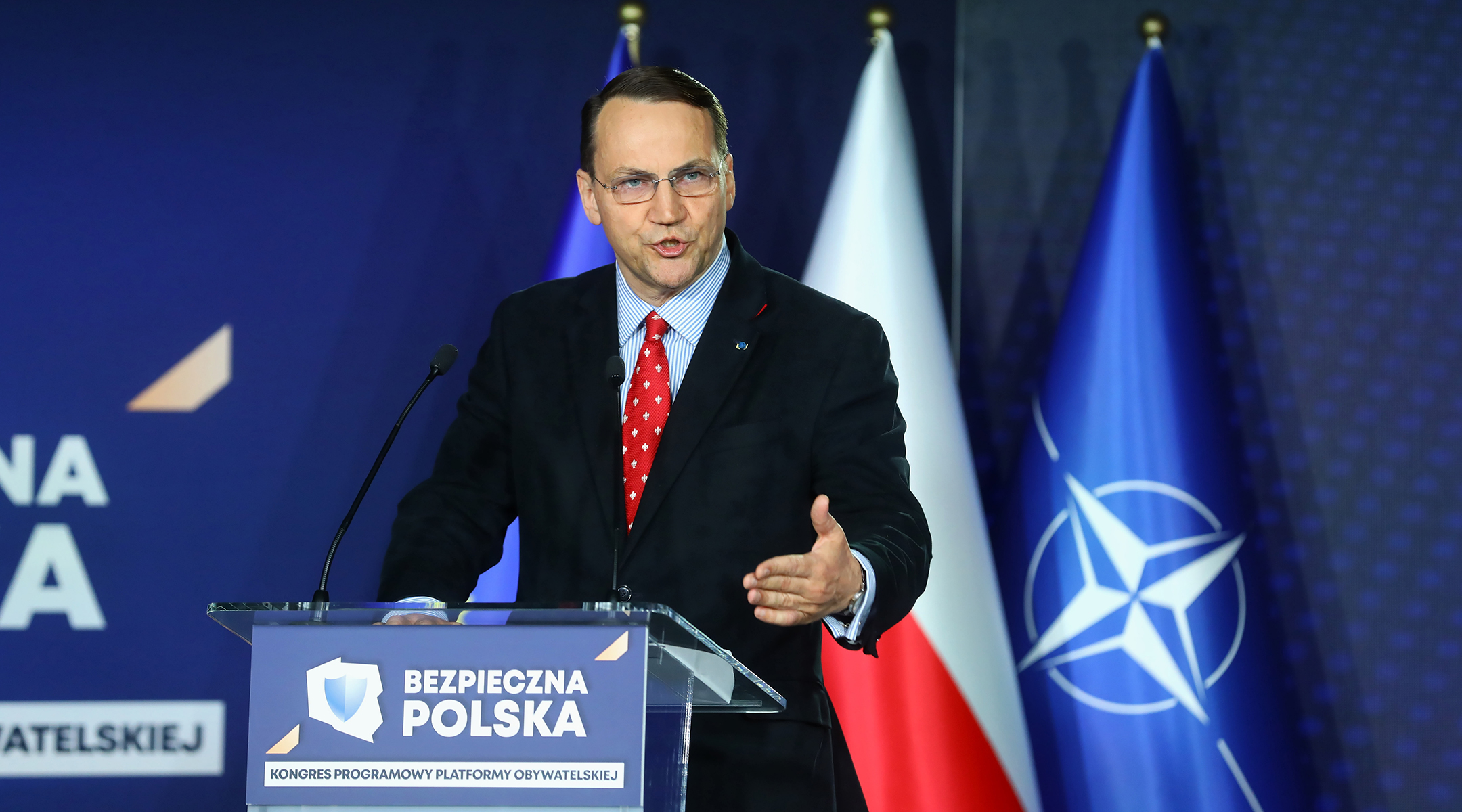 - Can you forecast how many years it will take for Ukraine to become an EU member?
- I believe, by the end of this century.
THE MATTER OF WESTERN SUPPORT FOR UKRAINE IS ALSO DEPENDENT ON... PUTIN
- One may hear about the fatigue from the war in the public space of many EU countries, including Poland...
- I am really annoyed with these words. The only ones who are entitled to be tired of war are Ukrainians, especially Ukrainian soldiers. We, in the countries where there is peace, are only entitled to feel gratitude towards them, as they risk their lives and sometimes lose them too. And at the most, we can deal with more expensive petrol or electricity.
- However, European countries do have this phenomenon, don't they? In this regard, do you see any threat to continued Western assistance to Ukraine?
- I am also negotiating in Washington. There, the enthusiasm on this matter is waning, especially among Republican party voters. Certainly, there are always political business people exploiting this, unfortunately. However, this is also the task of Ukrainian politicians to persuade them to continue their support. I also rely on Putin, as he always does something as terrible as, for example, the recent missile attacks on Odesa, reminding everyone how important Ukraine's victory is in this war.
- Mr Marshal, parliamentary elections are about to take place in Poland. How can the results of these elections influence relations between Poland and Ukraine?
- I am the leader of the international policy group of the largest opposition party – Civic Platform. Thus, I can assure you that the policy of supporting Ukraine will be just as active. There are no differences between the government and the opposition in this regard. On the contrary, in the case of our victory, Poland will stop arguing with European institutions and important allies, such as Germany. Poland will therefore become more influential and effective in its activities, including on Ukrainian issues.
Yurii Banakhevych
Photo: Facebook/Radeksikorski, PAP