Anthony Banbury, President and CEO of the International Foundation for Electoral Systems
Democracy is a journey, not a destination. But Ukraine has started strongly on it.
23.06.2023 14:00
The war against Russian invaders is a primary task for the entire Ukrainian nation, but it does not cancel other matters. We talk about elections - not reforms this time. Although no one raises the question of holding them under martial law due to the prohibition in the Constitution, the state machine is already greasing the wheels to be ready for the elections after the victory.
At the same time, according to the Constitution, parliamentary elections should happen this year and presidential elections - next year. Some voices of the international community are already utter warnings about supporting Ukrainian democracy and calling for immediate preparations for elections.
The preparation has begun. Director General of the International Foundation for Electoral Systems (IFES) Anthony Banbury told Ukrinform about that. He visited Kyiv in May to assist in this process. The agency spoke with the director of IFES about how to counter Russian influence without violating the freedoms of citizens and about the work of state bodies and civil society on the implementation of people's power in Ukraine.
THERE IS A BIG DIFFERENCE BETWEEN FREEDOM PF THOUGHT AND ACTION BASED ON IT
There was a talk before the full-scale Russian invasion about where the line of freedom is because, obviously, supporters of Russia exploited this line. They said, you know, we support Russia, we choose Russia, and you ought to respect our option. Where would you cross this line between freedom of people and actual manipulation from authoritarian regimes?
What one person may want in a society, let's say support Russia, does not mean they can impose it on society. And all Ukrainian society was a free society in a democracy. The majority choose leaders based on the policies they pursue. If most Ukrainians elect leaders based on a commitment to broader freedoms and openness with Europe and other democratic countries, then those who are in a minority and don't support that their rights should be respected.
They can say we support a different position, but that doesn't mean they are entitled to policy choices they want. That is not freedom; that is the tyranny of a minority. The majority in Ukraine opted for freedom for society as a whole and not to be subsumed by Russian dominance.
After the full-scale invasion started, all pro-Russian forces seem to be completely discredited. For Ukrainian society, they seem to be on the same level as Nazis. Would your organization, IFES, or another expert community, look on this issue concerned?
One of the basic principles of democracy is, of course, freedom of expression which is linked to freedom of thought. Individuals and groups in a society are free to have whatever opinion they want, including about individuals or groups they see as opponents or political opponents.
But having an opinion about someone or some group - while that is legitimate and people are free to do that – and taking any action to physically harm them, that's different.
So, it is okay if I think "Oh, this actor is representing a hostile force and I don't think they should be part of the government." Having that opinion is okay, but that actor cannot be thrown in jail because they are supporting pro-Russian forces. There is a big difference between freedom of thought and opinion versus action based on it.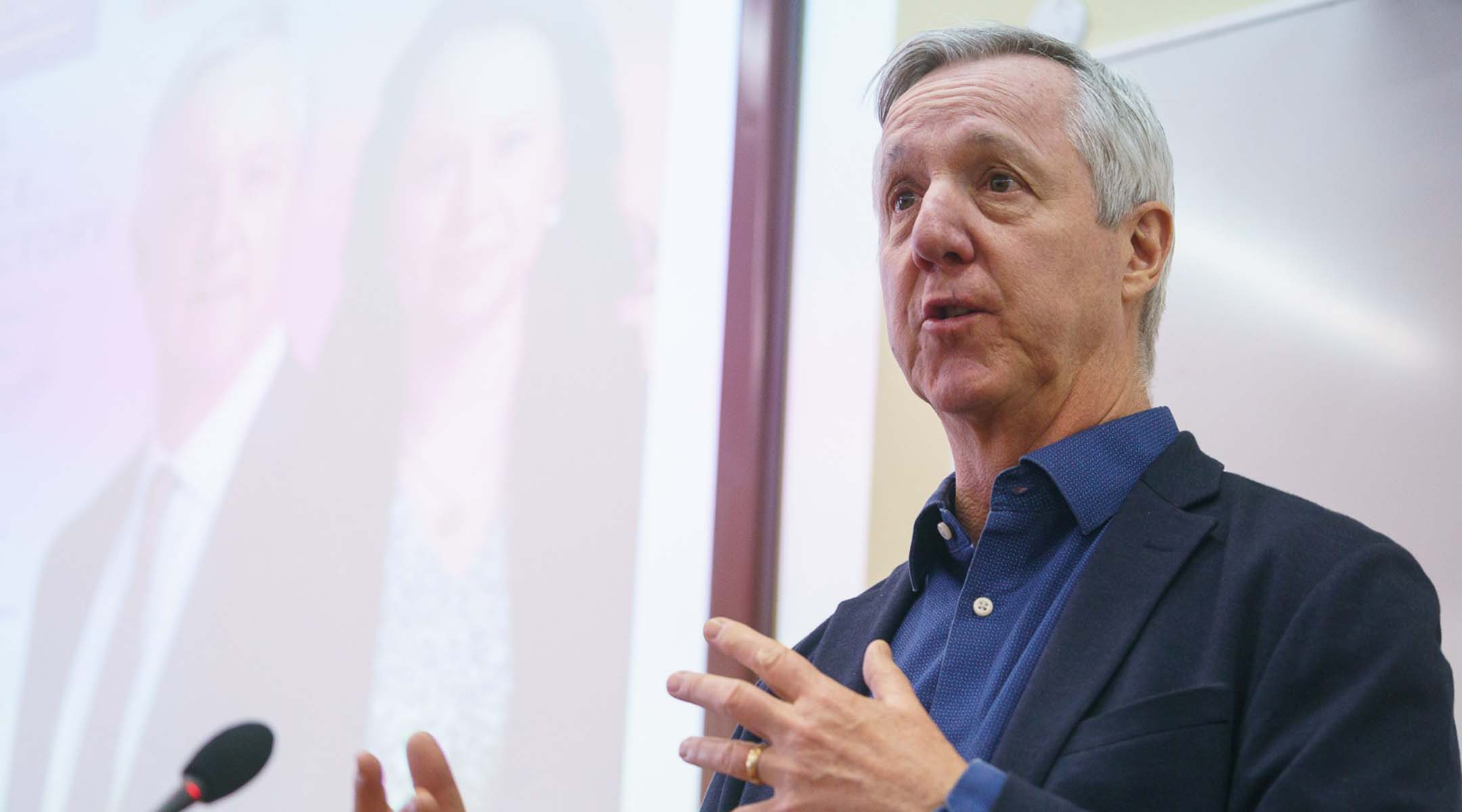 IFES NEVER TELLS UKRAINE'S COMMISSION WHAT TO DO
- Let us switch the focus from a global perspective to your organization. How does your cooperation with Ukraine's Central Election Commission and with Ukrainian civil society look like?
- IFES has been working in Ukraine since early the 1990s and marching step-by-step together with Ukrainian society and Ukrainian institutions like the Central Election Commission on Ukraine's democratic path. Ukrainian society has made tremendous progress in the last 20 years in the development of Ukrainian democracy. That is all credit to the people of Ukraine.
In our work with the Central Election Commission in Ukraine or election commissions around the world, we never tell an election commission what to do.
That's a sovereign decision of the election commission. But we can provide technical advice and perspective as well as international best practices about addressing things like out-of-country voting, registering new voters who turned 18 and can vote, providing access for people with disabilities to polling stations. We provide technical support to the election commission so it can then decide whether to apply and how to apply it in the Ukrainian context.
We also provide legal expertise to the Commission or to the Rada or Rada Committees tasked to draft legislation. We can provide some legal consultations on how to comply with international standards.
We also work with civil society in Ukraine; for instance, Civil Network OPORA, Chesno Civic Movement, and others to try and ensure that Ukrainian democracy is fully inclusive, and women can have equal access to the political processes in their country.
We support youth engagement and mobilization so that young people register to vote and go out to vote for whomever they want while understanding the value of their engagement in society. Civic education course that we are engaged in and talking to university students here is part of that effort to try and get the youth of Ukraine mobilized in support of democracy.
I have a meeting this day with the National Agency on Corruption Prevention since we also work on anti-corruption issues in Ukraine. We work in a variety of areas to support Ukrainians in their democratic aspirations.
AND 25 YEARS, AND 100 YEARS FROM NOW, UKRAINIANS WILL BE WORKING ON IMPROVING THEIR DEMOCRACY
Do you commend the success that Ukraine achieved? What challenges do you see for us?
In the United States, our democracy started in 1776 or 1785, depending upon which state you want to use. In 2023, say 250 years later, we are still struggling with our democracy. We are still working to make it a more perfect union. That is a long time for us. Ukraine has been democratic for a much shorter period, about 10 percent of that time, around 25 years. So, it is very natural whether it is Ukraine - or any other democracy - to face serious challenges in improving its democracy.
And 25 years from now, 100 years from now, Ukrainians will still be working to further improve their democracy. But what Ukraine has achieved in the short period since it became a free and independent state is quite remarkable. I think Ukrainians should be very proud of their democratic accomplishments in the short time that they have been working on it.
In Europe, since the Congress of Vienna in 1815 until now, Western European countries are still working to improve their democracies. So, it is very unrealistic to expect Ukraine in a very short period of 20-25 years to have addressed all its democratic challenges. But what Ukrainians have achieved in a short period is an inspiration to the world. They still have serious work to do. More work will come. It will never stop. Democracy is a journey, not a destination. But Ukraine has started strongly on that journey.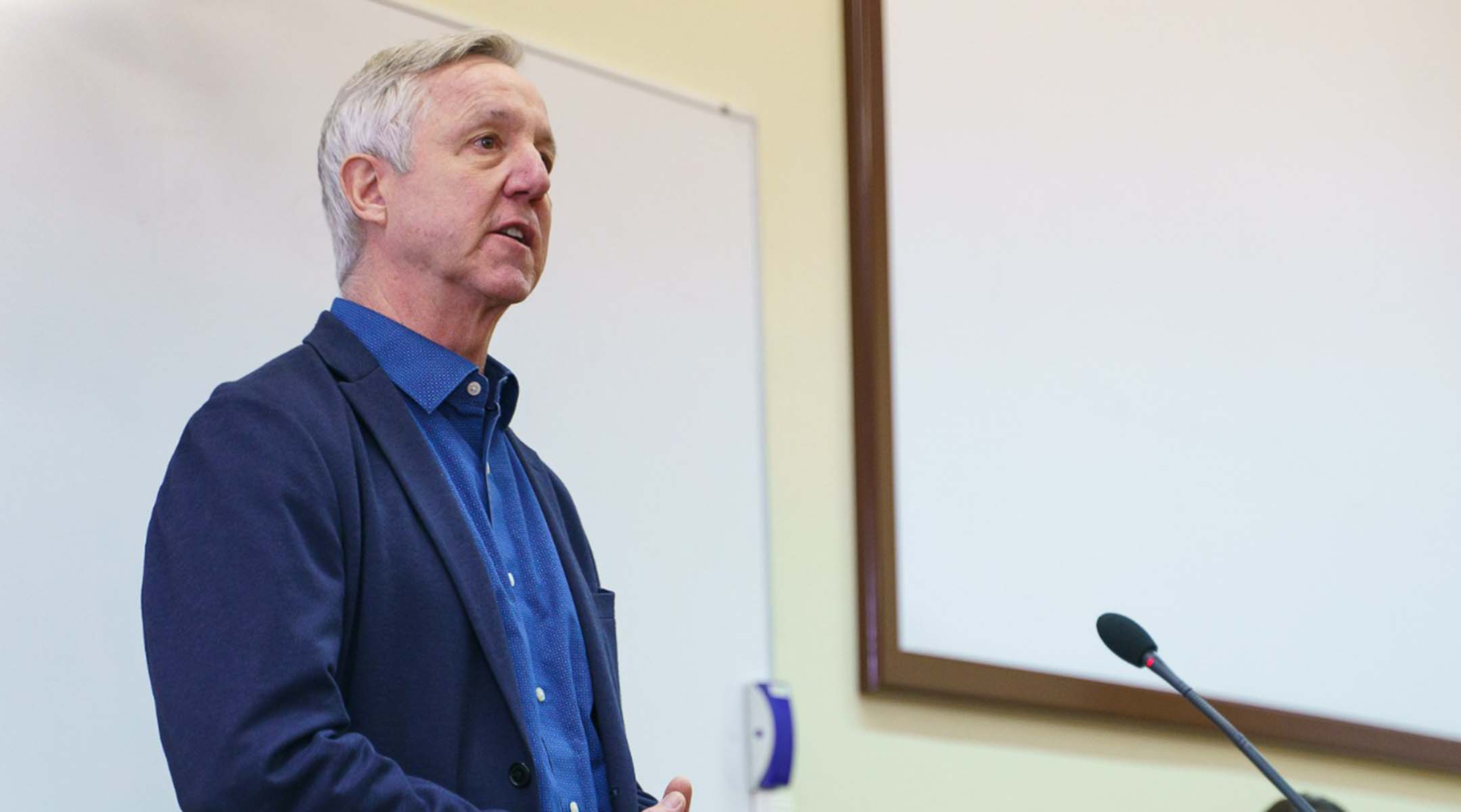 PEOPLE'S INDIFFERENCE IS THE BIGGEST HOPE OF AUTHORITARIANS
Out of the journalism world, I have friends who do not care. They are good people. They say the right things if you ask them. But they like to go to work, return from work, watch Netflix, and meet with friends. Is this nihilism a threat to democracy?
It is one of the greatest threats to democracy that people are not interested and do not care what their government is doing or who is elected. The greatest hope of authoritarians trying to influence democracy is that their people do not care because that creates an opening for authoritarian forces and negative forces to take power.
And then, when human rights are undermined, when Netflix is banned, when other social media is banned, when their neighbor is thrown in jail for no good reason, but because someone said something bad about them, then they will care, but it will be too late.
THE PREPARATION FOR THE ELECTIONS HAS BEGUN
The topic of your lecture is "Winning the Peace after Victory." After the victory, we will face, elections, right? How would IFES help Ukraine to get through this?
We are working every day now with the Central Election Commission, the National Agency on Corruption Prevention, and civil society, as I mentioned before, to prepare for when those elections will take place.
We are analyzing out-of-country voting. There are, of course, millions of Ukrainians who have left their hometowns. Whether they are living elsewhere in Ukraine or outside Ukraine, they will have the right to vote. What is the best way for them to vote? We will be working side by side with our Ukrainian partners and providing them with legal analysis and other forms of technical support and advice, so they will be ready when the time comes to conduct elections in a free and democratic way.
Should we start now?
Work has already started. The work continues. I'm meeting with the Central Election Commission when I'm here, of course, but my colleagues in the IFES Ukraine office, which is the largest IFES office in the world, are working with their colleagues in the Commission, with Members of Parliament, with the State Register of Voters on drafting legal changes, so they will be able to administer elections when the time comes. This work is going on every day.
Ivan Kosiakin, Kyiv