David O'Sullivan, EU Sanctions Envoy
When it comes to sanctions, national contexts always play a role
20.06.2023 17:00
David O'Sullivan is a long-serving EU diplomat and EU Ambassador to the United States in 2014-2019. He visited Kyiv for the first time as the EU Special Representative for Sanctions. The EU official met in Ukraine with Head of the Presidential Office Andriy Yermak, State Secretary of the Ministry of Foreign Affairs Oleksandr Bankov, as well as other government and civil society representatives.
O'Sullivan's visit took place amid expectations of the 11th EU sanctions package, which Ukraine calls for to be accelerated and include the nuclear industry in the list. But there are still difficulties with this. The main goal of the 11th package is to stop the circumvention of trade restrictions already imposed. According to Ukrainian intelligence, Russia uses a number of companies in Turkey, Kazakhstan, Georgia, the UAE, and Armenia to circumvent sanctions.
In an exclusive interview with Ukrinform, David O'Sullivan spoke about how the EU will deal with Russia's circumvention of sanctions through third countries, the new sanctions package and the upcoming law on criminal penalties in the EU for sanctions evasion.
IMPOSED SANCTIONS AGAINST RUSSIA ALREADY COVER ABOUT 60% OF IMPORTS AND ALMOST 50% OF EXPORTS OF THE EU
Mr. O'Sullivan, what exactly did you discuss during your meetings?
I've been eager to come to Kyiv and am very grateful for the warm welcome, especially under the very difficult circumstances.
My first time in Kyiv was in 2012, a long time ago. And now I'm renewing my contact with the country in my new role, which is why I wanted to have a physical visit to the city.
I have mostly been talking to government interlocutors in different parts of the administration who deal with sanctions, to discuss how can we make sanctions work as effectively as possible and how can we maximize the impact of sanctions on the Russian military machine, on the revenue of the Russian government and on the Russian economy generally, to make sure that Russia pays a very high price for this unprovoked war, brutal war here in Ukraine.
Early this year, the EU introduced the position of Special Representative for Sanctions to prevent Russia from circumventing the existing restrictions. At the same time, Russian troops are committing new atrocities in Ukraine, such as the blowing up the Kakhovka HPP dam. Ukraine insists on new sanctions on Russia. In your view, do you think that your task of coordinating the EU sanctions policy should be revised and focused on intensifying and expanding sanctions? Or not?
Firstly, I think we have to recognize that, together with the international coalition, the European Union has introduced the most comprehensive set of sanctions ever imposed against a single country, against Russia. And this covers a substantial part of our economic interaction with Russia. It's about 60% of all of our imports and about 50% of our exports.
We have done this in coordination with G7, with the United States, with the UK, and with other partners like Norway, Canada, Australia and New Zealand. So we have a massive range of sanctions in place which have been adopted since this war began.
I've been asked to focus on the implementation, in particular countering the circumvention of the sanctions, especially through third countries. That's what I've been asked to do. There are plenty of other people working on developing new sanctions and ensuring their full implementation domestically, because in the European Union, the responsibility for the implementation of sanctions is at the level of our Member States.
So I'm not the only person in the EU working on sanctions by any means. So I think my particular role is to reach out to third countries where we see possible avenues for circumvention, and to try to find ways in which we can prevent that.
THE MOMENTUM IS ALWAYS FORWARD. WE DO NOT REDUCE OUR SANCTIONS
Almost four months into the adoption of the 10th package, there is a slowdown being observed in the EU in preparations of the next package. In particular, this dragging is seen on the part of Hungary and Greece. Can you say at what stage are the negotiations with these two countries at the moment?
In the EU, sanctions are adopted by all 27 Member States, acting by unanimity. This is the reality of the European Union, which Ukraine, we hope, will be a member of and you will have the pleasure of sitting around the table and seeing how it all works.
I'm not trivializing the challenge of what we're facing. What is happening here in Ukraine and the brutality of what Russia is doing shocks us all deeply. But we have 27 democracies and 27 political contexts in which we have to agree to our decisions.
I can tell you now when it comes to sanctions, national contexts always play a role. And this varies from time to time, depending on the issue. But inevitably, that's the way it works. And we have to find solutions because these are real problems that certain countries may have at any given moment.
We always find a way forward because we proceed by unanimity. And what we have got today is this unprecedented range of sanctions, achieved through unanimity and by keeping everyone on board. It takes a bit of time. But it is the only way in which we can ensure the full implementation of sanctions.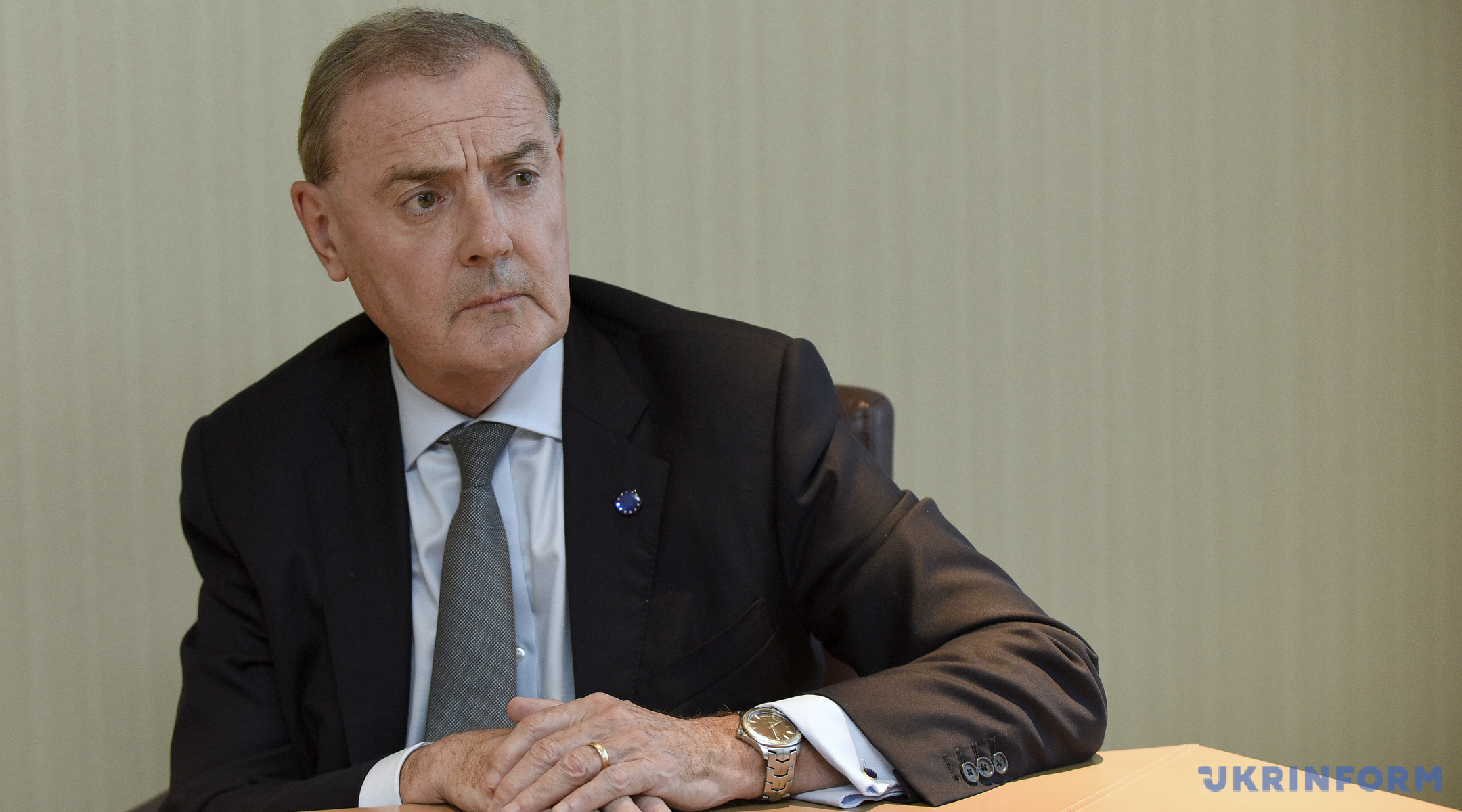 When do you expect adoption of the 11th package of sanctions?
We are very, very close. We're coming to the end of the process and I would hope within the next weeks we will see an agreement, but these are not things where you can put a very precise timeline for the reasons I've just described.
On May 9 in Kyiv, European Commission President Ursula von der Leyen said the new sanctions would be aimed at stopping Russia from circumventing the existing trade restrictions. But since then, it has been reported that some sanctions will be reduced, for example, for vessels that disable their location transmissions, and that they will include a grace period; or also, those targeting Chinese companies that supplied banned goods to Russia. Will sanctions really be reduced on the 11th package?
We always only add to the existing packages. So we have the 10th package, and we will have the 11th package. This is mainly focused on enforcement, implementation and non-circumvention.
But there will be additional sanctions, extra measures included to address a number of issues including some of the issues around the maritime, including additional listings of entities and some third country entities where we feel they have been contributing to the Russian war effort. So the momentum is always forward. We do not reduce our sanctions.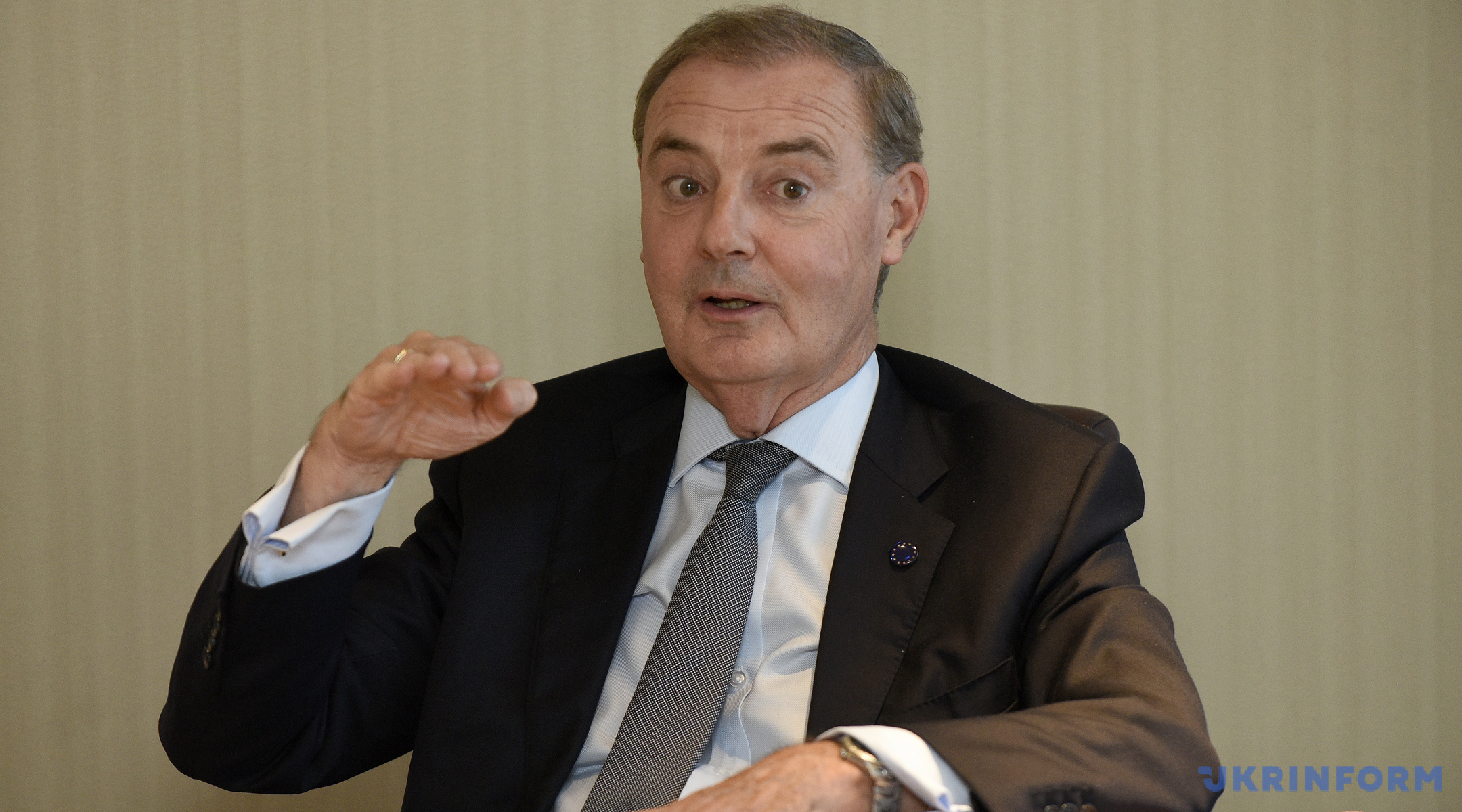 EVEN COUNTRIES WHO DO NOT ALIGN WITH SANCTIONS, DO NOT WISH TO BE SEEN AS PLATFORMS FOR CIRCUMVENTION
What about "gray import" to Russia? Do you have a vision how to deal with it?
Well, we have to be realistic – we will never completely eliminate it.
Our top priority at the moment are battlefield goods, the goods which have a potential military application.
These go beyond the traditional definition of dual-use goods used in civilian and military, but they are goods which, indeed, your government has recently highlighted as those which can be included in missiles and drones to make them smarter and more lethal.
So we have drawn up a list of these products. We have identified countries from which there may be re-export of these products and I have been traveling around asking countries to stop this.
I have to say I have received their fairly positive response, because even countries who do not wish to apply our sanctions or to align with those sanctions do not wish to be seen as platforms for circumvention and particularly do not want to be seen as platform for circumvention where it could have a military application.
They do not want to be responsible for exporting goods which potentially kill Ukrainians. And this is what we're working hard on.
We've received some clear commitments. We need now to monitor the trade and to see if in effect there is a fall off. And this, frankly, is the task we're going to have to do now every day, every week and every month going forward: checking the statistics, seeing where this parallel trade or this re-export of sanctioned goods may be happening, and try to get it stopped.
And if we are talking about these countries – when you traveled there, actually in which country did you receive the better response or did they agree to stop?
I don't want to name individual countries because I don't think it's fair. These are private conversations I have with these countries, to explain to them what is happening.
What I can say is that in all the countries I visited, I have found huge support for the idea that they should not be a platform for the re-export of sanctioned goods which have a potential military application. Nobody wants to be caught up in that trade.
Now, sometimes, the patterns of trade are complicated, but I have found openness to that conversation in every country.
Of course, the situation of each country is different. Some of them have very close relations with Russia, some of them are members of the Eurasian Economic Community. Some of them have large numbers of migrants working in Russia dependent on remittances.
Each country is in a different situation and we have to be sensitive to their specific positions. But taking all that into account, I have found a willingness everywhere I go to look at the issue of how to prevent their country being used as a platform for the re-export of sanctioned goods with a possible military application.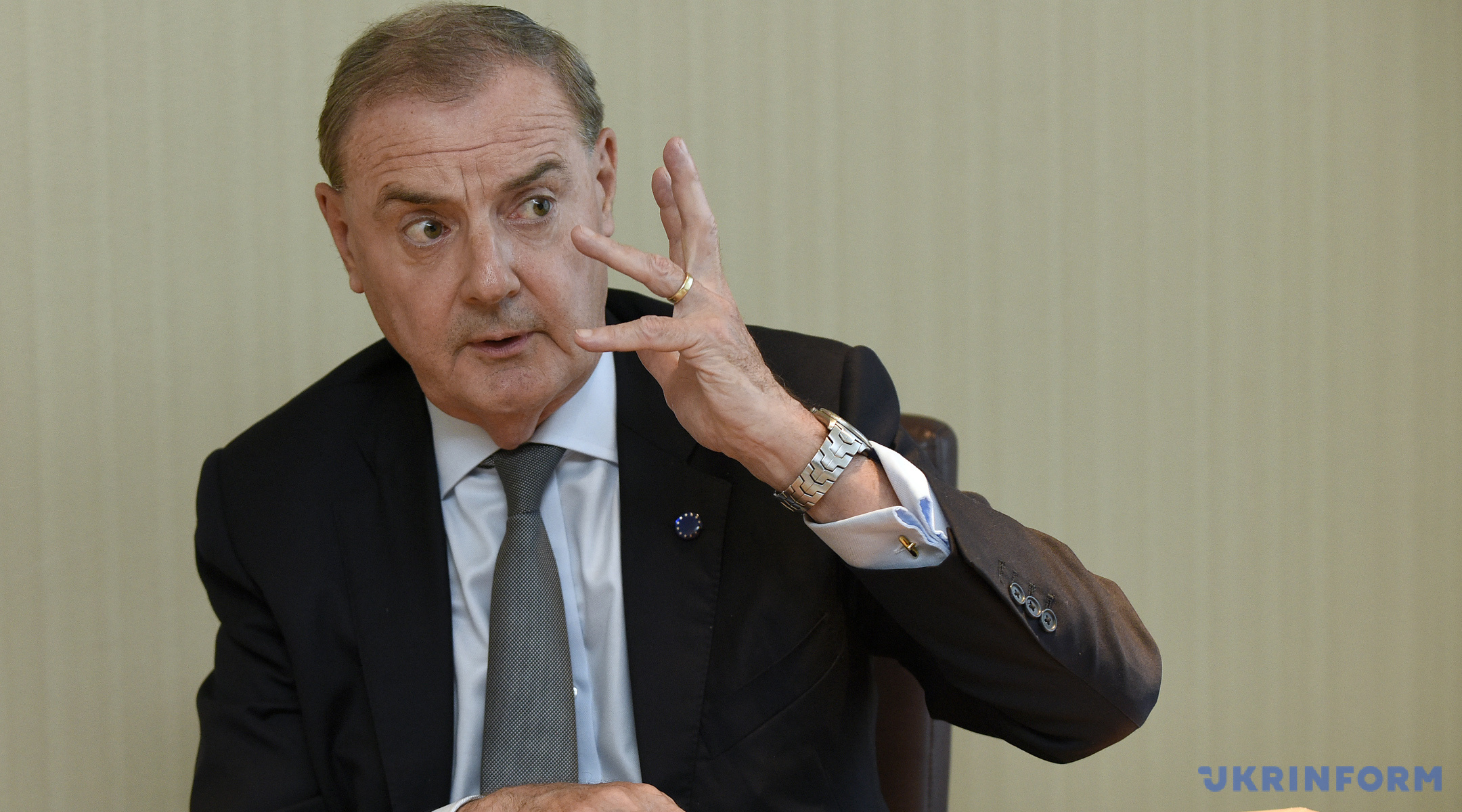 WE WANT TO SET MINIMUM STANDARDS FOR SANCTION EVASION
You met with the head of the Ukrainian Office of the President. Do you interact in any way with the Yermak-McFaul group on international sanctions?
I know of their work, but I don't engage directly. We interact with the Office of the President of Ukraine on a regular basis, as well as with the Ministry of Foreign Affairs. We are in close contact also with the staff working for Mr. Yermak.
A few days ago, the EU Council decided on a law on criminal penalties for sanction evasion. Who will be documenting this crime? What is the process of holding for accountability? Do you have a list of countries or certain individuals who will be investigated?
It is already a European crime to evade sanctions. That's really important to say.
That's in the treaties. The issue which we've been addressing with this new legislation is the fact that the penalties for sanctions evasion vary between Member States. In some, it's considered a very serious crime with a heavy penalty, but in others – less so.
So the purpose of this piece of European legislation which is a directive is to set minimum standards, minimum levels of penalties for this crime, and therefore to have more equal application of the crime of sanctions evasion across 27 Member States. So this will be applied by each country, in line with its own judicial system.
There are investigations going on at the national level. We should remember that we have more than 40 sanctions regimes in place. I mean, the Russian one linked to the brutal war in Ukraine is by far the biggest and most far-reaching, but we have others.
Many people have been prosecuted already. And there are investigations ongoing on sanctions violation. But the point is that when these investigations and eventually a prosecutions, or a convictions in court, will takes place, they will do so against the backdrop of having the minimum European standard of penalties that needs to be imposed.
Daria Smetanko, Kyiv
Photo: Ruslan Kaniuka