Richard R. Verma, United States Deputy Secretary of State for Management and Resources
We are very close to the Ukrainian leaders in terms of hearing their needs
19.05.2023 15:07
One of the U.S. top diplomats, Richard R. Verma, has paid a visit to Kyiv. In Ukraine's capital city, he met, in particular, with Deputy Prime Minister for Restoration of Ukraine and Minister for Communities, Territories and Infrastructure Development Oleksandr Kubrakov and Ukrainian Finance Minister Sergii Marchenko.
On the way back, he kindly agreed to tell an Ukrinform correspondent in Warsaw about the purpose of his visit, the level of Washington's support for Kyiv in the face of Russian aggression, and also shared his opinion on some foreign policy issues that have a direct impact on the future of Ukraine.
BIPARTISAN SUPPORT TO STAND WITH THE PEOPLE OF UKRAINE AGAINST RUSSIA'S ILLEGAL ACTION IS VERY STRONG
- Your Excellency, what is the main purpose of your last visit to Ukraine?
- Well, let me say we had an excellent visit to Ukraine. And in my role as Deputy Secretary of State for Management and Resources, it's our responsibility to make sure our team, our U.S. Embassy team and others there with the U.S. government have the resources and the support that they need and then we have everything that we're doing to support the Government of Ukraine in this very important time to ensure that they are able to defend itself and to push back against Russia's illegal invasion of Ukraine.
So we're very much in this close partnership, providing a range of assistance to the Ukrainian Government,the Ukrainian military, Ukrainian authorities so that, again, Ukraine can prevail in this unjust warand that we can begin thinking about and planning for the day after, for the reconstruction. I've been in the job for just a couple of months now, and it's my first international trip. I did that on purpose to show the importance and the resolve of the American government and the American people in standing with Ukraine.
- According to media reports, the large-scale aid package for Ukraine, approved by the U.S. Congress last December, should run out in the coming months. Could you share plans for when the U.S. administration will be ready to submit a congressional proposal for a new package?
- We've provided well over $60 billion in assistance. That includes humanitarian assistance, that includes direct government support for budget purposes, that includes military assistance, obviously. So, we are continuing to implement that spending and those assistance packages.And, of course, through our process with ourCongress,we have submitted our proposals for this fiscal year. Congress is considering those now,and we will take those up with the Congress.But let me also say that there is very strong bipartisan support to stand, again, with the people of Ukraine against this unjust and illegal action taken by Russia. So, I'm confident that we've got the support that we need to provide to you. Our allied partners are standing up as well quite strongly, including right here in Poland, providing a significant amount of assistance and we need to make sure that continues. At the same time, I know that Ukraine will also look to a day when it can normalize and raise its own revenue. We're planning for that as well,and that includes a significant number of reforms that your government is undertaking today and those are important planning steps that we're taking together with the international community.
- The United States joined the Council of Europe's "Register of Damage" caused by the Russian war in Ukraine. For now, these losses are estimated at hundreds of billions of U.S. dollars. However, Russia has also deepened the world's food and energy security crisis. Millions of people are at greater risk of hunger due to interruptions in the grain supply from Ukraine. What do you think is the actual damage for the world caused by the Russian war at this moment?
- Obviously, there's been disruption to food supplies, there's been a disruption to supply chain, but alsoI just say, this has been an affront to the rule of law and to the global post-World War II order. You know, countries do not and should not invade other countries and try to seize territory and attack civilians. And so that's been exceptionally damaging to the world order. And I think what's been heartening and what's been reassuring is how the world community has come together and pushed back against that kind of aggression. So, the damage has been very significant to the Ukrainian people. As you pointed out, it's had global impacts and it's had impacts to our international order. But I really believe that we've demonstrated the strength of the kind of democratic rules-basedorder, and I believe that will prevail in this case.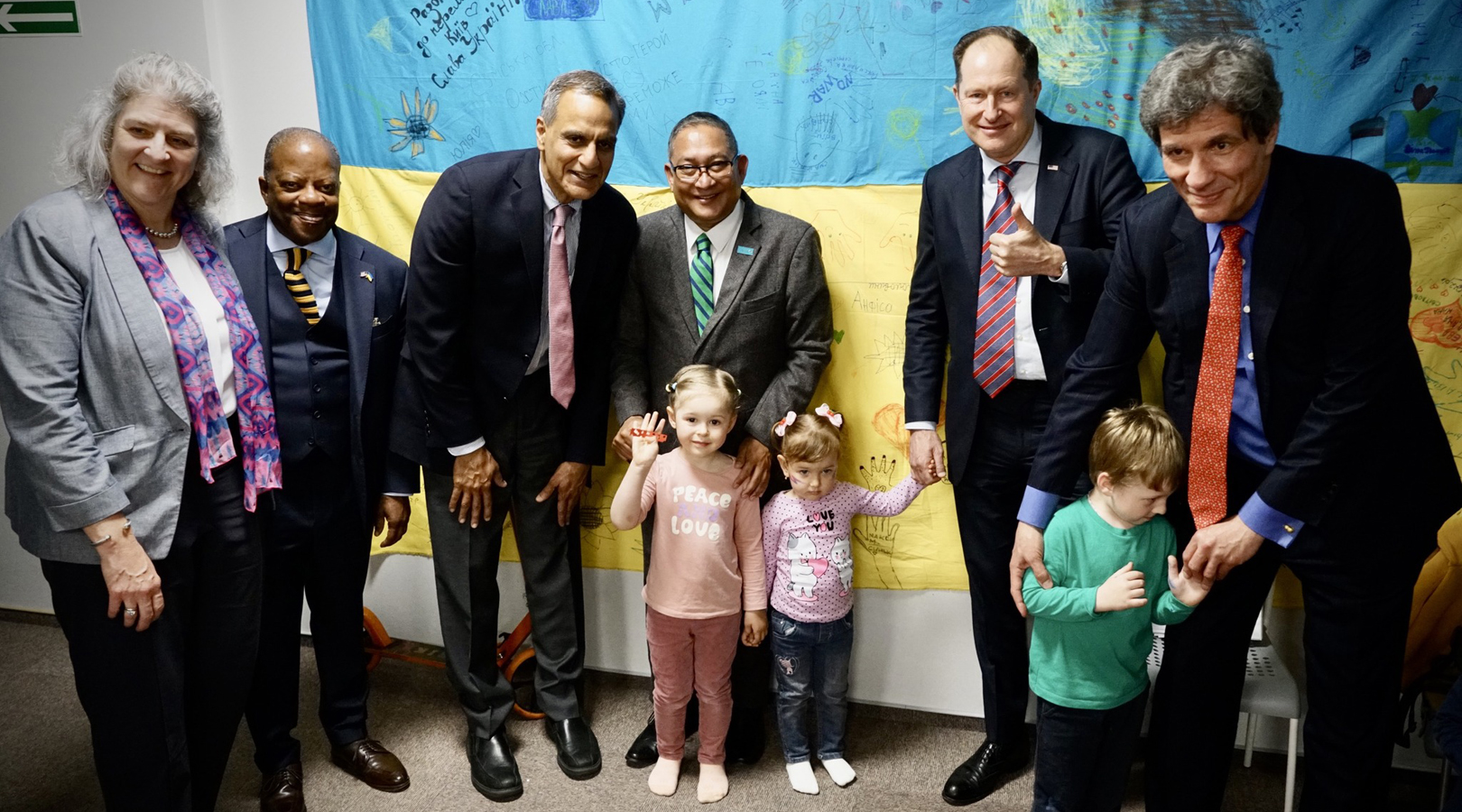 SANCTIONS AGAINST RUSSIA ARE SOME OF THE TOUGHEST, AND THEIR EFFECTIVENESS SHOULD NOT BE UNDERESTIMATED
- Recently, China has deployed active diplomacy around the Ukrainian issue. Chinese envoy, Li Hui visits Ukraine, Poland, France, Germany, and Russia this week. But simultaneously, the PRC continues to avoid calling the aggressor an aggressor. How does the United States feel about China's position and efforts to end the war in Ukraine?
- I can't really speak for China's position.What I would want to see is that all countries stand up against the aggression. I'd like to see all countries come in and support Ukraine's needs for reconstruction. And that those needs are existing today. And ultimately, though, the people of Ukraine have to make a sovereign decision about how and when this conflict will be ended. That won't be decided by an outside power.
- Sanctions imposed by the United States and other countries did affect the Russian economy but didn't change the aggressor's behaviour. What do you think needs to be done for economic pressure to lead the Kremlin to abandon the continuation of the war?
- I think the sanctions have been comprehensive and been some of the toughest sanctions that have ever been imposed. I've seen governments across the world impose tough sanctions. I've seen companies comply and disinvest in Russia. And I think that has sent a very powerful signal so I wouldn't underestimate the effectiveness and the importance of those sanctions. And we'll have to continue to look at other tools as long as the aggression continues.
- The NATO summit will be held in Vilnius in July. The Ukrainian authorities expect to receive clear messages from the allies and a clear time frame for Ukraine's accession to NATO. What can Kyiv expect during this summit?
- I don't want to get out in front of the NATO leadership or the NATO members.There is a process for accession as you know, and the 31 members of NATO will have to decide and assess and consider the membership just like any other country who has come before the body in the past. I don't want to prejudge where those decisions are going to leave. But I think it's going to be an important gathering for sure.
WE WILL MAKE SURE THAT UKRAINE IS ABLE TO DEFEND ITSELF AND PREVAIL IN THIS STRUGGLE
- Ukraine is currently preparing a counteroffensive operation and needs more weapons, including long-range missiles. Recently, Great Britain handed over Storm Shadow missiles to Ukraine. According to media reports, France is also studying the transfer of long-range missiles to Ukraine. Is it possible that soon the USA will change its approach to avoiding the transfer of long-range U.S. missiles to the Ukrainian Armed Forces?
- Part of the reason for our visit was to assess the security assistance and get a deeper understanding of what's been provided and what's still required. And I will just say I've been so impressed and so heartened by the level of, again, U.S. and allied support when I see what's been provided - from ammunition to artillery, to how it serves, to really advanced systems across the board in every category, the HIMARS,Patriots. This is a verysophisticated, powerful, lethal amount of equipment that's come into Ukraine in a very short period of time. It shows the resolve and the purpose of the United States and the international community in supporting Ukraine. And we have a very close process that's working quite well to assess the future needs as they come in. But I just look at what's been provided today and I'm very, very encouraged and impressed by what's been provided. And we're going to make sure that Ukraine is able to defend itself and prevail in this struggle.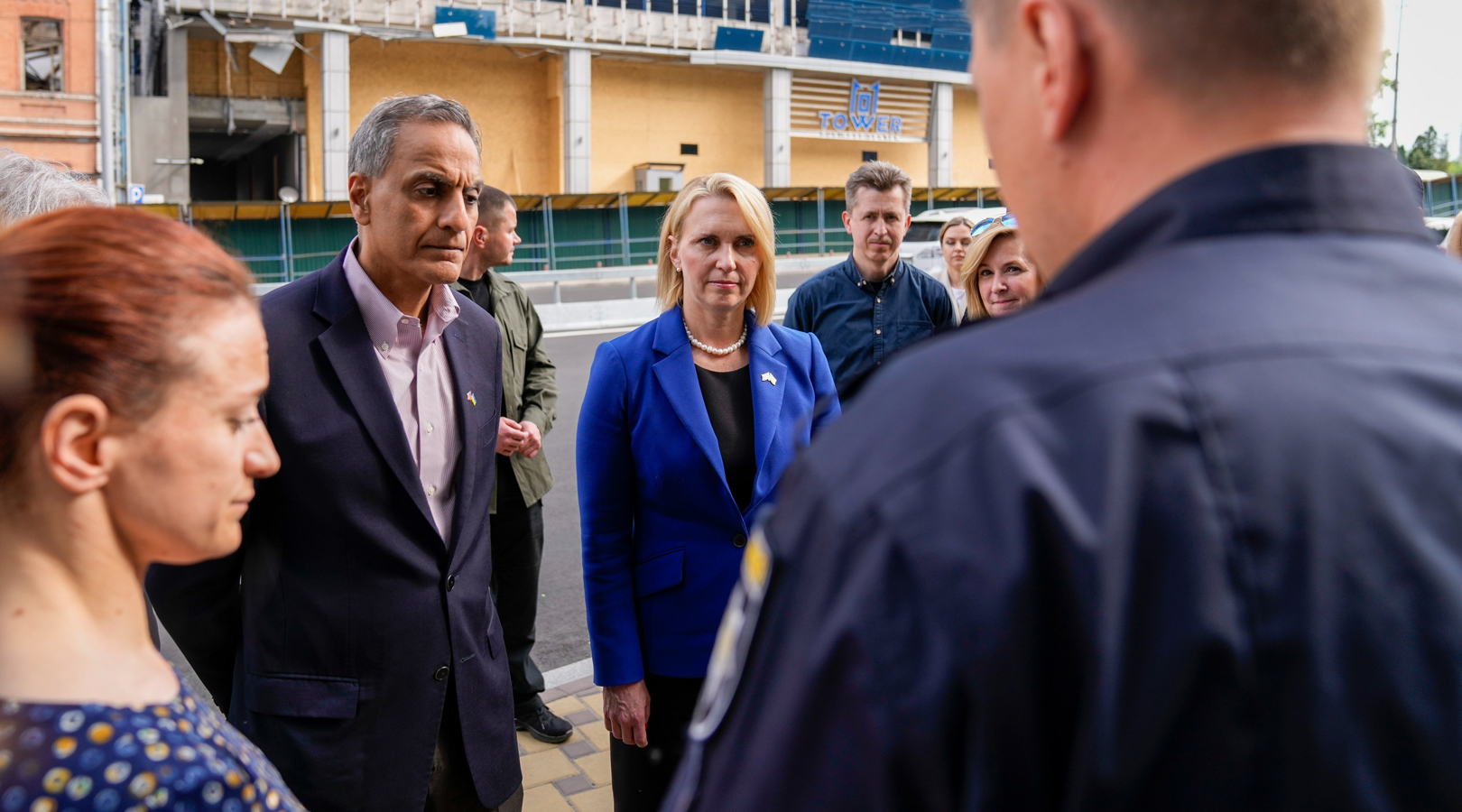 - Recently, Great Britain and Germany said they could not give F-16 fighter jets to Ukraine because the United States should approve this decision. What is the U.S. position on this issue? Is the administration considering such a possibility now?
- There's been an incredible amount of security assistance provided and it's been incredibly effective. It's been the right thing to do. It's been, again, widely supported, has strong bipartisan support to ensure that Ukraine can defend itself and push back. We'll just have to see as the additional requests come in. I think they're these will be handled in a very thorough way. There's not a long delay in assessing some of these. I don't want to get out in front of folks in the Pentagon or in our system as these decisions are taken, but let's just say we are very close to the Ukrainian leaders in terms of hearing their needs, and we will assess them as the as the battle continues. And I just want to again reiterate - our resolve remains incredibly strong so that Ukraine can have its own territory returned to it and continue to live as a democratic and active member of the international community in a peacefuland just way.
Yurii Banakhevych
Photo provided by the U.S. Embassy in Poland, and twitter/ Richard R.Verma