Kuninori Matsuda, Ambassador Extraordinary and Plenipotentiary of Japan to Ukraine
"Special global partnership" will be the core of our relations
27.04.2023 18:20
In March, the "last samurai of the G7" paid a visit to Ukraine – Prime Minister of Japan Fumio Kishida met with President Volodymyr Zelensky and visited Bucha. Since on the same day, Chinese leader Xi Jinping was in Russia where he shook hands with criminal aggressor Vladimir Putin, the bright contrast between the meetings in Kyiv and Moscow somewhat shifted public focus away from the outcome of the negotiations between the leaders of Japan and Ukraine. However, the last time a Japanese prime minister visited Ukraine was in 2015, while the previous joint statement of the two leaders was signed in 2011. Ukrinform decided to address Japan's Ambassador in Kyiv, Kuninori Matsuda, with questions about the importance of the latest visit and the key results of the meeting, including new aid and prospects for Ukrainian-Japanese relations.
IN BUCHA, KISHIDA'S FACIAL EXPRESSION WAS AS GRIM AS EVER
- Prime Minister Fumio Kishida of Japan finally visited Ukraine in March. You accompanied him, including during a meeting with the Ukrainian President, Volodymyr Zelensky. Of what significance was this visit for Japan?
- Since the start of the full-scale war of aggression, Prime Minister Kishida, as well as the Japanese government and people, have been constantly demonstrating that they stand with Ukraine and sincerely support it.
It is extremely important that Kishida was able to see the actual situation in Ukraine, talk to the President of Ukraine, Volodymyr Zelensky, and other Ukrainian officials, and directly hear their opinion. Thanks to this, Japan strengthened its intention to resolutely help Ukraine in the future.
Of great importance was the confirmation that Japan – as the country chairing the Group of Seven this year – should show leadership during the Group's discussions. Kishida sought to visit Ukraine before the G7 summit in Hiroshima.
So, I think it's really good that he was able to come.
- Kishida stated that he "felt strong fury" when he visited Bucha. Did you notice strong emotions in the Prime Minister during his visit to the scene of the tragedy? What did you feel there yourself?
- When he listened to the horrifying stories of Bucha, his facial expression was as grim as ever. He listened seriously to people, and it seemed that he was making some kind of decision for himself. Later, during a press briefing, he stated that he saw in Bucha what aggression had led to, and deeply felt that it was an atrocity. These words clearly reflect (his feelings - ed.).
And I, too, together with the Prime Minister, listened to the priest of St Andrew's Church. I was at a loss for words when I saw this indescribable sadness in his blue eyes...
At the same time, after the stories from the representatives of the Bucha Municipal Council of how the town is being restored after overcoming depression, I personally felt inspired. Now the Embassy has started to look more specifically at what we can do to rebuild Bucha.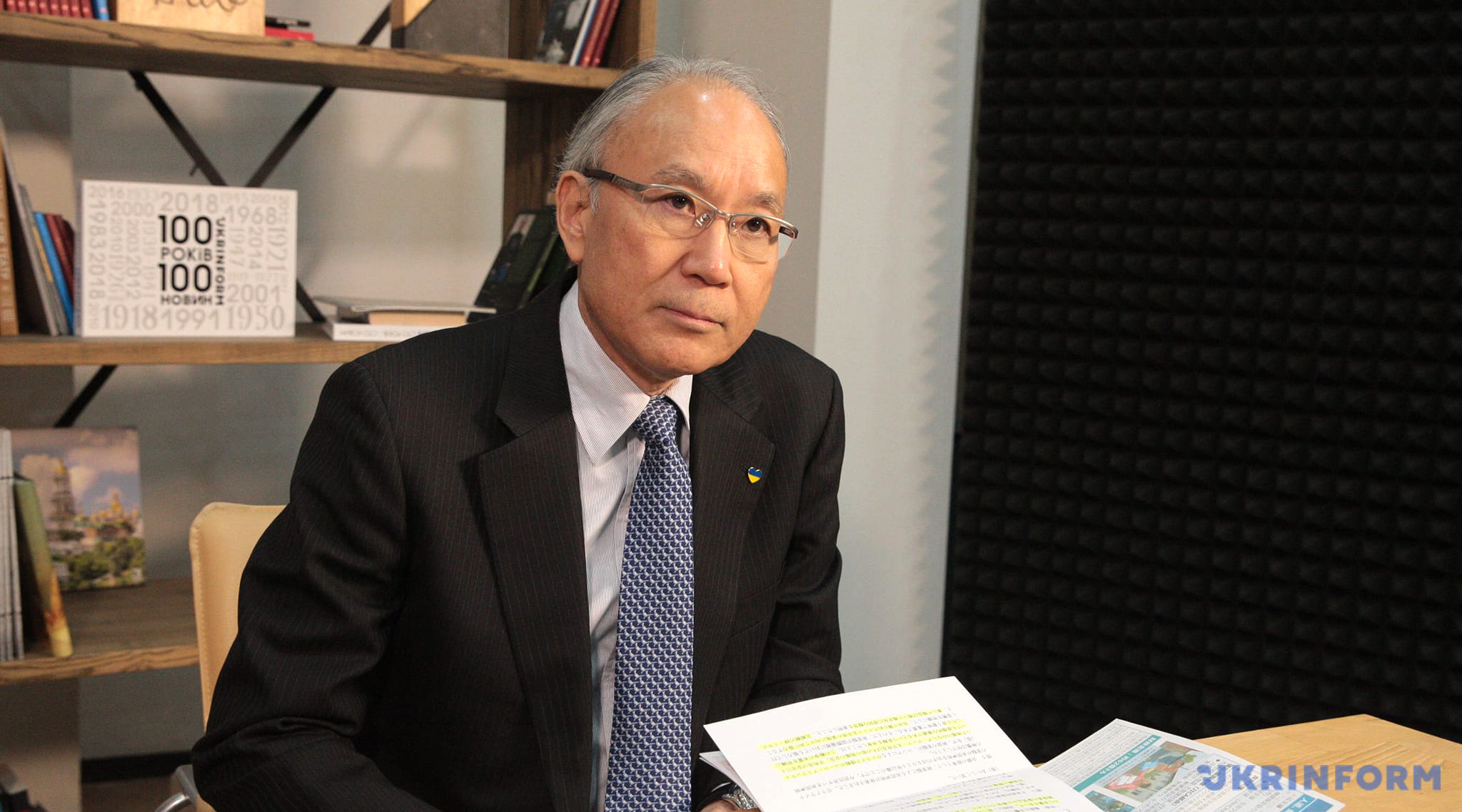 - According to the statement by the Japanese government, the meeting between Zelensky and Kishida lasted 2 hours and 40 minutes. Can you describe the atmosphere of that meeting?
- Prime Minister Kishida and President Zelensky previously spoke several times online, but this time the first physical meeting took place. I could see that they had mutual trust and respect, and I think that the meeting had a really nice atmosphere. Zelensky was very attentive to Kishida, and Kishida tried not to miss any of Zelenskyi's words. In my opinion, the two had a fruitful exchange of ideas.
- It was also stated that they held a working meeting over dinner. Have you and Mr. Kishida tried some Ukrainian cuisine?
- Early into the working dinner, the President explained Mr. Kishida the menu of dishes and drinks that were served. I think that the Prime Minister enjoyed this dinner held in a really warm atmosphere. At the same time, the conversation about international affairs related to the ongoing war was detailed and productive.
"SPECIAL GLOBAL PARTNERSHIP" WILL BECOME THE CORE OF BILATERAL RELATIONS
- Following the meeting of the two leaders, a joint statement was made, which has not happened between Ukraine and Japan since 2011. Which points should we pay attention to?
- The meeting took place against the background of Russia's full-scale war of aggression against Ukraine. Therefore, of course, the joint statement of the heads of state contained the understanding that this Russian aggression is a direct threat to security, peace, and stability not only in the Euro-Atlantic space, but also in the Indo-Pacific and other regions of the world.
In my opinion, the major significance of the joint statement is that it clearly sets out the essence of this war – as a war that is not just a territorial dispute between Russia and Ukraine as it concerns not only Europe, but the order, stability, and peace of the entire international community.
Our Prime Minister explained the situation in the Indo-Pacific region and this was also reflected in the joint statement. Bilateral cooperation for the implementation of the Free and Open Indo-Pacific (FOIP) concept was discussed. The leaders expressed serious concern about the situation in the East and South China Seas. In addition, they condemned the nuclear and missile issue of North Korea due to the fact that Russia also employs nuclear intimidation and poses a nuclear threat.
With the consent of both sides, the heads of state agreed to raise the status of bilateral relations to "Special Global Partnership". This means that Japan and Ukraine will not only discuss bilateral issues, but also exchange views and cooperate on global ones.
This statement will be the core of our future relations.
- Japan has significantly changed its foreign policy toward Russia. The statement, in addition to the concern over the situation in the East and South China Seas, emphasized the importance of peace and stability in the Taiwan Strait area. As far as I know, this is the first time Ukraine has declared its official position on these issues. By the way, in the past, in its foreign policy, Japan took into account the intentions of Russia, and Ukraine took into account those of China, which to some extent inhibited the development of Japanese-Ukrainian relations. Can it be assumed that after February 24, 2022, both countries began to take less into account the intentions of Moscow and Beijing, respectively? And, if so, in your opinion, how will these changes affect future Ukrainian-Japanese relations?
- I think you are completely right. This Russian aggression against Ukraine is an atrocity that has undermined the foundations of the international order. And Japan is also feeling the crisis very strongly. Therefore, our state has significantly changed its foreign policy toward Russia. And future Japanese-Ukrainian relations will be based on this undeniable fact. Our countries will exchange their views more closely and cooperate in such fields as Russia sanctions, support for Ukraine, and work with the countries of the Global South. Our embassy in Kyiv is also in close contact with the Government of Ukraine on an almost daily basis.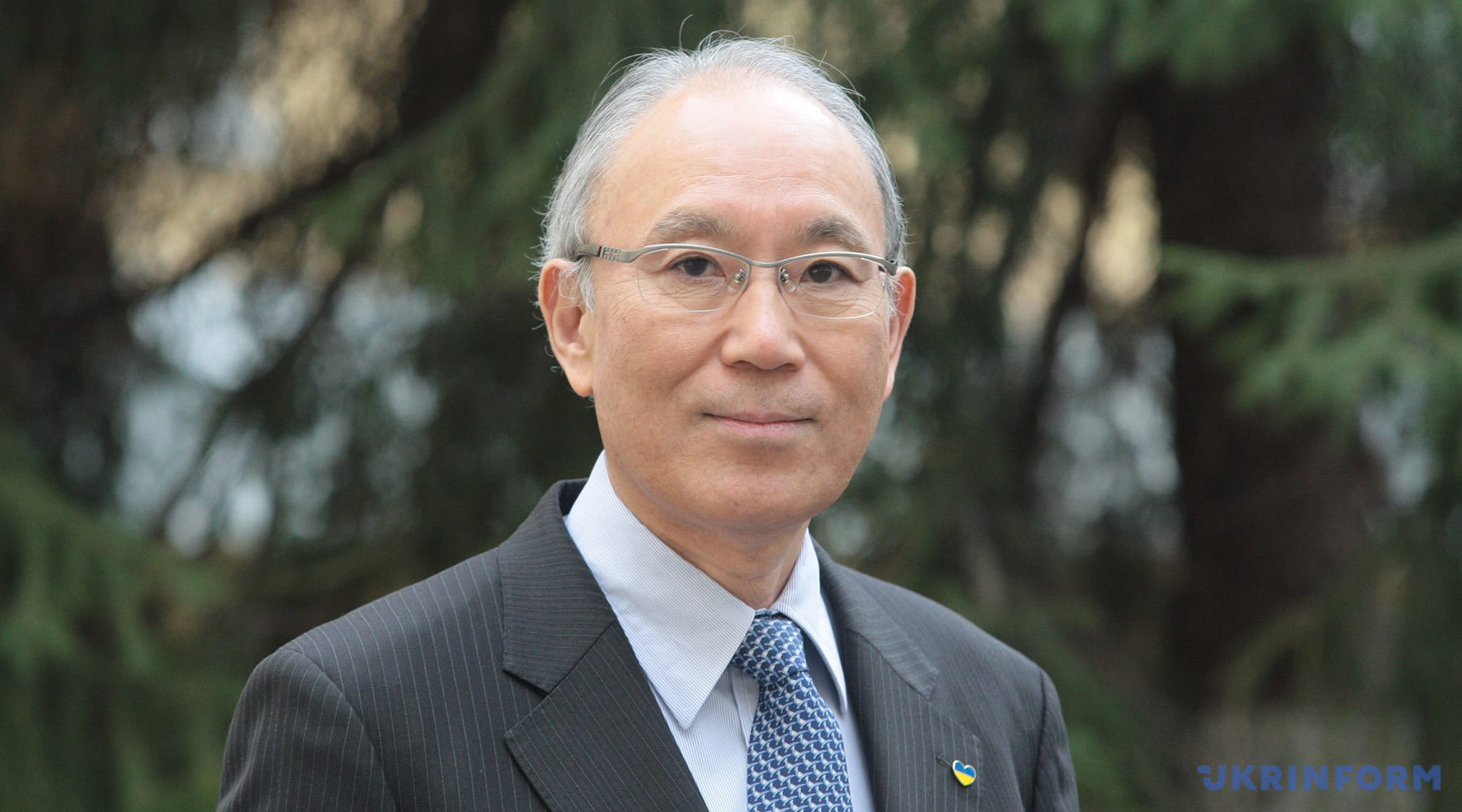 - Ukrainian media were interested in whether it would be announced that lethal weapons would be provided to Ukraine during the visit, but this never happened. Japanese law does not allow sending lethal aid to countries in armed conflict. But the category of lethal weapons includes, for example, air defense systems, which can actually protect the lives of civilians and Ukraine's energy infrastructure. The joint statement of the G7 leaders refers to coordination for the provision of air defense systems to Ukraine. And Ukraine needs weapons to win this war. Taking this into account, could you please tell us whether there is currently a discussion underway in Japan regarding a potential provision of lethal aid to Ukraine?
- The Government of Ukraine perfectly understands our circumstances and legislation. So, accordingly, it forwards to us specific requests for assistance. Over the last year, Japan has been doing what it can or should do under the current laws, and I think that we will continue to do it steadily.
In addition, in general, in sending defense equipment abroad, Japan acts strictly and cautiously – taking into account our basic idea of a "country of peace". I can't answer your question of what debate might arise in Japan in the future, but we provided non-lethal capabilities to Ukraine. And this time, Kishida told Zelensky that Japan had allocated $30 million for the supply of non-lethal aid to Ukraine through the NATO trust fund. I think Japan will provide the help it can provide.
AGREEMENT ON INFORMATION ​PROTECTION WILL MEAN THE SAME RELATIONS OF JAPAN WITH UKRAINE AS WITH THE USA AND NATO
- During a press conference, Kishida announced the start of coordination on concluding a bilateral agreement on information protection. Japan has signed such agreements with only eight countries (USA, France, Australia, Great Britain, India, Italy, South Korea, and Germany), as well as with NATO. What does Japan expect from this deal and what will it bring to both countries in the future?
- Japan believes that it should have such relations with Ukraine, which will be equal to those with the eight countries and NATO, with which Japan previously concluded such an agreement. This stage has come, there is an understanding of the need, against the background of the mentioned agreement, to start coordination on its signing.
The information protection agreement will adequately and safely protect classified information of both countries in accordance with the laws of each state, and if necessary, Japan and Ukraine will be able to quickly and properly exchange information useful for the preservation and development of security of both countries. The negotiations will kick off soon, so I can't talk about their prospects now, but I am convinced that this will create an extremely important base for our countries. After this announcement, I have extremely high expectations and I praise both Ukrainian government officials and representatives of the Japanese government.
- Kishida presented Zelensky with a "victory shamoji" (a rice paddle - ed.) and a light bulb in the form of origami cranes, symbolizing peace. It is known that Japanese politicians rarely declare "Ukraine must win." Mostly, they refrain from using the word "victory" at all in the context of Russia's war of aggression. Some of them even say that it would be wrong to wish victory for Ukrainians as victims of war. However, Ukrainians do want to hear from the world a wish for a "certain victory", which is symbolized by this shamoji. Therefore, I believe that Kishida's gift was appropriate as he carefully studied the moods of Ukrainians. So I would like to clarify with you whether Japan wants Ukraine to win this war with Russia?
- The Prime Minister presented two gifts to the President: a Hiroshima "victory shamoji" and an Osunayaki-style ceramic light bulb from Miyajima, from the same prefecture. Kishida commented on the gifts as follows: "(This is – ed.) in order to express support for President Zelensky in the face of Russian aggression and to wish him peace as soon as possible." If we explain what this means from the point of view of diplomacy - we think that the sovereignty and territorial integrity of Ukraine should be restored within internationally recognized borders as a result of the end of this war of aggression, "just and lasting peace" should be returned to Ukraine. This is what is implied by the gifts. So, to briefly answer your question "Do we want the victory of Ukraine?", I believe it can be understood as a "yes."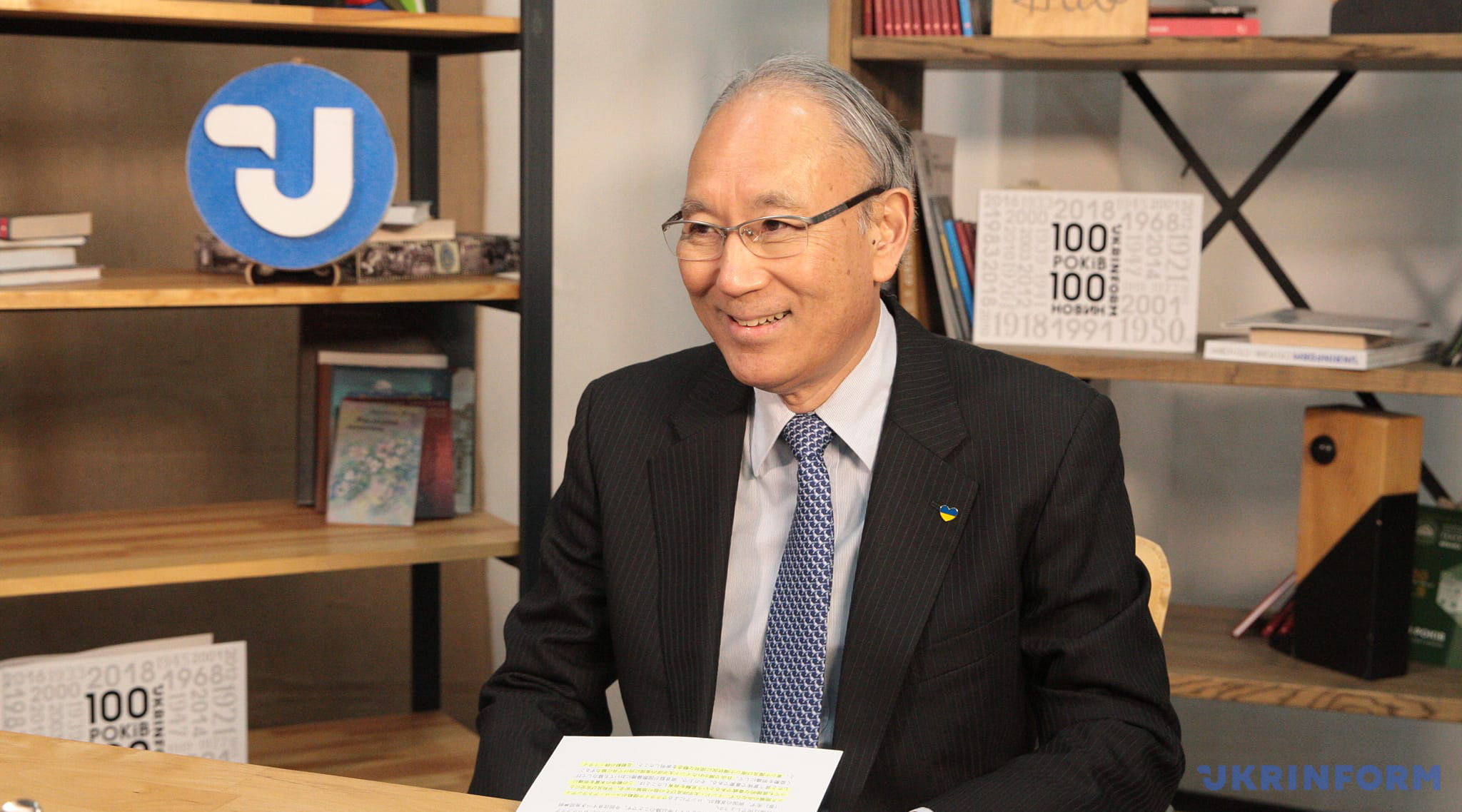 - Okay. Ukraine's victory means the restoration of territorial integrity and the establishment of a just peace. Does Japan support Ukraine's position?
- Yes. In addition, I would add something here. This is about that extremely gruesome execution of a Ukrainian prisoner of war, shown in widely circulated video. I am personally appalled. The Government of Japan strongly condemns the fact that, in the course of this full-scale war, unprovoked brutal acts are taking place in Ukraine, which violate the norms of international law and international humanitarian law. We believe that those responsible must be held accountable according by law. Now the relevant bodies of Ukraine are investigating this. Japan is closely monitoring the probe and will respond appropriately.
- Please tell us the details of the Japanese aid to Ukraine announced during Kishida's visit.
- The new aid package that the Prime Minister handed over to the President is grants worth $500 million. Of this, $470 million has been earmarked for the energy sector, including containerized gas turbines and mobile power substations, as well as demining and construction waste treatment. Another $30 million goes to the supply of non-lethal aid through the NATO trust fund.
The total amount of aid that the Japanese government has provided to Ukraine since the outset of the full-scale aggression is $7.6 billion. We believe that our aid, in accordance with the idea of "standing with Ukraine," is growing, which is confirmed by numbers.
- Was the aid recently announced by the Japan International Cooperation Agency (JICA) the one that Kishida announced during the meeting with Zelensky?
- Exactly.
- So, it is being implemented quite quickly.
- Yes, we're implementing it quickly. The fact is that back in the winter, we made maximum efforts to provide Ukraine with generators, and now we intend to do everything possible ahead of the next winter, which I think Ukraine is also anticipating. We are seriously engaged in ensuring that the $500 million aid announced by Kishida is implemented as soon as possible.
RUSSIAN AGGRESSION AGAINST UKRAINE WILL BE ONE OF THE MAIN TOPICS OF THE G7 SUMMIT IN MAY
- Speaking of peace. Today, the world is talking about two different concepts of peace in the context of the Russo-Ukrainian war. The first is "immediate ceasefire at any cost". The second is that peace can be established only after the Russian troops withdraw from the entire territory of Ukraine, that is, after Ukraine wins. It is known that Kishida wants to raise the issue of "peace" during the G7 summit in May. Could you tell us, please, what kind of peace Kishida seeks to support in Hiroshima, the city that is the symbol of peace?
- It would not be an exaggeration to say that Russian aggression against Ukraine will be one of the main topics during the G7 summit in May. I think Kishida will firmly hold unity of the G7, say that he will continue to support Ukraine, and once again demand that Russia immediately and unconditionally withdraw its troops and weapons (from the entire territory of Ukraine - ed.). In the end, he and other G7 leaders will declare to the world their stance in order to realize a "just and lasting peace".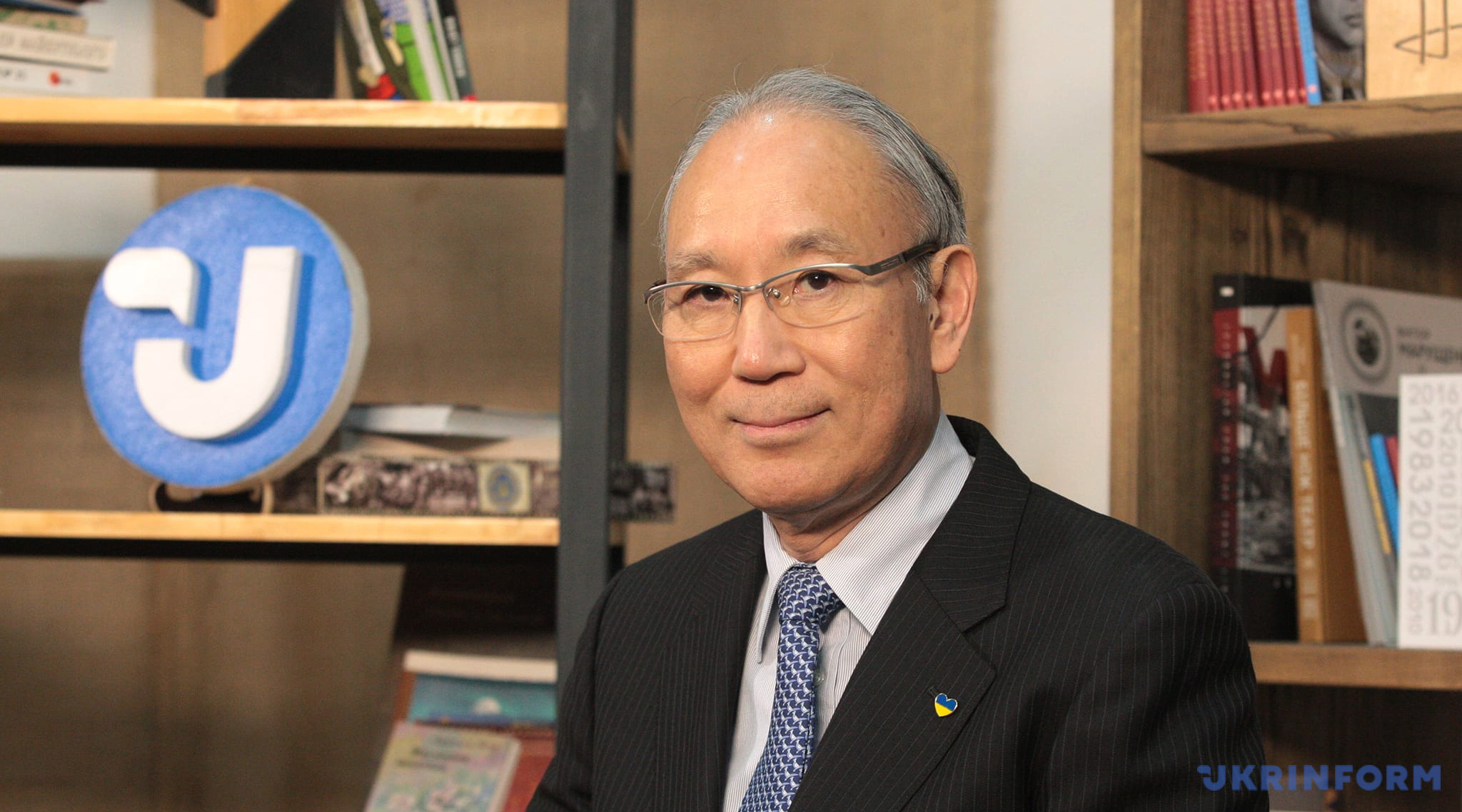 I would like to make a few comments about the "immediate ceasefire at any cost" that you just mentioned. If we take into account the fact that this is a full-scale and one-sided war of aggression on the part of Russia, I believe it would impossible to establish peace without a clear call to Russia to cease fire and withdraw (troops - ed.).
- On February 23 of this year, the Minister of Foreign Affairs of Japan, Yoshimasa Hayashi, speaking at a meeting of the UN General Assembly, called such a peace (without the complete withdrawal of Russian troops from the entire territory of Ukraine - ed.) an "unjust peace". It is Japan's position, isn't it?
- It is, yes.
- Japan continues to impose harsh sanctions against Russia, and strongly supports Ukraine. At the same time, it is known that the Japanese government retains the position of "Minister of Economic Cooperation with Russia", Japanese companies continue to be involved in Russian gas projects, such as Sakhalin-1, Sakhalin-2, and Arctic LNG. In the eyes of Ukrainians, this looks like a contradiction. Why hasn't the post of minister for cooperation with the Russian Federation been abolished, and why does Japan continue to import Russian gas?
- This position remains in place, but I can say that its tasks have become different. Due to Russian aggression, Japanese-Russian economic relations have changed, and this affects many Japanese companies, and each of them is thinking about responding to Russia's actions. Some have already left this country, some are reducing their business gradually, and some are still deciding what to do next. The Japanese government provides them with the necessary information and advice. This position still exists due to the need to help them in the process of withdrawing business from Russia. Therefore, I ask you to look at the essence of the activity, not at the position's title.
Regarding energy projects, Japan's main policy is to gradually reduce dependence on Russian energy sources, in particular oil and coal, which is based on the corresponding joint statement of the G7 foreign ministers. In the second half of 2022, Japan's imports of crude oil from Russia fell by about 90% against last year, coal – by about 60%, and natural gas imports did not increase.
So, based on our main policy, Japan takes measures that do not contradict Russia sanctions. And I think it is necessary to continue to explain this to the Ukrainian government so that there is understanding.
- Zelensky supports Japan's position regarding the Northern Territories and expresses solidarity with Japan. But we hear almost no reaction to this from Tokyo. What is Japan's position regarding this support expressed by Ukraine?
- We are very well aware that, since last fall, President Zelensky and the Verkhovna Rada have repeatedly expressed their understanding of our position regarding the Northern Territories and their solidarity with us. Japan's policy is to resolve the issue through bilateral negotiations with Russia and the conclusion of a peace treaty. In my opinion, the fact that many countries, including Ukraine, express their understanding and support for Japan's principled position is important for future negotiations with Russia. I firmly and gratefully explain this to the Ukrainian government officials.
- You say that it is important?
- Yest. Perhaps it will be clear if you look at the situation from another perspective. If no one is aware of this issue, the negotiations may drag on or even be ignored.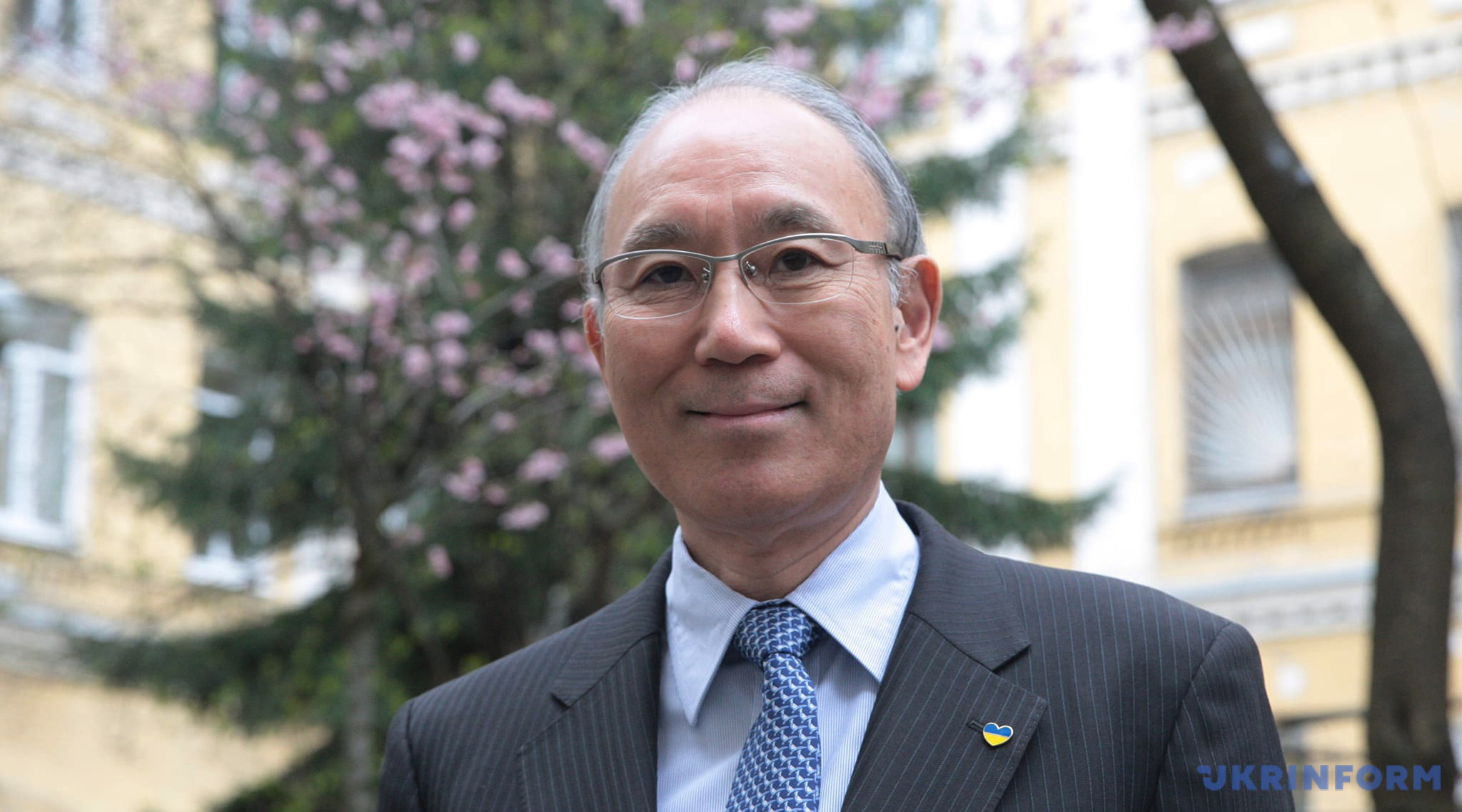 JAPAN WILL ALWAYS STAND WITH UKRAINE
- Martial law is still in place in Ukraine, air raid alerts still go off in Kyiv, although not so often. How is working in Kyiv for you and your diplomats today? How do you feel, working in such unusual conditions?
- After the resumption of the embassy's operations last fall, we are gradually bringing in our staff – the number of embassy employees has even become larger than before the start of the full-scale war. Our operational regime for bilateral relations with Ukraine and work related to Japan's wartime G7 chairmanship have already been established.
We carry out our daily work almost without delay, using various applications to warn of a potential strike, as well as get various messages from Kyiv authorities, while focusing on the safety of each embassy employee. I am sincerely grateful to the Japanese and Ukrainian staffers who work with high motivation and morale in such a difficult situation. To be honest, I could not have done all this work if I were here alone, but luckily I have the support of my colleagues. Also, the National Police of Ukraine also provides excellent security for the embassy and my residence.
I have previously worked in the Middle East, South Asia, and some parts of North America where security is not always reliable, and compared to those places, I think the security mechanism in Ukraine is really effective. It would be wrong to say that there is no tension or stress but, thanks to everyone around, I am confident in my work.
- You started working in Ukraine in November 2021, and a few months later came a full-scale invasion. Have your views and impressions of Ukraine and Ukrainians changed since then?
- I, of course, studied Ukraine before coming here. Even at a young age, I was into the affairs of the entire post-Soviet space. And when I worked as the head of the Russian department at the Ministry of Foreign Affairs, I thought I was paying close attention to the relations between Russia and other former republics of the Soviet Union. However, after Russia started this full-scale aggression against Ukraine and I heard various speeches and statements by Putin to justify this aggression, I realized that I need to study the history, culture, nature, religions, and people of Ukraine. Our embassy has formed a group with the participation of experts on the Ukrainian language because it is not easy for me to learn it on my own. So we visit different places together, such as history or art museums, churches, the Holodomor museum, and the Babyn Yar nature reserve, or we listen to the stories of different Ukrainians. In this way, my colleagues and I try to better understand Ukraine, its wonderful nature, rich culture and history. And I feel that my understanding of why Japan should help Ukraine is also deepening. We also see ordinary Ukrainians more often. For example, when we go to churches, people ask us: "Where are you from?" Through such communication, we learn about the warm and patient nature of the Ukrainian people. I think that because of this war, our image of Ukraine, which used to be abstract, has become concrete. It helps us in our daily work, and I hope that it will definitely lead to the strengthening of Japanese-Ukrainian relations.
- You mentioned that your image of Ukraine "has become concrete." Please describe it in a few words.
- In my opinion, this is the "spirit of freedom and independence". Today's Ukraine is what it is because of its thousand-year history – the people who lived on this land sometimes suffered from large neighboring countries but the people of Ukraine have always defended their freedom, independence, and human dignity. And this is also clearly reflected in its current defensive war.
- Do you have any special impressions about working in "wartime" Kyiv?
- Answering such questions, I always remember the morning of February 24 of last year, when missiles flew over Kyiv and a full-scale war of aggression began. I looked out the window of my residence and saw a woman on Taras Shevchenko Boulevard – she was walking her dog! At that moment I thought that people are strong. When I saw people on the subway who supported each other, and the fighters of territorial defense forces at the checkpoint during our temporary evacuation from Kyiv, I felt their indescribable calm in such a difficult situation.
Perhaps the strength of Ukrainians manifests itself precisely in extremely difficult times.
I don't know if my family and I would be able to maintain such calm and human dignity, and react in the same way as Ukrainians, should we find ourselves in the same situation.
I keep thinking about these experiences, but it all started when I saw a woman with her dog on the morning of February 24.
- You sometimes show videos on social media where you speak Ukrainian. When you returned to Kyiv in October last year, you exclaimed "Glory to Ukraine!" How well do you already speak Ukrainian?
- I passed the elementary grammar textbook of the Ukrainian language twice, I can read texts, but I cannot communicate in Ukrainian. However, every day I find 5 to 10 minutes and open my textbook to improve my communication quality. When I give a speech, my colleagues help me write texts in Ukrainian, and I recite them. I think it would have been better if I were a bit younger (laughs). However, lately I am pleased that, when I hear Ukrainians speaking Ukrainian, I generally understand what they are saying.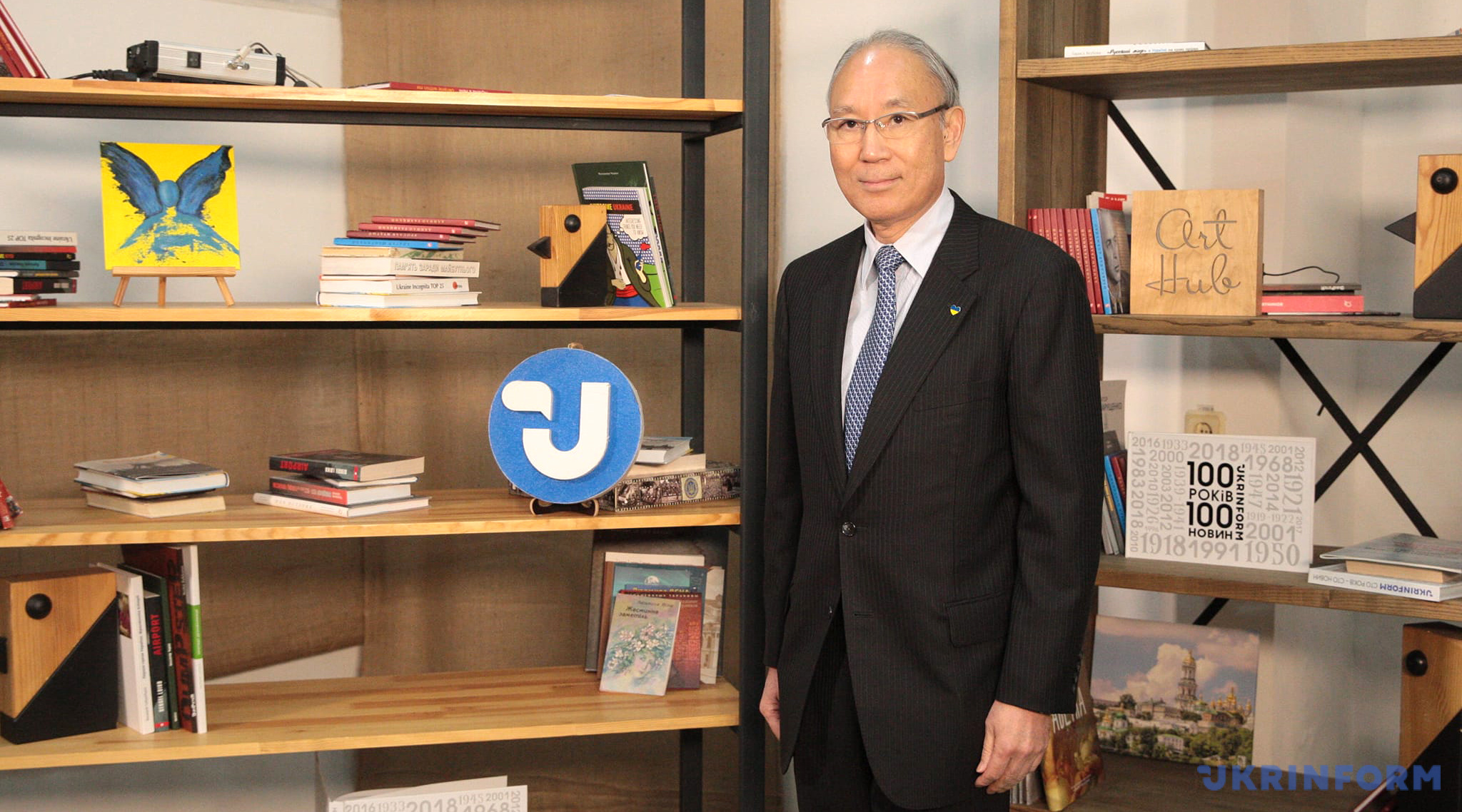 - Finally, I would ask you to send a message to Ukrainians.
- My message to all of you is only one. Despite the fact that Russia lies between us, Japan and Ukraine are still neighbors. Therefore, Japan will always stand with Ukraine in the future. This is the key point.
Takashi Hirano, Kyiv
Photo by Hennadiy Minchenko