Étienne de Poncins, France's Ambassador to Ukraine
My book about the war in Ukraine does not yet have a happy ending, but we all hope for it
21.02.2023 12:21
Among the traditional souvenirs French Ambassador to Ukraine Étienne de Poncins keeps in his office, there are some war-related gifts – a Petrykivka-painted protective helmet and a sprig of cotton that has become so dear to the hearts of all Ukrainians...
On the one hand, it is difficult to speak with the French ambassador about the war because he believes that a diplomat's mission in this situation is to mediate between the capitals, and therefore he avoids specifics in his answers. And on the other hand, it is an easy conversation because the ambassador felt our pain so much that he wrote the book "In the heart of the war", which was published in France.
In an interview with Ukrinform, Étienne de Poncins touched upon the book, spoke of France's comprehensive approach to providing defense aid to Ukraine, assessed the situation around Bakhmut, and reflected on the future of Russia after Ukraine's victory.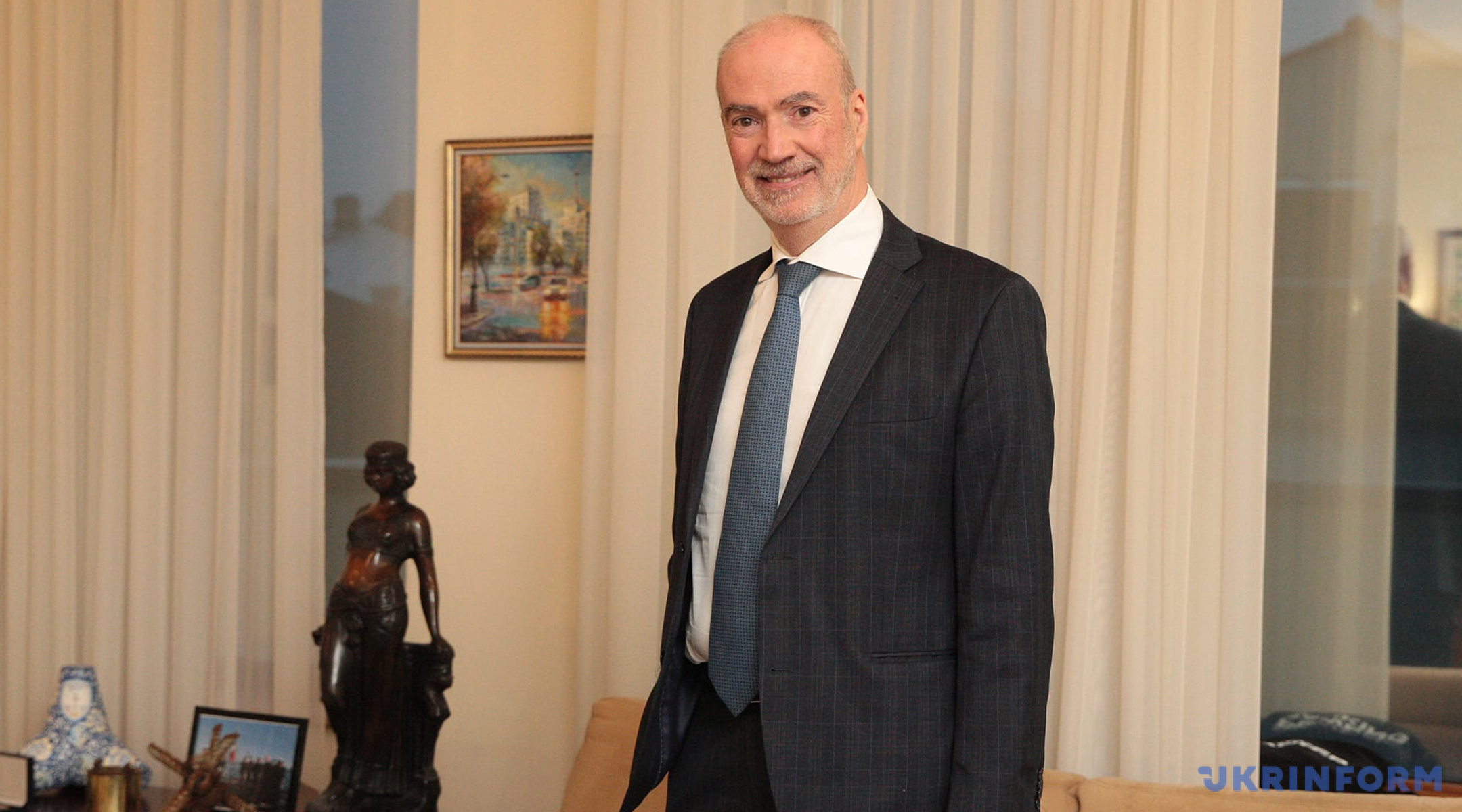 FRENCH DIPLOMATS HAVE STAYED IN UKRAINE THROUGHOUT THIS YEAR
- Ambassador, we are talking with you on the 359th day of the war (the interview was recorded on February 17 - author), and from Day 1, Ukraine has felt France's support in countering Russian aggression. How did the embassy's priorities change throughout this time? What task do you see as most urgent today?
- We are approaching the anniversary of the full-scale invasion, and since its outset, the embassy's main mission has been to provide Ukraine with support and assistance in repelling this unjustified and unprovoked aggression.
Over this year, our embassy staff remained in Ukraine almost constantly – with the exception of a few hours.
Let me recall the timeline: until February 28, we were in Kyiv, on March 2 we had to leave for Lviv, where we spent five weeks, and finally, on April 15, we were among the first among foreign diplomatic missions to return to Kyiv and resume our operations in the capital. Since then, we have been intensively working here.
I'm not going to hide that it is a matter of personal pride for me to be at the helm of the embassy that is working in such difficult conditions.
As we were working in Lviv in the first weeks of the war, for me personally, as well as for my colleagues, this was an extraordinary period both professionally and emotionally because we were close to Ukrainians who were going through a moment of suffering.
But we did not stay in Ukraine, so to speak, as a nice gesture. In fact, that we maintained close contact with the Ukrainian authorities in the first weeks of aggression, allowed us to provide objective responses to specific requests.
A characteristic feature of French aid – be it military, humanitarian, or any other – is, firstly, its pace, and secondly, its compliance with needs from the Ukrainian side.
As an example, I remember the episode when on March 7 in Lviv I met with Ms. Mary Akopian, the then-Deputy Minister of Internal Affairs. She handed me a list of equipment that Ukraine urgently needed in the field of civil security. And already on March 22 in Chernivtsi, together with the same Ms. Akopian, we met the first convoy from France – several fire trucks and ambulance vehicles.
The embassy's mission today remains unchanged – to provide maximum assistance to Ukraine. The President of the French Republic very clearly states that this assistance will continue until Ukraine wins.
That is why my colleagues and I pursue our efforts in preparing and providing this assistance in various areas – military, humanitarian, financial, and political.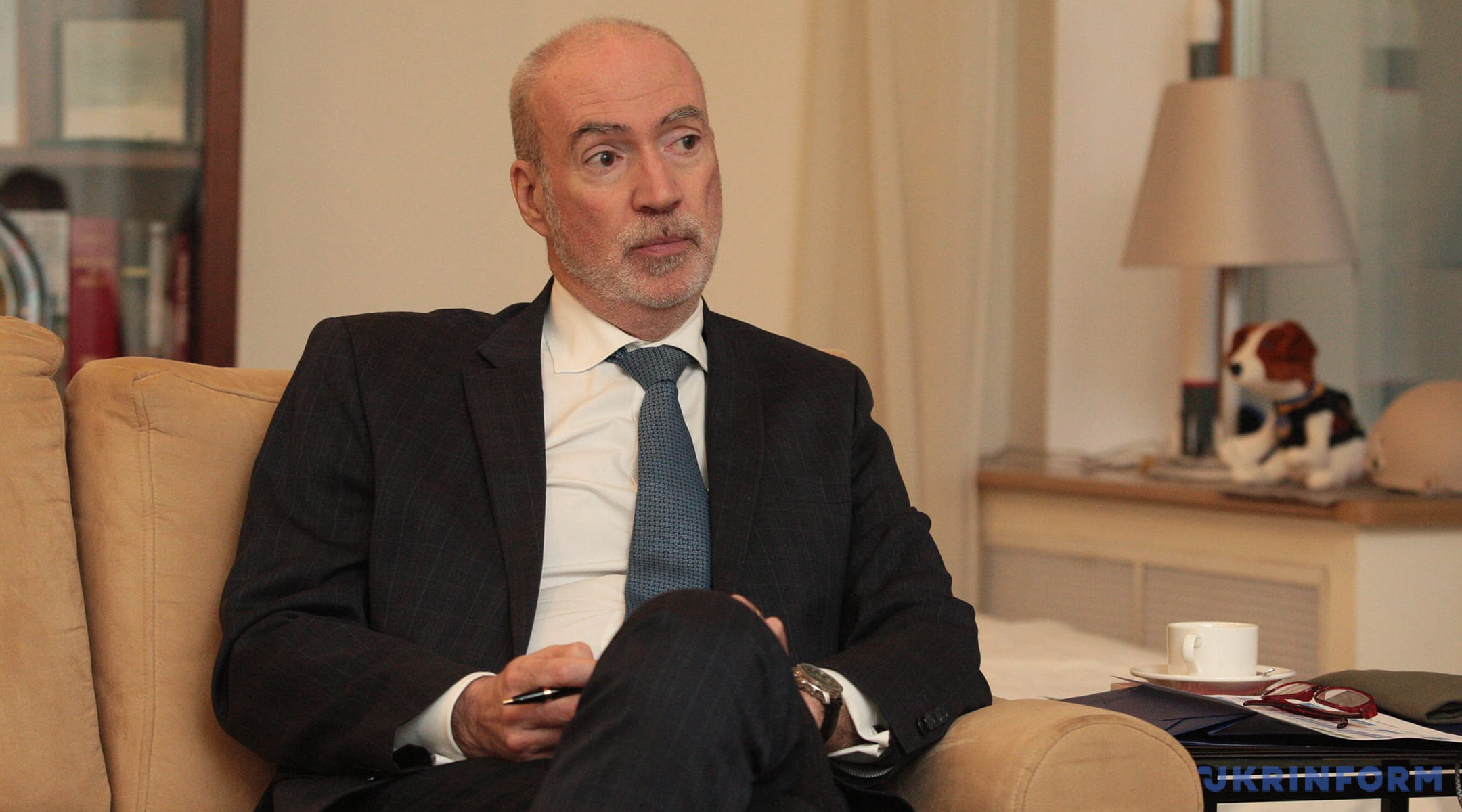 FRANCE'S MILITARY AID IS COMPREHENSIVE, GOING BEYOND TECHNOLOGY SUPPLIES
- In London, Paris, and Brussels President Zelensky called on partners to provide Ukraine with warplanes. President Macron stated earlier that he does not rule out France sending fighter jets to our country, provided that this does not lead to an escalation. Please explain what is meant by escalation against the background of the fact that allied intelligence and the NATO Secretary General are warning that Russia is preparing for a new offensive in the east and south?
- As you know, there is a constant dialogue between President Zelensky and President Macron, including on the nature of aid provided by France. Emphasis is placed on the fact that this assistance has a specialized nature and meets Ukraine's needs.
Based on this, we developed a number of criteria that we apply so that this assistance remains effective and at the same time does not weaken France's own security and defenses.
In addition, this dialogue emphasizes that the aid must be comprehensive, that is, it is not just about the supply of equipment. It is clear to everyone that it is also necessary to supply ammunition and ensure technical maintenance, that is, there must be a comprehensive approach.
- Regarding ammunition, media reported that France and Australia had agreed on the joint production of several thousand 155-mm artillery rounds for Ukraine. When will our country be able to get them? In fact, they are critical.
- This is actually a great example to illustrate the said approach: an urgent need has been defined on the part of Ukraine, as you said, and since then, work has been initiated between France and Australia. In accordance with Ukraine's wishes, there is an effort to provide a quick and effective response to this need within the framework of this project.
This once again emphasizes the importance of constant dialogue we must keep up on such issues.
In view of this, I am glad that the embassy operates in Kyiv because it is in this mode that we can find quick and optimal answers.
- Can you outline any time frame for us to receive this particular "answer"?
- This issue is being worked out at the level of our capitals. Technical aspects and conditions of implementation, including time frames, will evolve from the aspects that will be agreed upon at the central level. I, for my part, present the general framework of this cooperation.
I'd also like to emphasize the issue of maintaining the equipment we provide.
Take the Caesar self-propelled guns, which have proven themselves well in battles. They also need repair and maintenance, so we ensure this, too.
In addition, I'd like to note the importance of various instruments, including financial ones, which have been created, in particular, the opening of a credit line currently worth EUR 200 million. But I hope that soon this amount will be raised to EUR 300 million.
This is the tool that enables Ukraine to purchase French-made equipment, including the weapons it needs.
- Russian media reported that all the Caesars provided by France are currently in need of repair. How true is this?
- (Smiles.) I wouldn't trust Russian media, let alone in such issues.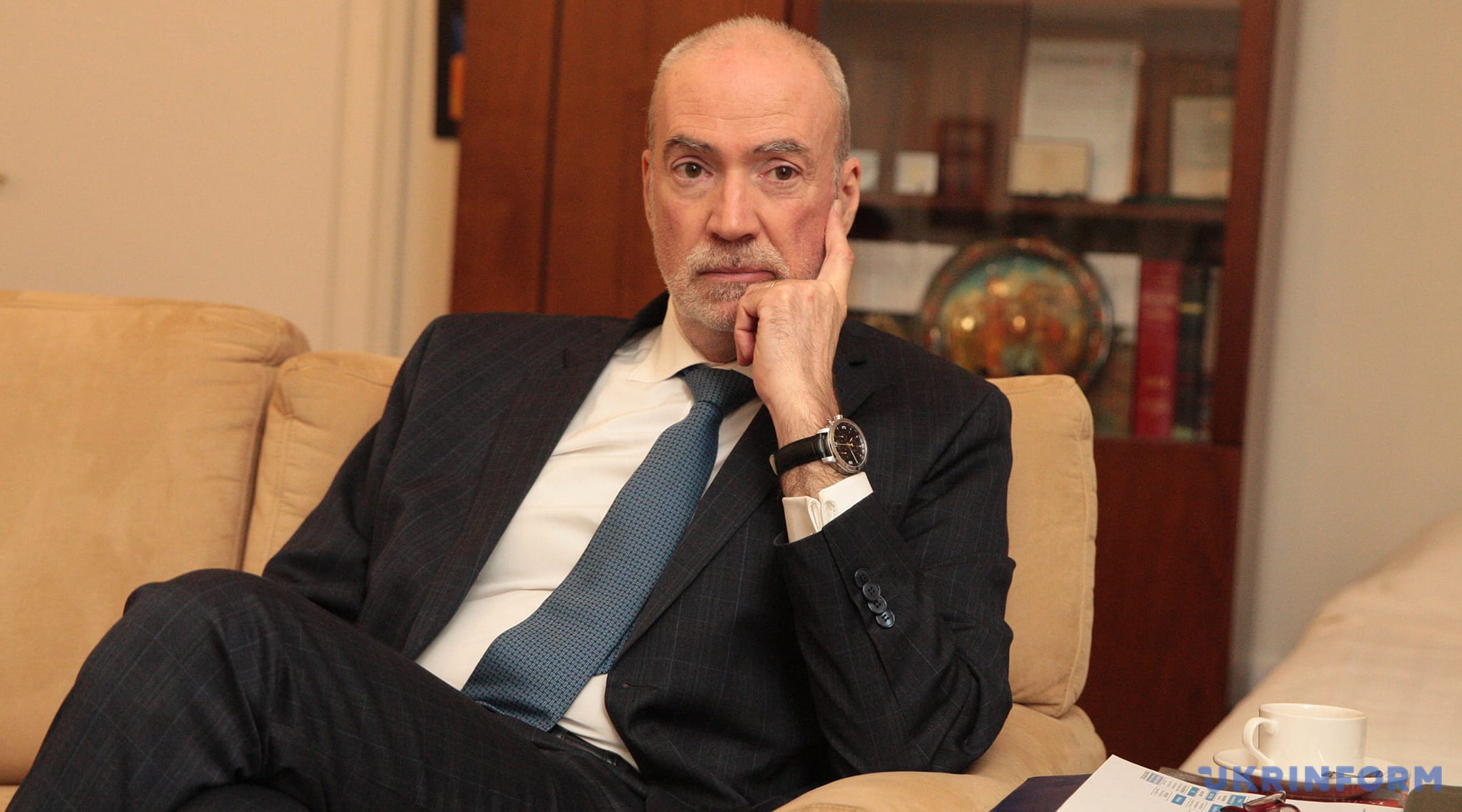 STRATEGICALLY, BAKHMUT DOESN'T HAVE MUCH SIGNIFICANCE, BUT THE DECISION IS UP TO THE UKRAINIANS
- In an interview with Le Figaro, President Zelensky said that the Ukrainian military should hold on to Bakhmut until Ukraine receives the required weapons. Ambassador, you saw military cemeteries during your trips to the regions and know how costly such resilience is. In your opinion, is there awareness in Europe, in particular in France, of the price Ukraine is paying for slow decision-making on weapons that are critical to us?
- I assure you that indeed, we are aware of the suffering that Ukraine is going through in this war.
I personally have a regular opportunity to see this for myself when I travel around the country. Recently, I was in Dnipro, where I also visited a military cemetery and once again felt the deaths and suffering of the Ukrainian people.
In the end, of course, only Ukrainians should make relevant decisions, including on Bakhmut. We cannot dictate them to you, although I can express the opinion that from a strategic perspective, Bakhmut may not be of such great importance. This is just a dot on Ukraine's map.
However, I repeat, the decision is, of course, up to the Ukrainians.
SEVERITY OF RUSSIA SANCTIONS ARE UNPRECEDENTED
- On the anniversary of Russia's full-scale invasion of Ukraine, the European Union intends to introduce new sanctions against the Russian Federation. It is already known that the 10th package did not include restrictions on Russia's missile program and nuclear energy. What is France's position on these issues?
- In fact, there is constant discussion of sanctions packages going on in Brussels, and with each new package, such discussions are becoming more and more difficult as we're going farther and farther along this path.
It is important that these sanction packages have a constant consecutive nature - ninth, tenth, and so on. That is, there is a political will on the part of the EU to keep walking along this path, because we see that the sanctions have an impact, that they affect Russia, contrary to the narratives they try to spread about their ineffectiveness.
- But the sanctions are rather stretched over time. Perhaps it would be more efficient to take more drastic steps right away?
- I would like to note that the severity of the sanctions is unprecedented – the European Union has never adopted such restrictions against any of other countries.
I would also like to remind you that the European Union consists of 27 member states, which means that discussions take some time.
However, no matter what, I emphasize continued dialogue that we have, including with the Ukrainian authorities. For example, yesterday we had a meaningful conversation with Deputy Prime Minister Olha Stefanishyna, and later with Prime Minister Denys Shmyhal, precisely on the issue of sanctions.
- Is France ready to support within this discussion sanctions against Russia's missile and nuclear industry?
- Considering the fact that the discussion of these issues is currently ongoing in Brussels, I would prefer not to get ahead of the events and not interfere in the decision, which will be collective.
WE WILL HAVE TO PUT UP WITH THE FACT THAT WE'LL HAVE TO DEAL WITH RUSSIA AFTER THE WAR ENDS
- One French MEP told Ukrainian journalists that the most difficult thing for the French is to get rid of the illusion that they can agree on something with the Russians. How close is it to the truth? We see that France continues to insist on maintaining a dialogue with Russia?
- Frankly speaking, it is not easy for me, in the position of the French ambassador to Ukraine, in the context that you and we see, to speak about Russia, because I am based here, I work here, not in Moscow.
- However, my next question also concerns Russia. President Macron said that France will support Ukraine until its victory. How does France see the future of Russia after Ukraine's victory in this war? Do the French allow, at least at the level of discussions, for Russia's potential disintegration?
- The President of the Republic has repeatedly stated that France will support Ukraine until victory in order to help restore its territorial integrity within internationally recognized borders. I should also remind you of the thesis that it is Ukraine that will determine what exactly should be understood by the victory, achieved, of course, on the battlefield, and that it's not up to us to dictate its terms.
After the victory, in fact, there will be a phase of peace, and our joint task will be to come up with a new organization of peaceful coexistence on the European continent and to ensure security conditions in the future.
So by that moment, a new reality will emerge. But, I believe, we will have to accept that Russia will also be present in this new reality, and we will have to deal with it.
- Currently, there is a discussion about the participation of Russian athletes in the 2024 Olympic Games in Paris. Mayor Anne Hidalgo spoke against allowing the Russians to take part even under a neutral flag. How many people in France share this opinion?
- I note that France will host the 2024 Summer Olympics, but the International Olympic Committee is the independent body that has the highest authority in organizing and holding these competitions. Therefore, key decisions will be made by this body.
As far as I understand, as of today, a meeting is sheduled for the summer, at which all various aspects will be considered globally, including the participation or non-participation of Russian and Belarusian athletes in this Olympics.
At present, it may be too early to assess public opinion in France on this issue. But we can say with certainty about the spree of support, solidarity, and friendship towards Ukraine and Ukrainians.
There are currently more than 100,000 Ukrainians staying in France, and humanitarian aid to Ukraine comes from all French regions. In other words, there is a very clear and profound sympathy for Ukraine and the Ukrainian stance, including on the said issue.
- In the summer of last year, the French region of Ile-de-France promised to create a concept and project for the restoration of Borodianka, Kyiv region, as a new eco-friendly town. At what stage is thie project now?
- Unfortunately, I have no updates on Borodianka plans. But let me remind you that Ile-de-France and France as a whole have decided to patronize the restoration of Chernihiv and Chernihiv region, and we are working with municipal and regional authorities in this regard.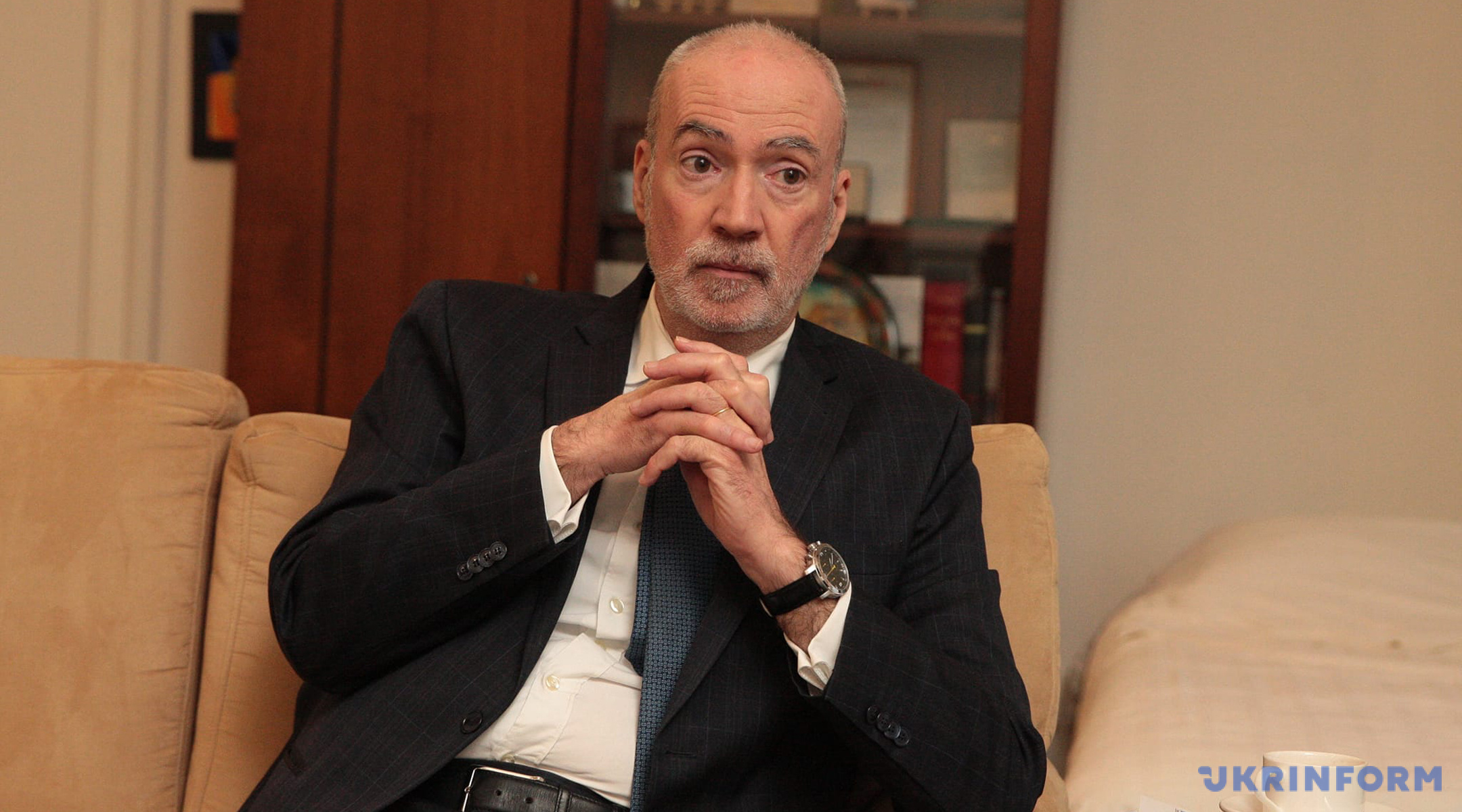 I'M AMAZED THAT UKRAINIANS REJECT THE VERY IDEA OF FALLING UNDER RUSSIA'S YOKE
- And finally, I can't help but ask, what feelings do you have as we're nearing the anniversary of the full-scale invasion? Can you single out one of the strongest impressions of this year?
- The difficulty of answering this question lies in the fact that it is hard to choose one of the very strong and deep impressions that my colleagues and I experienced while working alongside Ukrainians in the conditions of this terrible war. It is an unforgettable experience.
As I already said, we've remained in Ukraine throughout, we've been to different parts of it. First we went to small provincial cities in the west – Stryi, Drohobych, later there were Chernivtsi and Odesa. I was the first diplomat who visited Izium after the town was liberated, seeing the horrors that had unfolded there. Then there were Chernihiv, Dnipro, Kharkiv, and Zaporizhia – that is, I travel the country really intensively. And everywhere – in the east, west, north, and south of Ukraine – I am struck by the powerful spirit of resistance and the fact that Ukrainians reject the very idea of falling under the Russian yoke again.
I wrote a story about the impressions of the first six months of the war in the form of the book "In the Heart of the War," which was published in France. In this book, I reveal in great detail the massive emotion I experienced, observing the general upsurge in Ukrainian society in terms of resisting aggression.
It was unforgettable and touching for us to witness this historical event, when an entire nation rose up against the attempt to return the country to the state of a colony and restore Russian imperialism.
In this book, I share with the French public my deep personal observations that had a huge impact on me. To us French, it reminds us of certain events in our history, in particular the French Revolution. So these moments bring us even closer.
Thanks to my book, I often act as a commentator – I am invited to French TV channels, and I tell them of what I saw and felt.
The book is doing well in France, and I am glad that I am fulfilling this mission – to explain to the French from the inside what this war is about and how Ukraine is repelling Russia's aggression.
- Does your book have a happy ending?
- (Laughs). I finished it somewhere in early September – the story doesn't go beyond August events.
So far, as we can see, there is no happy ending, but we all hope for it.
Nadiia Yurchenko, Kyiv
Photo by Hennadiy Minchenko