Ambassador of Ukraine to the USA Oksana Markarova
America is clearly with us, till our victory
10.02.2023 18:20
In his latest State of the Union address earlier this week, U.S. President Joe Biden said Russian aggression against Ukraine was a direct challenge to the United States. He emphasized again that America will stand with the Ukrainians until the end – in conditions when completely different attitudes began to emerge in certain political circles represented in Congress. Already next week, the ninth Ramstein meeting will be held, which is expected to reaffirm this support on practice, as well as further strengthen the U.S. leadership in countering Russian aggression. In an exclusive interview with Ukrinform, Ukrainian Ambassador to the USA, Oksana Markarova, spoke about the moods prevailing among American lawmakers today, told us about the interaction in defense and economic assistance formats, as well as touched upon many other insightful aspects.
BIDEN'S MESSAGE
- You were there in Congress during President Biden's State of the Union address. Tell us what impressed you the most and what moods did you sense among legislators regarding further large-scale assistance to Ukraine?
- You know, this is the second time I have attended the State of the Union – it is an extraordinary experience, and (I felt - ed.) huge support for Ukraine. The first time I was there was last year, six days into the Russian invasion which marked the new, full-scale phase of this war.
Then President Biden actually began his speech with the topic of (Russian - ed.) invasion. He devoted a lot of time to explaining to Americans why it's so important for the United States to firmly stand side by side with us in this fight.
This time the address was different – it was very powerful, but President Biden didn't have to convince anyone. On the one hand, he very clearly concluded that the United States and our entire coalition of democracies delivered the right kind of response to the challenges created by Russia with its repeated attack on Ukraine, that the United States showed itself as a leader. And he very clearly told the Ukrainian people that America stands with us and that they will be with us as long as necessary.
Therefore, on the one hand, it was really nice to hear this message – we're aware of it, we see it not only in concrete statements but also in work. On the other hand, it's very important that there was tremendous bipartisan support at this point. Virtually everyone in the room – be it Senators, House Representatives, Republicans, Democrats, or independents -- they all supported President Biden.
And also, what was not visible on the screen, was how many people were actually wearing badges with Ukrainian and American flags, Ukrainian ribbons, or other attributes that would directly signal their support for Ukraine. Therefore, it was a really important address.
And I think that with our president's address to Congress last December, where we saw just incredible support, and with President Biden's address, as we approach what unfortunately is a sad anniversary of this latest invasion, we can clearly say that the United States, as our No. 1 friend and strategic partner, stands with us. They're clearly with us, with us till our victory.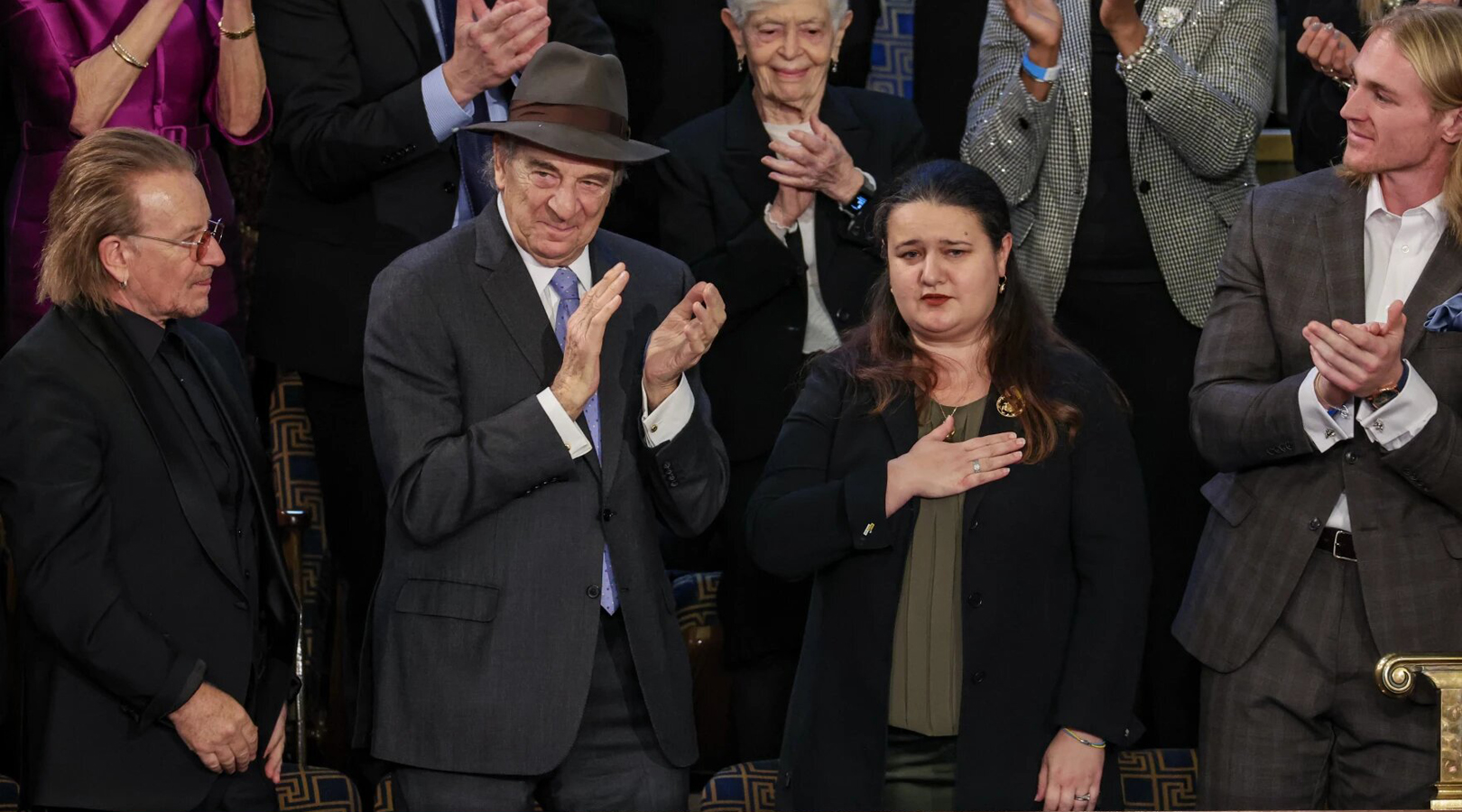 WE'RE EXPECTING A LOT OF WEAPONS
- Next week, the ninth meeting in the Ramstein format will be held in Brussels under the U.S. leadership. What does the Ukrainian side expect from this meeting?
- I could simply answer that we expect a lot of weapons. But in general, these Ramstein meetings have simply become an extremely effective tool for cooperation in obtaining very important, vital security assistance. It is also an opportunity to attract new potential partners and find new solutions. That's because we have to understand that's been a year since a full-scale war has been unleashed, for almost a year our absolutely heroic Armed Forces have not only restrained the enemy but also liberated our territories. Each moment of this fight requires plenty of military capabilities. And we remember how we advocated for every new capability that had to be added to our list.
The truth is that we need all those systems. Since February 24, we've been talking about it at all levels, in all countries, including in the United States. Everyone is engaged in this advocacy – from President Zelensky at his level to the Minister for Foreign Affairs, Defense Minister, and Head of the (President's – ed.) Office. We have regular conversations between our Commander-in-Chief Valeriy Zaluzhnyi and General (Mark – ed.) Milley. That is, this is non-stop communication, we are looking for where to get more of what we need, where to get larger quantities of what we're already receiving, as well as where to get new capabilities.
So just wait for new statements to come. What will they be about? Well, you know we never say anything in advance, but we are working on finding for us many more capabilities. That's because here in the U.S. we are communicating to our partners one point very clearly: the more capable our Armed Forces and all of our units are, the faster we win and liberate our territories, so the faster peace will come.
ECONOMIC SUPPORT
- For a long time, Ukraine worked together with partners on setting up the "Economic Ramstein", and last month it became operational as its first meeting was held. What processes are taking place in this format today, and what further steps should we expect there?
- In general, this is a very multifaceted platform, I would say, that is about economic support.
First of all, this is direct budget assistance, which we need in order to survive, to be able to finance at least the minimum program. You know that we currently have a reduced budget, while its large part is defense.
Our partners, especially the United States - I'd like to emphasize the U.S. leadership role here - quickly determined at the outset of this war that the funds would be provided to us in the form of grants. This is a very important point.
That is, all the funds, almost $13 billion that we have already received, and also this year we will receive another $9.9 billion of new budget assistance, are grant funds that we won't have to return.
Another issue is assistance to achieve quick recovery. This is what needs to be done now so that we can continue to exist and work. A big part of this is energy support, for example, infrastructure stuff to quickly respond to this terrible destruction. A "sub-platform" has been created here, that is, we have the G7 energy group, which was also launched by the USA. Ambassador Geoffrey Payette (coordinator for energy support to Ukraine - ed.) is very actively involved in this issue. Virtually every week, Zoom meetings are held, where our needs are agreed upon, where it's decided what can be provided and who can do it, as well as how this all can be delivered as soon as possible.
But quick recovery in a broad sense, which will turn into a major reconstruction after our victory, is precisely the task of this platform, which we refer to as the "Economic Ramstein." This should unite us with key allies – the USA, EU, G7, as well as international financial organizations - the IMF, World Bank, EBRD, and others.
- The International Monetary Fund remains one of the main pillars of economic support for Ukraine. A Monitoring Program involving the Executive Board is currently in operation – further steps will be determined based on its outcome. What volumes and opportunities does Ukraine expect to gain from cooperation with the Fund within the following programs?
- Now the Prime Minister, Minister of Finance, and NBU Governor are very actively involved in the program – they are fully involved in substantive discussions. I can only talk about what we need from the perspective of our cooperation and communication here.
We are $38 billion short of this year's budget to fully cover it. We understood very clearly at the very start that the United States quickly decided to support us. We already have $9.9 billion in the budget, $1.1 billion to meet our energy needs, and $1.5 billion in general funds for reconstruction. This is what was allocated in December by the U.S. Congress.
We understand that there is European Union, which has announced $18 billion in macro-financial assistance. Accordingly, it's very easy to calculate how much money Ukraine still needs in order to finance its 2023 budget. And the IMF's role in this remaining part of the financing should, of course, be decisive.
I am sure that the team working on it is trying to meet Ukraine's needs as much as possible. This year, we are very hopeful that quickly reaching an agreement on the program with the IMF will allow us not only to finance what's missing but also to get a certain framework that can be used as a signal or a platform by other potential investors and businesses.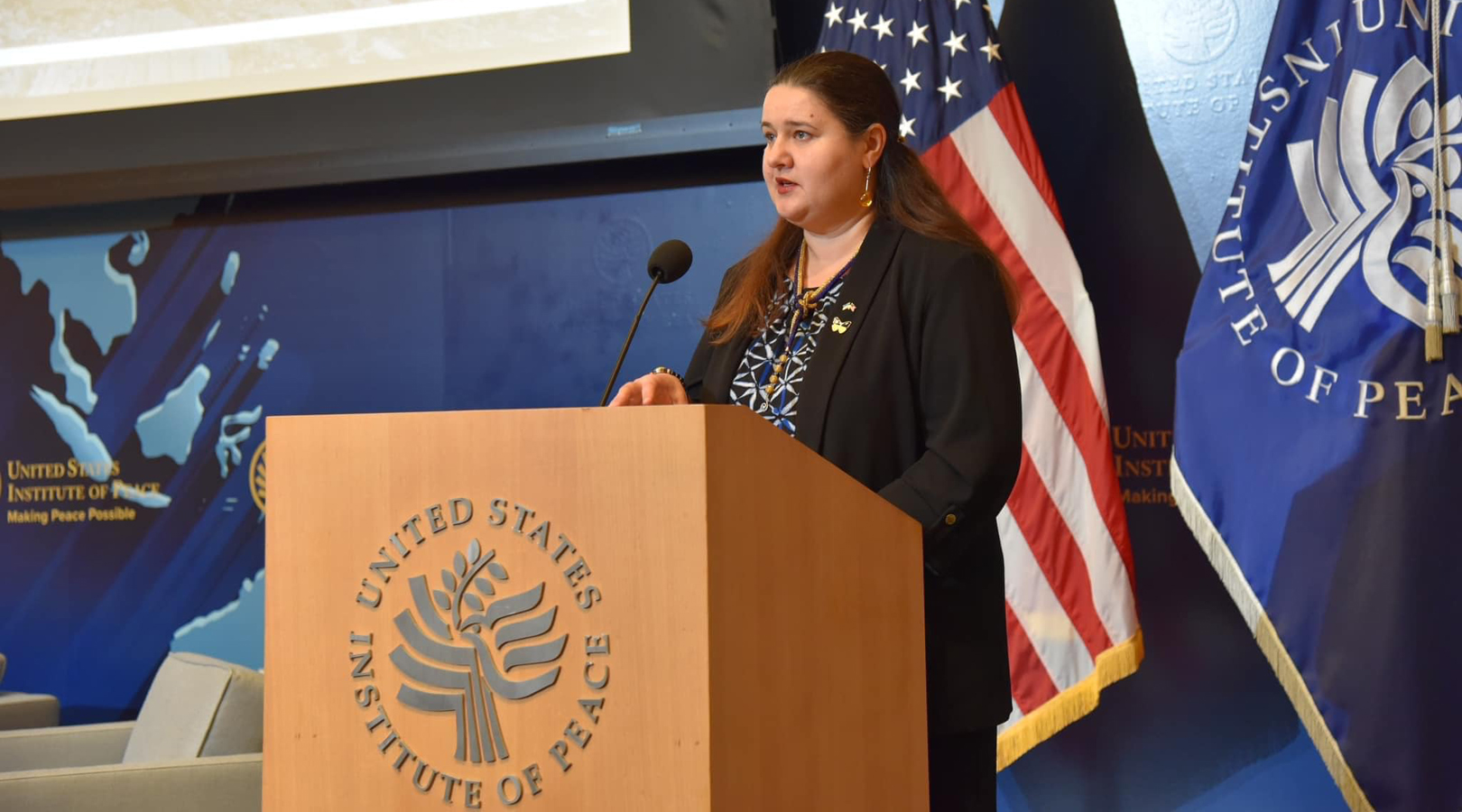 RUSSIA SANCTIONS
- The U.S. significantly narrowed the Kremlin's capabilities to finance the war in Ukraine by imposing sanctions, but this didn't stop their aggression completely. What additional restrictions, in your opinion, should be introduced against Russia in order to fundamentally change their behavior?
- Both sanctions against and isolation of Russia are also the No. 1 priority. All of our officials are working on this. On the one hand, a lot has been done. If we look at the period since February 24, at the packages that have been implemented by the U.S. and other partners, as well as at the coordination in this regard, the work enormous amount of work has already been done.
In addition, it should be kept in mind that we had started working on sanctions way before February 24 – it was the summer of 2021.
There are different categories of restrictions. One is the so-called sanctions to hold accountable both individuals and legal entities that enable this war, make decisions related to aggression, and get involved in it. The second big group is restrictions on Russia's very ability to wage war, and this concerns access to technology, IT solutions, etc. Here we must admit that this work was done very efficiently. In Russia, many problems are arising with the production of new equipment, especially precise targeting. The third group is aimed at undermining Russia's economic ability to finance the war. And this applies to sanctions against entire industries and economic sectors, as well as export restrictions.
That is, on the one hand, indeed, not all sanctions have been implemented yet, and there are still many possibilities - from blocking all Russian banks to introducing restrictions against many other entities. And we are working on it together with our colleagues.
Nevertheless, we see the cumulative effect of sanctions hitting Russia. And I am sure that the latest restrictions - the price cap for both oil and petroleum products - will lead to the fact that the Russian economy will irreparably move in the wrong direction. And the only culprit responsible for this is not the nations that impose sanctions, it's precisely Russia itself.
- There are frequent calls from Ukraine to designate Russia as a state sponsor of terrorism. In Washington D.C., we hear signals that they are not ready, because this would also affect the allies. To what extent is it possible to grant Ukraine's request, given that Russia has actually been acting as a terrorist state?
- We are actively discussing it. We're asking our partners, colleagues, and friends to do their utmost, and we're trying to convince them, giving them examples of why this should be done.
There are two parts to the status of a state sponsor of terrorism.
Part 1 is to directly call the country what it is. And here, of course, we also understand that Russia is not a sponsor of terrorism, it is a terrorist. And part 2 is what sanctions and restrictions follow this branding.
Therefore, in fact, (it's not so fundamental - ed.) for us if it is designated a state sponsor of terrorism – but here, too, we need to make changes that highlight many issues today because this status is not new. So there are many things that we already implementing or discussing, which are not part of this status. It might also be some new status with a full set of really harsh restrictions. Perhaps it will be just all restrictions possible.
But we are also moving toward bringing (Russia - ed.) to justice. And you know that, in addition to all the courts that Ukraine has already appealed to, besides all the criminal cases initiated in Ukraine and beyond, apart from our lawsuit and accusing Russia of genocide, we are now also very actively working to enable the establishment of a tribunal for the crime of aggression. So we'll be doing all this. Therefore, if the United States designates Russia as a sponsor of terrorism, a terrorist, an aggressor, we will welcome that. We are actively working with Congress and Administration on different phrasing options.
We are working on all the tasks set before us. Our goal is to completely isolate and sanction Russia to the fullest, until they not only stop this war and withdraw from Ukraine, but until they are held accountable for what they've been doing.
THE U.S. MONITORS ITS MONEY
- Last week, a group of U.S. inspectors general visited Ukraine, which confirmed Washington's intentions to thoroughly monitor the utilization of American aid. How will this mechanism work, and what accountability does it lay down for the violations detected?
- The issue of transparency and accountability is very important, for both Ukraine and our partners. This was discussed from the very beginning, as soon as we started receiving from the US not only security assistance, but also budgetary and humanitarian support. Ukraine has always been extremely open to such requests.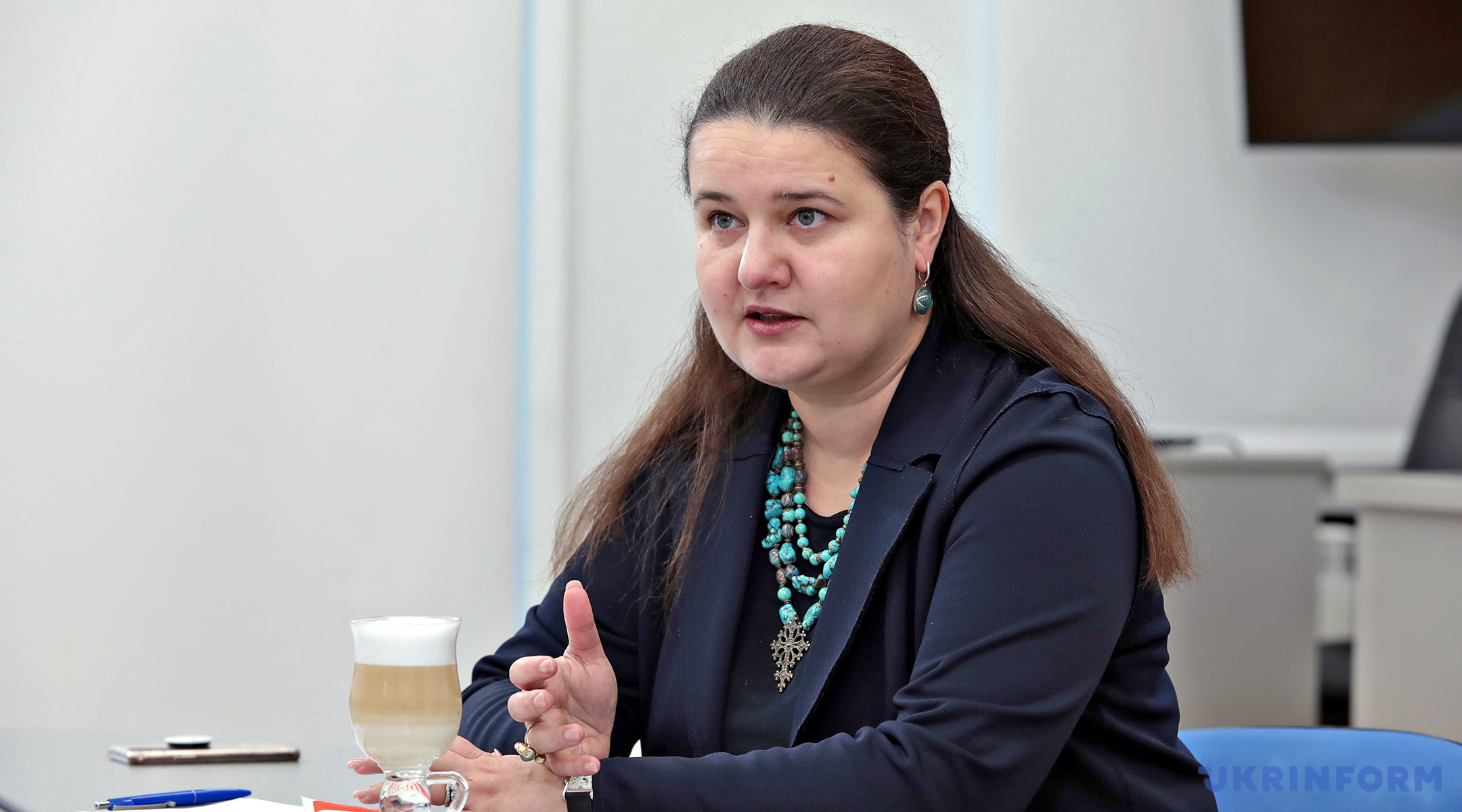 How do we do reporting and inform our partners on the utilization of all types of assistance, practically, from February 24 to today? It's clear that military aid is a separate track where several systems are in place, including NATO standards, which allow our partners to see full accountability as to where weapons end up, where they are deployed, and how they are used.
Another big part is budgetary support. And here, from the very start, funds have been allocated through the World Bank's trust fund system and USAID before they get into the budget. In addition to the extensive reporting that the Ministry of Finance is doing along the lines of the World Bank - USAID - Congress, we also sent every congressman and senator a presentation on our behalf. I personally signed each letter as we provided, albeit general, but quite detailed information on what tranche we received and when, at what rate it was converted into hryvnias, and where it was forwarded.
Our budget today, I'd say, is really primitive. So where do the funds go? It's salaries, assistance… You can trace every dollar, every hryvnia, and see how exactly they were spent and what we do to ensure their targeted use.
The Institute of Inspectors General is a permanent one. These people check the use of funds, not only those related to Ukraine, but also any others.
We have long been preparing their first visit (to Ukraine - ed.). If you check out my Facebook, we first met here at the embassy back in December.
Therefore, we very much welcome their efforts and work along their side, absolutely. It's all in our best interests. We, as the state of Ukraine, are interested in explaining everyone who helps us as extensively as possible, how we are utilizing the funds that the U.S. taxpayers have shared with us so generously.
Regarding the potential cases where some violations or corruption is detected, this will obviously happen as it happens in any country. If such people are out there, then of course they must face absolutely unavoidable accountability. I can say that very important is a swift response by law enforcement, as well as the political reaction, that is, on the part of President Zelensky, who very clearly declared zero tolerance for corruption.
- Thank you for the interview! I wish you success in all of your future endeavors.
Yaroslav Dovgopol, WASHINGTON D.C.
Photo: Pool, Getty Images