Michael Carpenter, U.S. Permanent Representative to the OSCE
Russia's full-blown invasion of Ukraine is Putin's huge geopolitical mistake
04.04.2022 15:20
Russian armed aggression against Ukraine has confirmed the already obvious inability of international organizations to prevent and stop wars of invasion. This especially relates to the Organization for Security and Cooperation in Europe (OSCE), whose main task is precisely that.
Permanent Representative of the United States to the organization, Michael Carpenter, believes that it is now time to reconceptualize the architecture of European security. This is including about a consensus which has been blocking the OSCE's effective work. Besides, the diplomat says Russian violations of the agreements signed and obligations undertaken cast doubt on the feasibility of further signing any such agreements with Russia in the medium and long terms.
Ukrinform spoke with the U.S. envoy to the OSCE about certain aspects of the OSCE's current work and its possible future role in Ukraine, as well as the U.S. efforts to help Ukraine protect its sky, the negotiations on security guarantees, and even on the catastrophic scenario involving the use by Russia of tactical nuclear arms.
I thought that surely the Russians would know better
- Mr Ambassador, the U.S. intelligence community has repeatedly warned Ukraine of the expected Russian invasion. Did you personally believe Putin would resort to this? Can you remember your first reaction to the initial reports of the invasion start?
We had a lot of detailed information that indicated that there was indeed likely to be a full-scale invasion. I, personally, was of course wondering if such an enormous miscalculation was even possible in the Kremlin, because, of course, the Russians have access to a lot of intelligence themselves.
I thought that surely they would know better and of course we had said repeatedly for many weeks, if not months, that any move into Ukraine would come with massive, severe, and unprecedented consequences. But, in spite of all that, it turns out that president Putin decided to invade with a huge force, and what I consider to be a massive strategic failure for the Russian Federation, and miscalculation.
U.S. working to provide Ukraine with systems to protect its sky
- The Russian army pursues bombardments of Ukrainian cities and villages. Now Ukraine needs a no-fly zone over its territory. Does Washington seem an opportunity to help Ukraine close its sky?
I think we do see an opportunity to help Ukraine close the sky through the provision of a number of different platforms that can accomplish that goal. I don't think it's wise for me to elaborate on the specific types of systems here, in this type of interview.
But I can assure you that the United States is looking actively at providing a range of different military capabilities to help Ukraine defend itself and particularly to defend its cities against some of the medium-range missiles and air-attacks that Ukraine has experienced.
And we understand that this is urgent and we are trying to provide as much security systems in as rapid a timeframe as we possibly can. It is not easy because it's not as if we had a number of systems just lying around on the shelf ready to use but we are really energizing every procurement aspect we have available to be able to get as much to Ukraine as quickly as possible.
As for the nuclear scenario – God forbid
- Some analysts suggest that Vladimir Putin, a new Hitler, in order to avoid Russian defeat in Ukraine and break Ukraine's resolve to resist, could use tactical nuclear arms to strike the Ukrainian territory. As per their assessments, the lack of readiness on the part of the U.S. and NATO to close the sky over Ukraine could further inspire Putin's thoughts to this end as he might suggest that the west will not respond militarily if it fails to do so today. What are your thoughts in this regard?
God forbid, first of all, that there would be such a catastrophic scenario.
Any employment of nuclear weapons breaks a very important taboo in the international system and it would be a gamechanger in terms of how countries around the world perceive this conflict. We already have incredible unity among most countries in the world and you saw this in the United Nations with a vote of 141 to 5 condemning Russia's actions. But this of course would be a step above and beyond of what we've seen this far and, as I said, it would galvanize a lot of action from around the world.
I will say that even where we are today, though, is not as if we have to see any more suffering to galvanize further support for Ukraine. The suffering of the civilian population in Ukraine to this point has been immense and so that's why you had another announcement from the United States of still more sanctions. We're trying to find every entity across a variety of different sectors that is available for sanctioning, so that we can continue to tighten the screws and impose costs on the Kremlin. It's not that this will necessarily change the decisions of the man in the Kremlin but it will certainly degrade Russia's war-machine. And new sanctions on technology companies are part of that effort. And we need to continue to look for ways to tighten these screws even further, to deny Russian the ability to prosecute this horrific war inside Ukraine.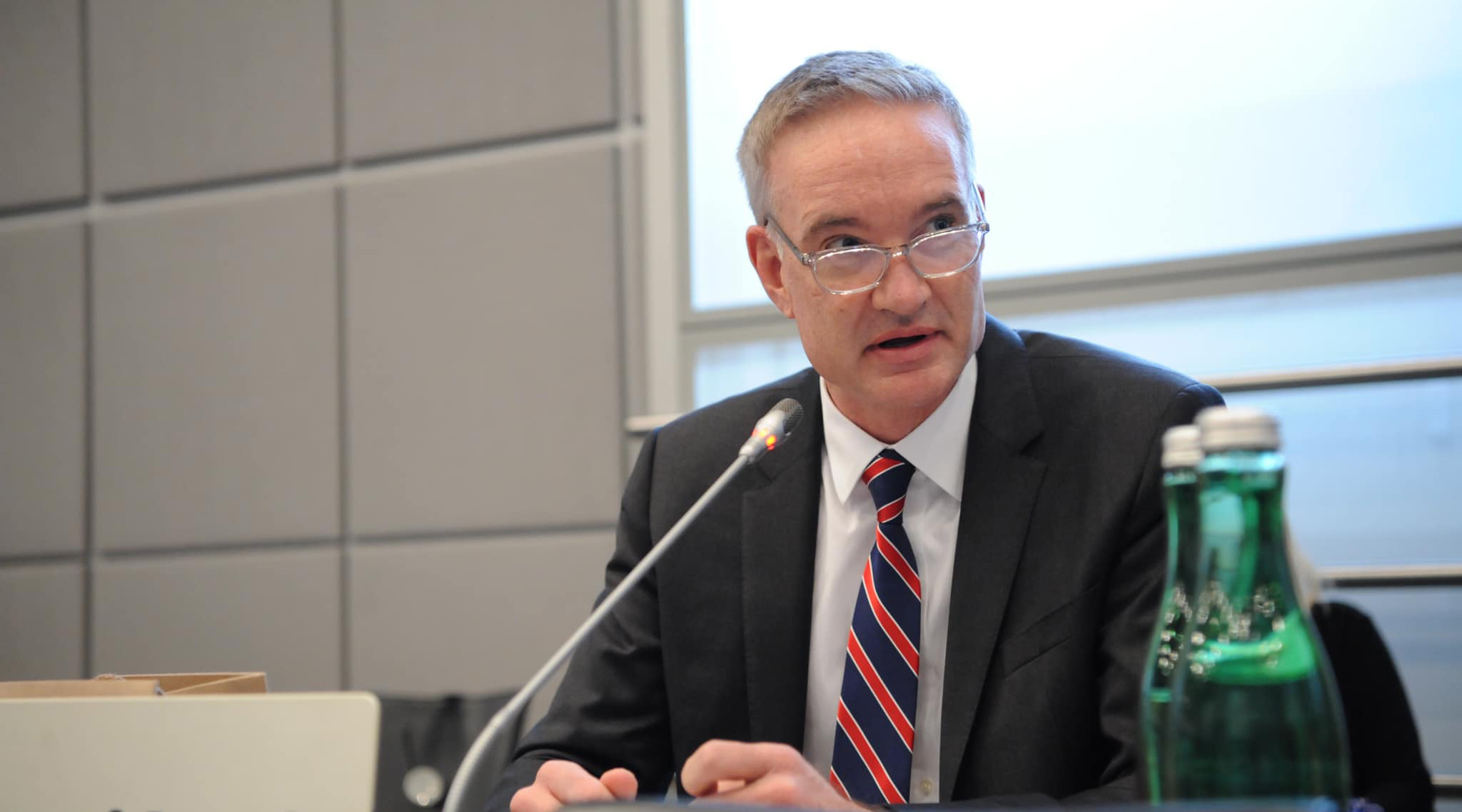 The devil is in the details and we have to look at what's being put on the negotiation table
- At the Ukraine-Russia talks held in Turkey, the Ukrainian side formally put forward its proposals as to the new system of security guarantees for Ukraine, of which your country is also expected to be part. Is the U.S. ready to become a guarantor of Ukraine's security according to the concept proposed by the Ukrainian side?
I am not as familiar with what these concepts look like in practice, so everything depends on the details of how these texts and things are formulated. Obviously we're going to do everything possible to support Ukraine in the negotiations and to try to find a ceasefire and a resolution that protects Ukraine's sovereignty and territorial integrity, I think that's very important. But the devil is, of course, in the details and we have to look at what's being put on the table.
And I don't think it's also wise to negotiate in public, so I don't want to say what we would accept and what we wouldn't accept, because, let's see, first of all, what the Russians agree to. Because they put forward a lot of ideas but it's not clear what they will actually abide by. And I think that's the bottom line – we will have to see what they will abide by.
European security architecture requires reconceptualization
- The war Russia is waging against Ukraine has ruined the entire international security architecture. As it turned out, there are no international organizations or treaties that are able to prevent and stop aggression launched by Russia. That is particularly relevant to the OSCE, whose main objective was to prevent such war from being unleashed in Europe. Is there any sense to maintain such an organization, especially if the aggressor power remains its member, while all decisions shall be approved exclusively by consensus? How do you see the future of the OSCE?
Well, certainly the OSCE has been challenged, it still does a lot of valuable work in many different countries, within OSCE areas. There are a lot of projects and a lot of programs that actually help improve the lives of human beings from Central Asia to the Western Balkans to Eastern Europe. But, you're right that when a large country like Russia and a nuclear power breaks all of the principles and commitments that are the basis for this organization, then clearly, neither security nor cooperation in Europe is possible and that's where we find ourselves today.
The challenge going forward is that it is very difficult to understand how we can conclude agreements with Russia over the medium and long term, when Russia consistently violates the agreements that it has signed up to thus far. And that is a real conundrum. How does one enter into agreement with a country that consistently violates agreements.
I don't necessarily have the answer to that but I think it's going to require a reconceptualization of the European security architecture going forward in a way that we look much more at deterrence and defence among like-minded states, and less at trying to achieve consensus among all 57.
- At the same time, there are many staffers in the OSCE who represent Russia. How can these people today remain unbiased as regards the Organization's principles? How do other member states treat this situation?
In principal, individuals should be evaluated based on how they perform as individuals. In practice, of course, we know, as I said earlier, that Russia is violating all of the principles and commitments that undergird OSCE institutions and field missions. And, so, it is hard to see how individuals representing the Russian Federation can perform jobs that require a commitment to those principles and commitments, when the country that is seconding them is not just not abiding by those commitments but actively contravening them each and every day. So, that's another challenge that we face going forward and one that we're going to have to address rather urgently.
Russians are not convincing a single person in the Permanent Council
- Speaking of your routine interaction with the Russian diplomats at the OSCE, are you seeing any shift in their position? Is there any readiness at all on their part to stop lying and defy Putin's regime?
Well, yes and no. So, the Russian diplomats here at the OSCE are consistently spewing war propaganda and telling lies and spreading disinformation about the nature of Russia's war against Ukraine. However, I will say that in the last few meetings that we've had in the Permanent Council, the Russian representatives, they're making more perfunctory statements, they're not outlining their positions in the same detailed sort of way they did a few weeks ago.
I don't know if that's just a temporary change but what I suspect is happening is that they know very well that they're not convincing a single person in the Permanent Council. Everybody knows that what the Russian representatives are saying is pure disinformation and lies. And so, I think they're focusing on what they're saying to their domestic audience. They are doing media statements and they are talking to Russian official media. But inside the Permanent Council it is almost as if they have given up on trying to convince the other countries' representatives as to their point of view. Because, frankly, nobody is buying it.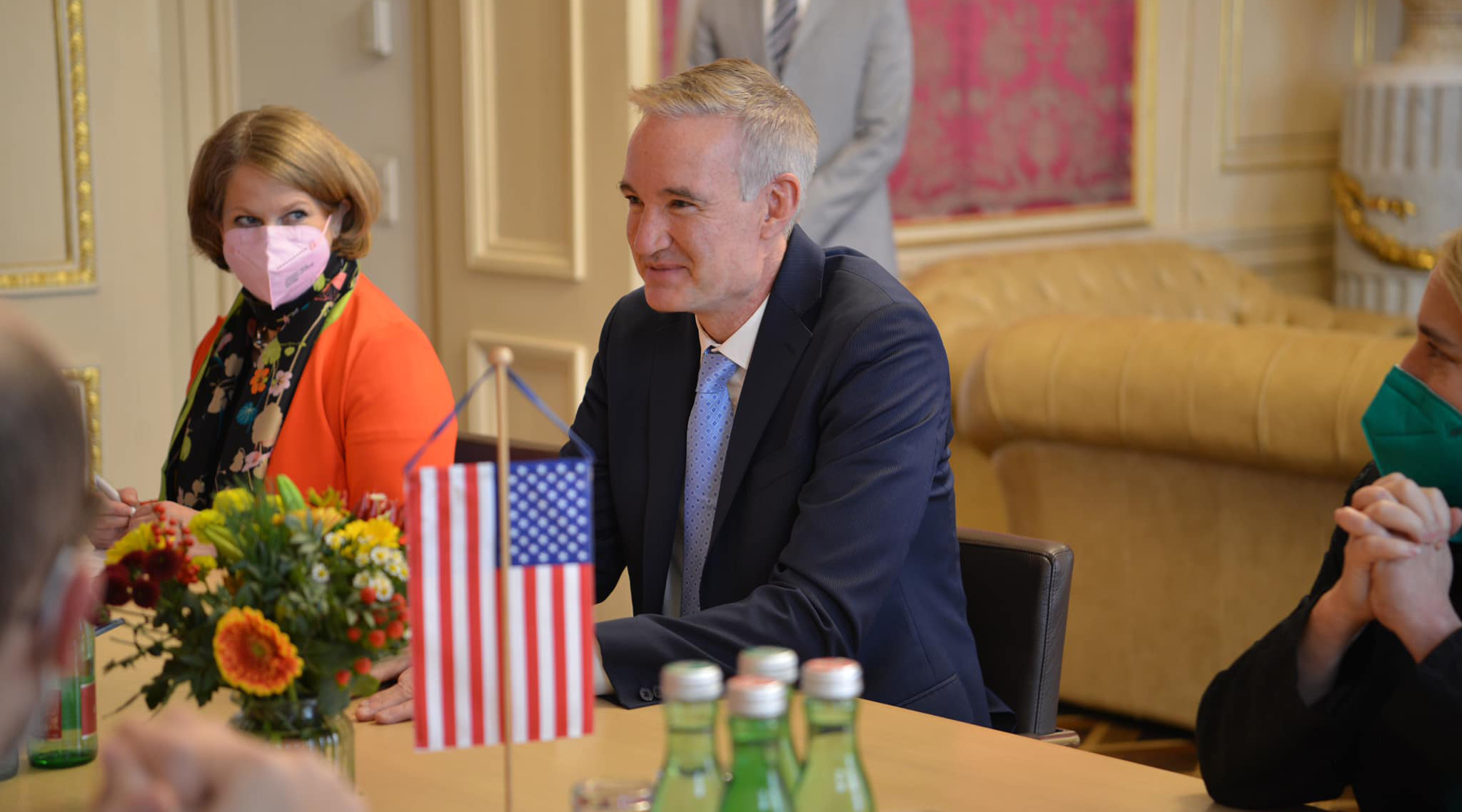 Belarus is not fit to be chair of the OSCE Security Cooperation Forum
- Belarus will soon chair the Security Cooperation Forum. What is your attitude to Belarus, a co-aggressor in the ongoing Russian war against Ukraine, serving as a chair in this OSEC body?
Yeah, I can't envisage that the participating states will engage meaningfully with the state that is a co-aggressor and whose last election was completely illegitimate. In this case, this is not a legitimate chair of the forum like the FSC which carries out important work, in this case I don't see how a state like Belarus can legitimately carry out that type of work. And I suspect that, what you'll see, I don't want to get ahead of the situation and make any announcements right now but I suspect you will see that other participating states very much adhere to that view: That Belarus is not fit to be the chair.
Active discussions underway on OSCE return to Ukraine
- After Russia blocked the continuation of the OSCE mandate in Ukraine, how can the Organization strengthen its presence in the country? Is the Organization capable of playing any role in stopping Russia's aggressive war in Ukraine?
Well, actually we're very actively talking about how to get the OSCE back in, and again, I don't want to preempt any announcements that will be made, but there are active talks about getting the OSCE back into Ukraine in the very near-term future, by which I mean in a matter of days.
- Earlier, the OSCE launched a Moscow mechanism to study the human rights and humanitarian consequences of Russian invasion. What could be the OSCE's future role in documenting war crimes in Ukraine and massive violations of human rights and international humanitarian law?
Well, this is a very important topic and this is where the OSCE can play a role and is already playing a role because, as you say, there is a fact-finding team that is supported by ODIHR that is gathering information on humans rights violations as well as violations of international humanitarian law and war-crimes and also possible crimes against humanity. Because the scale of Russia's atrocities are really off the charts, and so, it is very important to document these crimes and human rights violations, to collect and preserve the evidence, and to transfer it to the appropriate jurisdictions, such as the ICC or the ICJ. So that there is accountability at every level in the chain of command. And so we very much support this process.
The issue of peacekeepers should be on the table, but no conditions are in place to this end
- Various ways to stop Russia's aggressive war against Ukraine are being discussed at the moment, including through deploying an international peacekeeping mission. How would you assess the idea?
Well, I think it certainly should be an option that's on the table and probably it's one that has a lot of merit, if you think about the role of peace-keeping operations in other parts of the world. But, you know, the UN is the international organization with the most experience in peace-keeping. So, I think, if the time comes, when that's an appropriate tool that we can deploy, then I think we should certainly look at it.
At this point, however, I wouldn't be fooled by Russia's pronouncements that it is decreasing its military campaign. I think that is a faint that is designed to detract from the fact that Russia is likely reorganizing its efforts to escalate the situation even further in the South-Eastern parts of Ukraine, particularly in the Donbas.
Ukrainians will never bow or submit to the imperial control of another power
- In your opinion, what military and political objectives did Putin set out, when launching a full-blown war against Ukraine? How would you assess his success in achieving these objectives at the current stage?
Well, Putin's goals appear to be very… very, almost medieval in nature, to conquer the territory of another state and incorporate it into the Russian almost imperial zone of influence. As to whether he will succeed…, I have already said, I think that he is committed a strategic mistake, and that he will regret this decision and the Russian people will regret this decision, probably for generations to come.
Because regardless of what happens in the short-term on the battlefield, over the medium and long-term it is very clear that the Ukrainian nation does not want to be subjected to either Russian tyranny or any other type of foreign tyranny, and they will never bow or submit to the imperial control of another power.
And so, Putin should have known this from the start that he would not be greeted as some sort of liberator. But he miscalculated. So, I think, again, it's a strategic failure in the medium to long run, regardless of what happens in the coming days and weeks.
But it is important for the United States to be able to support Ukraine, militarily and economically, financially, as well as with humanitarian aid to help Ukraine withstand this brutal onslaught and to survive and ultimately thrive as an independent sovereign democratic state.
Vasyl Korotkyi, Vienna