Marcin Przydacz, Poland's Deputy Minister of Foreign Affairs
At the border, we are dealing with a cynical game of authoritarian regimes
26.11.2021 15:30
The situation on the Polish-Belarusian border has deteriorated sharply in recent weeks as hundreds of migrants are trying daily to penetrate Poland's border, breaking barbed wire barriers with the active support of Belarusian security forces.
Warsaw has blamed the Lukashenko regime and the Kremlin for engineering the crisis. At the same time, Poland is trying to build up broad international support and boost its border protection in the country's east.
In an interview with an Ukrinform correspondent, Marcin Przydacz, Poland's deputy foreign minister in charge of Eastern policies, spoke about the situation at the border, the purpose of Russia's and Belarus' aggressive joint actions, and cooperation between Warsaw and Kyiv in the context of these developments.
POLAND IS PREPARING FOR ANY POSSIBLE SCENARIOS
- Mr. Deputy Minister, how do you assess the current situation on the Polish-Belarusian border? Is Warsaw preparing for any harsher developments?
- The situation on the EU border with Belarus remains unstable. Every day and night we record attempts at the illegal border crossing. We're aware of thousands of migrants amassed in Belarus. They were deliberately brought there by the Lukashenko regime, they enjoy support of the Belarusian authorities. Their goal is to cross the border illegally, and this destabilizes the situation in the region. Poland will not change its policy on the issue, we will resolutely defend the EU's borders. Only in this way can we repel Lukashenko's desire for further aggressive steps. It is also the only way to stop the flow of more migrants who would choose to fly to Belarus from the Middle East or Africa. When they realize that the border cannot be crossed illegally, they may refuse to travel to Belarus and spare themselves of unnecessary trials. The border will be tightly protected, but we're also preparing for any possible scenarios.
- Belarus and Russia are trying to blame Poland for the humanitarian crisis on the Polish-Belarusian border. How will Poland react to this?
- We are dealing with a cynical game of authoritarian regimes that exploit ordinary people in their dirty politics, neglecting human rights. We need to work not only efficiently but also wisely. We have repeatedly tried to provide humanitarian assistance to those people by sending convoys of food, medications, tents, and clothing. However, the Lukashenko regime did not allow us crossing the border. In Geneva, I recently met with representatives of international charities and asked them to assist in obtaining this aid, and I hope this will eventually happen. But it should also be understood that the issue is being used by Belarusian and Russian media to spread misinformation, portraying Poland and the EU in a negative light.
KREMLIN'S GOALS - TESTING ALL COUNTRIES IN OUR REGION
- Does Warsaw also take into account the possible scenario of Belarus sending migrants southwards, that is, via Ukraine, to Slovakia, Hungary, and Poland?
- Lukashenko's hybrid operation is not only about revenge or a desire to push the EU to change its policies towards him. He got the "green light" from the Kremlin, and Moscow's goals for our region are completely different: it's achieving further destabilization, affecting the security situation, and testing our capabilities, testing all countries in our region.
The initial aggressive action was on the Lithuanian and, in part, Latvian sections of the border, and now it's Poland. Of course, in the future, it may be other countries, including Ukraine. We need to take into account what's happening around the borders of Ukraine. Ukrainian agencies brief us on the developments and we also learn more from the American partners. The instrumental approach to migration can also be applied to other hybrid operations, including that southern direction.
At the same time, it should be understood that Lukashenko himself is beginning to experience problems with migrants in his own country. He promised them the opportunity to cross the border, took money from them – because each migrant paid a considerable amount for such services – but they still remain in Belarus. Consequently, they're growing frustrated. There's also growing irritation on the part of Belarusian border guards, who are being pressured from above to get migrants across the border. These rising tensions may find a way out at other borders. That's why we are in constant contact with the Ukrainian government and coordinating our actions ad hoc. A few days ago we had talks in the Lublin Triangle format. I spoke with my Ukrainian counterpart Mykola Tochytskyi and our Lithuanian partner. Warsaw is informing Kyiv of the possible threat.
- Poland and the Baltic countries insist on expanding sanctions against the Lukashenko regime for destabilizing the EU's eastern border. What are Warsaw's proposals in this regard? Is Poland mulling a full shutdown of the Polish-Belarusian border, which would certainly hit Russia economically as well?
- At the EU level, a political decision was recently made on the fifth package of sanctions against Belarus. All 27 EU member states have decided they will not be blackmailed by the Belarusian autocrat, that a firm response to such aggressive actions is required. Therefore, the sanctions list was once again reviewed and confirmed. The Lukashenko regime will certainly feel these sanctions.
At the same time, as for the border issue, we have so far shut down two border crossings between Poland and Belarus. Their further operation is impossible for security reasons. If Belarus doesn't cease aggressive actions targeting the EU, there may be a need for further steps at the border and coordination with other countries in our region. Cooperation with EU member states and Ukraine, as a friendly country, is a must to defend ourselves against this hybrid attack.
MOSCOW PLAYING THEIR GAS CARD
- Is the current complicated situation a good moment for the German regulator to indefinitely suspend certification of Russia's Nord Stream 2 gas pipeline project?
- The situation has been getting worse in Europe, especially over the recent period. On the one hand, there is a hybrid operation going on at the border, and on the other – there's a buildup of Russian military presence around Ukraine, cyberattacks, the spread of misinformation from the east, as well as the precarious situation in the gas market. It is obvious to the naked eye that the Kremlin is now playing a gas card. I'm concerned that Germany supports the completion of the Nord Stream 2 project. Over the past years, Ukraine and Poland have been declaring vocally that the pipe will become an instrument of geopolitical play. But there were also those who sought to convince us that this is a regular economic project. The pipeline hasn't even been put into operation yet, but Putin is already exploiting it. I hope Western Europe will understand the consequences of this game. A new government is being formed in Germany, and the Green Party will also be in power. Let's see how they react to Nord Stream 2. In addition, we have the latest U.S. decision to impose new sanctions on some participants in the project. All this helps to make it clear to our Western partners that the permission to implement the Nord Stream 2 project was a huge mistake.
- The United States recently said that the crisis on the Belarusian border was created to divert attention from something worse that may be plotted on the eastern border of Ukraine. It is about Russia possibly planning a large-scale military offensive in Ukraine. There are even some deadlines being voiced for the launch of their armed aggression, which is early next year. Does Warsaw agree with this assumption and how does it assess the likelihood of such a scenario?
- Ukrainians know they can count on political support from Poland in the context of Russia's aggressive action. We are observing with concern all movements in and around Ukraine, various military maneuvers, and destabilizing activity on the part of Russia. In this context, we coordinate our actions within the EU, NATO, we exchange information with our partners. I have the impression that today we can still influence the situation with strong political signals to change Russia's negative decisions or scenarios. It is important that not only Ukraine but also the West is ready to send this signal to Moscow and effectively counter any aggressive actions on the part of the Kremlin.
However, I wouldn't agree that the situation on the border between Belarus and the EU is a distraction. In my opinion, this is a well-coordinated operation targeting both Ukraine and the West. I hope that the West will react to this properly – as Poland is.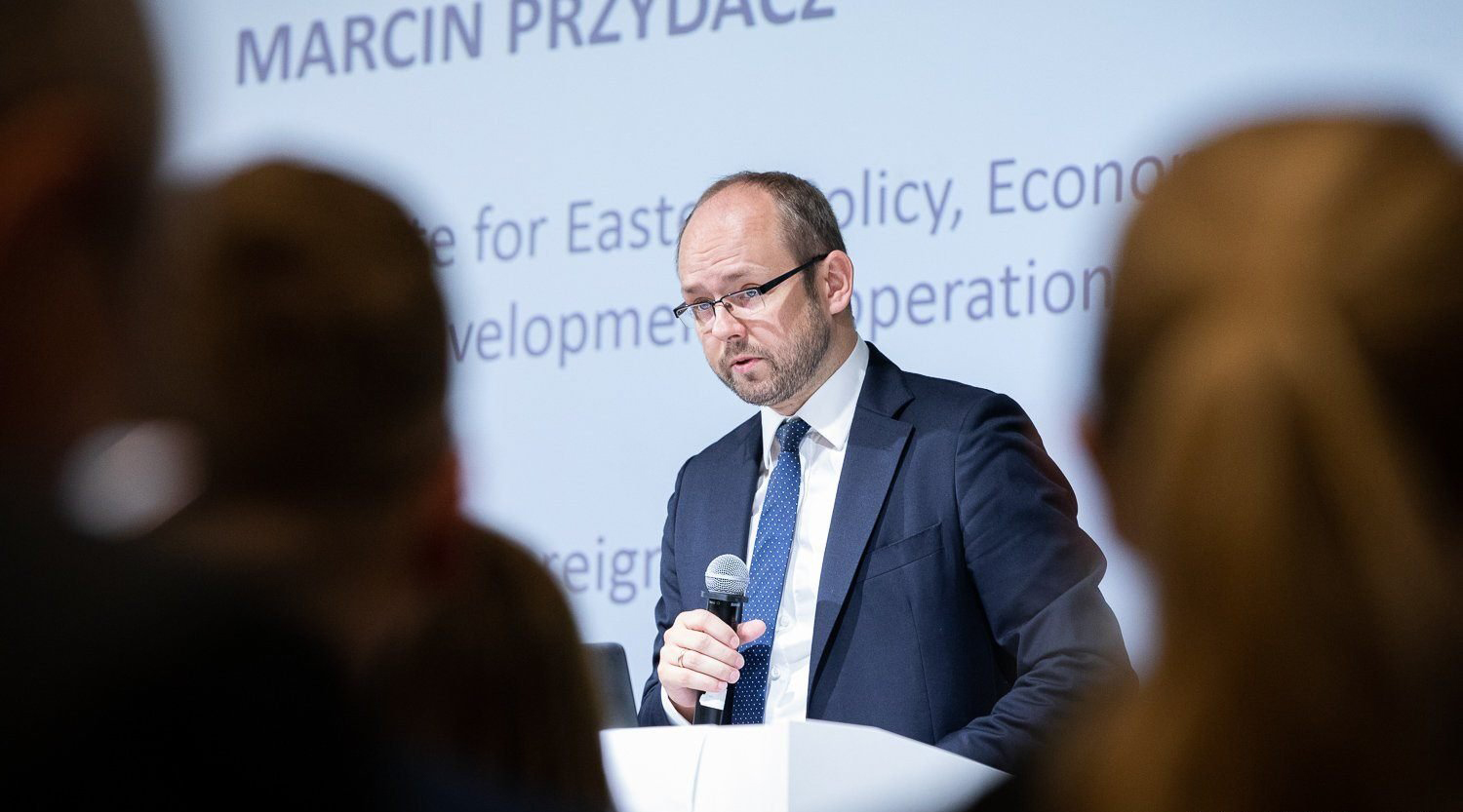 A CERTAIN FORCE IN THE EAST SEEKS TO PIT POLAND AGAINST UKRAINE
- Do you agree that one of the elements of this multi-layered destabilization is the attempt to worsen Ukrainian-Polish relations? In this regard, I am referring to the latest provocations: graffiti drawn on monuments of Józef Pilsudski and the legionnaires in Krakow, as well as anti-Ukrainian posts by hacked profiles of high-profile Polish figures and media. What should the reaction be like?
- It is known that there is a force in the east that seeks to pit Poles against Ukrainians. It is no secret that Poland's good relations with Ukraine contribute to strong resistance to the aggressive intentions of its neighbors.
The strategy of division, manipulating emotions, especially on historical grounds, is quite well known and being actively promoted by our eastern neighbors. Our countries and ordinary people must be well aware of this and not succumb to provocations. We need to look at moments in history that unite us. At the same time, even in Ukraine, certain patriotic forces exploit in public domain such historical events that distance them from their Polish partners.
- Prime Minister of Poland Mateusz Morawiecki is currently touring European countries. Is a visit to Ukraine also on his schedule?
- Prime Minister Morawiecki's efforts are now focused on negotiations with NATO and EU allies. That is why our talks in the region, for example with the Baltic countries, the Visegrad Group are being held in the first place; and then there will be visits to Western Europe. The key to these meetings is how we, the Western powers, can respond to these challenges and what decisions can we make in the near future, including on sanctions.
As for the talks with the Ukrainian side, President Duda recently spoke with President Zelensky. I'm also aware that Prime Minister Morawiecki is in constant contact with Prime Minister Shmyhal. Therefore, contacts at the intergovernmental level are as good as at the diplomatic level. Recently, on Poland's initiative, a special meeting was held with Minister Kuleba at the EU Foreign Affairs Council. Poland is trying to engage Ukraine in the European and Euro-Atlantic debate. At the same time, we count on Kyiv's cooperation in understanding Poland's vulnerable historical issues.
- Next year, Poland will chair the OSCE. What will be Warsaw's priorities from the perspective of the situation in Ukraine? Will they be adjusted given what's happening now in our part of Europe?
- We are constantly analyzing what's happening around us, adapting our strategy to these realities. In early January, in Vienna, the Polish foreign minister will deliver an important address on the occasion of the launch of our presidency, so he will also focus on our priorities. What's happening now will also be reflected in the organization's future tasks. We've already said that the issue of conflicts will be important in our plans for our work in the OSCE. It is not only about the frozen ones, but also about what's happening now in the region, including in Donbas and Transnistria. The work of the OSCE Mission in eastern Ukraine will be important in Poland's plans. However, we have an unstable situation and, as experts and analysts say, it could get even worse. That's why we have a difficult task ahead of us, and the OSCE has an important role to play.
Yuriy Banakhevych, Warsaw
im
Photos from PAP, MSZ