Vineta Kleine, Director of the NATO Information and Documentation Center in Ukraine
Ukraine's experience in fighting disinformation is something that you can share with Allies and other partners
video 15.11.2021 16:00
Ukrinform sat down with Vineta Kleine, acting head of the NATO Representation to Ukraine, Director of the NATO Information and Documentation Center in Ukraine, to discuss prospects of Ukraine's Euro-Atlantic aspirations, progress in reforms, Russia's efforts to hinder the country's efforts toward joining the Alliance, and the latest malign disinformation campaigns on the part of the Kremlin.
MAP: UKRAINE'S REFORMS AND (NOT OR) NATO'S POLITICAL WILL
Q: Ms Kleine, in the issue rather sensitive for our country regarding the prospects of receiving a Membership Action Plan to eventually join NATO, the Allies emphasize the priority of implementing reforms. At the same time, Ukraine's senior officials, while reaffirming the need for such reforms, note that the issue is in fact largely political, pointing out that there are Allies that simply don't want to see our country a member of the Alliance. In your opinion, what is really decisive in this sense – the implementation of reforms or NATO's political will to grant our country the long-sought MAP?
A: Let's first of all start with the Membership Action Plan to explain what it is. It's a document that is tailored and granted to those aspirant countries who have expressed their wish to join the Alliance. It's a comprehensive document, or mechanism, or tool that implies various aspects – security, defense, economic, political, resource, and legal ones. It's tailored for each state and it's a document that helps a country to move these reforms forward and get prepared for possible and eventual membership.
On the other hand, I'd like to underline that the MAP doesn't necessarily mean eventual membership. It is a practical tool and a document that implies advice, assistance, and practical support for aspiring countries. For example, when the Baltic countries wanted to join the Alliance, they also had their Membership Action Plans. If you look at the two countries that recently joined the Alliance – Montenegro and North Macedonia – the latter was granted the MAP in 1999 and joined NATO last year. So, it's a process. On the one hand, first the MAP is granted and then the country goes through the reform process, and on the other hand all NATO Allies, 30 countries, assess and look at the reform implementation process, and it's then it's a decision by 30 countries.
When we speak about Ukraine, it was underlined in June, during the NATO summit in Brussels, how valuable the country is for the Euro-Atlantic security. The NATO Representation in Ukraine helps Ukraine a lot in implementing the whole reform package the country has committed to. Our advisers consult the Ukrainian authorities on a daily basis, so it's a joint effort both in terms of Ukraine's aspirations and NATO's support that we provide for Ukraine.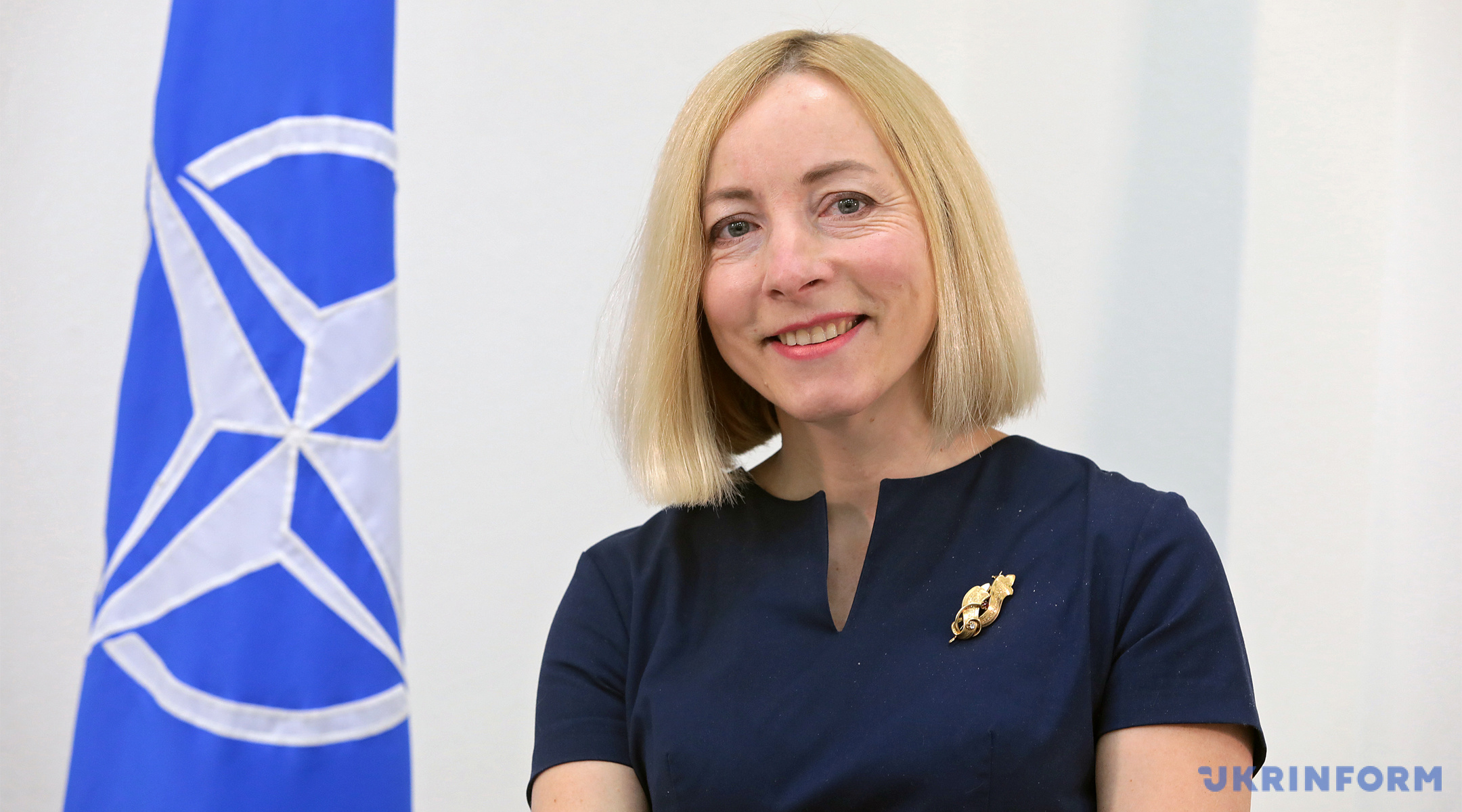 Q: So, NATO's political will is out there, you say, and we need to do more?
A: It's both sides. It's Ukraine's reform process and then Allies decide, on a consensus basis, whether Ukraine is ready to join.
ENVIRONMENT, GOVERNANCE, ECONOMY: ASPECTS COMPRISING COUNTRY'S IMAGE
Q: What steps do you see as a communications expert that Ukraine needs to take to improve its image in the eyes of the international community, NATO Allies, and partners as a country whose Euro-Atlantic aspirations are irreversible?
A: We just spoke about reforms. The country's image is usually perceived from various aspects. The three main aspects are as follows: environment, governance, and economy. When we speak about a country's environment, we imply people's hospitality, nature, food, and all the cultural aspects. When we speak about governance, it's about how reliable the country is when it comes to its contribution to the international community. We also count in how efficient is the judiciary reform, how fair is the court system, and it's all about reforms. So, the image is definitely based on the political structure, on how economy operates, how freedom of speech is ensured – all these aspects are very important when it comes to a country's image.
In Ukraine's case, like in any other country's case, it is about showing with practical examples that rule of law is ensured, that (in Ukraine's case) anti-corruption institutions operate effectively, that reforms Ukraine has committed to are being implemented. These things raise the country's image. Another thing is about economy – whether the country's workforce is educated and skilled, and how, say, a foreign company can operate, whether the conditions are favorable. I think very important is to show such examples and the steps forward.
Ukraine has a Public Diplomacy Strategy, which is about building narratives. But these narratives should be built on deeds and practical steps.
ANP: UKRAINE HAS MADE "BIG STEPS," MAKING IT MORE RESULT-ORIENTED
Q: How do you think Ukraine could enhance its work on developing and then implementing its Annual National Programs under the auspices of the Ukraine-NATO Commission?
A: When we look at Ukraine's Annual National Program, I'd like to commend Ukraine on big progress, big steps, indeed, done over the last years. The ANP has become more substantial, more result-oriented, and more measurable. For example, just two weeks ago, the NATO ANP Assessment Team visited the country and we had several meetings with members of the Verkhovna Rada and civil society representatives. We received Ukraine's feedback, self-assessment on the ANP implementation. I think it is an important instrument at Ukraine's disposal to see and to measure how the whole reform process is being conducted. It's not only about the security and defense sector, it is also about economy, political aspects, the judiciary, the security sector, and so on.
We have noted progress and we've been helping and supporting Ukraine with implementing the ANP for 12 years already, and it goes ahead quite well. There's very good progress.
Q: Do you think self-assessment was fair this year?
A: Yes, sure. It's done by several actors, including the government, and we had some really frank discussions. We also got feedback from civil society organizations. During these discussions, we were really able to see where Ukraine shows progress, which things should be brought forward, and what is yet to be done.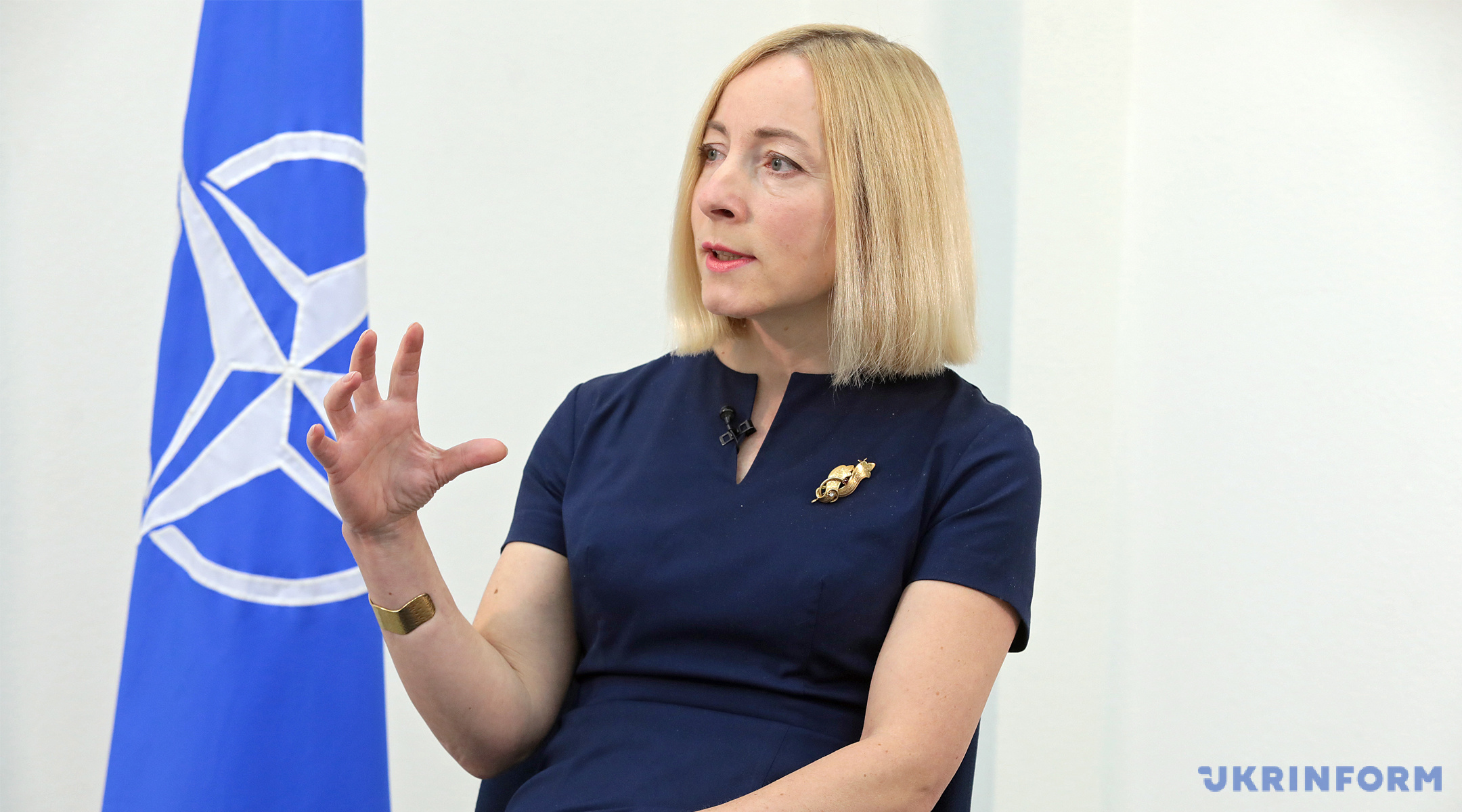 RUSSIAN PROPAGANDA: "EVERYONE'S EXPOSED"
Q: Now, let's talk about Russian propaganda. A huge topic… Russian propaganda masterminds are becoming increasingly aggressive, including in achieving their goal of preventing our country from joining the Alliance. How significant overall do you think the influence is of the Russia factor on Ukraine's path toward NATO?
A: If we speak about disinformation, malign information attacks, and propaganda, it's a phenomenon all countries are exposed to. That is why one of the things each society should follow is that the whole society must be aware of the fact that every day each of us is exposed to disinformation, misinformation, and fake news. It is very important that each segment of society plays its role – be it academia, civil society, government, media, everyone. It is also important that we all use critical approach to the news we receive and that we use reliable information sources and check our information channels.
It is not only Ukraine's case. The Alliance has also been exposed to disinformation attacks since NATO's very creation. In Ukraine's case, I can name at least up to 10 respectable fact-checking institutions and organizations. Ukraine's experience is something that you can share with Allies and other partners because you are exposed to this on everyday basis. It's very important to remain critical. And that is why within the NATO-Ukraine Countering Hybrid Warfare Platform we help with media literacy courses for civil servants and media representatives. It's one of the platforms on which we work closely with Ukraine.
Also, in NATO's case, it is important to share information we receive, so we work closely with the European Union, the G7, and the United Nations because everyone is exposed. It's a common threat and we need to unite our efforts.
Q: Well, in the follow-up to this question, what do you think is key to further strengthening Ukrainians resilience to those disinformation, manipulation campaigns by Russia, especially in the context of the ongoing pandemic, those anti-vaccinations rallies in Kyiv and Chisinau where we saw common features?.. Perhaps there's some advice you could give us in this regard?
A: Yes, the Covid pandemic has brought to the spotlight the phenomenon of disinformation and malign information attacks because each country sees the flow of unverified, fake reports jump up amid the pandemic.
In NATO, we don't respond to disinformation with disinformation. We use facts, we use information, which is reliable and fact-based, and we put on the table arguments and facts. This is also the advice I could give to Ukraine today.
It's critical that we offer information that is fact-based. And it's also important that we monitor information environment and, engage, based on that.
NATO communications are also based on the assessment of the information environment. And those insights we also embed in our communications efforts.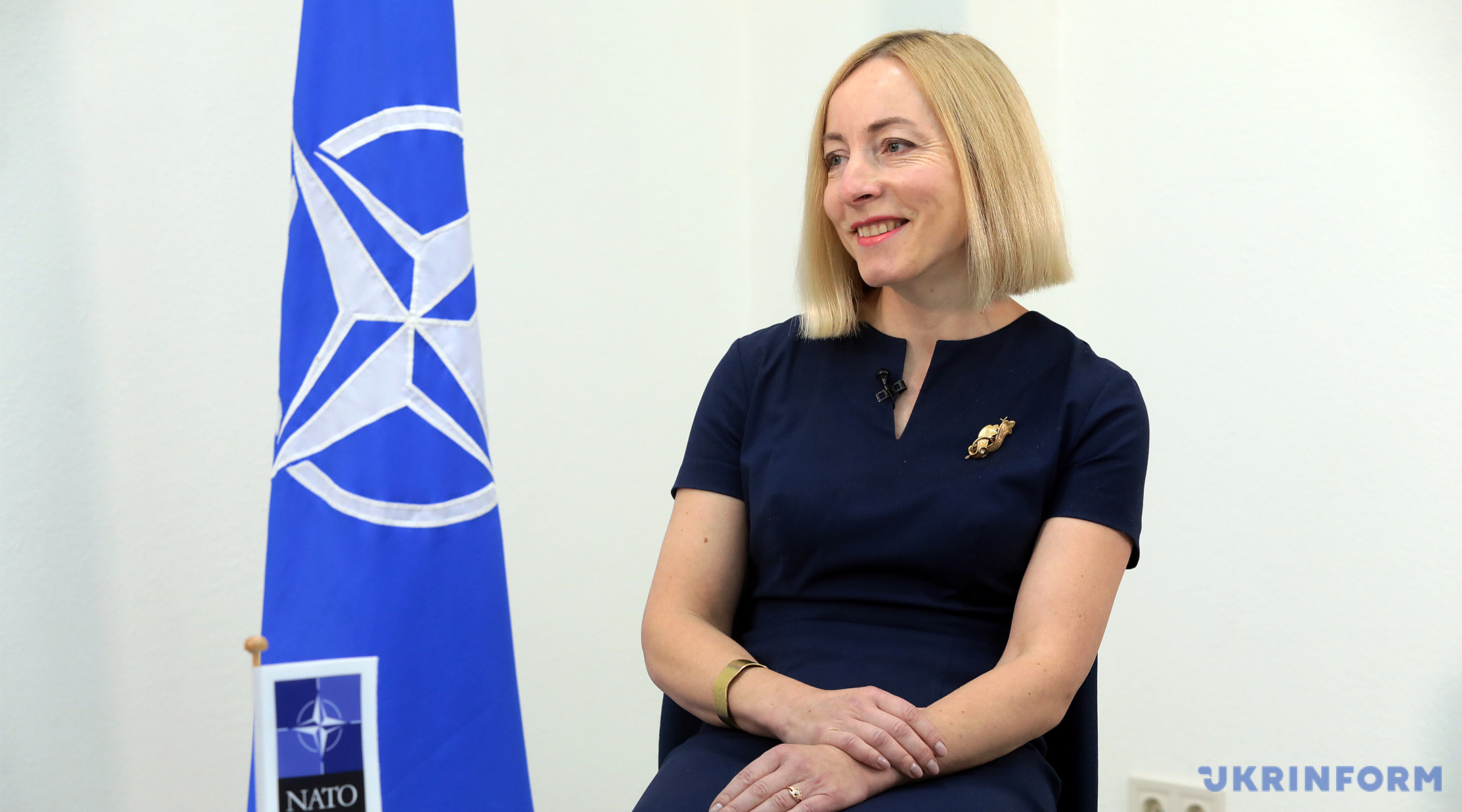 NATO'S RELATIONS WITH RUSSIA ARE AT THEIR LOWEST SINCE THE END OF THE COLD WAR
Q: Let's recall that, after NATO expelled eight Russian officials from its Brussels headquarters, saying they are believed to have been in fact Russian intelligence officers under cover, Russia went for an asymmetrical response, suspending the work of its representation and ordering the closure of NATO's office in Moscow. Does NATO see the demarche as part of a growing threat to the global security situation and that in the European region in particular? What help can we count on from Allies and partners if Russian aggression against Ukraine intensifies? That's especially relevant amid recent reports of a buildup of Russian troops near the border with Ukraine and the ongoing migration crisis on the border between Belarus and Poland…
A: Relationship between the Alliance and Russia at the moment is at the lowest point since the end of the Cold War. We are also aware of the fact that Russia suspended its mission to NATO, that Russia suspended the NATO Military Liaison Office in Moscow, and closed the NATO Information Office in Moscow. Nevertheless, NATO Secretary General Jens Stoltenberg has repeated during his meetings with Russia's Foreign Minister Sergei Lavrov that dialogue must be maintained, especially in times of high tensions. Also, NATO several times invited Russia to hold meetings within the NATO-Russia Council.
It's very important that NATO keeps this dual-track approach. It's deterrence on one side and open doors for dialogue on the other side because dialogue must be maintained. Russia is our neighbor and constructive dialogue is always one of the ways of how we can solve disputes and decide on the way to go ahead.
On the other hand, when we witnessed the buildup of Russia's troops in and around Ukraine, a couple of months ago, NATO Allies were explicit, having immediately reacted and responded. This June during a NATO summit in Brussels it was clearly stated that NATO stands by Ukraine and that we have stepped up our both political and practical support. And we also have stepped up our port visits and joint exercises.
So, NATO stands by Ukraine and we support Ukraine's territorial integrity. NATO Allies will never recognize the illegal and illegitimate annexation of Crimea.
Ievgen Matiushenko, Kyiv