Vasyl Bodnar, Deputy Minister for Foreign Affairs of Ukraine
The European Union is ready to help us with the vaccine
28.01.2021 10:00
The year 2021 begins quite actively for Ukrainian-German relations: January is not over yet, and representatives of the President's Office, the Government and the Ministry of Foreign Affairs have already visited Berlin as part of consultations at the level of political advisers in the Normandy format. On January 25, political consultations between the foreign ministries took place at the German Federal Foreign Office
Head of the Ukrainian delegation, Deputy Minister for Foreign Affairs of Ukraine Vasyl Bodnar shared with Ukrinform information about what other events are planned for this year, what issues are 'sensitive' in relations with Germany and our immediate neighbors.
SCHEDULE OF EVENTS FOR 2021 IS QUITE SERIOUS
Question: Vasyl Myronovych, what bilateral events are planned this year, if, of course, the epidemiological situation allows?
Answer: There are several major events on the bilateral agenda that we are working on, namely: the 30th anniversary of Ukraine's independence, to which we invite Chancellor Angela Merkel, and the 80th anniversary of the Babyn Yar tragedy, to which we would like to invite President Frank-Walter Steinmeier. It is also crucial to hold the Ukrainian-German Economic Forum, which is scheduled for March 19 with the participation of the Prime Minister of Ukraine and the Chancellor of Germany.
In general, our schedule is quite serious. In addition, we want inter-agency consultations to take place systematically.
Today in Berlin we made sure we are on the same page: we identified issues that have not yet been agreed upon, what to work on and where to make extra effort.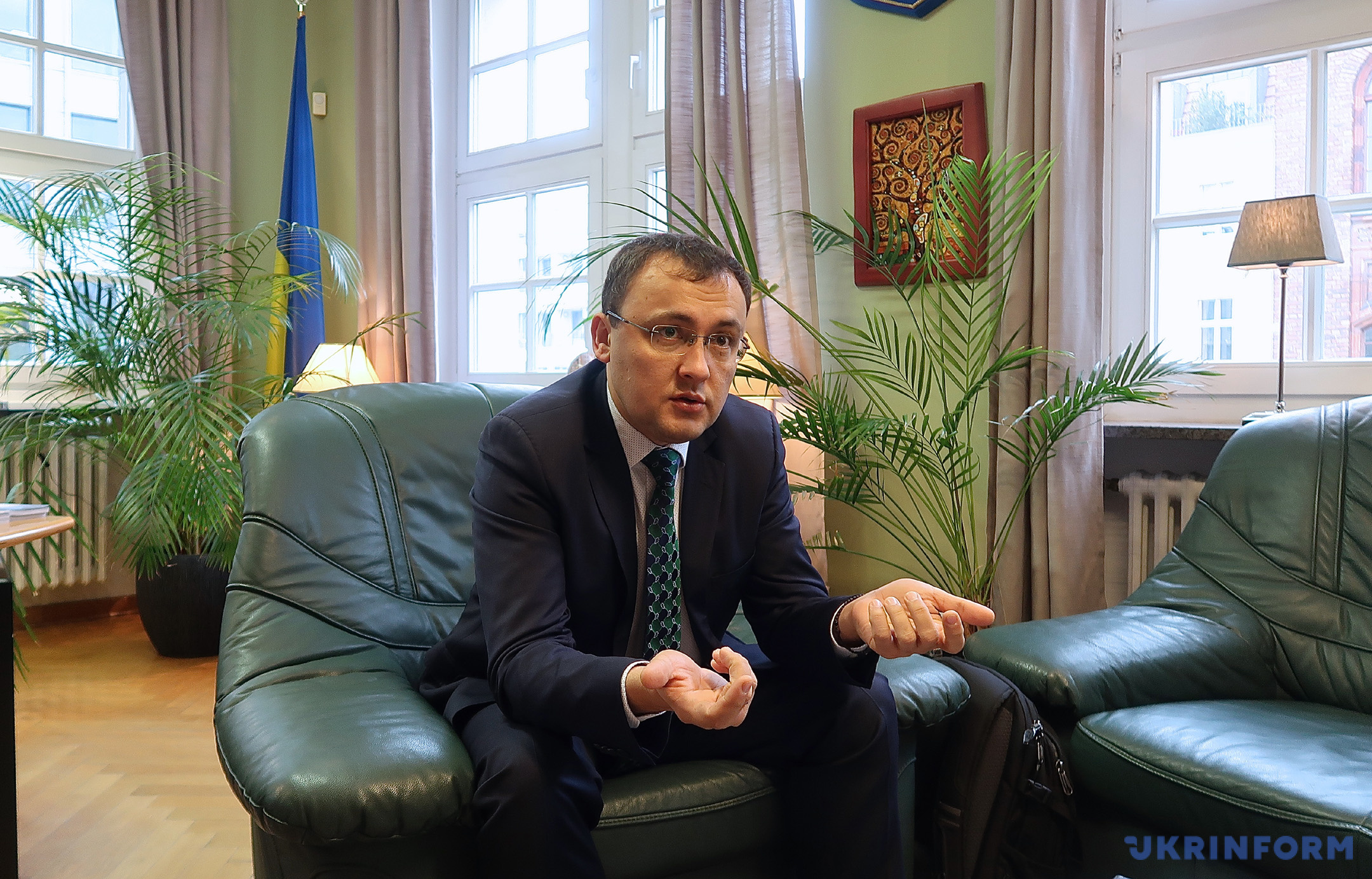 Question: What issues were raised in Berlin on Monday?
Answer: There were two key blocks - bilateral interaction and international issues. The first block included the preparation of events at the highest level, trade and economic cooperation, the expansion of technical assistance to Ukraine from Germany, some consular affairs, cooperation in the cultural and humanitarian sphere, primarily in the context of research on common pages of history. The second block concerned European and Euro-Atlantic integration, security issues in Europe and, especially, in the Black Sea region, the situation in the occupied Crimea and the launch of the Crimean Platform, interaction within international organizations, the fight against COVID-19 and vaccination.
WE ARE WORKING TO ENSURE THAT VACCINE APPEARS IN UKRAINE ASAP
Question: You have mentioned vaccines. This is perhaps the most pressing issue today. What are our chances of receiving drugs from European partners who have already started vaccination campaigns?
Answer: President of Ukraine Volodymyr Zelensky raised the issue of vaccines in a phone conversation with Chancellor Angela Merkel.
The Health Ministry plays a key role in this matter, and the Foreign Ministry provides assistance in establishing contacts. We are working very actively to ensure that the vaccine appears in Ukraine as soon as possible, and we use different sources for this.
The Foreign Ministry instructed ambassadors in all European capitals to discuss support options for surplus vaccines (either on a paid basis or as part of humanitarian aid) so that we can start vaccinating health workers and people at risk.
We have already received certain positive signals from some EU countries that they can transfer or sell surpluses to us, but we have not disclosed the details yet.
Question: Is it possible to physically hold the 4th Ukrainian-German Economic Forum in March? And if not, does it make sense to conduct it virtually?
Answer: Our vision is that this event should be offline. We hope that the forum will take place in Berlin, Germany, on March 19.
We have already established online cooperation, this is of course a temporary way out, but the best is direct, face-to-face communication in order to address issues on the agenda, ranging from problems faced by German business in Ukraine, to issues of interaction in the implementation of the Association Agreement and improvement of legislation.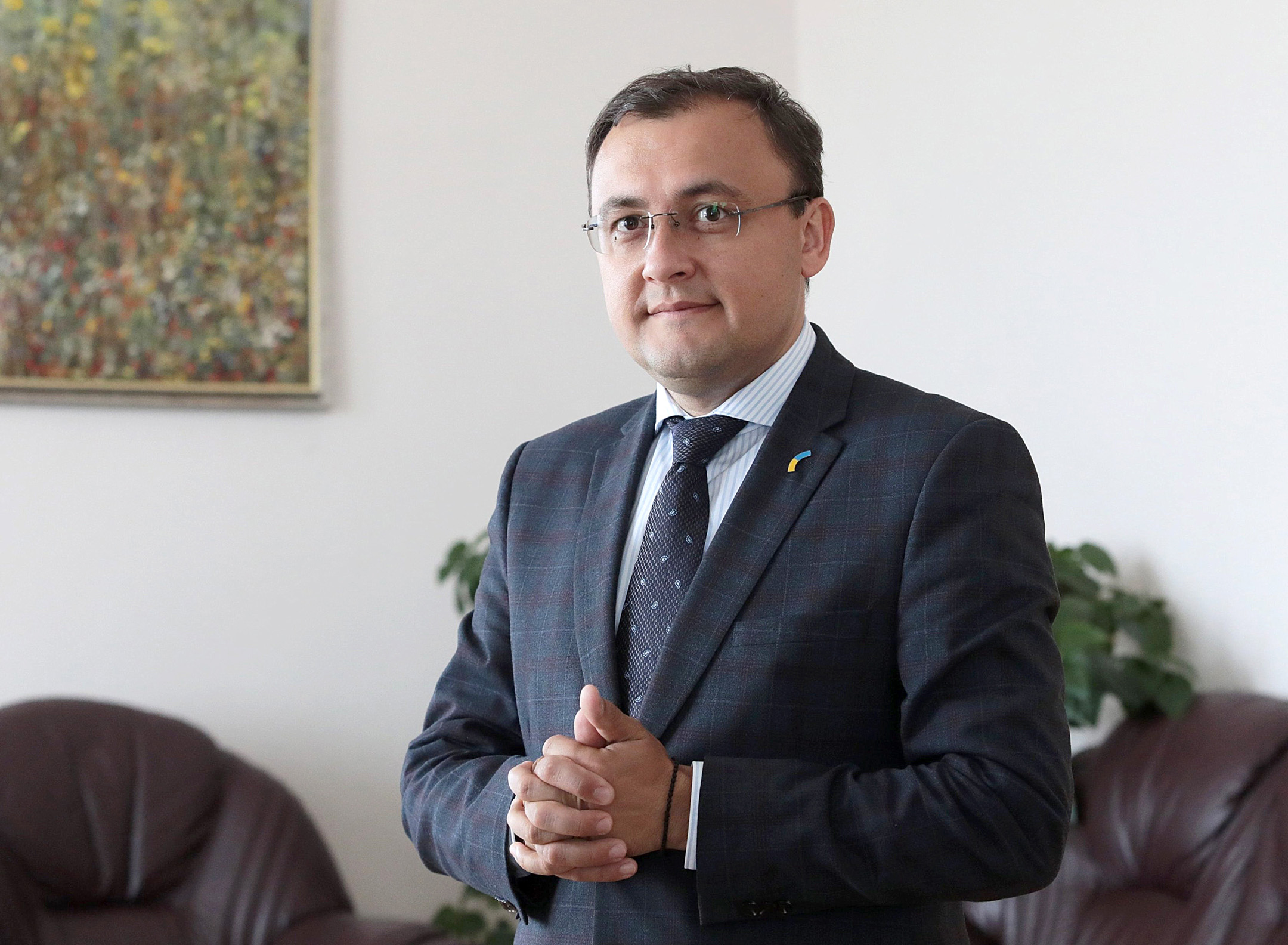 Question: Are we continuing to raise the issue of Nord Stream 2 now when US sanctions could put an end to virtually everything? Or do we expect the project to come to naught thanks to them?
Answer: This is one of the topical issues in the dialogue at various levels. We talked about this today. Ukraine's position is clear: this is a political project that will affect the energy security of Europe. This project is not beneficial to both of us. We also understand how sensitive this issue is for Germany.
It is important for us to know what decision Germany will make since it may affect the Ukrainian gas transmission system and energy security in Europe.
WE COOPERATE WITH GERMANY IN MANY HISTORICAL TOPICS
Question: Announcing the consultations, you said that historical issues would be discussed. Are there any outreach activities planned for the anniversary of the Babyn Yar tragedy in Germany?
Answer: Of course, and not only in Germany. It will be a broad international information campaign and we will attract and invite many international partners to Kyiv to mark the 80th anniversary of Babyn Yar.
We cooperate with the Federal Republic of Germany on many historical topics related to the Holocaust tragedy and others. In particular, we hope that Germany will recognize the Holodomor as genocide of the Ukrainian people. There are also issues related to the creation of a memorial to the victims of World War II in Berlin, as more than 8 million Ukrainians lost their lives, and hundreds of cities were destroyed. We believe that Ukraine's contribution to the victory over Nazism should be duly honored.
All these issues are on the agenda and are related, in particular, to the activities of the commission of historians. We have our own national interests and we will defend them. Our Ambassador to Germany Andriy Melnyk is extremely active in this regard.
On the other hand, both sides are not interested in excessive "historicization" of bilateral relations. We do not want to shift the emphasis of interaction to the historical plane. This dimension of cooperation must be considered by historians and scholars.
Question: You have mentioned the commission of historians, from which the Foreign Ministry revoked its patronage last year. Do you think it needs to be reformed?
Answer: The Ukrainian Foreign Ministry made a constructive proposal to the German side to form an equal commission. We are looking for an effective bilateral mechanism o for interaction between historians from our and German sides. The dialogue should develop on an equal footing, on topics of mutual interest.
In our opinion, the Ukrainian part of the commission should be headed by a state institution that is responsible for this - the Ukrainian Institute of National Remembrance. We are currently working on the details.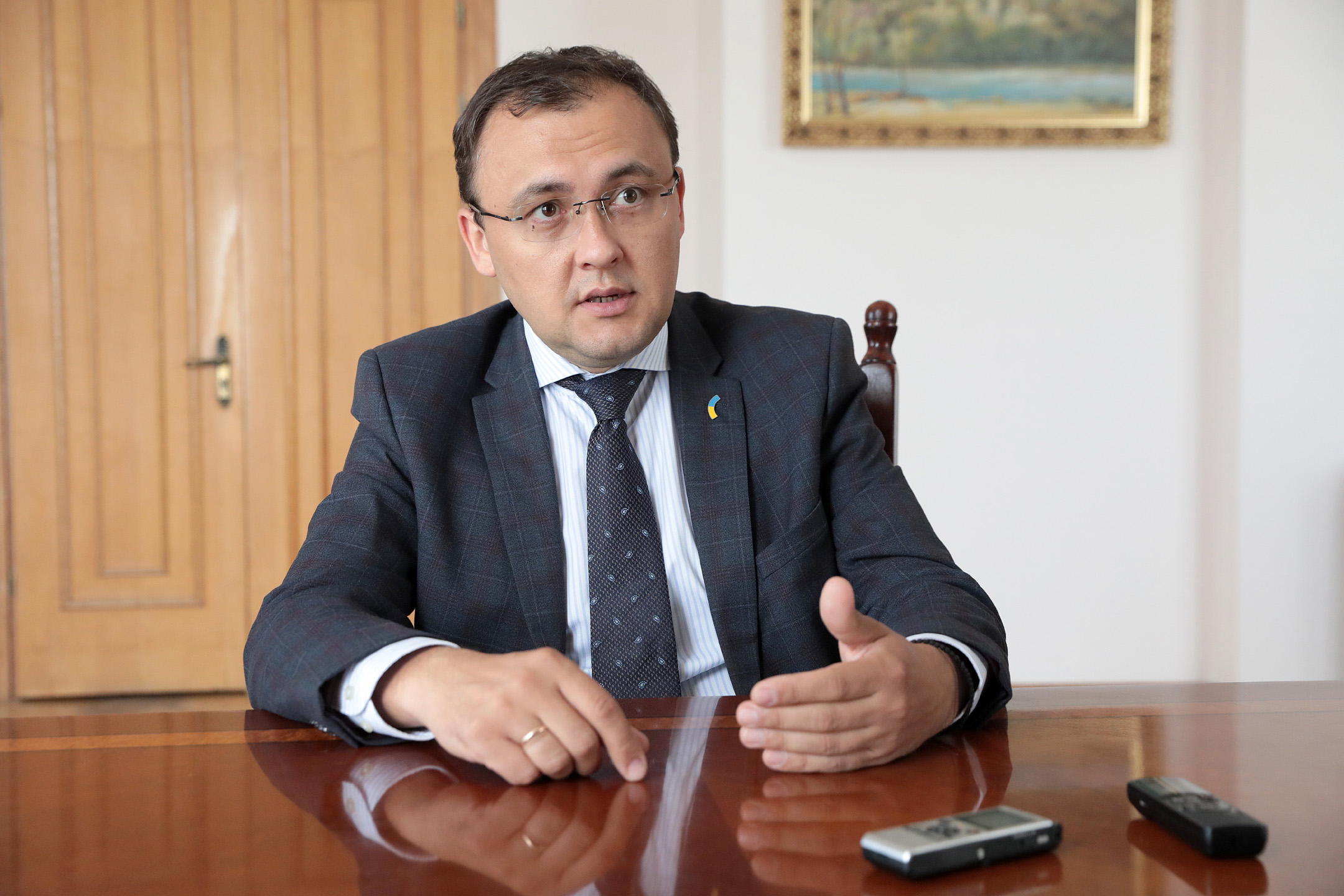 NORMANDY FORMAT SHOULD WORK
Question: These are the first bilateral political consultations between the foreign ministries over the past six years. What caused such a long break?
Answer: In fact, consultations and negotiations with the German side are held constantly. However, their priority attention was focused on resolving the Russian-Ukrainian conflict in the Normandy format. We have agreed to cover a wide range of bilateral issues, and we have succeeded.
Question: Has the issue of cooperation in the Normandy format played a major role during the current consultations? Technically, a meeting of the foreign ministers of the four countries is to take place before the leaders' summit…
Answer: Of course, this issue has been raised within the framework of interaction between the foreign ministries. We talked about further steps that we can jointly take to achieve practical results, in particular, to hold a meeting of foreign ministers, and later a summit of leaders.
Question: It is clear that it is difficult to talk about specific dates. But is it still possible to predict any time frame for a meeting at the level of foreign ministers?
Answer: We are working to ensure that it takes place in the coming months, so that we can reach specific agreements, and not hold a meeting for the sake of a meeting.
It is obvious to everyone that the concrete actions of the Ukrainian side on the settlement do not lead to the same actions on the part of the Russian Federation, which occupies part of Ukraine and does not have the will to end the war. The creation of new checkpoints also remains unanswered. Citizens from the temporarily occupied territory cannot move to the territory controlled by Ukraine.
Our position is clear and understandable: first of all - security, and then the settlement of political and socio-economic aspects.
We will not agree with the proposals of Russia, which wants to see us and representatives of the so-called "LPR" and "DPR", thereby legitimizing them, at the negotiating table, and then withdraw from this process. Russia is a party to the conflict, and it is necessary to negotiate with it. Our international partners are well aware of this as well.
Question: Could we, with the new US administration, return to the issue of involving the United States in the settlement?
Answer: Of course, we could. President of Ukraine Volodymyr Zelensky, immediately after winning the election, proposed the idea of resetting the formats and more actively involving the United States in the negotiation process. This is one of the key issues for discussion with the American side.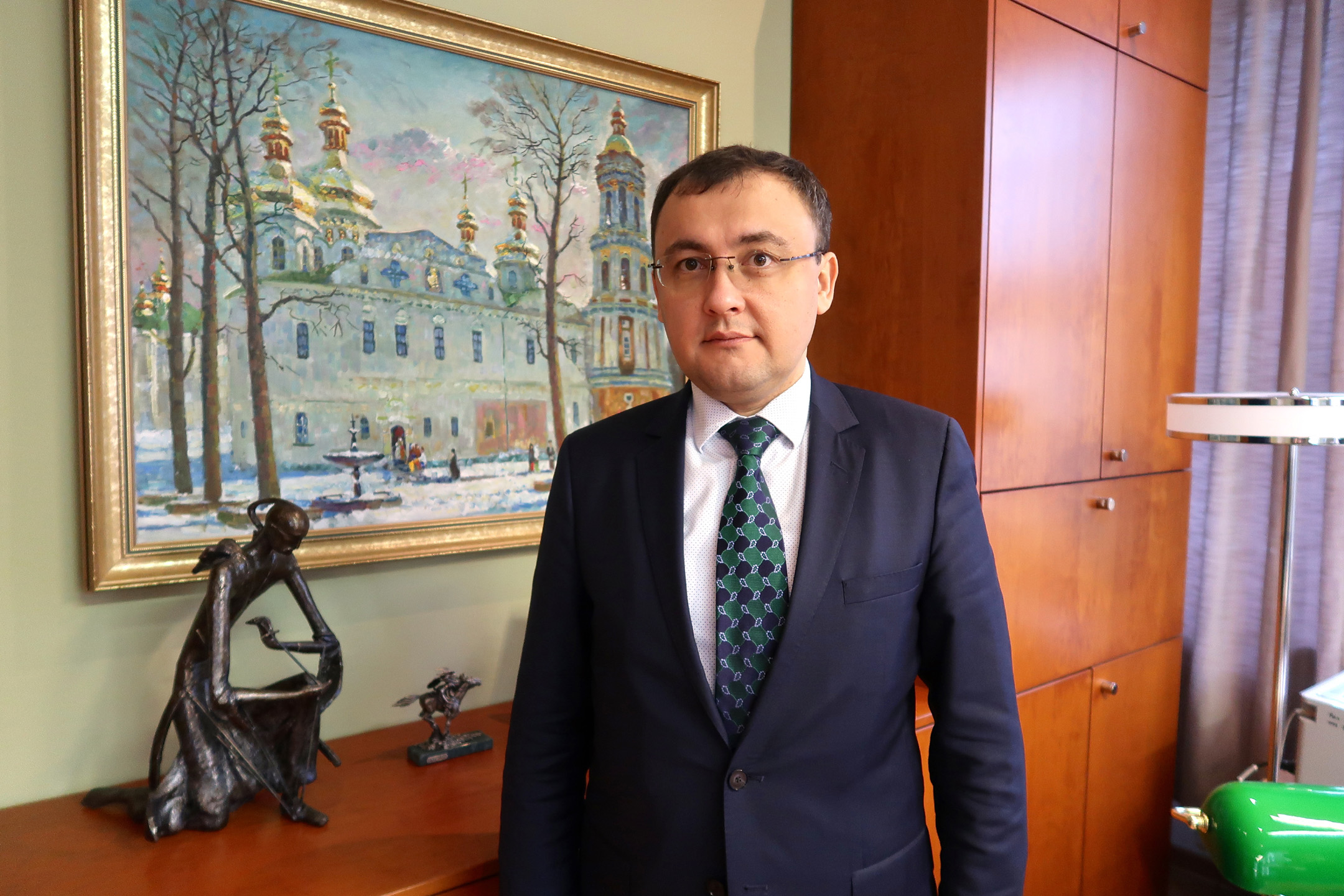 Question: As part of the Minsk process, in particular in the Normandy format, we are forced to communicate with the Russians. Is there any communication outside these frameworks?
Answer: Before 2014, this communication was constantly maintained. What did it lead to? We all see this. Today we cannot trust Russia. Therefore, the participation of international partners is the best option; when we have mediators, like Germany and France, who can help to reach agreements and implement them.
CONSULATE GENERAL IN WROCLAW TO OPEN THIS YEAR
Question: Our neighbor to the west is Poland. The largest Ukrainian diaspora lives in this country. Will the Consulate General in Wroclaw open this year?
Answer: We hope it will start operating this year. The decision to open it has already been made, and the technical aspects are now being worked out.
Question: When will the meetings of the Commission on Economic Cooperation and other bodies take place?
Answer: We are already working on this. Oleksiy Reznikov, Vice Prime Minister of Ukraine and Chairman of the Ukrainian side of the Commission on Economic Cooperation, will soon visit Poland to discuss preparations for the next meeting. The previous one was back in 2017, so it is important to analyze the state of relations in the trade and economic sectors, and outline ways to solve existing problematic issues.
We are working to intensify the work of other institutional mechanisms, in particular the Presidents' Advisory Committee, the Intergovernmental Coordination Council on Interregional Cooperation, interdepartmental working groups, including through the Institutes of National Remembrance.
BUDAPEST DOES NOT ACCEPT UKRAINE'S OPENNESS
Question: Relations with our other neighbor, Hungary, remain difficult. Hungarian Minister of Foreign Affairs and Trade Peter Szijjarto is expected to visit Kyiv on January 27. What do we expect from this visit? Has anything changed recently in Budapest's position?
Answer: Hungary is our close neighbor. It is a member of the EU and NATO. And it is essential for us to have a normal relationship with it.
We are all witnesses that Minister Dmytro Kuleba has devoted a lot of his time, attention and energy to resetting relations with Hungary, trying to make them more constructive. Unfortunately, the Hungarian partners interpreted such openness a little differently, and their interference in Ukraine's internal affairs, in particular, direct campaigning for one of Ukraine's political forces, led to yet another tension.
But we do not lose hope that we will find opportunities for understanding. We even proposed a draft roadmap for the development of bilateral relations; we offered to commit everything to paper, determining who is doing what in order to avoid any manipulation.
Unfortunately, the Hungarian side continues to politicize the educational issue, interprets the Ukrainian legislation and the actions of law enforcement officers in its own way, and abuses its NATO membership to put pressure on Ukraine.
We are ready to discuss everything related to the development of bilateral relations, but without interfering in internal affairs. This is the red line. Having a negative experience of Russian aggression, we will not allow anyone to interfere in our internal affairs.
RELATIONS WITH BELARUS SHOULD NOT BE POLITICIZED
Question: You have recently said: "It is crucial to Ukraine and the whole of Europe that Belarus remains a sovereign and independent state, away from the influence of Russia. Ukraine is ready to cooperate in various formats in order to assist Belarus in resolving the political crisis." What are these formats and how realistic is it to minimize the Kremlin's influence on the neighboring republic?
Answer: Ukraine's position is very clear: we do not recognize Lukashenko as president; we have shown solidarity with European policy towards Belarus and joined personal sanctions.
On the other hand, we are trying to help ordinary Belarusians who have left Belarus due to increased repression so that they feel comfortable in Ukraine.
We understand that Russia, trying to isolate the current regime in Belarus, is playing its own game and wants to increase its influence on Minsk. We maintain diplomatic channels of communication and contacts at the expert level and are ready to pragmatically resolve the existing pressing issues, primarily in the economic sector.
It is important for us to develop mutually beneficial cooperation and have a friendly, good-neighborly and safe Belarus, and not what Russia wants to do with it.
Question: The Lublin Triangle was founded last year. Could this platform help resolve the Belarusian crisis? How do Kyiv and its partners plan to use this tool of international cooperation?
Answer: The main thing is the interaction of countries in ensuring security in the region. This is a format of interaction between the foreign ministries, headed by ministers and special commissioners, who will form the agenda in order to coordinate efforts to preserve security in the region. Issues of European integration, countering disinformation, and the situation in Belarus will also be discussed.
When the format was being created, our minister said that now we have a triangle, and later we can expand the format. The "fourth seat" is still empty, but open for possible participation of the Belarusian side. For this it is necessary to resolve the situation inside the country and calmly discuss the prospects for regional cooperation.
FIGHT FOR POST OF BSEC ORGANIZATION SECRETARY GENERAL CONTINUES
Question: Vasyl Myronovych, last year, for the first time since the founding of the Organization of the Black Sea Economic Cooperation (BSEC) in 1992, Ukraine nominated its candidate for the post of Secretary General of the organization – it was you. How is the process progressing?
Answer: Ukraine was one of the first countries to nominate a candidate in the middle of last year.
The post of the BSEC Organization Secretary General will be vacated on July 1 this year. Therefore, the elections will take place in May-June, when a meeting of the Committee of Senior Officials and the Council of Foreign Ministers - the highest decision-making body within the organization – will be held.
There are currently five candidates from 13 countries. To win, one needs to gain nine votes. It is a very difficult task. I have already consulted with the vast majority of countries, visited their capitals. There is a certain level of support, but also an extremely high level of competition.
On the one hand, we have a desire to reboot this organization, make it more effective and efficient. It is economic in nature, but 13 countries face almost the same number of conflicts. So we see our biggest task in finding mutually beneficial and least controversial areas, in particular, business interaction, the IT sector, transport issues, and the possibility of developing alternative energy.
Question: To get a little out of politics?
Answer: This will not be fully realized, because Russia politicized this organization as much as possible, starting an aggression against Ukraine and seizing the center of the Black Sea region - Crimea.
Today, in the post-pandemic period, we need to look for new opportunities for our region, namely to create competitive conditions so that goods, for example, from China go to Europe through our Black Sea region, and do not bypass it.
Olha Tanasiychuk, Berlin