Yağmur Ahmet Güldere, Ambassador of Turkey to Ukraine
Despite doubts on Turkey-Ukraine Free Trade Agreement, it will strengthen both economies
31.12.2020 14:04
The recent "quadriga" meeting in Kyiv has taken the Ukrainian-Turkish dialogue on international issues and security to a qualitatively new level. It's quite a logical combination, especially taking into account the successes of bilateral cooperation between our countries in defense and military-technical spheres last year. Now relations between our countries are on the rise in most areas. The only unresolved issue is the Free Trade Agreement, which has not been signed yet.
Ukrinform talked to Mr. Yağmur Ahmet Güldere, Ambassador Extraordinary and Plenipotentiary of the Republic of Turkey to Ukraine, about the successes and issues that require joint efforts by Ukraine and Turkey, the steps that should be taken towards each other, as well as current and future projects.
"QUADRIGA" WAS A POWERFUL CONCLUSION FOR THIS FRUITFUL YEAR
Question: Mr. Ambassador, the first meeting of Ministers of Foreign Affairs and Ministers of Defense of Ukraine and Turkey in the "quadriga" format took place in Kyiv on December 18. What key points of this meeting can you mention? What is important and special about this new format of "two plus two" communication?
Answer: The first "two plus two" meeting was an important event. It is a new format for Turkey and Ukraine, but it has already shown how useful and strong it is. It allows to discuss bilateral, multilateral, regional issues in a very structured manner between foreign policy and security angles. Our Ministers were received by the President and Prime Minister as well, which allowed us to follow up President Zelensky's visit in October and Prime Minister Denys Shmyhal's visit in November to Turkey.
Besides, Foreign Minister Mevlüt Cavuşoğlu was the guest of honor for the ambassadors' conference in the Ukrainian Ministry of Foreign Affairs. He gave an address to Ukrainian ambassadors and after his speech he was presented an award by a Ukrainian NGO for the annual program which was initiated by him in 2015 for the families of military and security personnel affected by the situation in Donbas region. Every year we host almost 200 wounded personnel, their children and other family members in Turkey for a rehabilitation program. This is a unique connection between our countries and our people.
I also want to look at the bigger picture beyond this "two plus two." Of course, the whole package of events was important in itself, but it was a good and powerful conclusion for a very fruitful year in our bilateral relations. Even despite the pandemic we managed to realize two presidential visits, one visit of Prime Minister, a lot of visits on the ministerial level. So "Quadriga" wrapped these up, and became a good preparation for 2021, where we will have a Strategic Council meeting in the first half of the year.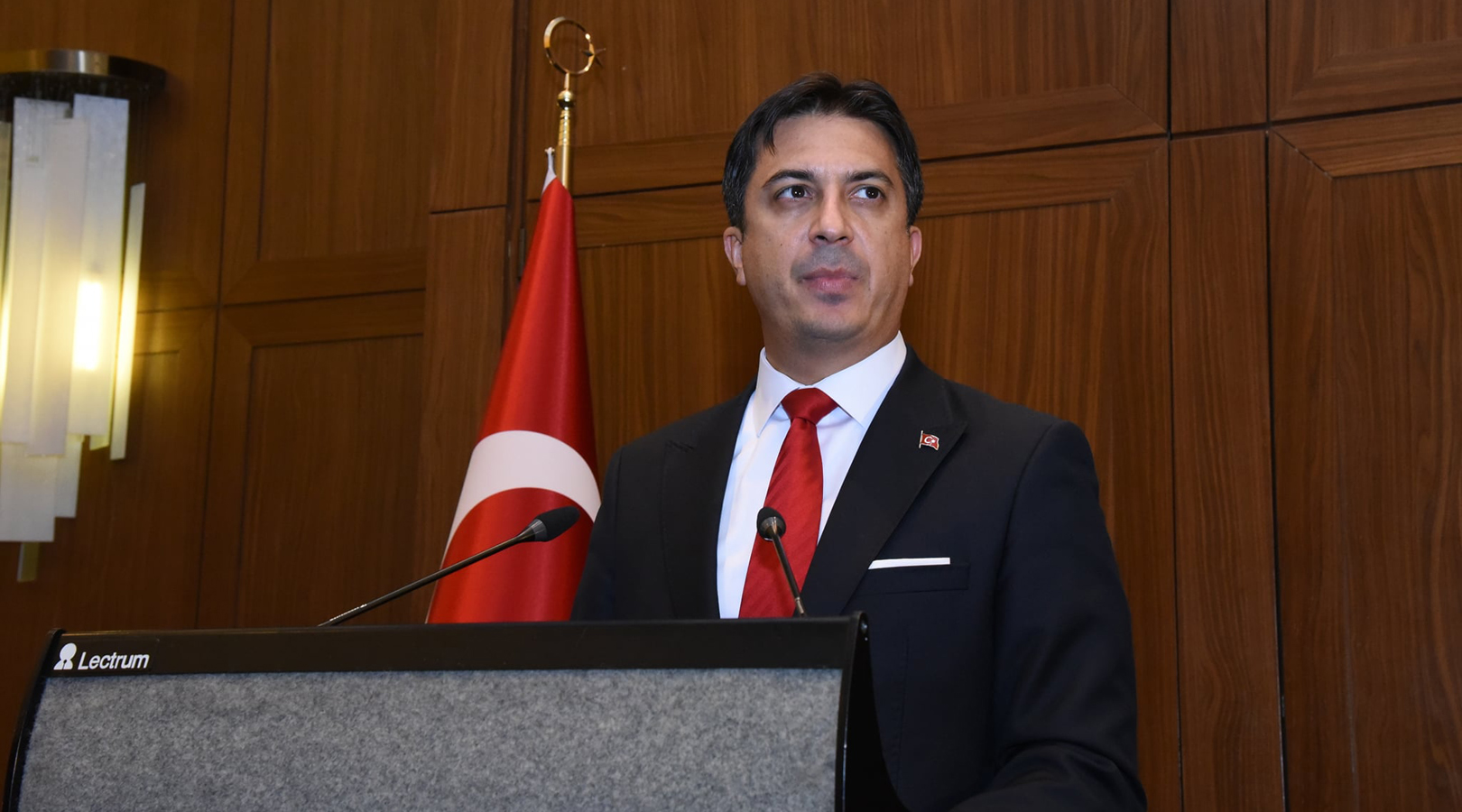 Question: Currently, the most active sphere of Ukrainian-Turkish relations is cooperation in the military-technical field. The agreement on joint production of combat UAVs and corvettes was signed during the last meeting at the level of the Minister of Defense of Ukraine and the President of Defense Industries of Turkey. Please tell us more about it.
Answer: Yes, defense industry is like a rising star in Turkish-Ukrainian cooperation. Our bilateral relations are developing in all fields, but there is a special energy, dynamism in defense industry. The new agreement on UAVs and corvettes was signed during the visit of our President of Defense Industries Mr. Ismail Demir. We see a great synergy between defense industry of Turkey and Ukraine. We believe that together we can have joint possibilities of production, which will allow us to get stronger nationally and develop better, competitive products, which we can sell to third countries together. This will be as usual a "win-win" solution for both countries.
U.S. SANCTIONS AGAINST TURKEY WILL NOT SHADOW OUR COOPERATION
Question: The Ocean shipyard was selected by the Defense Industry of Turkey to implement the corvette program of Ukraine. And what about unmanned aerial vehicles? Will there be new enterprises or will be UAVs produced at the existing ones?
Answer: Defense industry cooperation between us is not a one-way street. It is a mutual process, where we always pay attention to technology sharing and localization. We understand that there is a search from the Ukrainian side to maximize Ukraine's input in all these contracts. The companies and authorities who talk on these issues from the Turkish side try to take into account these wishes to the maximum possible extent. We are not talking just about selling from Turkey where Ukraine is a customer, but we are talking about joint projects and the joint production of all these articles. Some are government-owned companies, some are private ones. It's up to them whether there will be local production. And I will not be surprised if that will be the case where the Ukrainian defense industry will have a big share of the production in this way.
And these are not the only projects on the table. We have been talking about joint projects with Antonov for some time. It was also discussed during the "quadriga" meeting. And we will continue to explore what will be feasible in aviation. Space is another area we can cooperate in. The chairman of our space agency paid a visit to Ukraine this year and met with Ukrainian counterparts, discussed possibilities of cooperation. We will follow this up next year. All of this is bringing us closer and makes us stronger.
Question: Will U.S. sanctions against Turkey affect this cooperation between our countries?
Answer: I don't think that it should be a shadow on our cooperation. This is something that we do not find fair and right. And at the end of the day, our offers are very competitive, forthcoming and that is why these agreements were signed in the first place. The Turkish Defense Industry will continue to grow despite all of this and we will be more than happy to do that together with third countries who want to walk this path with us.
THE FREE TRADE AGREEMENT REQUIRES BOTH SIDES TO TAKE A FEW STEPS TOWARDS EACH OTHER
Question: Mr. Ambassador, 2020 has been a challenge for economies all over the world due to the coronavirus pandemic. Neither Ukraine nor Turkey are exceptions. Nevertheless, we managed to maintain a positive trade balance. How has the pandemic affected trade between Ukraine and Turkey compared to last year?
Answer: It was a difficult year for everybody - for companies, investors, economies, but as you said, the figures show that this year we did not slide back. We are almost at the level we were last year. According to Turkish statistics, in the first ten months our trade stands at $3.5 billion. Last year, we finished close to $4.5 billion. And if you look at the numbers of the first ten months of the last year, we are almost where we were and it is very balanced between the two sides.
That being said, if you look at Turkey and Ukraine, their potential, what they can do together, we don't think $5 billion is where we should be. That is why the first goal is to take the trade to $10 billion and for that, obviously the biggest instrument will be the Free Trade Agreement.
Question: The Free Trade Agreement between our countries has remained at the stage of "one step to signing" for several years now. The negotiation process has recently been "reset." Which points are most actively discussed? Does Turkey have questions or remarks to any sections?
Answer: I would not prefer to use term "reset," which means to "start over." We did not do that but reenergized the negotiation process and I know that the teams from our countries have been talking online, face to face, talking about the remaining parts of the agreement constructively. Of course, there are issues where the two sides don't see eye to eye and that is normal. But we want to have these final issues finalized and overcome as soon as possible so that we can move on to the goal of $10 billion, declared by our presidents.
I don't want to go into details, because that's part of the negotiation process. But I will say the following: when we are talking about two big countries and two big economies, like Turkey and Ukraine, it is natural to have some challenges in negotiations. Ukraine has a relative advantage in some sectors such as coal and steel, agriculture. Turkey has advantage in some other sectors like machinery, equipment, textiles, etc. The thing is we need to meet on the middle ground. We need to take a few steps forward to Ukraine. Ukraine needs to take a few steps toward us.
UKRAINE-TURKEY FREE TRADE AGREEMENT WILL BE A 'WIN-WIN' DEAL
Question: Unfortunately, not all levels are so active in supporting this agreement. What arguments do you have about it?
Answer: Obviously, there are circles in both countries who are concerned that this agreement may negatively affect their businesses. Some of them are right, some of them are not. In 1995, we were signing the Custom Union agreement with the European Union. There were many circles in Turkey who were coming up with all these 'nightmare scenarios,' saying that this agreement would devastate the Turkish economy. They told it would make some sectors disappear, thousands of people would be unemployed, economy would go down, etc. But when you look at the Turkish economy today, you see that we export hi-tech goods to the highest competitive markets including the U.S. and the EU. This is partly due to the competitiveness which we achieved as a result of the Custom Union agreement. There were some difficulties at the start but this helped turn the Turkish economy into a more competitive and hi-tech economy.
The Free Trade Agreement between us will have a similar impact. That is certain. There will be an adaptation phase. But after that it will definitely make our economies stronger, more resilient and more competitive and it will be an instrument which will help attract investors from both sides, not just to trade, but to invest in each other, to technology share, co-produce. It will be a 'win-win' deal. I personally hope that the two sides will be able to overcome these differences, meet on the middle ground and make sure that both countries people benefit from it.
TURKISH INVESTORS BECAME PART OF UKRAINE ECONOMICALLY, SOCIALLY, CULTURALLY
Question: Many Turkish companies operate successfully in Ukraine. Turkish businesses have repeatedly expressed their interest in increasing investment and privatizing land in Ukraine. What are the biggest difficulties Turkish businessmen are facing in Ukraine?
Answer: Turkish investors truly believe in Ukraine and they are very active. We have more than $3.5 billion of investment here and we are among the biggest investors in Ukraine. And it is not like on one specific sector. We have investments in different spheres, from telecommunications to forestry, from mining to green energy (both solar and wind energy). Construction and infrastructure sector is a sphere where our people are very active. And figures show that they are here to stay, not to do just one-time deal and go away. Many of them live here for many years. They became part of Ukraine economically, socially, culturally. They are not just doing business and sending money back to Turkey, they keep doing new business here, keep looking for new opportunities and they are very active in terms of social responsibility, in terms of sponsorship deals on the cultural events, which are supported by Turkish companies. This also helps to bring our people and countries closer.
Problems... There are always problems. When we approach the Government of Ukraine, they always listen to us, they always have the positive approach, try to solve the problems. Some of them are easily resolved, some require more attention, but we are grateful for Ukraine's political and economic leadership and for the interest they show to our requests.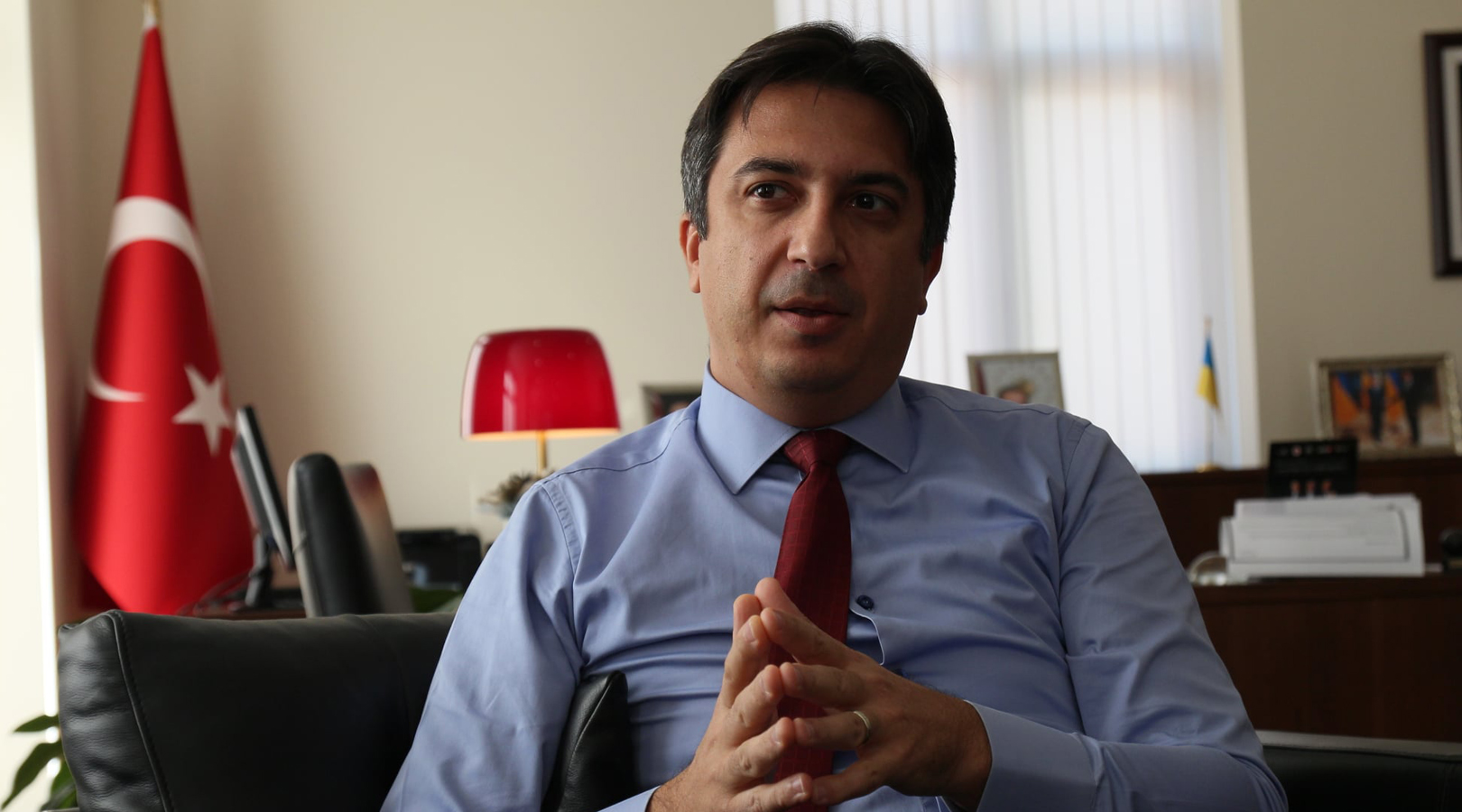 Question: What kind of support are you asked for most often?
Answer: I would not want to highlight a specific problem which is overarching. If we have the competition rules implemented in the best possible way, most of these problems will disappear. The main thing is correct and full implementation of rule of law and that will eradicate most problems we are faced with. Companies which come to us mostly have concerns related to this. We have issues in judicial system, bureaucracy, etc. Overall, I think that Ukraine is moving in the right direction and things will only get better. Solution of all these problems are always obviously the best for attracting new investors. We see a great potential here as usual.
NEXT YEAR WE WILL SEE MORE DYNAMISM IN THE FIELD OF AGRICULTURE WITH THE LAND REFORM
Question: What significant projects are currently being developed most actively? Which ones are to be developed in the near future?
Answer: One of our activities is to set up industrial zones which, as you know, have transformed some of Turkish cities and towns into economic powerhouses. This is a structure where business and government come together. The government provides land and reduced taxes or even zero taxes, reduced electricity, gas tariff, etc. Business invests there and grows and this is also a win-win solution. We already have a similar model in Mariupol and other cities are interested in it.
Another successful and promising area is public-private partnership (PPP). When Prime Minister Shmyhal visited Turkey he paid a visit to Ankara city hospital which is one of the best examples of PPP concept in Turkey. We are expecting a delegation of Ukraine to study the model and we will be happy to see it evolve into concrete projects next year.
Another thing, which our businesses follow, here are the privatization possibilities plus agriculture. I am sure that next year we will see more dynamism in the field of agriculture with the land reform in Ukraine. We are following this very closely. I think that next year will be even more active than this one and our businesses will continue to grow up.
ONE MILLION UKRAINIANS WHO VISITED TURKEY IN 2020 IS SOMETHING HUGE
Question: This year Ukrainians are among the first nations who visited Turkey as tourists despite the pandemic. Thanks to the Safe Tourism Certification Program led by the Culture and Tourism Ministry, tourists were satisfied with their holidays in Turkey. What are the statistics for the Turkish tourism sector following the results of this season?
Answer: Tourism is a very unique area. I am not looking at it only in terms of income. But I see tourism as something that brings our people together, because every Ukrainian tourist who goes to Turkey leaves with an interest in our culture, cuisine, language, even business. The same is valid for Turkish tourists who come to Ukraine. They come to an unknown country, and return with Ukraine in their hearts forever. That is why I am especially happy with the results we achieved this year in touristic area. Last year we broke the record in bilateral tourism. We had 1.5 million Ukrainians who came to Turkey and 300,000 Turks who visited Ukraine. Despite the pandemic this year, in ten months we hosted 925,000 Ukrainians. By the end of the year we expect to reach one million. I think this is a huge success of both sides, because we are happy to give Ukrainians a chance to leave difficulties of this year behind even if for one or two weeks.
If you look at world statistics, some countries didn't do any tourism at all. In most cases we see an 80-90% drop, but in our case it was just a 30% drop. This is the result of very diligent work by a number of institutions, starting with Ministry of Tourism and Culture as well as tourism companies. The program was enabled by combined efforts and worked very smoothly.
Question: How are you planning to attract tourists, especially from Ukraine, next year?
Answer: Existence of this safe tourism program is a huge insurance and itself is an invitation to our Ukrainian guests for next year. Hopefully, with the vaccine kicking in the pandemic will slow down and we will be even better prepared for next year. Next year we certainly will leave these figures behind and gradually move on to the figures which we had earlier.
As you know, these numbers became possible because of many steps taken by our governments. First, we extended the duration of stays, then lifted visas and later allowed to travel with ID cards. Our two countries are moving together and it is nice to see this human-to-human interaction. Because for many years, despite being on the other sides of the same sea, in a very short distance from each other, we did not have a chance to talk and even drink tea. And now we have it and the more people talk, the more they realize how much we have in common. I see it, living here for almost two years. It is a natural synergy. And one million Ukrainians who visited Turkey in 2020 is something huge, which confirms this unique connection between us.
In addition, the number of Ukrainians coming for medical tourism is growing, and athletes are coming to Turkey for sports training. This year, flights from Kyiv to Kayseri were launched and now guests from Ukraine can visit one of the Turkish ski resorts as part of a package tour.
WE HAVE NOT RECOGNISED THE ANNEXATION AND WE WILL NOT RECOGNISE IT
Question: Turkey declares on all international platforms its support for Ukraine's territorial integrity and non-recognition of temporary occupation of Crimea by Russia. Turkey has expressed support to the Crimean Platform, which was initiated by Kyiv. We are grateful for this position.
Recently, Russian presidential spokesman Dmitry Peskov said that Moscow continues to prove its position on Crimea to the Turkish authorities. Where does Turkey stand vis-à-vis this, as well as the arrests and searches against Tatars in Crimea?
Answer: Our official position on Crimea has been crystal clear since 2014. We have not recognized the annexation and we will not recognize it. This was said on all international and bilateral platforms at all levels.
As regards all the issues you mentioned for Crimean Platform, we declared that we welcomed this initiative. We are coordinating with our colleagues in Ukraine on the preparatory work. We also support initiatives of Ukraine on other international arenas and platforms.
About searches and arrests in Crimea, the Ministry of Foreign Affairs of Turkey issued statements on how we evaluate all this. These statements clearly show how we disapprove this. We will continue to stand together with Ukraine on this issue and we will continue to support Ukraine and Crimean Tatars in all these initiatives.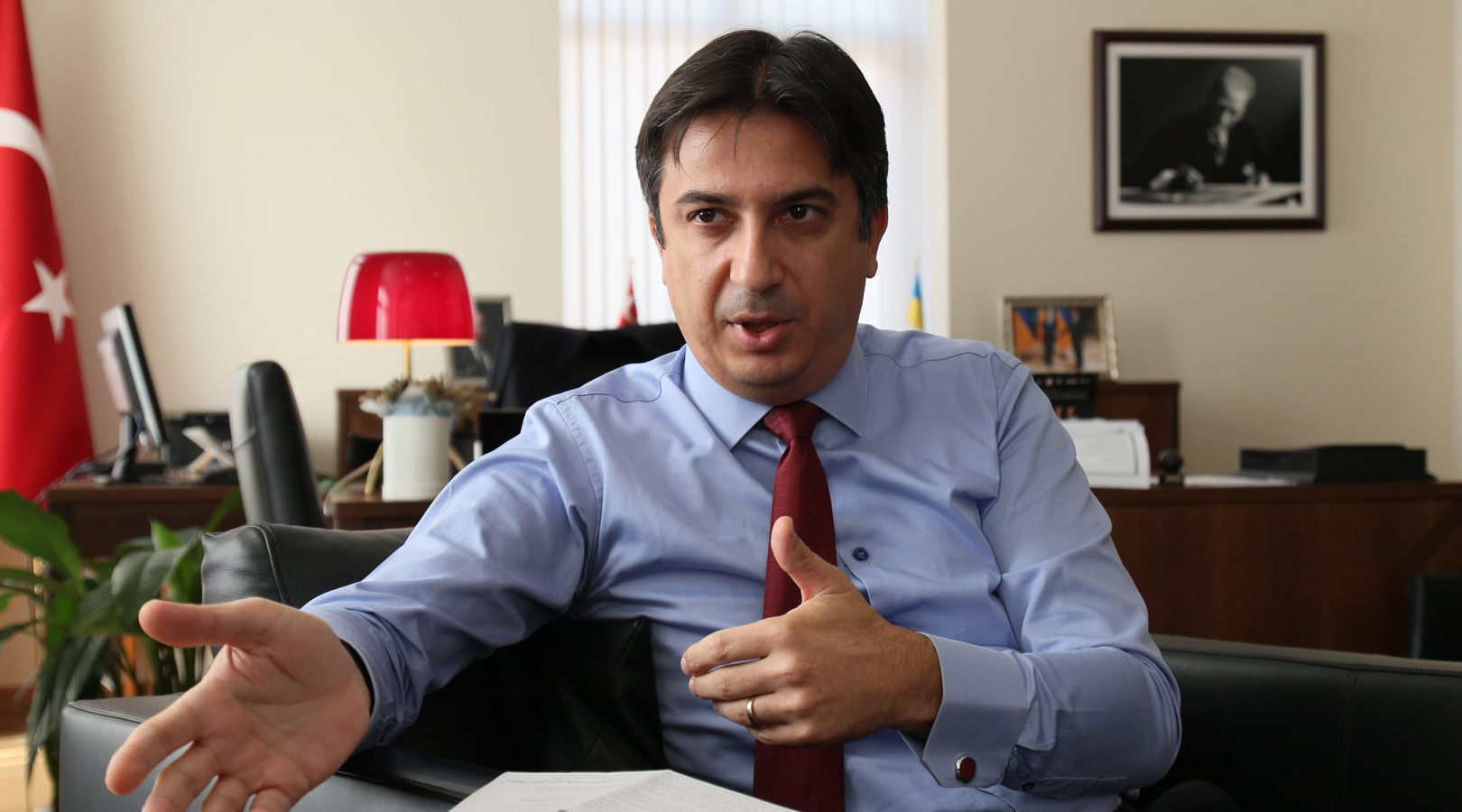 Question: A large number of Crimean Tatars moved to Turkey after the Russian occupation. Historically, there have been several waves of Crimean Tatar migration to Turkey. Please outline these stages and their features. What role do Crimean Tatar Turks play in Turkish society nowadays?
Answer: As you mentioned, since the end of the 18th century there have been many waves of Crimean Tatars moving to Anatolia. Over time we have so many Crimean Tatars who came and settled here. Today we don't differentiate them or put them under a special light because they are part of us. Meanwhile, they have a very clear self-identity which they managed to preserve in very difficult circumstances over the last 200 years. They faced many tragedies but they managed to keep their religion, language and culture. It deserves a huge respect.
We are talking about 3 to 5 million Turks who have Tatar blood today. I am also one of these people. I have Tatar blood, not directly from Crimea but the mother of my father is from Tatars in Romania. Even my mother learned from her mother-in-law how to make çiğ börek. Today, when our family gets together, this is our favorite dish.
There are many people in Turkey in politics, culture, art, academia, who have Crimean Tatar roots. We have many such prominent people who have achieved great authority in Turkey. It is just another unique and wonderful element of the mosaic we have.
Question: Turkey actively supports the Crimean Tatar community in Ukraine. It was planned to build housing for them in some regions. At what stage is this project now?
Answer: Crimean Tatars have suffered a lot over history, including after 2014. We, as Turkey, together with the Government of Ukraine, are trying actively help Ukraine and Crimean Tatars overcome these problems. These are not limited only to housing, but also places of worship, education, etc. It is a big package.
We have an agreement with Ukraine to provide housing for Crimean Tatars and this issue was again discussed during the 'quadriga' visit. We are in touch with Ukrainian authorities since February on this question. The final stage of determining the best location for these houses and choosing the best legal framework for this project is ongoing now. We hope that this process will be finished soon and that in 2021 we will be able to start the construction and finish it as fast as possible. On our side, Government housing agency TOKI is responsible for realization of the project.
MAKING EVERYDAY STEPS FOR OUR COUNTRIES IS AMAZING EXPERIENCE
Question: Mr. Ambassador, you have been in the country for almost two years. You were awarded for the contribution to developing relations between our countries. What do you consider your greatest achievement during this time?
Answer: As an Embassy we are happy to be a part of this huge synergy. I don't want to choose one specific thing as my biggest achievement. Everything that I had here was an amazing experience. Defense industry projects, medical assistance we provided during the pandemic, evacuations which we realized together with Ukrainian authorities in March-April period, the works which we are doing through TIKA and Yunus Emre Institute here, renovation of houses, cultural centers, language courses, opening shops of Turkish brands here in Ukraine…
Another special moment was identifying that the Ottoman embassy during Ukraine's People Republic was working at the Premier Palace Hotel and putting a memorial plaque on the wall of the hotel.
So, it is an amazing experience to be part of this wave, to contribute to this, to make these steps every day, some small, some big.
Olga Budnyk, Ankara-Kyiv
Photo credit: Embassy of Turkey in Ukraine