Takashi Kurai, Ambassador of Japan to Ukraine
Japan's course towards Ukraine and position on Crimea remain unchanged
19.10.2020 14:16
Ambassador Kurai arrived in Kyiv a little more than one-and-a-half years ago. He began to actively study the Ukrainian language and now speaks it at every event. He often wears an embroidered shirt, vyshyvanka, emphasizes that "Japan supports Ukraine," and enjoys the trust of Ukrainians.
Yes, we know that Tokyo supports Kyiv. At the same time, there is sometimes a small concern about how resilient this support really is. For example, in September this year, when Russia held pseudo-elections in the temporarily occupied Crimea, Japan did not make any statement, unlike other countries from the Group of Seven (G7) and the EU.
The corona crisis, like a fog, makes each country's diplomatic intention less visible. Is Japanese support for Ukraine still ongoing? Are the Japanese interested in cooperating with the Ukrainians? If so, in what areas do they see prospects? How long will Japan's anti-Russian sanctions last? What will be Japan's foreign policy under new Prime Minister Yoshihide Suga? Why did President of Ukraine Volodymyr Zelensky present the Order of Merit of the third degree to Ambassador of Japan Takashi Kurai on August 31?
Ukrinform talked about all this with Ambassador Extraordinary and Plenipotentiary of Japan to Ukraine Takashi Kurai.
JAPAN'S SUPPORT AS G7 MEMBER
Question: Mr. Ambassador, congratulations on being awarded the Order of Merit of the third degree. This is probably a rarity because ambassadors usually receive orders at the end of their tenure. Did President Zelensky explain the reason for this?
Answer: No, the president did not directly explain the reason. But I know that the Order of Merit is awarded to those who have made a significant contribution to the political, economic and social life of the country. The award ceremony took place on August 31 during which I thanked the president and stated in Ukrainian that I see this award as a great honor. In addition, I think it is very important that this award is not for me personally, it is a sign of gratitude to Japan and the Japanese for the assistance that Ukraine has received.
Question: We most often see you in the activities of the G7 Ambassadors' Support Group for Ukraine. You are working actively, despite the pandemic. Your mandate is to support reforms. What reforms are now of interest to the ambassadors?
Answer: The G7 Ambassadors' Support Group for Ukraine started its activities in 2015 and has been operating for five years now. When the corona crisis began, we wondered what to do next. Still, we are trying to meet with officials in some way - either through video or in person - because the G7 and the European Union are convinced that reforms in Ukraine cannot be stopped. We arrange meetings at least once a week, sometimes more often. We have recently met with [Verkhovna Rada Chairman] Dmytro Razumkov at the residence of the U.S. Ambassador, and even earlier with the IMF representative in Ukraine. (Laughs) Fortunately, we're all healthy so far.
More specifically, each year we identify priority areas for reform in which we will provide assistance to Ukraine. There are five such areas this year: the rule of law and the fight against corruption; economic growth; effective management; human development; security and defense. While all five are important, we consider the rule of law and the fight against corruption to be the highest priority. The G7 has a consensus on this issue. Of course, I know that the Government of Ukraine is also dealing with this important issue.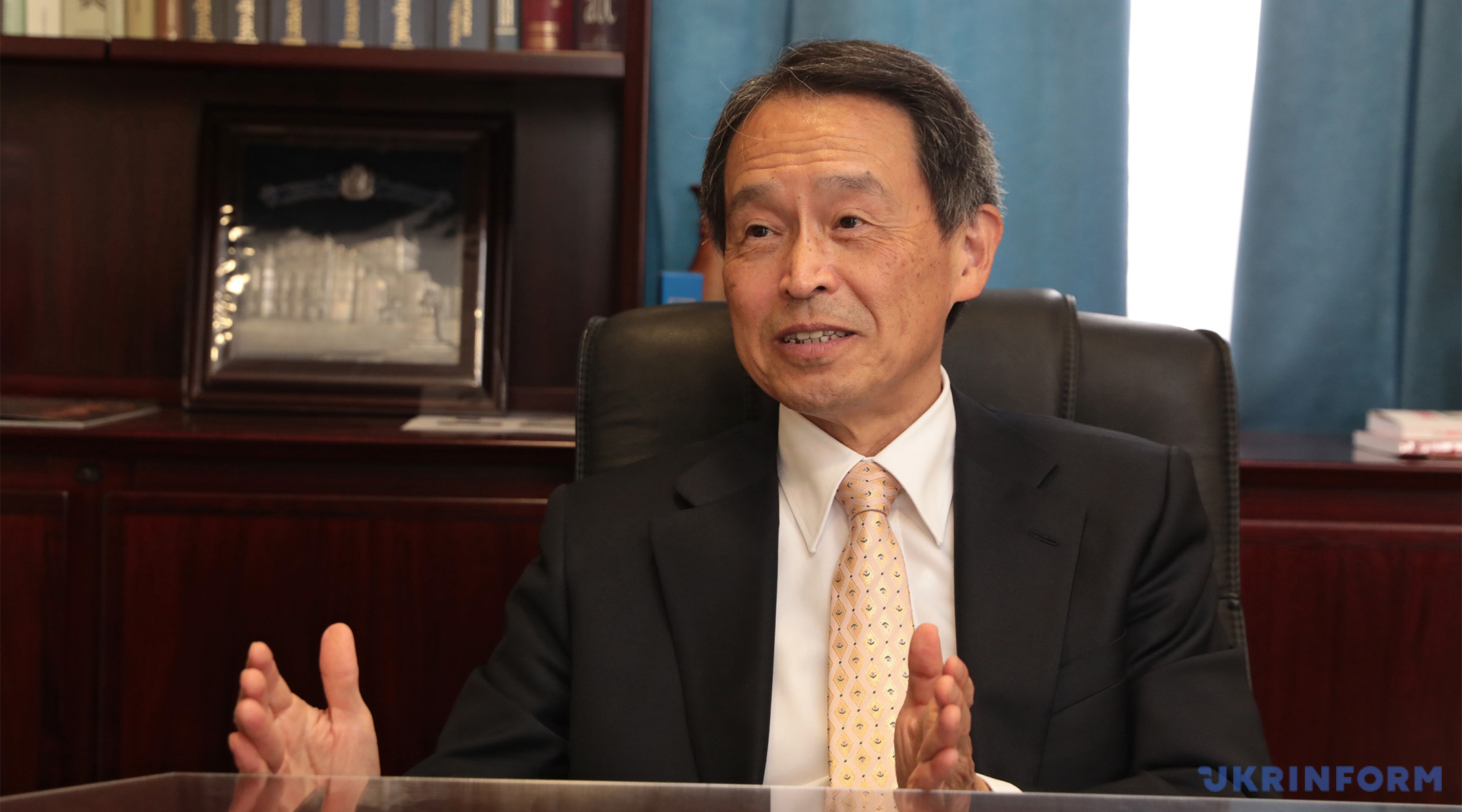 Question: How does the G7 Ambassadors' Support Group help Ukraine in the field of judicial and anti-corruption reforms?
Answer: The most important thing is to create the right legal framework. Since the current wave of reforms began in Ukraine, many laws have been passed. In this process, we help Ukraine mostly in the careful development of bills and in amending existing laws in accordance with international standards. But it is important that the main role is played by Ukraine, i.e. the parliament, the government, the authorities are the main players here. We, only as an auxiliary force, help to create the backbone of bills.
Question: We know that assistance in reforms is not always smooth. Where exactly do you feel its complexity?
Answer: Reform is always an extremely difficult matter. Imagine that you have to change your life. It is always very difficult to change something. That is why I praise Ukraine's efforts since independence, especially after the Maidan revolution [the Revolution of Dignity], in carrying out reforms. Although we may not say that it was enough, but I honestly think these efforts have been great. So many systems of the country have changed, and these changes are not an easy achievement. We all understand this, and we highly appreciate the intention of Ukrainians to change themselves anyway, despite all the difficulties. The complexity of reforms lies in reaching a consensus on the direction and speed of change and in identifying priority areas.
Question: How often do G7 ambassadors meet?
Answer: They meet each other several times a month. Given our meetings with Ukrainian government officials, we see each other from one to several times a week.
Question: You work quite intensively together.
Answer: That's right.
Question: The new head of the Kyiv office for the Japan International Cooperation Agency (JICA) has recently arrived in Ukraine. This probably means that Japan intends to continue to help Ukraine in various ways. Please tell us about the main assistance that Ukraine receives.
Answer: Since Ukraine gained its independence in 1991, the total amount of our assistance has exceeded $3.1 billion. Of this, $1.87 billion was raised after the Maidan revolution, when we accelerated the implementation of aid for reforms.
Among our biggest projects is the reconstruction of the Bortnychi Sewage Treatment Plant. There is a strange smell near the plant, especially in the summer. We are implementing a reconstruction project so as to put an end to this situation for residents. The tender is currently underway. We want to use the most advanced Japanese technology.
Another large-scale project that we want to implement is the construction of the new bridge in Mykolaiv. In the Black Sea region, there are often traffic jams on roads on the west side, in particular where they connect with the central streets of Mykolaiv. The essence of our project is to overcome these traffic jams by building a bridge and creating a bypass road. Unfortunately, Crimea is now illegally occupied by Russia, and as a result, roads in the Black Sea region have become strategically important. We want to make this route more convenient. The feasibility study phase on the Japanese side has already been completed.
In addition, a Japanese expert works in the Ministry of Finance as an adviser to the minister. We also provide assistance to the Public Broadcasting Company of Ukraine. We also want to deal with waste management. Now it is difficult to send experts to Ukraine because of the corona crisis, but we will continue as soon as it is over.
UKRAINE'S IT INDUSTRY: INTEREST OF JAPANESE COMPANIES IS GROWING
Question: The Japanese External Trade Organization (JETRO) has recently published a report on the state of the IT industry in Ukraine, in which its potential was studied. President Zelensky discussed the IT subject with former Japanese Prime Minister Shinzo Abe during his visit to Japan last year. In your opinion, are there prospects for cooperation in the IT industry between Japan and Ukraine?
Answer: I think there are huge prospects. Before that meeting of the heads of state of Ukraine and Japan in October last year, we addressed Tokyo, our Foreign Ministry, with a special recommendation to promote cooperation in the IT sector, because Ukraine has great potential. In June 2019, the CEO of the Japanese company Rakuten, Hiroshi Mikitani, visited Ukraine. Rakuten is known for its Viber communication platform in Ukraine. This company now plans to expand its activities in Ukraine. I think it's very good.
I want other Japanese companies to realize the true potential of Ukraine in the IT industry and start cooperation. I feel that their interest is gradually growing. For example, when we invited Deputy Prime Minister and Minister of Digital Transformation Mykhailo Fedorov [then Deputy Head of the President's Office] and Japanese businessmen to my residence and gave a presentation on the IT sector in Ukraine, this event was attended not only by representatives of Japanese companies, but also those of Ukraine, Poland, and other countries.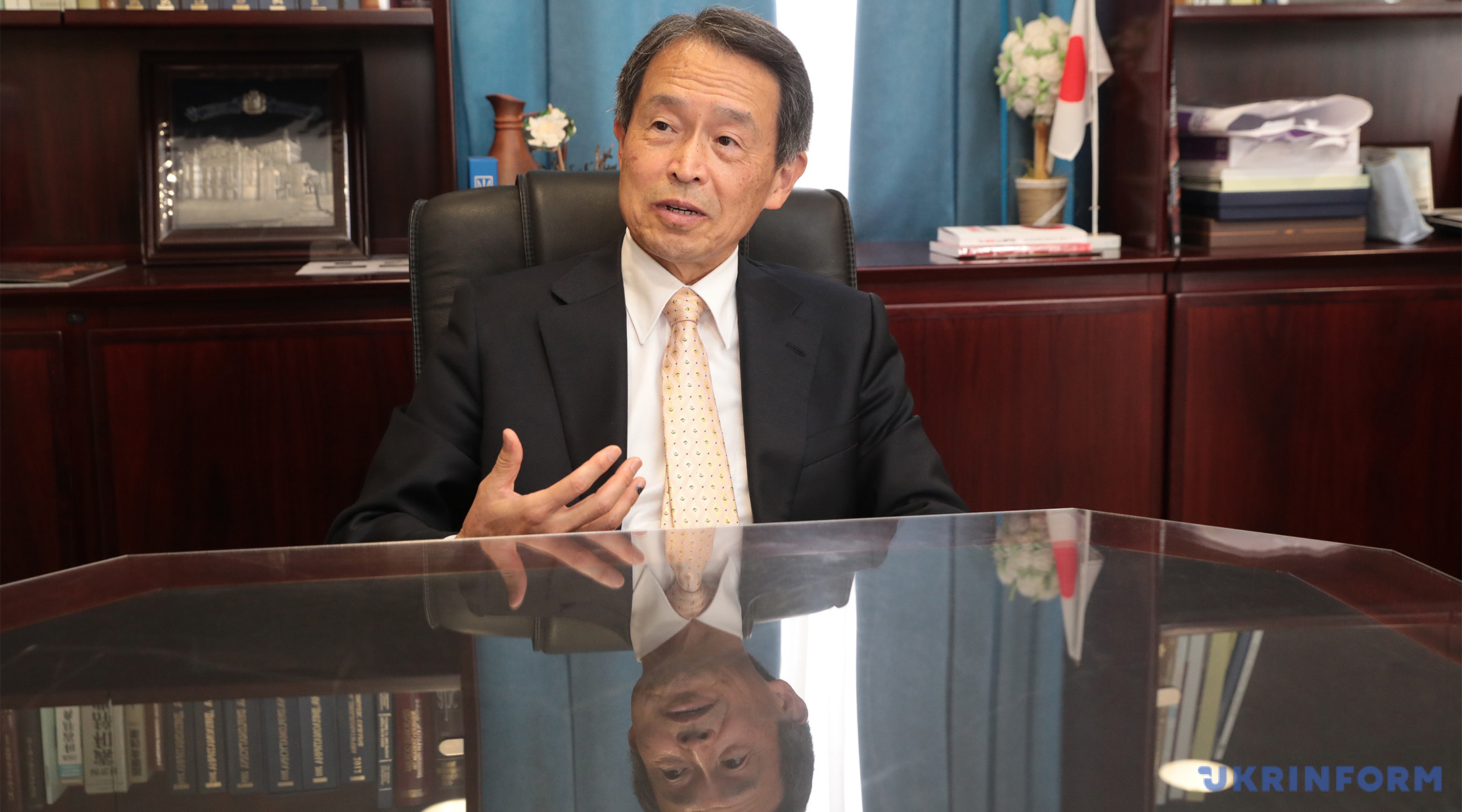 Question: What is the interest of these Japanese companies?
Answer: I am not an expert in this field, but I think that new programs are being developed in Ukraine, that is, there is an advantage in technological development. There are cases when we use applications every day, not knowing that they were actually created by Ukrainian developers. Estonia has become famous in the world in the IT industry, but few people know that when Estonian IT companies move abroad, they often open their offices, primarily in Ukraine.
Question: Because there are skilled developers in Ukraine.
Answer: Exactly. There are a lot of them. Apparently, experts understand this.
Question: What other areas in Ukraine are Japanese investors interested in?
Answer: The Japanese traditionally work in the areas of car sales and production of auto parts, which they then export to the EU. The production of power lines for cars requires intensive work and high skills. Japanese companies Fujikura, Yazaki and Sumitomo produce them in Ukraine and export to other countries. Panasonic is also present. Tobacco company JT International also invests here.
The latest trend is an increase in investment in the agricultural sector. I think that agricultural investment may still grow, but, apparently, there is a problem in the distance, because it is expensive to ship Ukrainian agricultural products to Japan. However, there is more potential for investment in this area to sell products to Europe or the Middle East.
I think that there are many areas that will develop further.
CHANGE OF GOVERNMENT IN JAPAN: WHAT TO EXPECT OF NEW 'SERVANTS OF THE PEOPLE'
Question: The new Prime Minister of Japan, Yoshihide Suga, has formed his government. By the way, Suga called it "a cabinet that will serve the people." It sounds like [the pro-presidential Ukrainian party] "Servant of the People" of the Japanese type. I think that the authorities of both countries may have similarities to some extent. What should we expect from the new Japanese government?
Answer: Suga has recently constantly stated that he would continue Abe's policy. Therefore, I think that Suga will continue the foreign policy of his predecessor. During Abe's rule, which lasted seven years and eight months, many contacts were established between us, and many cooperation projects were implemented. I think they will continue. There will be no change of course towards Ukraine in Suga's government.
Question: According to various official reports, you often discuss security issues and cooperation with Ukrainian government officials. A defense memorandum was signed between the two countries in 2018. The defense ministers of both countries met for the first time in Munich in February this year, and high-ranking officials of the Japan Self-Defense Forces visited Kyiv this year. Can you name the main results of cooperation in this area?
Answer: First of all, I would like to note that I meet with various government officials, and I do not particularly single out the heads of the security or defense departments of Ukraine. At the same time, the security sphere in general is extremely important for relations with any state. First of all, we need to carefully build mutual understanding in this area, because it has a great impact on other areas, such as political, economic and social spheres.
In autumn 2018, Japan and Ukraine held political and defense talks at which representatives of the foreign and defense ministries of both countries signed a memorandum on defense exchange. It is important to start with such steps so that both parties understand each other's security circumstances and build a comprehensive understanding of them in order to promote further cooperation. Now the most important thing is to create the preconditions for such an understanding by making mutual visits and holding meetings.
In addition, there is another important area - cooperation in cybersecurity. Few people know, but Japan was the first country for Ukraine with which it held expert interagency consultations on cybersecurity. Japan and Ukraine held them for the first time in December 2016, for the second time in January this year, and both countries noted that it was very useful. Japan holds such consultations with only a limited number of countries (just over a dozen), and Ukraine is one of them. We appreciate Ukraine's capabilities in this area, and we also believe that cooperation with Japan is beneficial for Ukraine, so we want to continue it.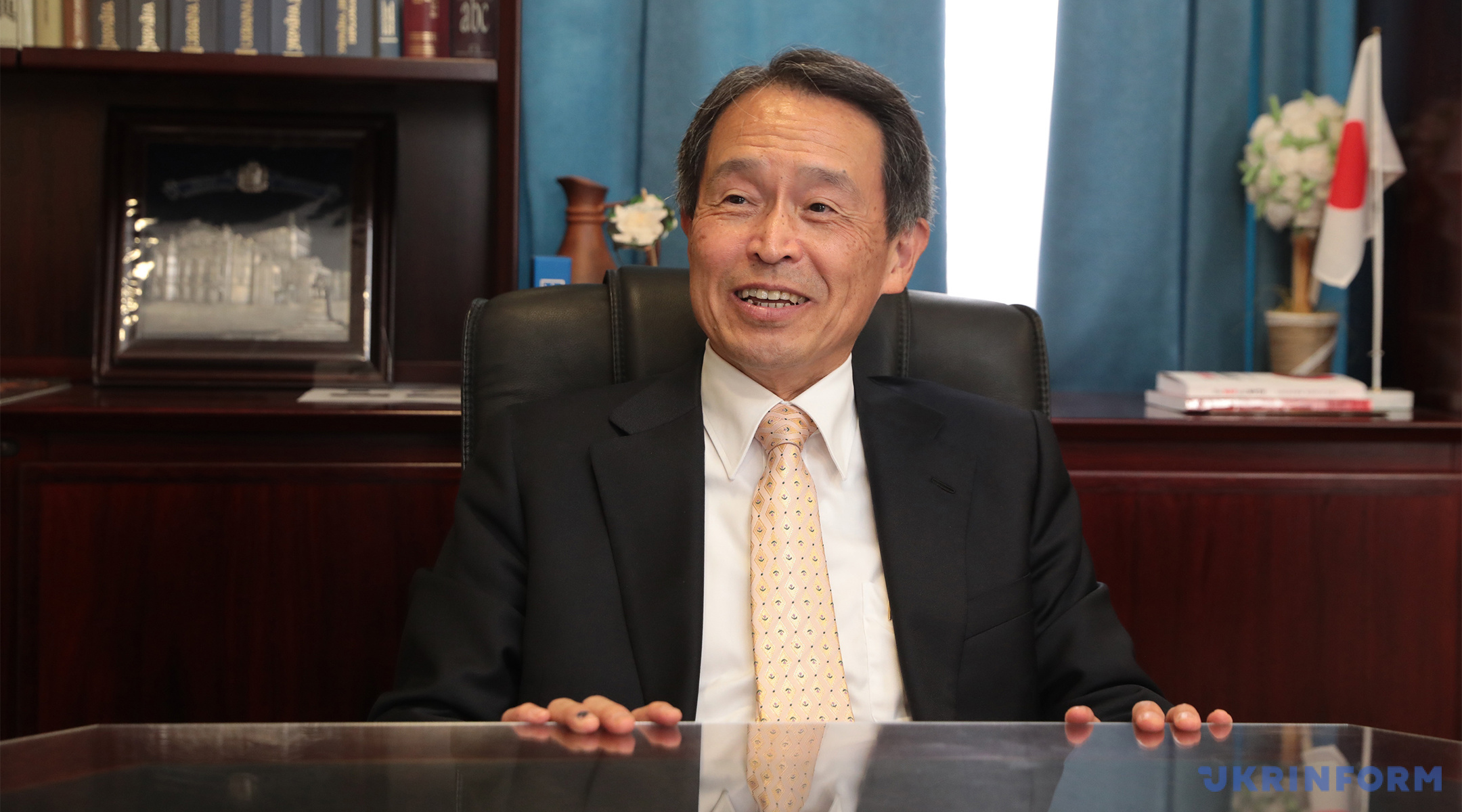 Question: You provide medical equipment to military hospitals. Is this also cooperation in this area?
Answer: The rehabilitation of soldiers wounded in Donbas and the provision of equipment to military hospitals can also be seen as part of the defense and security exchange, but such assistance also has a humanitarian aspect.
Question: The Ukrainian side announced that the Japanese representatives will take part in the Sea Breeze military exercises in 2020, but this did not happen. Was there really such a plan?
Answer: There are different formats of participation in military exercises. Japan considered participating in the format of sending observers, not warships. However, again due to the coronavirus, the Sea Breeze exercise plan has changed, and they decided to conduct the exercise on a non-contact basis, i.e. only on water. Therefore, we could not send our observer. But we really considered the option of participating in the observation format.
Question: Sea Breeze is an annual exercise. Is Japan likely to participate in the future?
Answer: Of course, Japan is constantly following this exercise with interest.
Question: What is needed to further develop cooperation between Japan and Ukraine in the field of security and defense? Are there any obstacles now?
Answer: There were no thoughts about any obstacles. But I repeat: the most important thing is to understand what security concerns each party has and what measures we plan to take. Building such an understanding is the most important thing. Not only the exchange of words but also joint activities, such as participation in exercises, cyber-consultations - these are the steps forward that are gradually building such an understanding between the two countries.
JAPAN'S POSITION ON CRIMEA: FIRM AND PRINCIPLED
Question: Ukrainian experts often call the Russian Federation a "common threat" to Ukraine and Japan, pointing to the existence of Russian-occupied territories - Crimea and the Northern Territories. However, according to various official Japanese documents on defense and security, Tokyo does not consider Russia a threat. For example, the Defense of Japan white paper, published in July this year, focuses on China and, to a lesser extent, North Korea. Meanwhile, Ukraine has recognized China as a strategic partner, and today attaches importance to economic relations with it. It is obvious that there are different security visions between Tokyo and Kyiv according to the circumstances in which they find themselves. Doesn't this difference in vision create some misunderstandings when you discuss possible defense and security cooperation?
Answer: During meetings and discussions with Ukrainian security and defense officials, I thought sometimes that we needed to deepen our understanding, but I never felt any misunderstanding. The Ukrainian side is well aware of the situation in which Japan found itself in relation to Russia and other countries, as well as our security circumstances. We need to deepen our understanding of some aspects, but I don't think that there will ever be a misunderstanding between us.
Question: Russia held a vote on changes to the constitution in June-July and local elections were held on September 13, but various countries announced that they did not recognize part of the "vote" that was "held" in the temporarily occupied Crimea because Crimea is Ukraine. Let me remind you that in 2016 and 2018, the Japanese embassy also made statements that the Japanese government does not recognize the elections and their results in Crimea, because "Japan does not recognize the illegal annexation of Crimea by the Russian Federation in March 2014." But no such statements were made this year. What is the position of the Japanese government on this "vote" and "elections" in Russian-occupied Crimea?
Answer: The most important thing is that the Japanese government has a clear position that Russia's "annexation" of Crimea is illegal and the one that we absolutely cannot recognize. This is our principled position on this issue, and it will not change. Accordingly, based on this position, we never recognize any actions, including "local elections" and anything else, which Russia is carrying out in Crimea on the grounds that the jurisdiction of the Russian authorities allegedly extends to this territory. I will make it clear that, whether we make statements every time or not, our principled position will never change. I reaffirm this in various cases if necessary.
Question: Last year, as in previous years, Japan supported two Crimean resolutions in the UN General Assembly, but it did not co-sponsor them for the first time. Isn't this a sign of adjusting Japan's position on Crimea?
Answer: Not at all. As I have already said, the most important thing is that the position of the Japanese government, which is not to recognize the illegal "annexation" of Crimea, is completely unchanged. As for UN General Assembly resolutions, we always thoroughly analyze their drafts, but last year we did not co-sponsor them, although we voted for them. We will act in accordance with our unwavering position on the non-recognition of the illegal "annexation" of Crimea. I want you to understand that this is a firm position by Japan, regardless of whether we are co-sponsors or not.
Question: At the same time, I will note that Ukraine pays attention to such changes. Thus, there are fears in Ukraine that the international community, including Japan, may now pay less attention to the Ukrainian-Russian war and the occupation of Crimea than before, and returns to a state of "business as usual" with the Russian Federation. Therefore, I will ask you to reaffirm Japan's position on Crimea and Donbas.
Answer: First of all, we unwaveringly support the sovereignty and territorial integrity of Ukraine. We have not recognized, do not recognize, and will not recognize Russia's illegal "annexation" of Crimea. The word "annexation" should be enclosed in quotation marks. Regarding Donbas, Japan's position is that it is important that all parties, especially Russia, fully implement the Minsk agreements.
Question: Will Japanese sanctions against Russia continue until the territorial integrity of Ukraine, including the Ukrainian Crimea, is restored?
Answer: We consider the G7 solidarity on sanctions against Russia important. I have often said in various cases that extending these sanctions is linked to Russia's compliance with the Minsk agreements and its respect for Ukraine's sovereignty.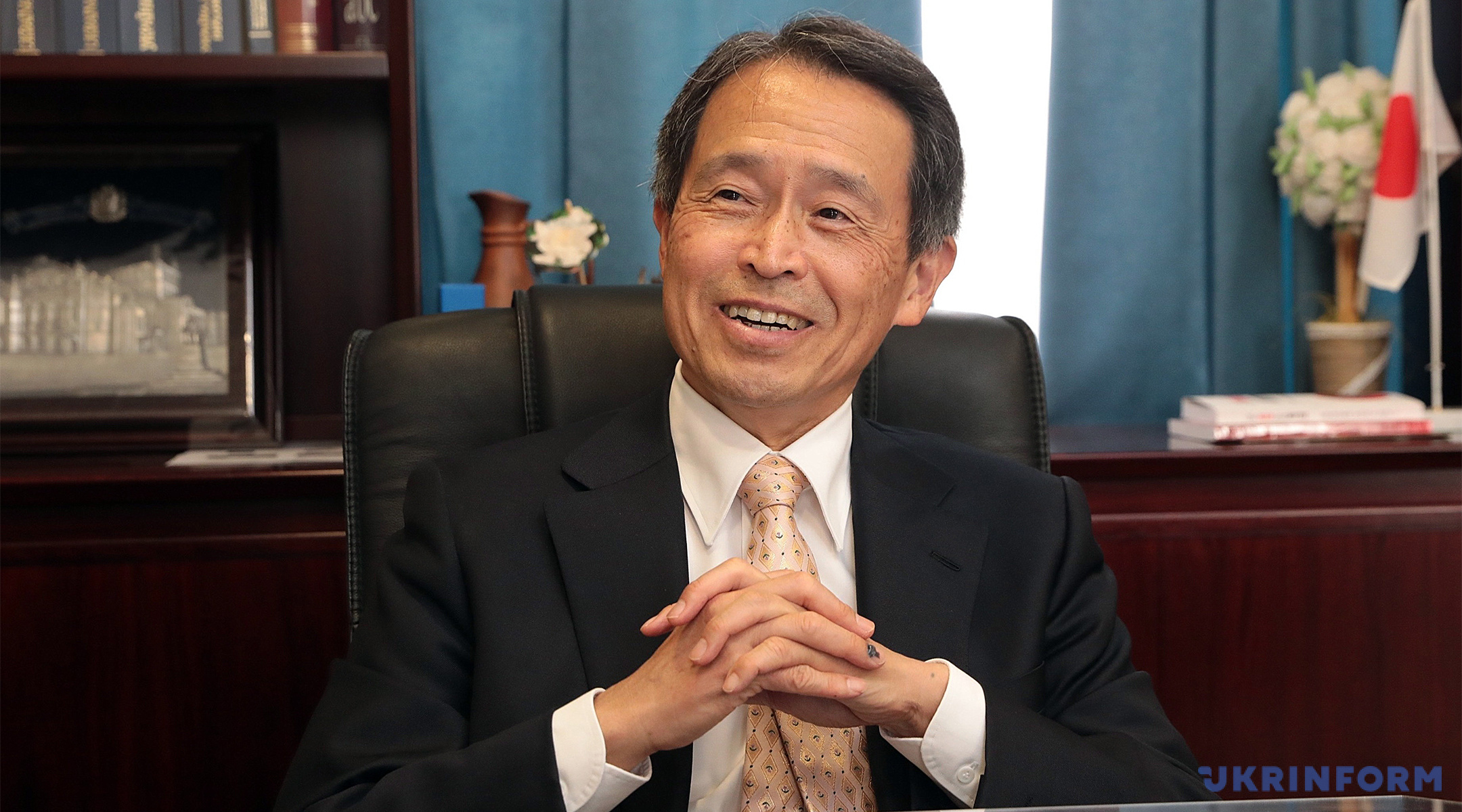 Question: What about Crimea-related sanctions?
Answer: We consider the G7 solidarity on the issue of Crimea important as well.
Question: How does Japan feel about Trump's idea of returning Russia to the Group of Seven?
Answer: President Trump seems to have talked about the G8 last year [Russia's return to the G7/G8], and this year he came up with the idea of including several more countries in this group. However, Japan's position is very clear and simple - it is extremely important to maintain the framework of the G7.
TOKYO WELCOMES UKRAINE'S ASIAN STRATEGY
Question: Foreign Minister Dmytro Kuleba emphasizes that Ukraine intends to develop the Asian vector of its foreign policy. The Foreign Ministry is developing an Asian strategy, and the new Ukrainian Ambassador to Japan, Sergiy Korsunsky, spoke about it in an interview with Ukrinform. Deputy Head of the President's Office Ihor Zhovkva also called Japan a priority country in the region for Ukraine. What can we expect from this declarative intensification?
Answer: European integration is an important core of Ukraine's foreign policy strategy. We understand this well and support in this. It seems that Minister Kuleba used the phrase "turn to Asia." And we understand that this means that Ukraine will continue to move in its European integration direction while expanding its foreign policy presence in Asia. That is, it is the expansion of frames of Ukrainian diplomacy. We welcome this consideration.
If Ukraine wants to strengthen its relations with Japan in this context, we would be even more pleased. But I want to emphasize that Japan supports Ukraine not just as an "Asian representative." We do not position ourselves as such. Japan supports and cooperates with Ukraine because Japan shares core values with Ukraine, such as freedom, democracy, the rule of law, and so on. Also, we do not think that the issues of Donbas and Crimea are typical issues only in Europe, or in the region where Ukraine is located. We are aware that these are global problems, and based on this understanding, we intend to continue to support Ukraine politically and economically and to continue our cooperation. It is important.
I said that we would welcome if Ukraine strengthens its relations with Asia. If Ukraine is able to convey to many Asian countries in this process that the challenges that Ukraine wants to overcome now have global implications, it will be great, I think.
Question: Traditionally, Japan has a successful experience and maintains favorable relations with many Asian countries, such as India or ASEAN countries. The Japanese diplomatic concept of the "Free and Open Indo-Pacific" also focuses largely on relations with Asian countries. At the same time, Ukraine's presence in this region is currently low. Evidence of this is the results of the vote on Crimean resolutions in the UN General Assembly, which are supported only by Japan and Turkey from Asia. Can Japan help Ukraine advance its interests in the Asia-Pacific region? What can the Japanese advise the Ukrainians in this area?
Answer: In the history of Ukrainian foreign policy, there have been relatively few contacts with Asian countries. During meetings with Ukrainian officials, I share and will continue to share my thoughts on what is happening in Asia; what Asian countries think; what they think about cooperation with Europe; how Europe is seen by Asia, etc. I will repeat that the problems that Ukraine wants to solve are not purely European, but those that have a global context. I think it is important for Asian countries to understand this.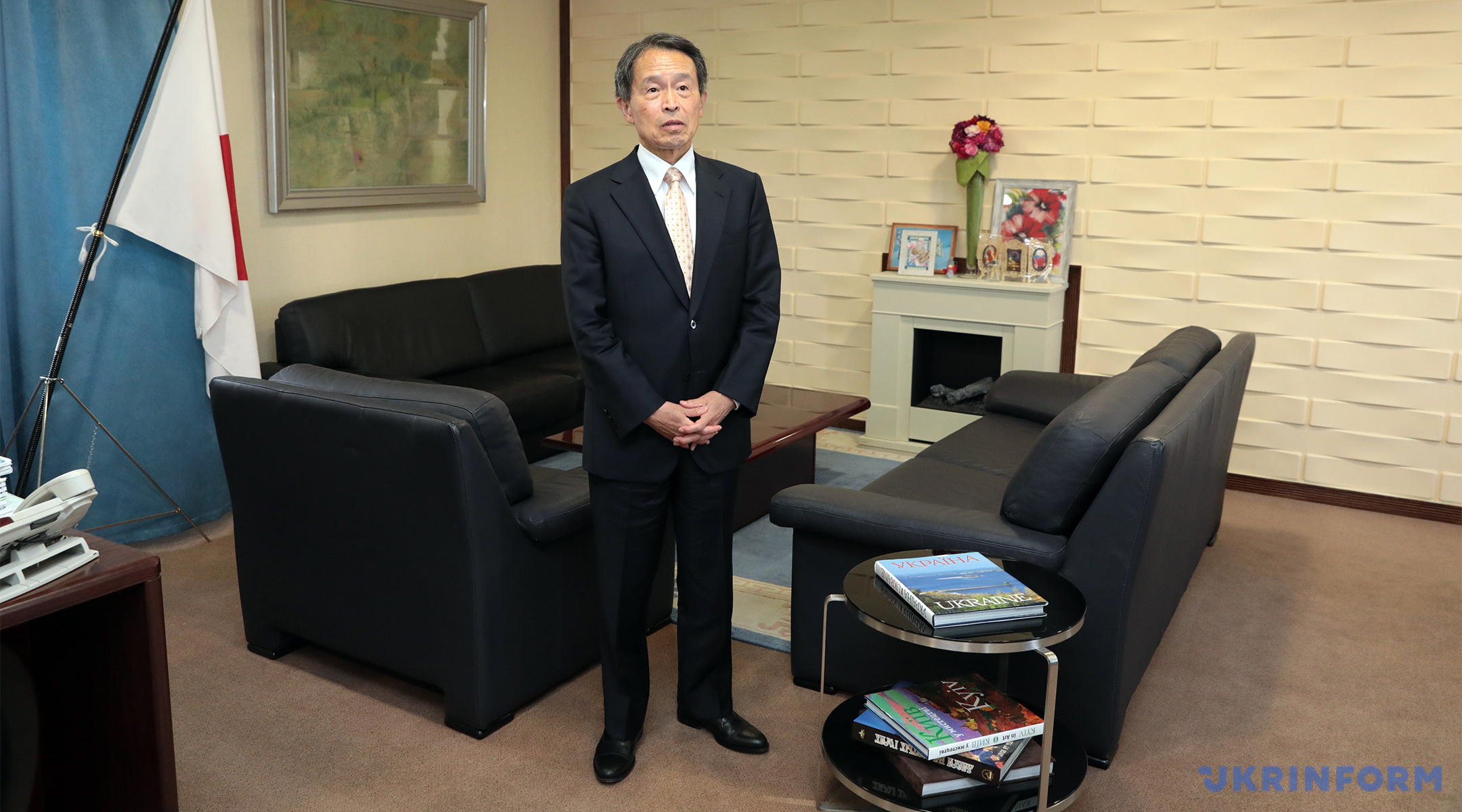 Question: Do you mean the problems of Donbas and Crimea?
Answer: Yes, and not only them. I also mean building the rule of law and democratization processes in Ukraine. All problems are global.
PANDEMIC: WHAT IS SANMITSU
Question: The coronavirus pandemic is ongoing. Does it affect your daily work in any way? How do you work amid restrictions?
Answer: The work of diplomats is effective when we meet other people. Therefore, the big problem is that it is now difficult to hold large meetings and receptions due to the pandemic. However, it is possible to hold meetings with precautionary measures. I try to hold meetings, wearing a mask and keeping social distance. We also often organize videoconferences.
Question: The number of COVID-19 cases in Ukraine has recently been about 5,000 per day, compared to about 600 in Japan. What is the secret of Japan's moderate success? What is the difference with Ukrainian measures?
Answer: You cannot fully compare when every country has different circumstances, history, traditions and perceptions of people. So I'll just tell you what measures are being taken in Japan. In my opinion, the most important thing is that there is a great deal of common understanding in society - what exactly every citizen should do to prevent the spread of the virus. For example, many people still use the subway or trains, but almost all of them wear masks. It is worth remembering that masks are used to prevent the transmission of the virus to others, rather than protect yourself from infection. Therefore, only when everyone uses them, they are effective, and if worn by only one or two people, they make no sense. In Japan, people understand this very well.
You should avoid the "sanmitsu," as we call it in Japanese. In English, it means "avoid the three Cs", i.e., "closed spaces," "crowded spaces,", and "closed-contact settings." You should avoid places where these three conditions are satisfied at the same time. This slogan - "avoid the three Cs" - is quite common in Japanese society. By the way, the WHO also adopted this slogan. In addition, some restaurants put up plastic partitions between visitors. It's a bit strange, but we also put up such partitions on the table in our residence, and so we have lunch and dinner in that way. In addition, the staff of social care institutions for the elderly is also extremely attentive.
Thus, an important factor is that the majority of citizens already have a common understanding of what needs to be done. This is the first thing. Secondly, the national social insurance system plays an important role. Almost the entire population has health insurance, so people do not have to pay a large sum in hospitals, and they go to doctors without barriers. When they feel bad, they immediately see a doctor. Such a social system is also important.
Question: Recently, few people wear masks on the streets of Kyiv. Why is there such a common understanding of preventive measures in Japan?
Answer: As I noted earlier, it is inappropriate to simply compare Ukraine with Japan. But perhaps the Japanese have a strong belief that you need to follow the rules. For example, the Japanese government decided to recommend something for prevention. In particular, restaurants should be closed until a certain hour in the evening, or the people should behave one way or another on the trains. At the same time, the government does not oblige citizens to act in one way or another, but only recommends they do so. Fines have never been imposed, but people still follow these recommendations.
Question: This spring, Japan announced the decision to provide Ukraine with the drug Avigan, which is to be effective in the treatment of coronavirus infection. There was no further news about this for six months, and on October 9, the decision on Avigan was made at a meeting of the Cabinet of Ministers of Ukraine. When will Avigan be given to Ukraine?
Answer: We are very happy that the Cabinet of Ministers has finally made an official decision to receive drugs under the common name "Favipiravir." The Japanese side was ready to send them six months ago, so we will be able to send them to Ukraine as soon as the Ukrainian government instructs the Ukrainian Embassy in Tokyo and the necessary documents are exchanged with the Japanese Foreign Ministry.
I will tell you about the chronology of this story. In March of this year, through the Ukrainian Embassy in Tokyo, we received a request from Kyiv to provide these drugs to Ukraine. Upon learning of this, we at the Embassy of Japan in Ukraine wanted to make a decision as soon as possible, given the importance of relations with Ukraine. And in early April, the Japanese government made an extremely quick decision to provide these drugs to Ukraine.
I want to mention one important point. The Japanese Ministry of Health, Labour and Welfare has not yet identified Favipiravir as a drug against COVID-19. As far as I know, there are no absolutely effective and safe drugs recognized by the world, except for a few drugs that have been recognized by only a few countries. Avigan, or Favipiravir, is also undergoing the final phase of a clinical trial in Japan. We provide Favipiravir free of charge to countries that are willing to conduct this clinical trial together and provide us with its results. So we started this cooperation. Therefore, we do not intend to impose this drug. We have decided to provide them at the request of Ukraine, but we do not make them participate in a clinical trial. We respect Ukraine's decision, so we just waited for its final conclusion.
By the way, we received appeals from about 80 countries, including the EU countries. We had to select about 50 countries due to the limited amount of the drug. The transfer to almost all countries, except Ukraine, has already been completed in the last five months.
Question: How much Avigan/Favipiravir do you plan to provide to Ukraine?
Answer: 12,200 tablets, that's for a hundred people. Compared to other countries that applied for the drug, this is a lot. I sincerely pray for the coronavirus pandemic to end in Ukraine as soon as possible.
Takashi Hirano, Kyiv
Photo credit: Hennadii Minchenko