Dmytro Kuleba, Minister of Foreign Affairs of Ukraine
Diplomacy goes on the offensive to stop war in Donbas
17.06.2020 12:00
We agreed to hold an interview on the occasion of 100 days in office with Foreign Minister Dmytro Kuleba in advance, so, of course, I began to prepare for it ahead of time. However, it turned out that questions to the minister become outdated almost the same day they appear as the situation is changing in the twinkling of an eye, assuming that I see only the visible part of an "iceberg."
Actually, it is with this point that we started our conversation which, using diplomatic clichés, touched on a "wide range of pressing issues", inter alia, the recent and future staff appointments in the Foreign Ministry, sensitive issues in the situation in Donbas and Crimea, relations with Georgia, prospects for reaching understanding with Iran in the case of downing of Ukrainian plane, and whether the Foreign Ministry will save Ukrainians if they get stuck abroad amid summer vacations.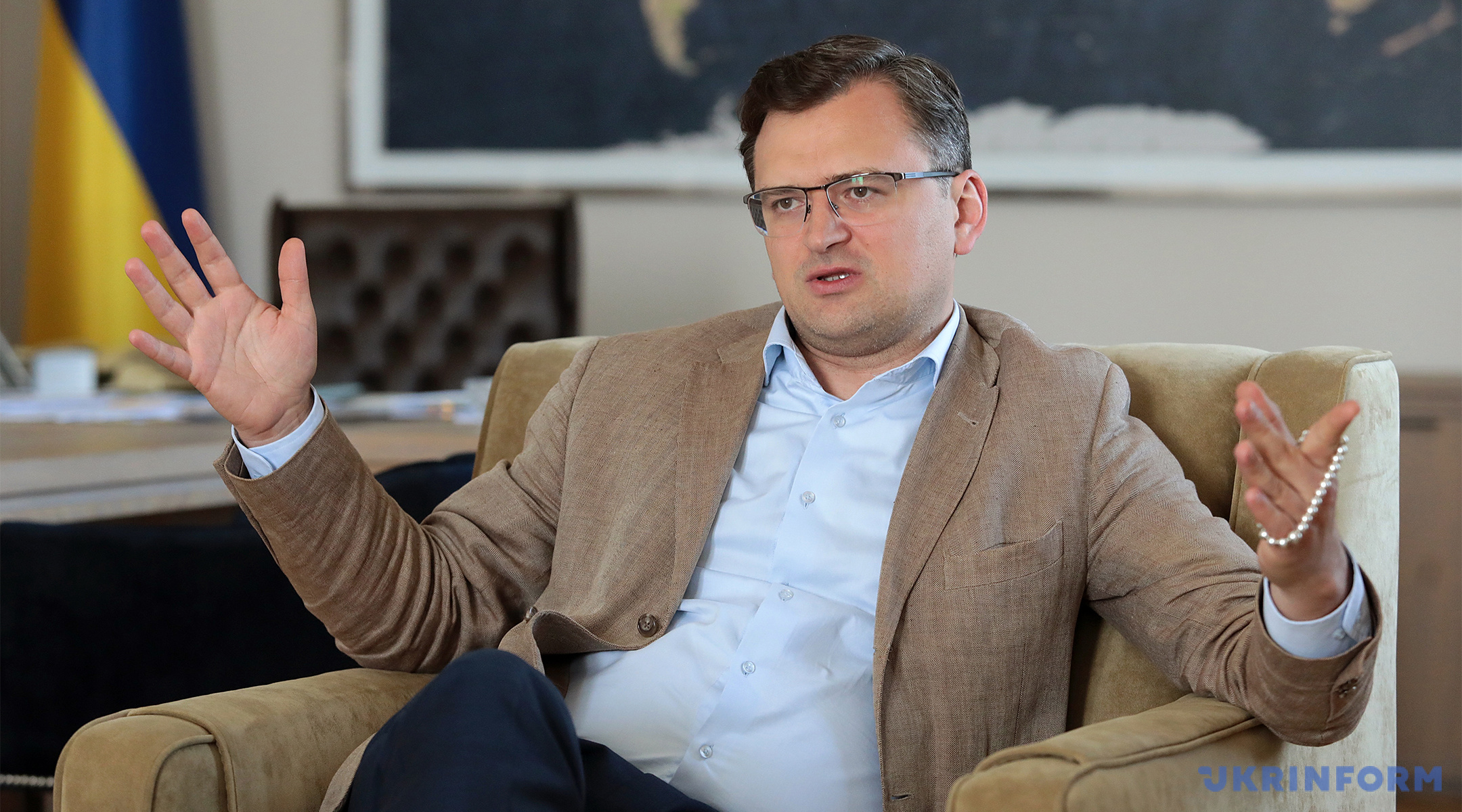 TWO TYPES OF MESSAGES GIVE RISE TO PRESIDENT'S COMMENDATION
- Mr. Minister, President Zelensky said in a recent interview that he is in the ocean of information. And how would you characterize your information flow - ocean, sea, Niagara Falls?
- The Deluge! Now every person who follows the news at least a little, scrolls through social media, and communicates with other people is in the Deluge.
In addition, a huge amount of professional information comes down on me. In order not to "drown" in it, I organize the processes in the Ministry in such a way that only the most important information or its "extract" reaches me.
- Did the President commend you for anything during your first 100 days at the post?
- Perhaps, it would sound immodest, but yes, he commended me. For humanitarian assistance from a number of countries, for the release of citizens whom we returned from Nigeria, Malaysia, for the investment projects.
The best news for him is when we pull our compatriots out of some kind of difficult situation abroad and when we attract investments to Ukraine or help Ukrainian business in foreign markets.
Any messages on these two topics always give rise to President's commendation.
- How do you get this commendation? Does the President call you or write to you?
- It happens in very different formats.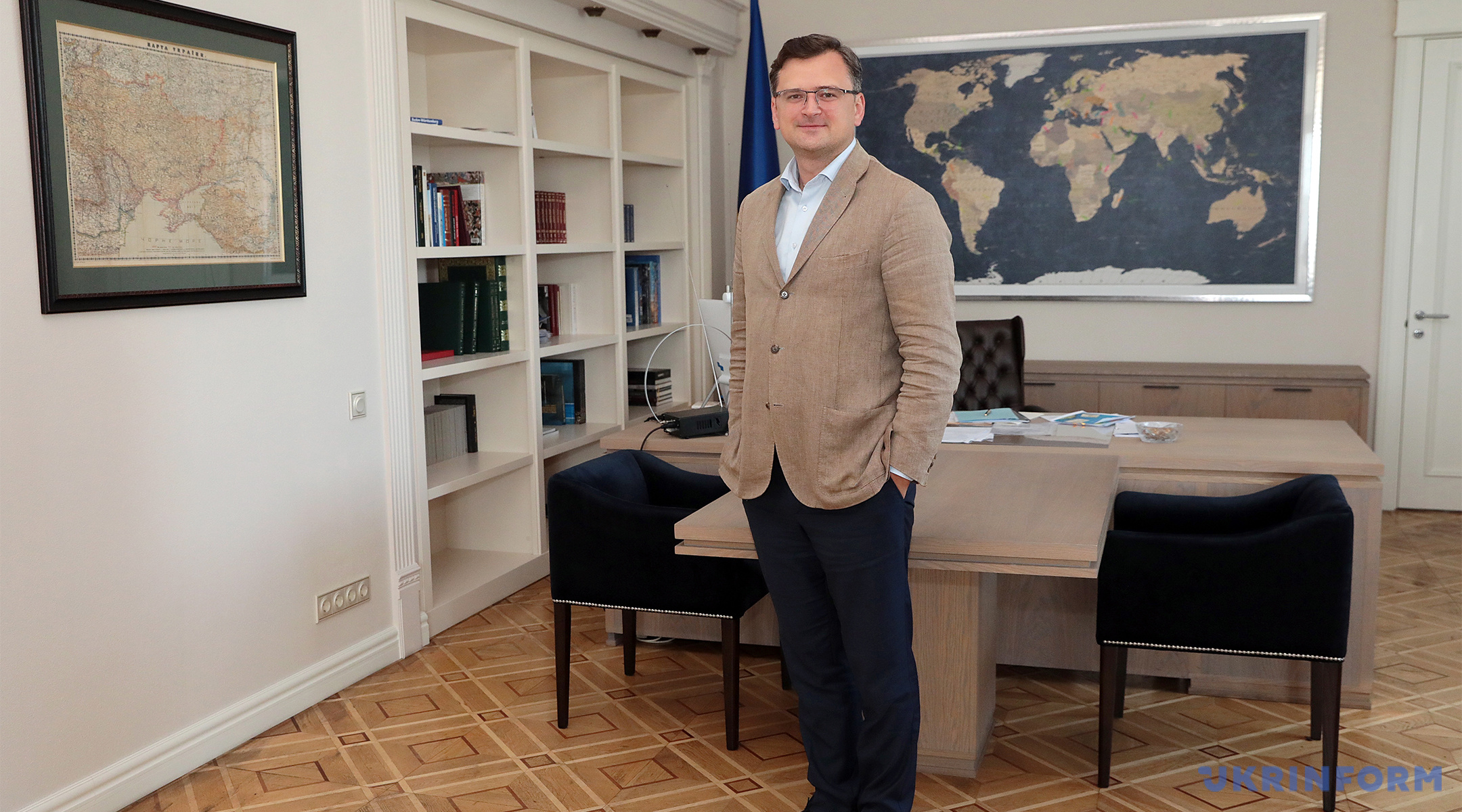 - Have the difficult situations, when you did not know what to do and needed advice, happened over this time? If so, whom did you contact?
- When you become a minister, the circle of people whom you can consult with narrows to the greatest possible extent as everyone expects decisions from you.
When dealing with sensitive matters, I several times have sought advice from the President and spoken to veterans of Ukrainian diplomacy, who have vast experience and whose opinion I respect.
- Your predecessors at the post were not among them, were they?
- I discussed one issue with Pavlo Klimkin.
- Due to [coronavirus] quarantine, your international contacts were mostly virtual. However, you had negotiations, both virtual and in-person, with Minister of Foreign Affairs of Germany Heiko Maas. Is there any fundamental difference between online and offline talks?
- When you communicate offline, you can use a short time, when you are face to face, without aides, to make small talk.
It does not have to be some kind of diplomatic secrets, it can be ordinary human things that just help to establish personal contact and evoke mutual empathy.
This is the only difference.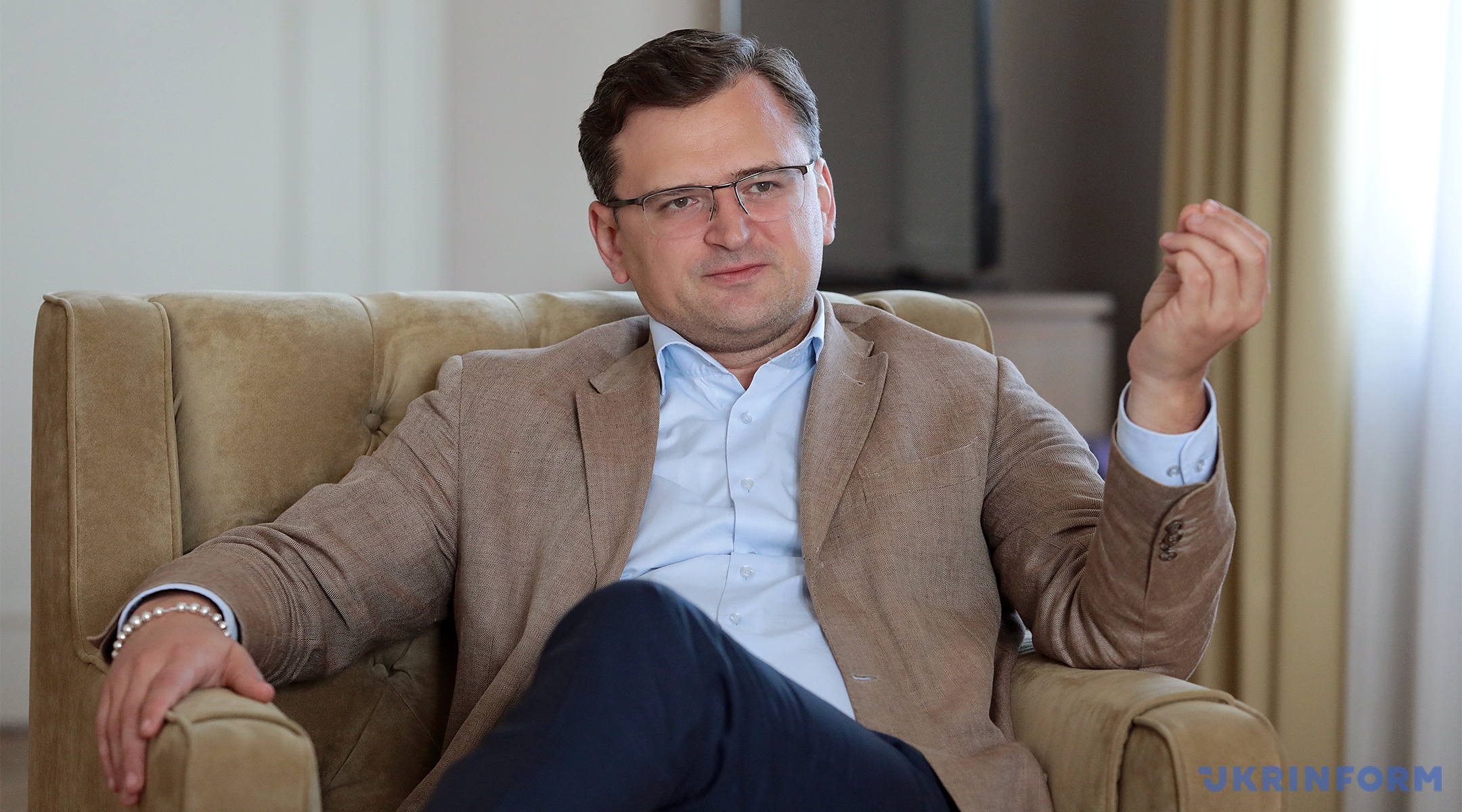 RENEWAL OF FOREIGN MINISTRY'S SENIOR STAFF NOT COMPLETED YET
- At the very beginning of your work in the Ministry, you told the staff that you wanted to change the diplomats' approach towards work, to awaken their initiative. Have you managed to do that?
- Yes, I have. I am very pleased with the results of the changes that began in March and for which I simply set the pace and key ideas but which have been fully implemented by my colleagues at the Ministry of Foreign Affairs. I am very grateful to them for this! And the speed with which we are able to move forward confirms that these things were long overdue, we just needed an impetus and the correct formulation of ideas to launch them.
Therefore, on Monday, June 15, I will give a presentation at which I will talk not about the plans for the Foreign Ministry's reform, but about the changes we have already introduced.
- Has the renewal of the Foreign Ministry's senior staff completed already?
- No, it hasn't. At the moment, on my initiative, Emine Dzheppar and Yevhen Yenin became deputy ministers. Two more candidates for deputy minister posts are awaiting approval by the President of Ukraine, and there will also be a new state secretary of the Foreign Ministry.
- Yesterday [the conversation was recorded on June 12], there was a report that the State Bureau of Investigation had served your deputy, Yehor Bozhok, with charges. How do you assess this situation and how was it perceived in the Ministry?
- The episode over which Yehor Bozhok was served with charges does not concern his work in the Ministry of Foreign Affairs - this is an important point. The Foreign Ministry staff knows Yehor as an experienced diplomat.
In addition, we live in a country where the presumption of innocence exists, according to the principle of the rule of law.
That is, a person is not guilty until the guilt is proved.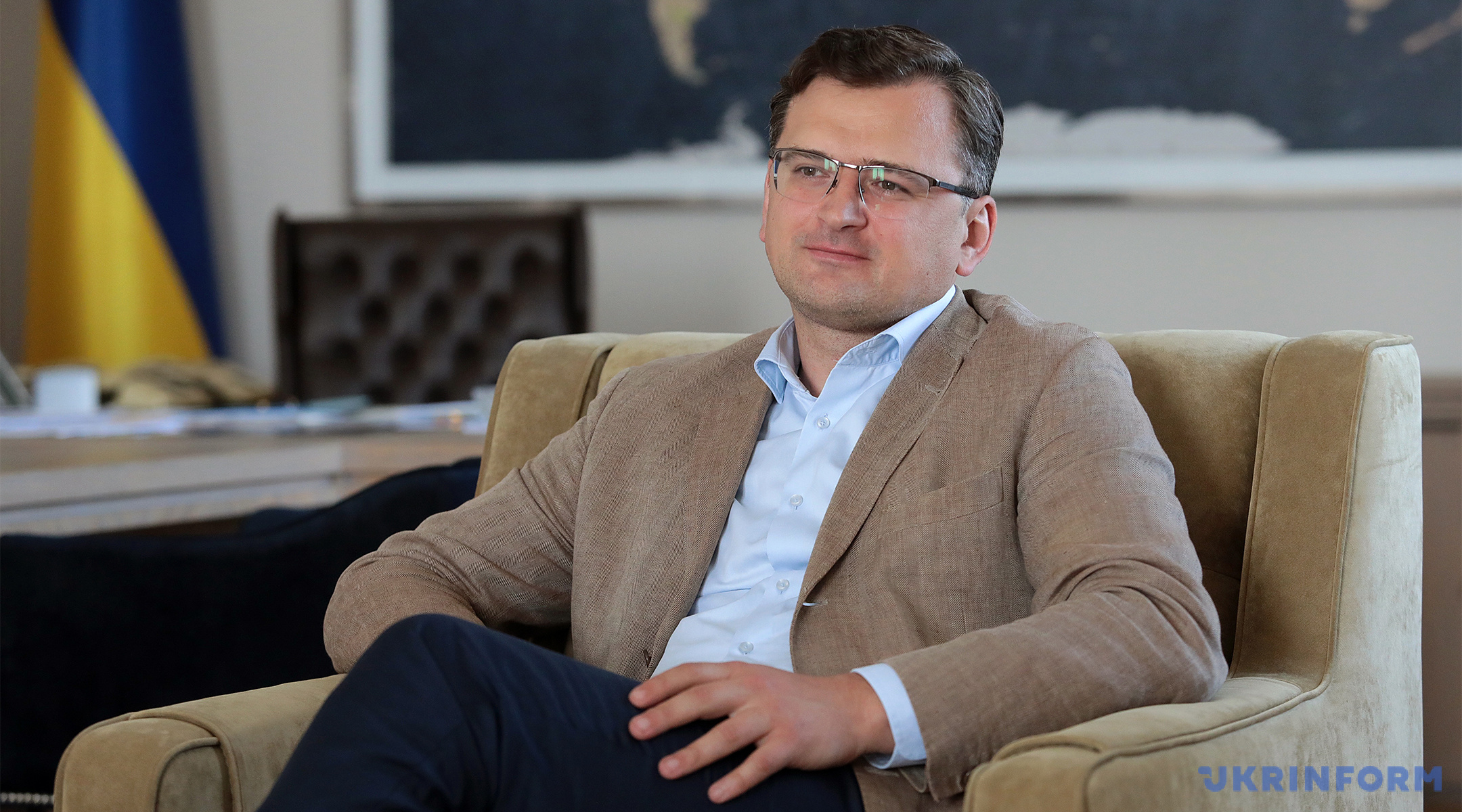 - Recently, the appointments of ambassadors have started to be announced though earlier it was uncustomary to talk about that before the appointment became a fait accompli. In particular, it was reported that Vadym Prystaiko had expressed his desire to become the Ambassador of Ukraine to the UK, and Head of the President's Office Andriy Yermak announced during a trip to Khmelnytskyi region that a new ambassador to France would be appointed in a week. Are these exceptions, a system outage, or a new practice?
- In fact, long before Vadym Prystaiko's dismissal from the post of Vice Prime Minister, I submitted the recommendation for ​​his appointment as the ambassador to the UK to the President. Therefore, we simply explained the society that a person does not go, that he prepares for secondment as he is an experienced career diplomat. Therefore, in this case, the announcement was due solely to the need to explain the society what happens.
As for the change of the ambassador to France, as far as I remember, Andriy Yermak was asked such a question earlier at a meeting with business and he replied that this was expected.
I don't think that we should definitely adhere to all the secrecy conventional before. Diplomacy should become more open. If a political decision is made, and we know that this will happen, then why not to inform society about it?
'ECONOMIZATION OF DIPLOMACY' IS ONE OF DISCREDITED TERMS, BUT WE WILL CHANGE THIS
- You constantly emphasize the importance of economic diplomacy. How exactly do you formulate the task for the ambassadors in this area? A while back, there were rumors about setting plans for ambassadors. Are there any plans to introduce some kind of economic KPI for diplomats? Although ambassadors work under different conditions, sometimes the situation in the host country is such that little depends on diplomats.
- Over the thirty years of independence, a lot of words in the Ukrainian political vocabulary have been discredited. The "economization of diplomacy" is one of discredited diplomatic term. We have been doing this for 30 years, but the result is the same!
I believe that KPI for ambassadors is a minor matter precisely for the reasons that you have mentioned. There may be a general KPI "growth in trade between the countries" but it is unrealistic to assess to what extent this growth is the embassy's achievement.
In fact, a key thing is completely different. A diplomat and a businessperson should speak the same language. For example, when a businessperson addresses a diplomat and says that it is necessary to obtain, theoretically speaking, the E130 certificate in this country so that Ukrainian products will be able to enter the market in this country, a diplomat should be quick to understand everything. So when an investment businessperson comes in X country and says that he or she wants to invest in Ukraine, the diplomat should already know who should be addressed in Kyiv, with whom this issue should be discussed and the diplomat should be sure that this conversation won't be futile.
That is, the primary question is to arrange processes so that Ukrainian companies see that their problems with accessing foreign markets are solved, so that a foreign investor is satisfied with how the state treats the investments from the very first contacts with Ukraine abroad, in the person of a Ukrainian diplomat.
- And what gives you a reason to think that this idea won't be discredited again and will not turn into yet another campaigning? After all, the same things were probably said before, weren't they?
- Precisely these things were not used to be said before. But we live in a world where anything can be discredited!
I just know what to do, I trust people with whom I do this, and we will do everything possible in order to succeed. I sincerely believe that we will leave our successors a strong, effective system which they will make even better.
- An agreement on selling the Motor Sich shares to Chinese companies, which is sensitive to Ukraine's relations with the US and China, is still pending. Do our partners have questions regarding this, including in the context of the investment climate in Ukraine?
- Motor Sich is not a factor of the overall investment climate because the situation around it is so narrow and specific that everyone understands that no general conclusions can be drawn from it.
Motor Sich was at the center of a big diplomatic game. For Ukraine, there is only one interest - the strategic development of the Ukrainian enterprise and Ukrainian technologies in Ukraine.
The decision is considered by the Antimonopoly Committee, but there are different parallel processes. For example, I know that a draft law on investments in strategic areas is being elaborated. And here we talk about investments in the military-industrial complex.
But the interest of Ukraine is exactly the one that I mentioned.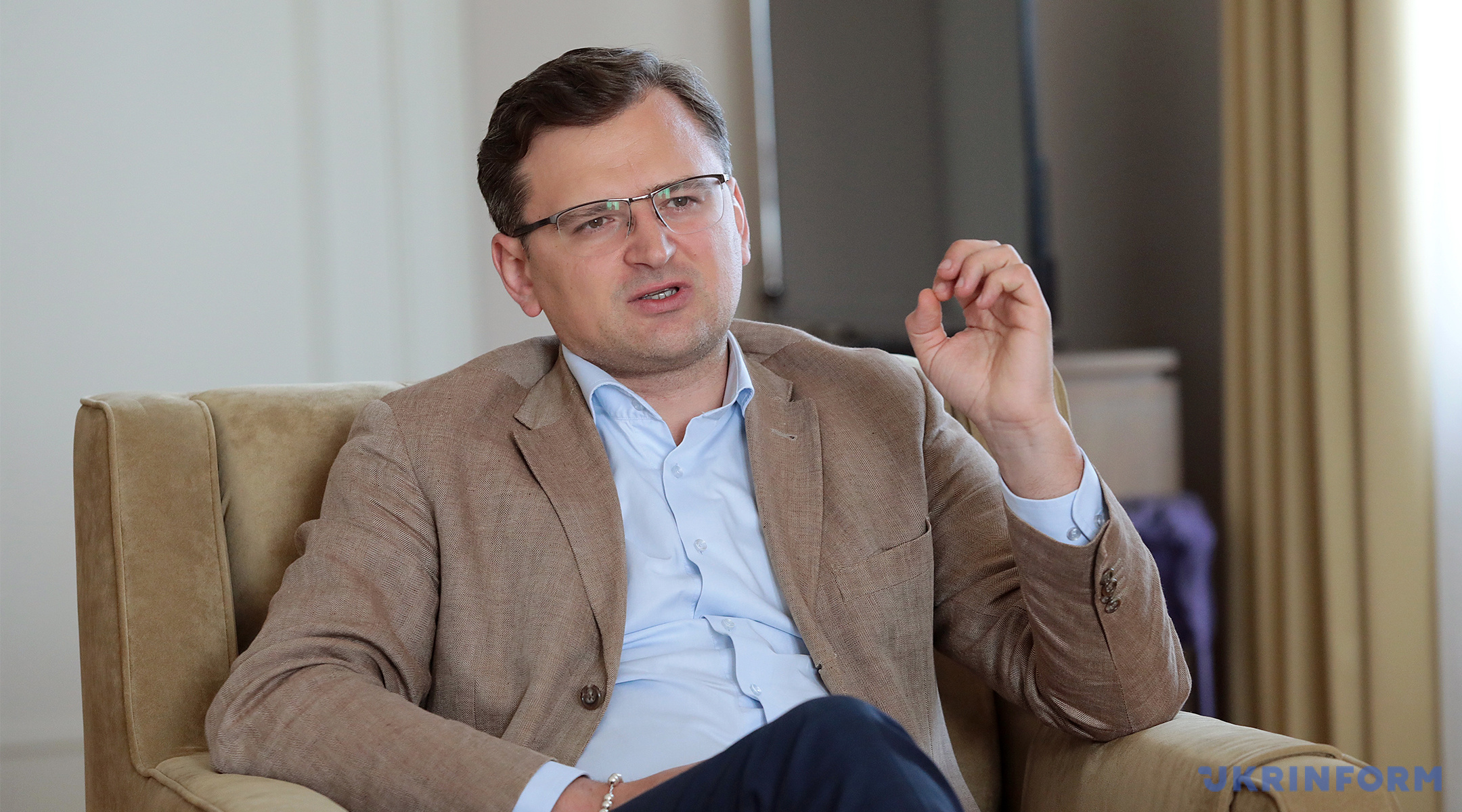 MINSK FORMAT HAS NOT DIED YET, BUT UKRAINE HAS PUT IT ON LUNG VENTILATOR
- In the matter of conflict in Donbas, the previous president and authorities placed their stake on stepping up international pressure on Russia to force it to leave these territories. What does the new team stake on?
- We are focused on three things. The first thing is offensive diplomacy. This means that we do not wait for Russia to propose something or try to impose something. Instead, we offer, initiate, create situations that Russia is forced to respond to, not vice versa.
We suggested holding the Trilateral Contact Group meetings even amidst the pandemic in the videoconference mode, not to allow using the pandemic to slow down the process. By the way, Russia tried to do this by blocking the access of the OSCE SMM to the territory of the occupied Donbas, but they failed to impede the negotiation process in the TCG.
We upgraded the status of the Ukrainian delegation and introduced new members, expecting reciprocity from the Russian Federation and thus making them also demonstrate interest in dialogue and finding solutions.
We included representatives of certain areas of Donetsk and Lugansk regions from among internally displaced persons, setting, in fact, a new standard of work.
The second element is the increased international pressure.
Since the beginning of my cadence in March, I and my German and French counterparts have restored the Normandy format dialogue at the ministerial level. Before that, it had not been held for two years.
In addition, a large delegation visited Berlin, where we talked with the ministers of defense and foreign affairs of Germany and the foreign policy adviser to the German Chancellor.
Today, the Ukrainian delegation is in Paris.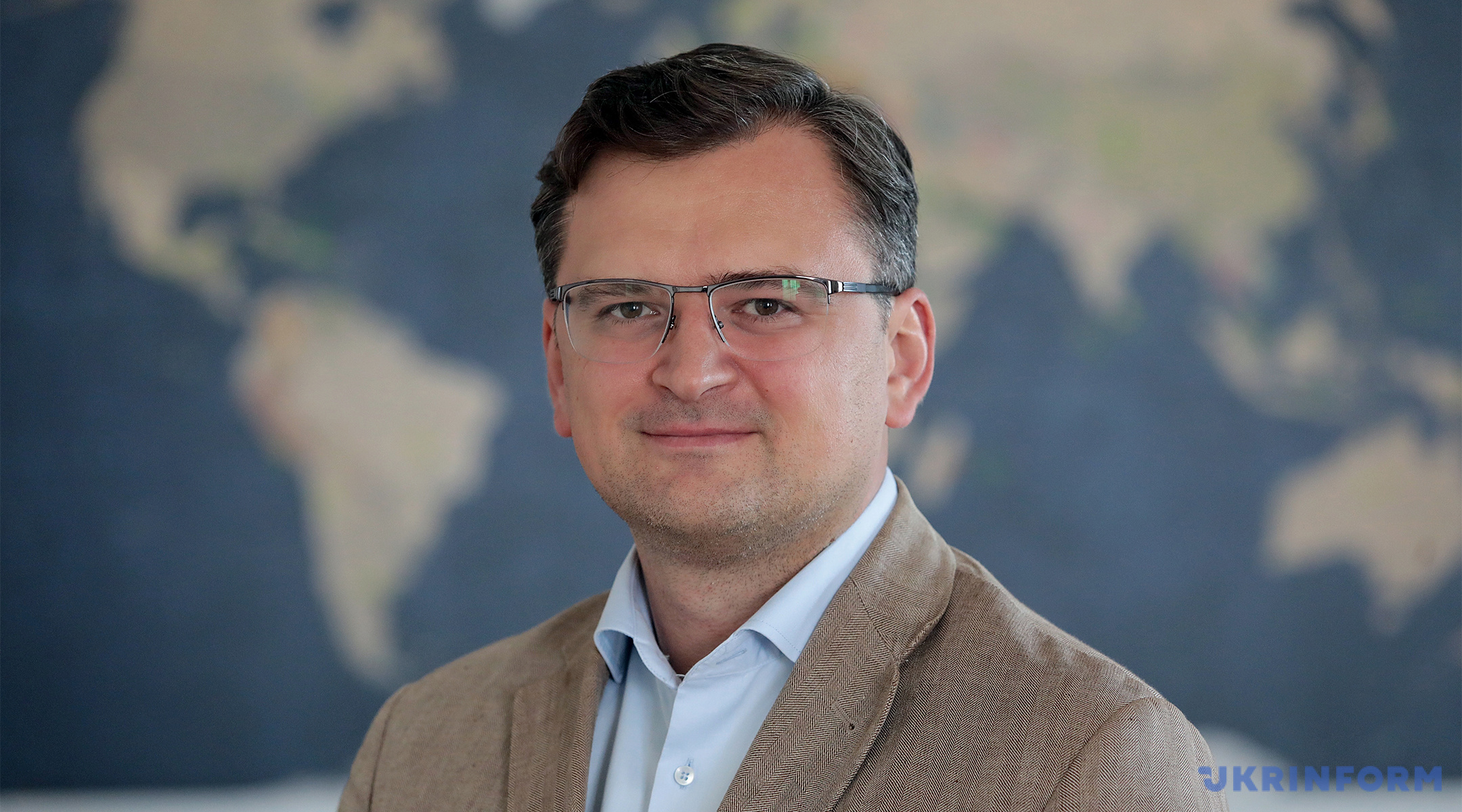 -Why didn't you fly to Paris?
- I did not fly only because France's Minister for Europe and Foreign Affairs Jean-Yves Le Drian is not in Paris today. If my schedule coincided with the schedule of my French counterpart, then it would make sense to fly.
By the way, some people see yet another betrayal in this fact. But lately I have leaned toward the idea that I need to stop worrying about alleged "betrayals" as I worried much about that before and wrote a whole book to help people cherish common sense. But it seems that not everyone wants this as it is much more fun to believe in conspiracy theories.
But let's get back to the previous question.
The third element is a surge in promotion of Crimean issue in the international arena. We work very seriously now to bring the Crimea out of the shadows, because we must not forget about it!
- In your opinion, will such an intensification of our position on Donbas yield any practical results? After all, there are no retaliatory steps of the Kremlin, there is only hysteria. How does the Ministry of Foreign Affairs generally assess the real goals of Russia in Donbas?
- If we listen to official statements about the goals of Russia, they imply the facilitation of return of certain areas of Donetsk and Lugansk regions to Ukraine, but, in fact, on Russia's conditions.
Our goal is also to return these territories to Ukraine, but in no case on the conditions of Russia. Actually, all the maneuvers take place around this issue.
There are three main methods for achieving a goal in diplomacy.
The first one is to do something actively, impose your agenda, your ideas and make your partner respond.
The second method is to do nothing. Then issues, as a rule, die by themselves or you are driven by a partner who does something.
And the third method is to imitate that you are doing something, when actually you do nothing.
I do not want to delve into the past, but now our principled position is to use the first method: active offensive diplomacy, ideas, initiatives, proposals.
In our opinion, it is the only way to create a situation where Russia will eventually be forced to take a constructive approach. Russia also does not act in isolation, and its arguments that Ukraine is unconstructive, does not want settlement, and violates Minsk they just look absurd not by themselves but against the background of how we act.
All our partners see this and acknowledge that we are really proactive, constructive, we want to seek a solution, so the argument about, conditionally speaking, "bad" Ukraine is knocked from Russia's hands.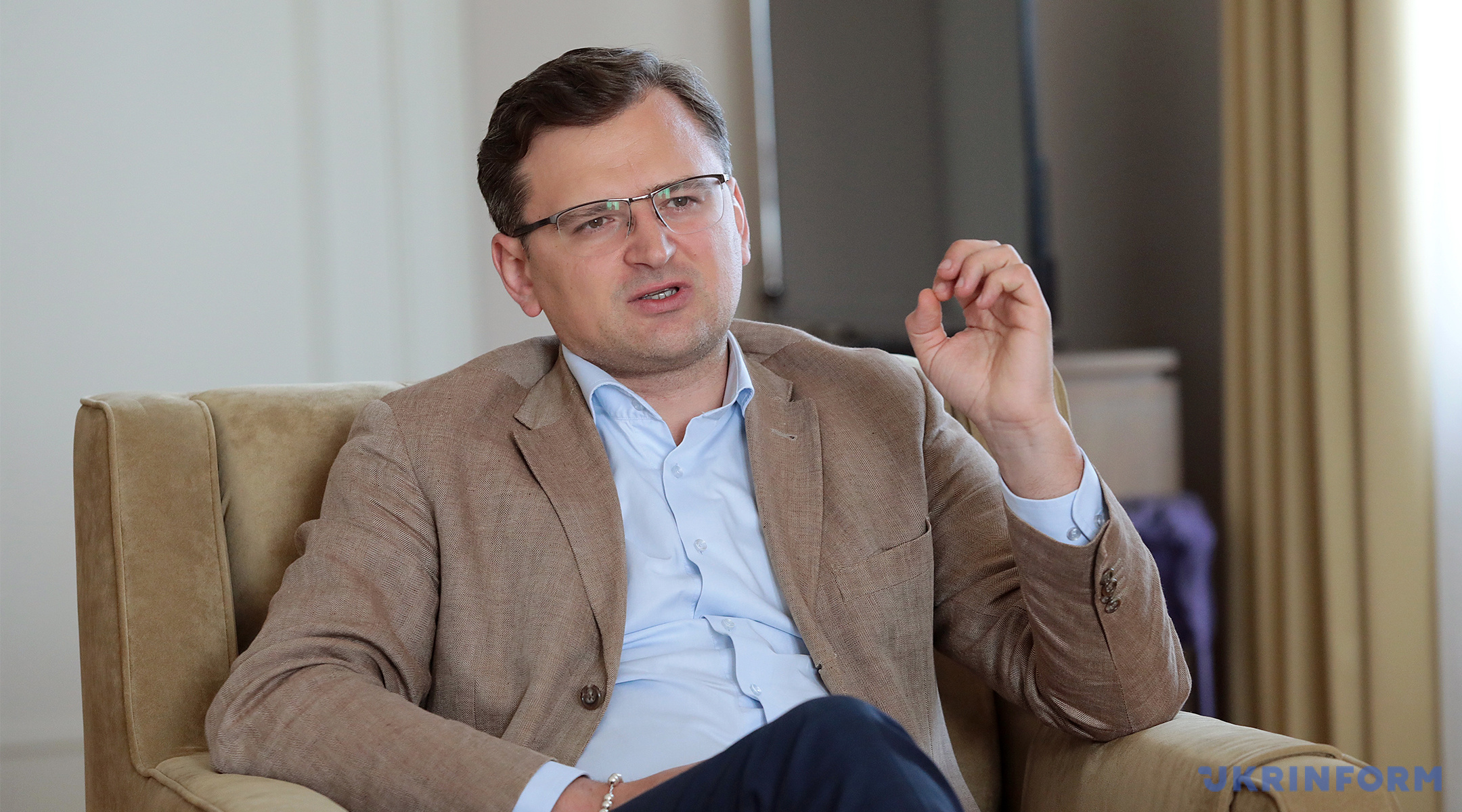 - So it turns out that the Minsk format has not died yet?
- I would say that the Minsk format has not died yet, but Ukraine has put it on a German-French lung ventilator. Sorry for my dark humour.
RUSSIAN PASSPORTS IN DONBAS IS A WORTHLESS PIECE OF PAPER
- When you announced the holding of a Normandy format ministerial meeting in Berlin in the near future, Russian Foreign Minister Sergey Lavrov did not respond to this at all. So will it take place or not?
- We are looking for a date and I am convinced that we will find it. I am open to communication with Sergey Lavrov. I am ready to cooperate with him in any format if it will help solve our problems and will contribute to de-occupation of Ukrainian territory, and the release of Ukrainian prisoners.
- Meanwhile, Russia continues its "passportization" campaign in the occupied Donbas and declares that it can issue 600-800 thousand Russian passports to Ukrainians in Donbas by the end of the year. How do you find a solution to the issue of Russian passports in Donbas after even hypothetical local elections?
- Russian passports in the occupied areas of Donetsk and Luhansk regions are a worthless piece of paper. By issuing these passports, Russia grossly violates international law. Therefore, they mean little to us.
At the same time, I urge you to be very careful when making judgments about people who obtain a Russian passport in the occupied territory.
Someone receives it for ideological reasons, because they are ready to support Russia "till the final victory".
Someone gets it for reasons of convenience - to leave, cross the border, receive some payments. Such a person, by the way, may not have problems with Ukraine and want its return.
Others obtain a passport for security reasons - what if you don't have a Russian passport, and tomorrow you will be blacklisted.
Therefore, let's not tar all with the same brush and not say that they are all the same there.
The key thing is that from a legal point of view, these documents are absolutely useless pieces of paper, and the practice of their issuance must be stopped. Therefore, we work with the international community, with our partners, so that they do not recognize these passports and that we put pressure on Russia together to stop this practice.
- What do you think of local elections? Will they be held in the occupied Donbas in the autumn?
- It will depend on how the Minsk process develops. But there will be no elections at gunpoint!
- If we assume that Russia withdraws its troops from the occupied Donbas 60 days before the election day, will this make sense given the six years of Russian occupation? After all, we will not have time to prepare public opinion, to explain our position to people.
- Take a look at the media space in Ukraine - can you prepare public opinion for something here?
These are our citizens, this is our land, and we are the only legitimate power there. Therefore, these territories will be back under our control, we will restore there the entire vertical of power, which includes not only the right to vote, but also the right to be elected. Of course, all war criminals will not be able to realize themselves in a new reality.
But if we thing only about constantly postponing it, then we will not come anywhere. After all, the information warfare is an infinitely long process, and we will fight for people's thoughts for a very long time.
That is, the struggle for people's thoughts takes much longer than for the territory.
- You stated in Berlin that Ukraine is ready for a wide range of compromises regarding Donbas, except for the right of the ORDLO veto on the geopolitical vector of Ukraine's movement.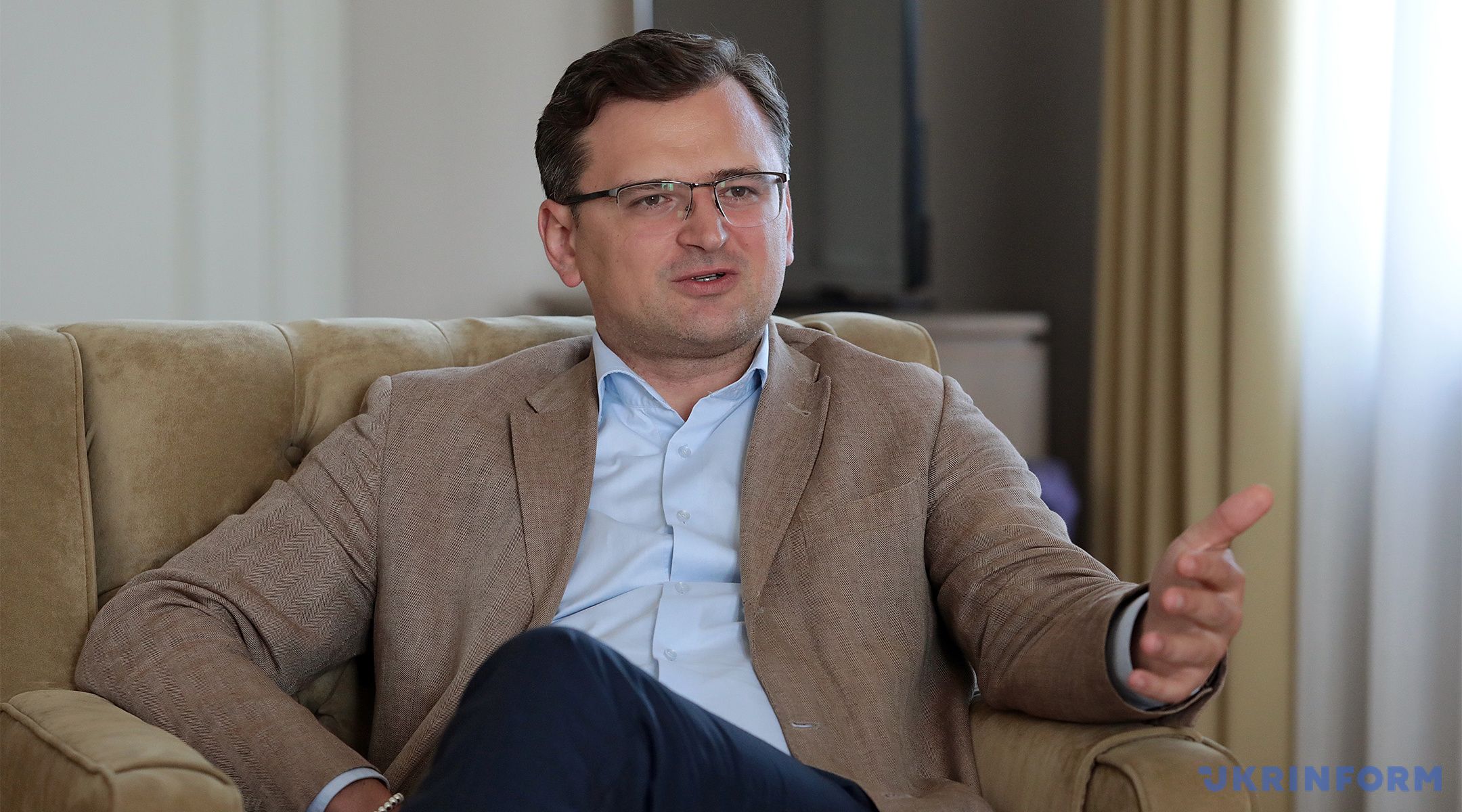 - I spoke about the right of veto on any nationwide decisions.
We have a wonderful decentralization reform - very European, very deep, which gives the community broad powers and brings power to the regions. As part of this decentralization reform, this is already much more than Donetsk and Luhansk had before 2014. In addition, there is the law "On the peculiarities of local self-government ...", according to which some additional elements may be introduced, taking into account the specifics of the region in which the war has been going on for such a long time.
But I can guarantee one hundred percent that even without a special status, citizens of these territories as part of Ukraine will have rights and resources a thousand times more than they have under the occupation of the Russian Federation.
- Concluding the topic of Russia, I want to touch on the occupied Crimea. Former Prosecutor General of Crimea Natalia Poklonskaya in early June sent a letter to UN High Commissioner for Human Rights Michelle Bachelet, in which she accused Ukraine of creating a humanitarian and environmental disaster in Russia-occupied Crimea. Could this appeal have any international consequences for Ukraine?
- No, it couldn't.
- But international organizations are very sensitive to humanitarian issues!
- International organizations have very good specialists in international law. They all know cold that the occupying country, and no one else, is fully responsible for the situation in the occupied territory.
Therefore, Ms. Poklonskaya is engaged in her PR, and this is her right, but these appeals do not have real international significance.
GEORGIA FOR US IS A VERY IMPORTANT COUNTRY AND A CLOSE FRIEND
- Considering the recent events when the Georgian government decided to recall its ambassador and invite the Ukrainian ambassador to the Georgian Foreign Ministry, it seems that we are losing an old friend. You also said that we will survive the deterioration in our relationship...
- I said that we will survive any crisis in our relationship.
- And who created it?
- Some crises are created because each country has its own specifics. I assure you that nothing can destroy the Ukrainian-Georgian relations. Political tension will ease off, and all will be forgotten, and we will continue to develop our relationship.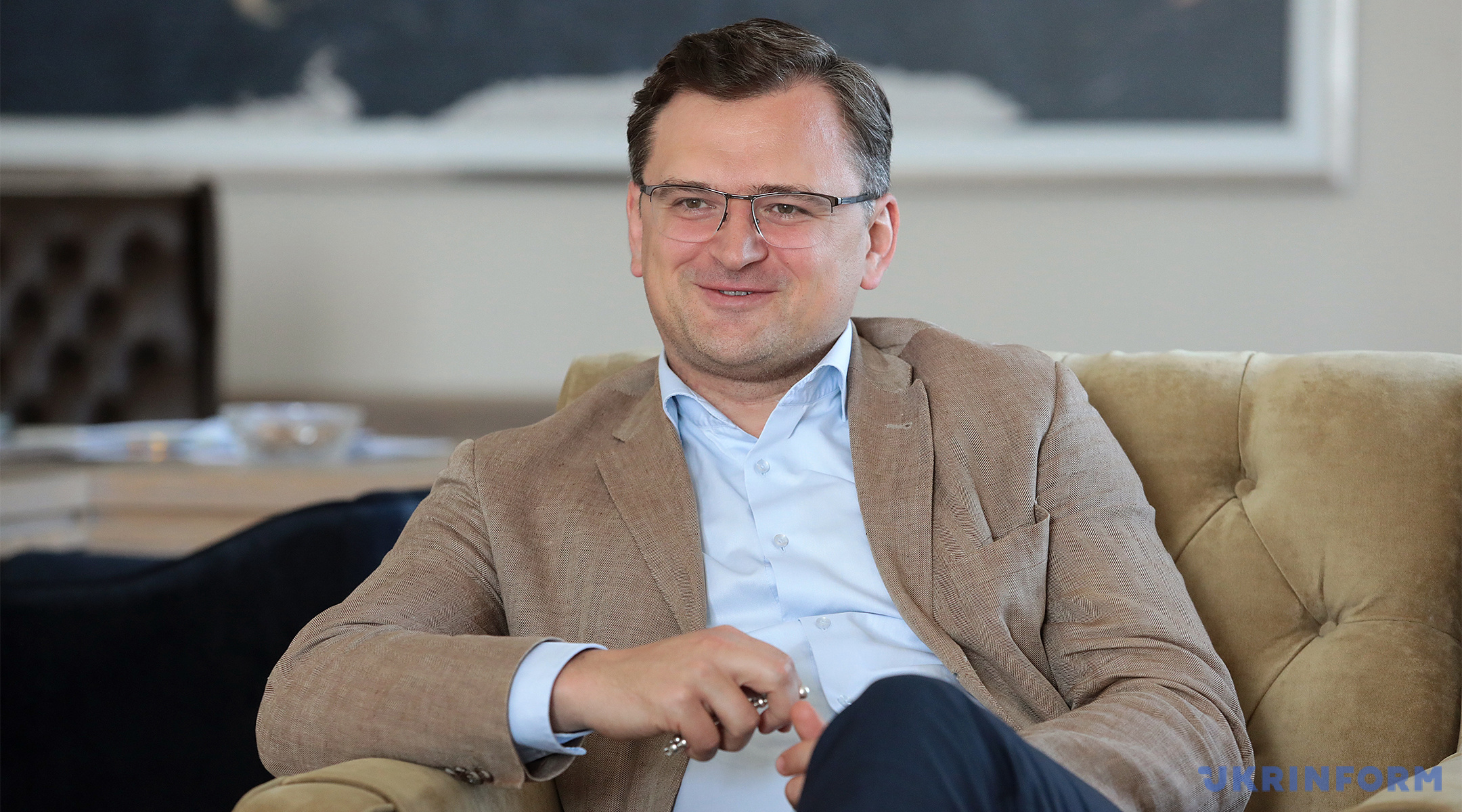 - Saying that no one can destroy the Ukrainian-Georgian relations, maybe you underestimate Mikheil Saakashvili.
- Or maybe you overestimate Saakashvili.
- But the Georgian side reacts strongly to the fact that a citizen of Ukraine, Mikheil Saakashvili, comments on the internal affairs of Georgia.
- Citizen of Ukraine Mikheil Saakashvili is not even a civil servant. Commenting on the affairs of Georgia, he does not represent the position of the Ukrainian state.
- When can we expect the return of the Georgian ambassador to Kyiv?
- The return of the ambassador depends on the Georgian side, and we will respect any decision in this context, because Georgia is a very important country and our close friend.
- According to recent surveys, support for Ukraine's accession to EU fell to 46% compared to 64% last December, while joining NATO fell to almost 42% against 51%. At the same time, anti-Western and, in particular anti-American, rhetoric is growing, which the government does not actually respond to. What do our partners think against the backdrop of our European and Euro-Atlantic aspirations?
- I'm worried about the spread of anti-Western rhetoric in the Ukrainian media space - this does not meet the interests of the Ukrainian people at all.
There is no anti-Western rhetoric in the executive vertical of power or in the vertical responsible for foreign policy. We are absolutely convinced that Ukraine should continue to move towards membership in the European Union and NATO, and I do not see any hints of any U-turns or a change in attitude towards this course.
Now, during our conversation, NATO is deciding on an Enhanced Opportunity Partnership status for Ukraine. Just now they are voting on the silence procedure [looks at the clock]. If no member of the Alliance interrupts the procedure within 14 minutes, we will receive this status. This will be an important step towards improving interoperability of Ukraine and NATO, for which many people have been working for years. Over the years, we have been told from different sides that this will not happen. But now we are a step away from being on the list of the six closest partners of the Alliance in the world. I am sure that we are already on the list de facto, and in a few minutes the Alliance will fix this with its decision.
LOTS OF INTRIGUE AROUND BLACK BOXES FROM A DOWNED UIA PLANE
- Iran has recently announced its readiness to take part in negotiations in Ukraine on the case of a UIA aircraft shooting down anytime soon. Is the date for these negotiations already determined?
- I respect Iran as a difficult negotiator. The case of the downed plane is very sensitive, since it concerns the feelings of the victims' families. Therefore, we try to act correctly and urge our Iranian partners to do the same.
For Ukraine, there are three crucial points in this matter. The first one is the establishment of an objective reason for what happened on the basis of a comprehensive analysis of all the information, and for this we need "black boxes". Without their decryption, the establishment of a full-fledged picture will not be fully legitimate.
The second point is compensation provided to the families of all the victims and the airline. This is a whole block of questions.
And the third one is to bring the perpetrators of the tragedy to justice.
These are the three goals that we pursue and which we are talking about with Iran.
As for when and who will come to whom ... Back in March, when I became a minister, Iran announced its readiness to meet soon. But still all the same. We hope that the time between Iran's statements of readiness to meet and the implementation of this readiness will be reduced as much as possible.
As for the "black boxes", there is a lot of intrigue around them. But I am convinced that ultimately everything will happen within the framework of international procedures and in full compliance with all the rules.
The complete legitimacy of this process is crucial to us.
Decoding of "black boxes" requires special equipment, which Ukraine does not have yet. A few months ago, Ukraine reached an agreement with France regarding the decryption of flight recorders there.
At meetings of the ICAO Council, Iran's representatives speak about their readiness to hand over the black boxes to France. We hope that these are not hollow words. However, on the way to France, we should see them in Ukraine.
- Finally, let's talk about summer – the borders are opening, air service with different countries is gradually resuming. At the same time, you recommended that Ukrainians refrain from traveling abroad this summer. In turn, the German foreign minister warned that Germany will not evacuate its citizens in case of contracting coronavirus during vacation abroad. What will the Ministry of Foreign Affairs of Ukraine do in such situation?
- The task of the Ministry of Foreign Affairs consists of two things – to promote the freedom of movement of citizens and protect their rights abroad.
Therefore, the Foreign Ministry will not stand in the way of Ukrainian citizens willing to travel somewhere. However, all that is in my power is to remind them that any journey now may put them in danger.
So, travel if you want, but always remember that the world is dangerous!
Nadiia Yurchenko, Kyiv.
Photo credit: Hennadiy Minchenko
Hennadiy Minchenko