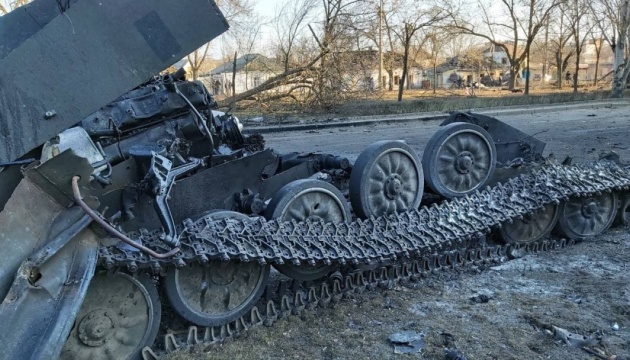 Russian invaders plan to use Kherson residents as human shield
Russian invaders plan to disguise themselves as members of Ukrainian territorial defense, organize a fake "evacuation" from Kherson, and send military equipment to Kyiv under the guise of a "human shield".
"The Russian occupier wants to use the people of Kherson with a human shield to capture Ukrainian cities. The occupiers, who seized the Ukrainian military uniform, plan to organize 'evacuation' of Kherson residents in the coming days under the guise of the Ukrainian territorial defense forces. They want to gather civilians in their buses and send them to Kyiv. Enemy vehicles will go along with these buses," the Kherson Regional Military Administration, Ukrinform posted on Facebook reports.
In this regard, local residents are asked not to agree to the "evacuation". Ukrainian authorities, the Armed Forces, territorial defense forces, and law enforcement agencies do not plan to conduct evacuation, the Administration stressed.
On the afternoon of February 27, more than 100 people were evacuated by two buses to Kherson from the suburbian village of Antonivka, which had been damaged in the fighting.
As reported, the village of Antonivka (Kherson) is completely cut off from electricity, gas and possibly from water supply.
Russian president Vladimir Putin declared war on Ukraine on February 24 and launched a large-scale invasion. Russian troops have been shelling and destroying key infrastructure. Missiles hit residential buildings.
Martial law was imposed in Ukraine and general mobilization was announced.
Ukraine officially filed a lawsuit against the Russian Federation at the UN International Court of Justice in The Hague.
ol