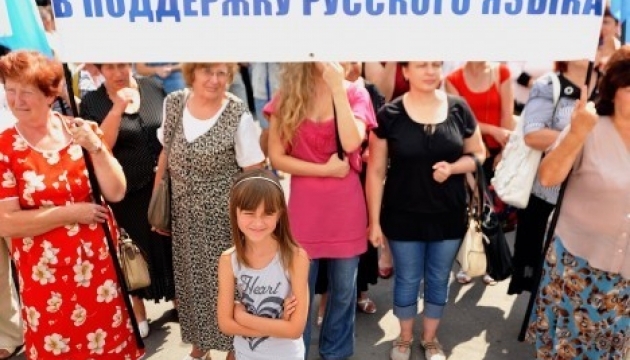 Russian becomes regional language in three more regions in Ukraine
Deputies of Dnipropetrovsk, Luhansk and Kherson regional councils have recognized Russian as a regional language
KYIV, August 17 /UKRINFORM/. Deputies of Dnipropetrovsk, Luhansk and Kherson regional councils have recognized Russian as a regional language.
Respective decisions were taken at the sessions of the regional councils on Friday.
Luhansk Regional Council deputies determined that the state language is the primary language of work, record keeping and documentation, but the Russian language can also be used. The regional council's documents could be adopted in Ukrainian or Russian and are officially published in these languages, in accordance with the law.
Dnipropetrovsk Regional Council deputies decided to recommend that communities in Dnipropetrovsk region consider the questions of ensuring citizens' right to use the state language, Russian or other languages that will be recognized as regional in respective areas, in communication with local government agencies, as well as in getting education, official information and a number of other administrative and social issues.
While voting for the adoption of a similar decision, Kherson Regional Council deputies referred to the statistics according to which 14.9% of Russians live in the region. According to the latest population census, 24.9% of residents of the region described Russian as their native language.
As UKRINFORM reported, Russian has already been granted regional status in Donetsk, Zaporizhzhia, Odesa regions and the city of Sevastopol.
According to Ukrainian President Viktor Yanukovych, the law on the principles of the state language policy should ensure the equality of languages in Ukraine.
On August 7, the head of state met with scientists and intellectuals to discuss the language law adopted by the Verkhovna Rada. After the meeting, he said that after signing the document he would table in parliament the amendments to the law that will remove all contradictions.