Handbook for Ukrainian "vatniks": rumors, sabotage, "orientation" of children…
The enemy's special services have issued instructions to "unstable" Ukrainians - from bosses to kindergarten teachers - on how to set up Russia "in Ukraine"
I am carefully looking at the latest "trophy" of Ukrainian hackers on my computer desktop - a manual for potential Ukrainian collaborators. Our cyber craftsmen have often passed on to the agency or printed in open space correspondence, notes and other "Kremlin" blanks on how to overcome Ukraine. This manual is from the same opera, apparently compiled by employees (in our opinion) of the propaganda structures and special services of the russist federation.
The manual was sent to the e-mail addresses of civil servants of ministries and other authorities. The goal is to consolidate the hidden "vata" in Ukraine (citizens with pro-Russian views, potential collaborators, not many of them, but they exist), to push them to commit treason. Because there is a list and descriptions of various topics for discussions about the Ukraine-Russia war that need to be monitored and reported to the relevant Russian structures. In other words, in the second year of the full-scale invasion, Russian propagandists believe that they will be able to organize accomplices in the rear of Ukraine who will report to them on the fly about what they do not know and what they do not need to know.
Reading and analyzing all this is not an easy task, no matter how you look at it. There used to be a popular joke: two worms, a father and a son, crawl out of nowhere. The son looks around and says: "Dad, it's so nice here, sunshine, grass... Why do we always live in shit?" "But that's our Soviet homeland, son," the old worm replies.
This flat anecdote, 32 years after the fall of the Soviet empire, may have its modern-day sequel, so to speak. In the second year of the full-scale war with Ukraine, the "daddy worm" crawled into our territory and is looking for like-minded people who still care about the "Soviet family"
The authors give advice to the "waiters", among whom, as they dream, are teachers, law enforcement officers, priests, heads of various institutions, office plankton... We decided to go through the sections of this manual and show what exactly the "old worm" offers for the resuscitation of the "Soviet family".
BRIEFLY ABOUT THE SORE SPOTS OF 30 YEARS...
The manual begins with a kind of prologue. It begins with a historical background, an introduction to the recent history of Ukrainian-Russian relations that led to the full-scale invasion. It contains a textbook set of Russian lies about Ukrainian events. They say that the West "destroyed Ukraine" by forcing a third round of elections in 2004. And then we quote what is in italics, the worst pain of the "ordinary Russian man": "the peasants broke into power and began to shape a new reality." For example:
- history textbooks began to be filled with "nonsense" from TV programs. (This is, obviously, about the Ukrainian Insurgent Army (UPA) and the Holodomor)
- monuments were demolished (about Lenin and other steps of decommunization);
- the energy industry was taken over by the Americans (this is about the intentions of nuclear industry officials to untie the industry from Russian fuel rods and Russian spent nuclear fuel storage facilities);
- the "Church of the Patriarch of Istanbul" was created (this is about the Tomos and autocephaly for the OCU);
- "biological weapons laboratories" were created (this is about the hit of false propaganda).
And..., the authors continue, Russia was forced to launch the "special military operation" ("SMO") to protect "Russian people" from Crimea to Chukotka... What is noteworthy is that the manual is written and organized as if the state of Ukraine no longer exists. And it is about the "territory of Russia", so it turns out that high treason (for which we give life imprisonment) looks like not much of a betrayal for the "waiters"...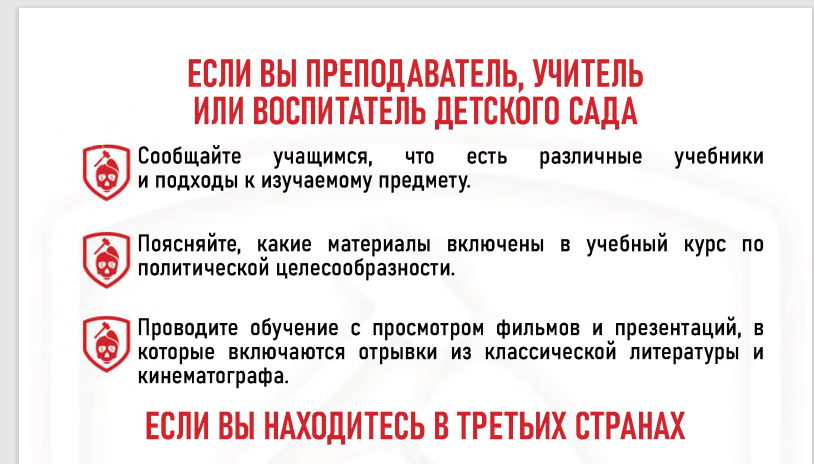 TO SAVE "SOOTECHESTVENNIKOV" BY BETRAYING COMPATRIOTS
There is a section in the manual that is a kind of science of hypocrisy for "sootechestvennikov" [Russian word for compatriots]: how to pretend to be "anti-vata" in Ukrainian society.
There are tips, for example, such as "say you don't understand politics" when asked about politics, and "lie" when asked whose Crimea is Ukrainian. They also advise to "read something about the work of the underground during the "Great Patriotic War," and after reading it, they recommend organizing "Russian poetry evenings" at home.
Gradually, the authors of the manual move on to calls to do things that lead directly to prison. If a latent "vatnik" knows that another vatnik is being held somewhere else in a detention center, he is advised to contact the Russian ombudsman. But this is only a gentle introduction to treason. Then the ostensible clauses about "caring for compatriots" are exhausted and specific instructions are given: if you have valuable information that will help the war against the "Kyiv junta," then report it "where necessary." By the way, the QR codes indicated there lead directly to where to report. In other words, the "dadovskii" method of agitation is combined with the latest techniques.
FORMS OF "CIVIL RESISTANCE"
Perhaps the authors of the manual would be very disappointed if they were to be transported to the streets, cafes, and subways of the Ukrainian capital today. For the most part, Kyiv already speaks Ukrainian, and in some areas - trade and service - it is total. Meanwhile, the manual gives a clear instruction to the "unknown vatnik": do not speak Ukrainian, and if you do, speak it slowly, with ridiculous (a la Azarov) Russisms, to force the interlocutor to switch to Russian. Do not buy Ukrainian-language literature. Under no circumstances should you participate in embroidery days, sing the national anthem together, or watch Ukrainian news. And then say that language, embroidery and the anthem are not weapons.
When patriotic people approach them, the vatniks are advised to say that they do not understand what they are being told, and they are also advised to spread rumors that Zelensky will "check everyone for reliability."
It seems that the authors are provoking potential collaborators to create tension, even to the point of street fights. They cannot help but realize that neither Kyiv nor other Ukrainian cities are within their grasp, but they want to create chaos and stir up high-profile scandals where they cannot control the situation directly.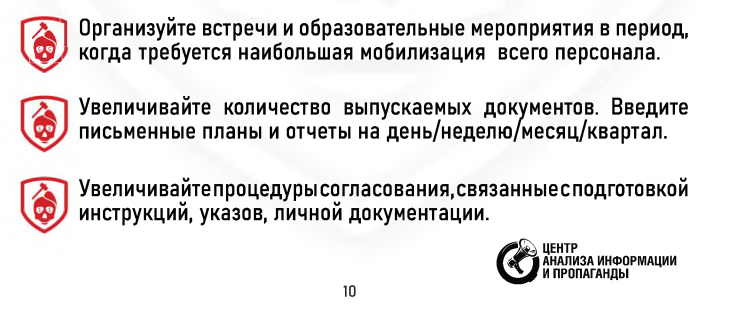 ADVICE TO BOSSES, PRIESTS AND... KINDERGARTEN TEACHERS
The manual goes on to give instructions on sabotage, with a division into the specialization of the latent "vatnik".
For example, bosses are advised to limit creative and active employees. To make meaningless decisions and set impossible tasks. Assign the same tasks to different team members. Promote slowness, i.e., hold back timely decision-making, involve intermediaries in everything. And also: to hold long meetings where you tell anecdotes and anecdotes. Information about corruption is a taboo, and it's better to keep quiet about it.
Interestingly, the authors advise against ordering office supplies for office employees, saying that the banal lack of paper in the workplace halts the process. Apparently, they are simply unaware of the pace of digitalization in Ukraine, because in many departments, "papers" are almost gone.
"Advice" to teachers and kindergarten teachers is a separate topic. They are advised to remember to tell children that there are different approaches to events at the front and at the rear. And that there are textbooks "dictated by political expediency." Even if the children do not understand what we are talking about, they will bring them home, where they can "understand".
And they offer the "vatnik" doctor to steal medicines and bandages to use them in the interests of the "resistance".
Special attention is paid to refugees, especially those who are abroad. They are advised, if possible, to set up social networks in the language of the host country, to organize, say, street parades and demonstrations in defense of "traditional values." They are also advised to regularly send comments to local online media calling for more space for Russian representatives.
The authors advise "vatnik" priests to go to people in prisons and give them special "pastoral care." I can't say for sure, but since one of the priests literally coordinated the landing of the Russian troops in Gostomel at the beginning of the Great War, I wouldn't be surprised to know what kind of "pastoral care" this would be.

We asked Dmytro Zolotukhin, an expert on information warfare and competitive intelligence, executive director of the Institute of Post-Information Society, to comment on the effectiveness of the "textbook."
- This "manual" reminds me of a well-known fragment of Allen Dulles' alleged work on how the United States allegedly wanted to destroy the Soviet Union. The authenticity of this document has never been confirmed, but it has been circulating on the Internet and is still circulating. Allegedly, the CIA had prepared a sabotage manual for the Soviet people. And it contained many of the above-mentioned points from the manual for Ukrainian civil servants. We need to hold more meetings, we need people to come in at nine and leave at eighteen, and we need to create more routine. In other words, the advice had the same leitmotif: no need to actively oppose, no need to declare anything, no need to fight with anyone. You have to do what you do, just do it badly. You won't be punished for doing it badly. And this document had been circulating in the information space for so long and widely that the legend of its existence was perceived as a reliable fact in the Ukrainian special services. Some intelligence officers even used it as trolling to evaluate people in the following way: that this leader works according to the CIA's methodology, holds several meetings every day, is determined to destroy the structure, does not sign anything, and does not let anyone go anywhere. In fact, the idea is not new, but the rethinking is quite creative.
So I would look not so much at the document itself as at the scale of distribution, the nature of the mailing. The nature of the mailing makes it more likely to assess who the author and initiator is. For example, it may not be the Russian state secret service, but some volunteer community engaged in information activities against Ukraine.
To what extent does this affect Ukrainians? I would not exaggerate the scale of this. Because there is routine sabotage of work even without this. I communicate a lot with various government agencies, and all of them have similar problems: weak management, as if everyone is doing something, but there is no result. Therefore, to get a fuller picture, we need to analyze more carefully which officials receive this money, what is the scheme behind it: ordinary employees or managers, individual bodies or a fan effect on all bodies, what is the system behind it. Then we will better understand whose idea it was, who set the task, and who checked the extent of implementation. Then it will be possible to understand whether the activity is structured, systematic, purposeful, or at the level of a creative idea: let's try it, it won't be worse... It's like a drop in the bucket...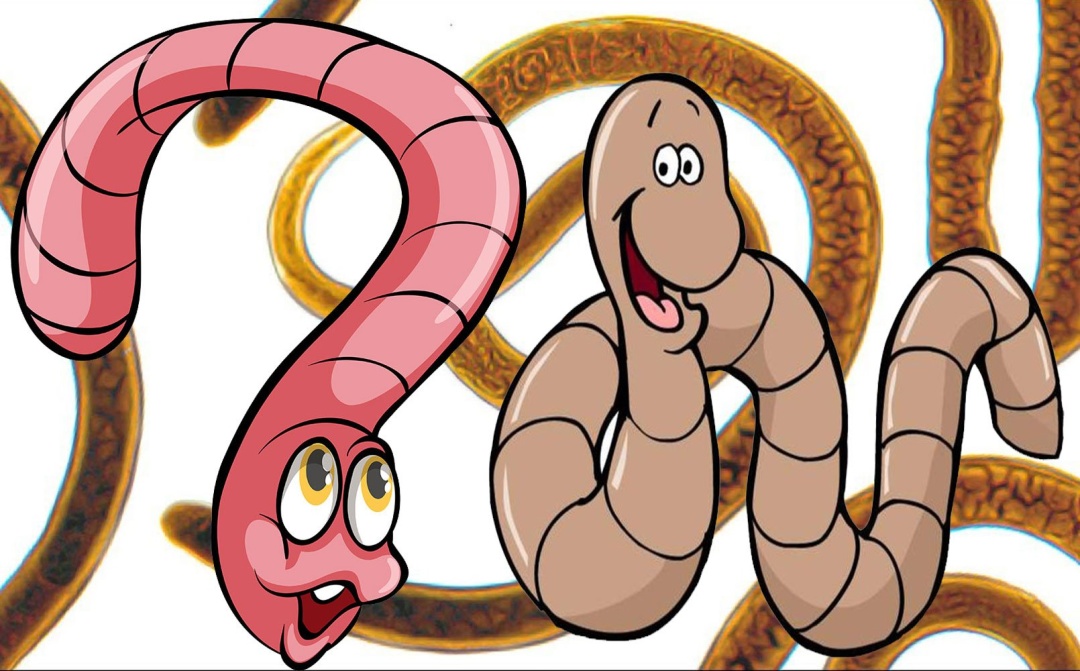 PS
Water does indeed wear away a stone, but the stones launched by Ukrinform to the "other side" have disrupted many Russian information operations. And in our collection of information battles, there were examples of much more modern approaches and delivery channels.
We will continue to monitor the "project" of this Russian agitprop. In particular, we will try to find out how exactly and to whom the "letters of Soviet happiness" were delivered to the offices of government agencies.
Of course, we have retold only a small part of the theses and "useful tips" from this manual in order not to create unnecessary temptations, for example, for the office plankton, which may see a saboteur in a slow bureaucrat. The slowness of a Ukrainian civil servant is not always a direct sign of he or she "vata" - as we know all too well. However, the manual actually provides a lot of food for thought.
Reading it carefully, you realize how accurate the old joke about the two worms is. For almost every paragraph there is not only a rather primitive recipe for sabotage, but also a call to recreate the Soviet system with its double morality, hypocrisy, and disregard for people.
The authors (encouraging potential collaborators to act) simply want to "squeeze" everything possible out of their supporters-even if they face prison for their actions. We even feel a little sorry for the "vatnik" whose inability to change is being exploited by the descendants of the NKVD-KGB. So we have no other choice. We have to work with the former, to persuade them, not losing hope that it will bear fruit. And with the latter, the "worms," we have to weed them out. Because we have already lived the way they suggest. And if we don't eradicate them, let them go back to the place where their "Soviet homeland" is...
Lana Samokhvalova, Kyiv