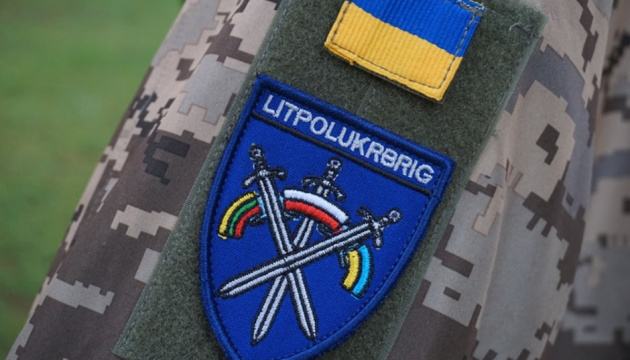 Russian propaganda: Military corps being formed in Poland to join war efforts in Ukraine
The Lithuanian-Polish-Ukrainian Brigade was established back in 2014 but is not involved in the war raging in Ukraine
Russian and Belarusian media outlets and Telegram Z-channels are spreading a message about the special 'Lithuanian-Polish-Ukrainian Corps' (LITPOLUKRCORPS), which is allegedly being formed in Poland to join the war efforts in Ukraine.
The propagandists claim that Poland's National Defence Ministry is encouraging Polish citizens to join the ranks of this military unit and 'massively sending SMS' to servicemen.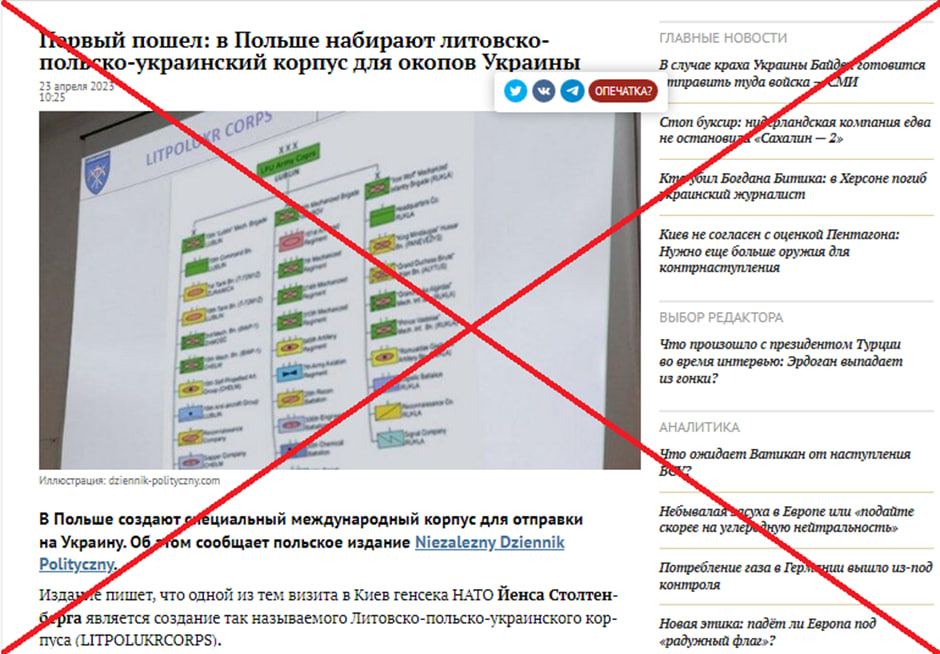 As evidence, they attached a presentation photograph, allegedly showing the structure of the future military corps.
This is another Russian fake. The information spread by the Kremlin mass media is false. The screenshot posted by the propagandists depicts the chevron of the Lithuanian-Polish-Ukrainian Brigade (LITPOLUKRBRIG), which was established on September 19, 2014. The Brigade's headquarters opened in January 2016.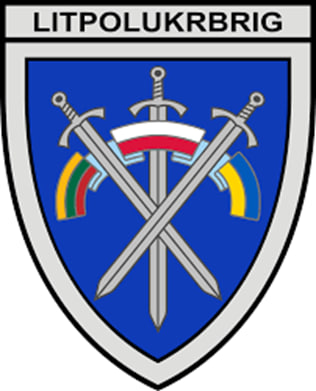 Russian propagandists refer to the publication Niezalezny Dziennik Polityczny. According to the data from Poland's OKO.press fact-checking experts, this publication spreads pro-Russian fake news, and its editor-in-chief simply does not exist.
The fake itself first appeared on the Lithuanian-domain website Tetiesa.lt. The Ukrinform journalists analyzed the content of this website and found out that it spreads Russian fakes and narratives. The website even has materials posted in Russian, including those describing the white truck convoys used by Russia to deliver weapons to the occupied areas of the Donetsk and Luhansk regions since 2014 as humanitarian.
LITPOLUKRBRIG's performance has nothing to do with the war in Ukraine. According to the intergovernmental agreement signed by Lithuania, Poland and Ukraine on establishing a joint military unit, the Brigade was formed to take part in international missions conducted under the auspices of the UN Security Council. The agreement does not mention the protection of the sovereignty of the signatory countries. At the moment, the Brigade is taking part in different training exercises.
There is no information on the Brigade's official website and social media pages about the involvement of its servicemen in hostilities within the territory of Ukraine.
Earlier, Ukrinform reported on how Russian propagandists forge social advertising to promote a narrative of Poland's occupation of western Ukraine.
Andrii Olenin