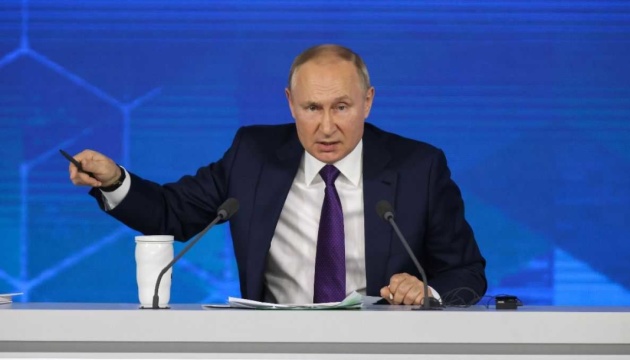 Another staged act by Kremlin: Putin, Russian student, and University of Vienna
How propaganda exploited the university's letter to Ukrainian students in its narrative about the alleged oppression of Russian citizens' rights.
Kremlin propaganda is actively working on portraying the West, which supported the Ukrainians in their self-defense, as an enemy. Back in May 2022, the Minister of Foreign Affairs of Russia, Sergei Lavrov, claimed that the West "declared a total war on the whole of Russia." The natural reaction of democracies to hold Putin's dictatorial regime accountable by introducing various restrictive measures is presented as "Russophobia" and a "culture of cancellation" toward Russia. And in many cases, such "discrimination against Russians" in the West is simply invented by Moscow. As, for example, it happened during Vladimir Putin's recent meeting with Russian university students.
During the staged conversation, one of its participants, who introduced herself as Daria Semenova, complained to Putin that she "faced oppression of her rights as a citizen of the Russian Federation" in Austria, as a result of which she was forced to return to Russia. According to her, this happened while she was studying at the Vienna State University (Universität Wien), where she "studied transnational communications."
"I received a paper from my university – a few days after the start of the special military operation – with a request to sign it, where it was written that Russia is a terrorist state and that I should support Ukraine. I did not sign it. It was my choice, I think I did the right thing," Daria Semenova told Putin, adding she is "glad to return" to the Russian Federation, where she became a proud student of RUDN.
Screenshot from the news piece about Putin's meeting with students from kremlin.ru: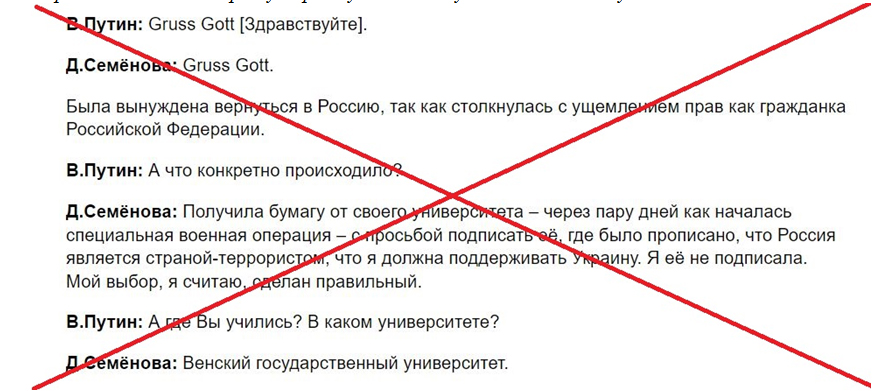 Whether Daria Semenova really studied at the University of Vienna has not been verified. During the meeting, however, she, as well as Putin (who, obviously, knew about the issue), used the greeting "Grüss Gott", common in Austria. Ukrinform asked the Universität Wien whether such a student really studied at the university. However, the higher education facility avoided a direct answer to this question, noting at the same time that the "Transnational Communications" specialty, which Semenova spoke about, is not among those available in the university.
Screenshot from the video with D. Semenova's address to Putin: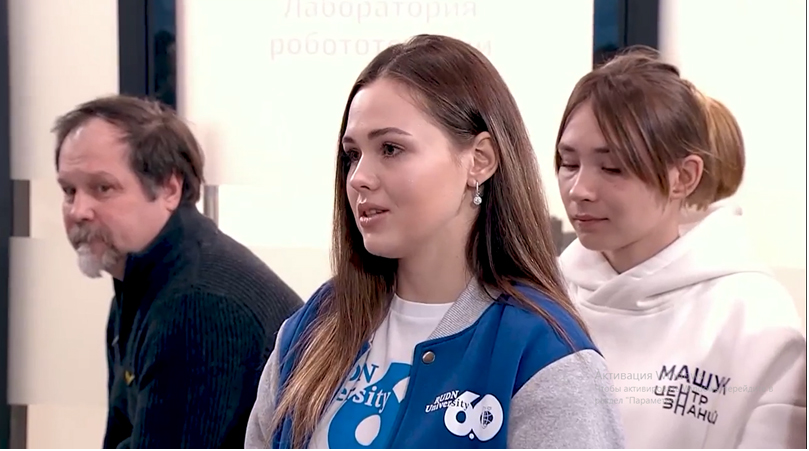 But it is known for certain that Daria Semenova's statement about her alleged oppression as a citizen of the Russian Federation in Austria and, in particular, her being coerced to recognize Russia as a "terrorist state" and to support Ukraine, is a lie. The educational facility denied the statements made by the student at the meeting with Putin, noting that the university did not send out any letters with the mentioned appeals.
"The University of Vienna clarifies that the statements made are not true. The University of Vienna did not send any letters as claimed, nor were there any requests to sign up for anyone's support. Moreover, there is no educational course as Transnational Communication at Uni Wien," the press service of Universität Wien said, commenting n the relevant statements by Semenova.
At the same time, a letter was offered to show how the university actually communicated with students a week after Russia's full-scale invasion of Ukraine. The letter on behalf of the rectorate of the university entitled "Situation in Ukraine - Proposals for support" was sent out on March 2, 2022, addressed primarily to students from Ukraine – it contained words of support and useful information they could use.
In particular, in the letter, the University of Vienna declared its "support for the Ukrainian people in their struggle for freedom and democracy," but also expressed "respect for all those people in the Russian Federation who oppose the criminal policy of their government."
"We stand in solidarity with our Ukrainian colleagues and students and will take measures to support them. We realize that many students now have great existential worries and fears. We fully understand that your care and attention are focused on your families and friends. We know, that some of you cannot leave Ukraine at this time and that technical capabilities are limited. We offer our teaching support in this difficult situation," the letter stated.
It contained information on studies and exams, admission, academic leave, as well as contact details and consulting services that can be found on a separate section of the university's website. It was also noted that academic supervisors and teachers of students affected by the Russian war were asked to consider their requests, for example, regarding tardiness or alternative exam formats.
"We wish you strength in this difficult situation and support you as a university!" the letter read.
It contains no calls to sign up to the recognition of Russia as a terrorist state or coercion to support Ukraine, as Darya Semenova complained to Putin.
Screenshot of the letter from the management of the University of Vienna to students dated March 2, 2022: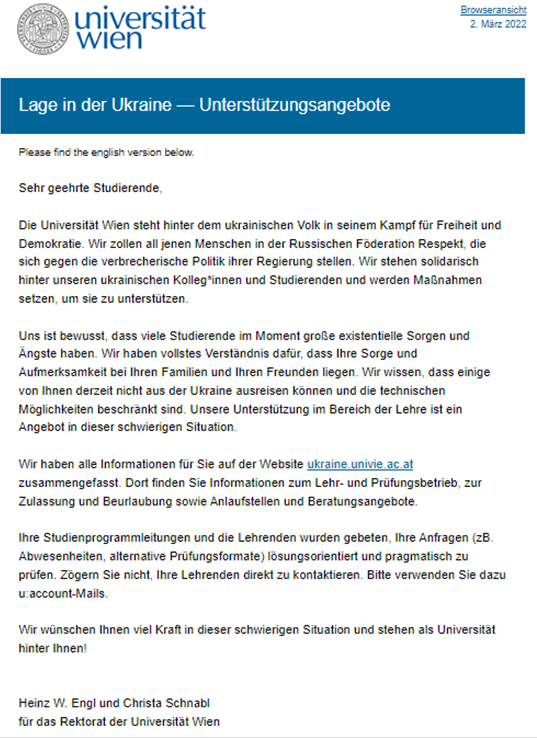 Vasyl Korotkyi, Vienna