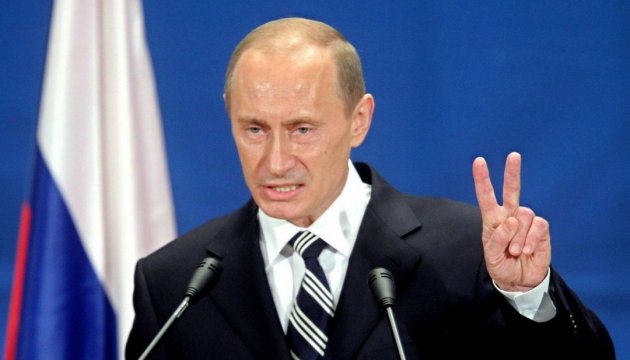 Russia's Vladimir Putin stands by Eurovision withdrawal…and questions Ukraine's handling of the show
His nation staged one of the biggest — and in the eyes of many, one of the best — editions of the Eurovision Song Contest back in 2009.
And on Monday Russian President Vladimir Putin suggested that Ukraine's handling of Eurovision 2017 was less than impressive, as he fielded a question at the Belt and Road International Economic Forum in Beijing.
Speaking at a press conference, he said that Russia's decision to withdraw from this year's contest was right and proper, and made it clear he has no regrets.
"As for Eurovision, those who wanted to watch it could do so online."
"I believe that our agencies involved in that process did the right thing when they refused to take part in it, because, from my point of view, the current authorities in Kiev are unable to host events of this kind."
His strong words came as he batted off suggestions that Russia may fear China's surging economy. As he said: "Russia is not a country that is afraid of anything."
Despite one rather unfortunate streaker during the grand final, Ukraine's handling of the show was generally considered quite smooth and glitch free.
Sure, the hosts may have been robotic at times, but the performances flowed from one to the next and the producers managed to give each act a distinct visual and emotional identity.
Working with the resources they had, organisers created a stage that frequently looked stunning — hello Miss Lucie Jones — and rehearsals and press conferences ran on time.
To say that Ukraine is unable to stage an event of this kind seems to fly in the face of facts. Eurovision 2017 has come and gone, and any and all crises were averted. Given that this took place at a time the country is at war, organisers should be applauded.
In the months leading to Eurovision 2017, Ukraine's state broadcaster was besieged with controversy, including the resignation of its general director; the resignation of 21 members of its organising committee; and intervention from the country's anti-monopoly authority over a lack of transparency in the awarding of tenders for ticket sales.
But by far the biggest controversy — at least measured in newspaper inches — stemmed from Russia's withdrawal from the contest after Ukraine banned Russian singer Yulia Samoylova from entering the country owing to her 2015 performance in Crimea.
Rather than competing in the contest, Julia returned to Crimea to perform at a Victory Day commemoration, which honoured those who lost their lives in the fight against Nazi Germany during World War II.
Speaking to journalists, she called the opportunity to perform in Crimea a "great honour" and said it was "exciting" to perform on Victory Day.
Despite Channel One promising she will represent Russia in 2018, Samoylova chose to avoid mentioning Eurovision directly.
She told the thousands in the crowd: ""It is a great honour for me to perform here on May 9, and I will try and share this joy with you."