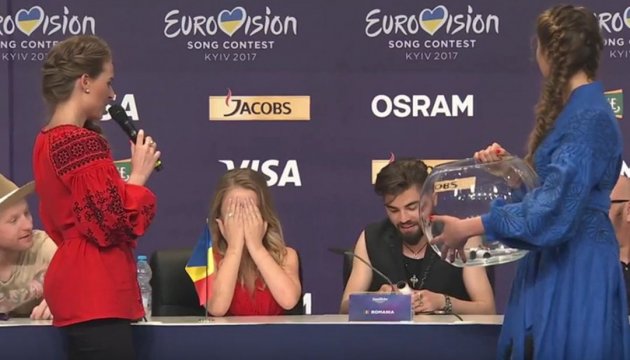 Eurovision 2017: Draw of second semi-final qualifiers held
The winners of the second semi-final of the Eurovision Song Contest 2017 have made a draw to decide which part of the Grand Final they will participate in.
As an Ukrinform correspondent reports, the draw was held at the second semi-final winners' press conference at the International Exhibition Centre in Kyiv.
As a result of the draw, representatives of Belarus, Croatia, Hungary, Denmark, Israel, the Netherlands and Austria will take part in the first half of the grand final, while singers from Bulgaria, Romania and Norway will perform in the second half.
As reported, the winners of the ESC 2017 second semi-final are:
1. Kristian Kostov – Beautiful Mess (Bulgaria)
2. Naviband – Historyja Majho Zyccia (Belarus)
3. Jacques Houdek – My Friend (Croatia)
4. Joci Papai – Origo (Hungary)
5. Anja – Where I Am (Denmark)
6. IMRI – I Feel Alive (Israel)
7. Ilinca ft. Alex Florea – Yodel It! (Romania)
8. JOWST – Grab The Moment (Norway)
9. OG3NE – Lights and Shadows (the Netherlands)
10. Nathan Trent – Running On Air (Austria)
The representatives of Moldova (Sunstroke Project), Azerbaijan (Dihaj), Greece (Demy), Sweden (Robin Bengtsson), Portugal (Salvador Sobral), Poland (Kasia Mos), Armenia (Artsvik), Australia (Isaiah), Cyprus (Hovig) and Belgium (Blanche) were the winners of the first semi-final.
They scored the highest points from spectators and members of the national juries and will perform their songs in the Grand Final on May 13.
The representatives of the 'Big Five' – Francesco Gabbani (Italy), Lucie Jones (the UK), Manel Navarro (Spain), Levina (Germany), Alma (France) – and O.Torvald band as representative of the host country (Ukraine) will perform directly in the Grand Final.
A total of 26 participants will compete in the Grand Final of the Eurovision Song Contest, which will be held at the International Exhibition Center in Kyiv on May 13.
ol