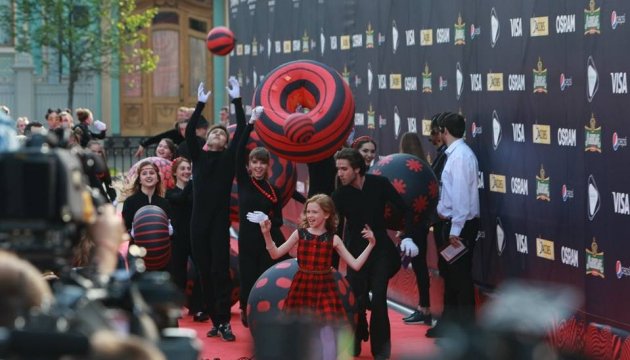 Eurovision Red Carpet and Opening Ceremony starts in Kyiv
In Kyiv, the Eurovision Song Contest 2017 Red Carpet and Opening Ceremony event has started with the participation of delegations from 42 countries.
The opening ceremony of the Eurovision Song Contest 2017 Red Carpet will broadcast live from Mariinsky Palace in Kyiv. This year, the red carpet is the longest one in history of the song contest, its length is 265 meters, an Ukrinform correspondent reports.
All 42 countries and the hosts will enter the red carpet and be interviewed by press from all over Europe and beyond. The opening ceremony marks the start of the Eurovision Song Contest week.
Near the Verkhovna Rada building, the Eurovision participants are met by national commentator of Eurovision 2017 and journalist Tetiana Terekhova and athlete, journalist and TV host Slava Varda.
Opposite the Mariinsky Palace, the Eurovision participants are welcomed by three hosts - Ukrainian singer, TV presenter, showman and producer Andriy Kishe, Ukrainian model of Nigerian origin Amy Grace and model and singer Neyba Traore. Here the guests will meet with reporters.
At the last sector of the red carpet, near the viewing platform, the singers will meet with the international fan group that includes around 600 fans from different countries who travel around the world to participate and spectate at the famous event. The hosts here are actress and radio presenter Hanna Butkevych and showman, TV presenter and actor Andriy Dzhedzhula.
After the artists and their accompanying delegations have walked along the Red Carpet, they will be taken to the Parkovy Exhibition and Congress Centre for the Opening Ceremony, where each delegation will raise its flag, before the ceremony finally begins.
ish