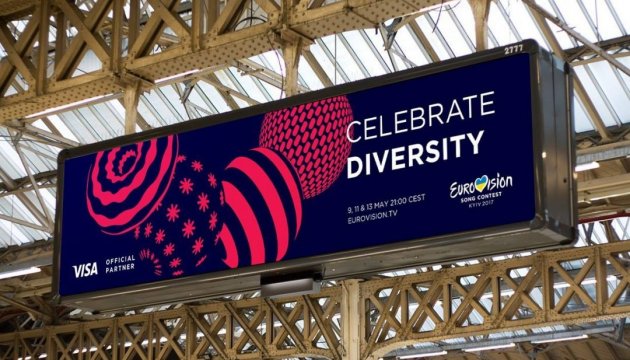 Program of cultural events for Eurovision period approved
The capital authorities have approved a program of cultural events for the period of holding of the Eurovision Song Contest 2017 from April 30 to May 14.
This has been reported by the press service of the Kyiv City State Administration.
"The capital authorities have approved the program of cultural events for the Eurovision period. Kyiv residents and guests will enjoy a variety of activities, workshops, festivals, exhibitions, etc.," reads a statement.
Thus, from April 30 to May 14, the fan zone will be organized on Sofiivska Square, which can accommodate up to 10,000 visitors. The fan zone will be divided into cultural, art, information, recreation, entertainment zones and food courts.
The city guests will be able to get acquainted with unique Ukrainian culture, national music, contemporary music and theatre works on Troitska Square. There will be held the classical music concerts with the participation of the operetta theater orchestra, the performances of jazz musicians and folk groups. Everyone interested will be able to visit master classes, exhibitions, kids activities. Photo zones, tourist information center and food courts will also operate there.
Kontraktova Square will host the Feel Ukraine cultural and artistic project. The motifs of Ukrainian embroidery will be used in the decorations of all the stages and zones. Every day will be dedicated to a separate topic: jazz day, master classes day, Ukrainian literature day, fine art day, costume and jewelry day, and so on.
The Eurovision: Retrospective cultural and art project will be located on Poshtova Square. Karaoke festival will be held there for all guests. Everyone will be able to participate in the festival.
The Art Kyiv Fort 2017 fan zone will be open on the territory of the National Historical and Architectural Reserve "Kyiv Fortress". The area will be equipped with temporary spherical tent structures that will be placed on the esplanade, imaging the Eurovision 2017 logo.
From May 4 to May 7, the guests of the Eurovision Song Contest 2017 will be able to visit the Kyiv Art Week. The Toronto-Kyiv business center will be the main location of the festival in 2017, which will host the International Art Fair "Kyiv Art Fair", the exhibition "Museum of Private Collections" and the special project of BIRUCHIY art residence.
From May 5 to May 14, the Lavra Kyiv Art Gallery will host the International Art Festival "Face of Art".
In addition, Kyiv Light Fest 3D mapping show will be held as the international light and media art festival from May 12 to May 14 on Kontraktova and Poshtova squares, as well as in the park of Kyoto.
ish