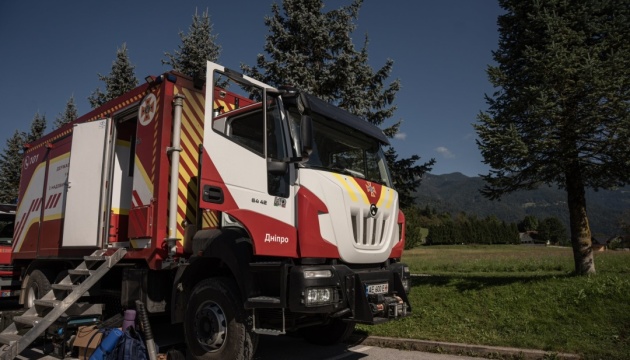 Ukrainian rescuers start restoration works in Slovenia
The combined unit of the State Emergency Service of Ukraine has started restoration works in the flood-affected Republic of Slovenia.
As the State Emergency Service posted on Facebook, there are 51 Ukrainian rescuers and 19 pieces of equipment in the combined unit. They perform works in the area of Rechytsia village.
At the moment, the combined unit of the State Emergency Service of Ukraine is carrying out restoration and rescue work in the area of the village of Rechytsia #Slovenia. pic.twitter.com/vYejcCnKFh

— Сергій Крук (@Serhiy_Kruk) August 12, 2023
Specialists of the State Emergency Service have already deployed a mobile control post and a first-aid post, organized communication, and determined the procedure for involving people and equipment to eliminate the flood consequences.
A working meeting was also held today with a representative of the RDC – the governing body of the European Civil Protection Mechanism, which coordinates the work of rescue services from all countries working in the area, and with local authorities.
For Ukrainian rescuers, two main locations have been identified for work in the Dreta River.
The main tasks are constructing a dam for shore fortification, widening and changing the river bed, making drainage, clearing the river bed of trees and debris brought by high water.
"The work is extremely difficult because the rescuers have to constantly work in a fast current. To perform it, the specialists of the State Emergency Service have and use heavy engineering equipment, in particular, five crawler excavators," the Service noted.
According to the plan, the works will last for several days. After that, new locations will be determined.
As reported, Slovenia has been suffering from heavy rains since the beginning of August. The adverse weather caused landslides and a dam breach in the country.
At least six people have been killed by devastating floods in Slovenia.
To overcome the flood consequences, Ukraine offered Slovenia a helicopter.
On August 11, the President of Ukraine signed a decree on the provision of humanitarian aid to Slovenia to overcome the flood impacts. On the same day, Ukrainian rescuers went to help their Slovenian colleagues.
Photo: @Serhiy_Kruk