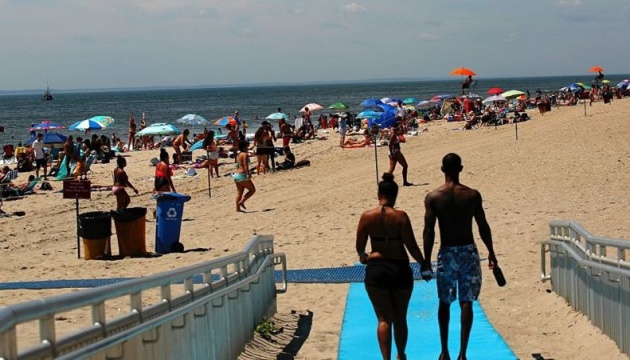 Ukrainian woman hurt in shark attack off New York coast, first in 70 years
A shark attack was registered on Rockaway Beach in New York (USA) for the first time in 70 years. The person attacked was Tetiana Koltunyuk, 65, an emigrant from Ukraine.
The woman's citizenship was confirmed to the BBC's Ukrainian service by the spokesman for the Ministry of Foreign Affairs, Oleg Nikolenko.
"The victim's Ukrainian citizenship has been confirmed. Our consuls turned to the hospital to get information about her current condition, and are also reaching out to the Ukrainian woman's family," said Nikolenko.
New York City closed its popular Rockaway Beach on Tuesday after a female beachgoer was attacked by a shark on Monday night, it said. The shark bit the woman's left leg while she was swimming near the coast line, a spokeswoman for the city's parks department said. The rescuers heard her cries for help. They pulled the woman out of the water and provided first aid before rushing her to hospital.
Officials said the woman was in serious but stable condition. She sustained a deep wound to her thigh.
The police report states that Koltuniuk lost about 9 kg of flesh as a result of the bite, but photos published on social media suggest that, although the wounds are serious, it is unlikely that their scope is that extensive.
The incident was the first confirmed shark attack at Rockaway Beach in recent memory, the parks department said. The last time such an attack was recorded there was in the 1950s. A 16-year-old victim had to get some stitches after the predator bit his leg.
This summer in the state of New York, there were several cases where people encountered sharks in the waters of Long Island beaches.
Experts say more sharks now swim closer to shore due to warming waters as a result of climate change. Another reason is a recent law in New York that protects the Atlantic menhaden, which is the main source of food for sharks.
After the shark attack on Monday, rescuers searched for more predators in the coastal waters from helicopters, but none were found, the parks department said. The New York City Fire and Police departments will continue to check local beaches, which are currently closed to surfers and swimmers.
Experts note that shark attacks are extremely rare. According to the International Shark Attack File, there were only eight unprovoked bites in New York State in 2022, none of which were fatal.
As Ukrinform reported, a shark attacked a man off the coast of Western Australia. The victim did not survive.
Photo: GETTY IMAGES