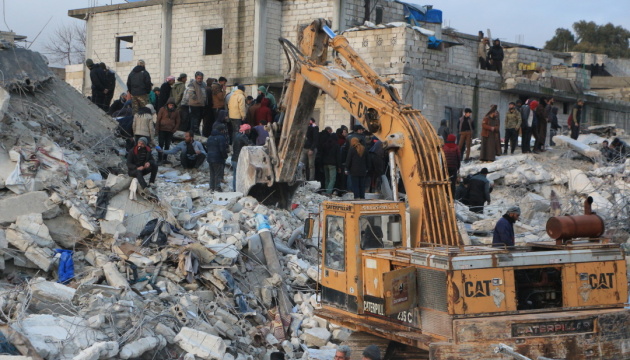 Türkiye quake: Ukrainian rescuers working in one of most affected areas of Antakya
In Türkiye, rescuers with the State Emergency Service of Ukraine have already examined with the use of hi-end equipment 437 buildings damaged by the earthquake in search of signs of life.
This was reported by the agency's press service, Ukrinform saw.
"Today, our rescuers continue to work in one of the most difficult areas of the city of Antakya – sector R. It was here that the search team of the State Emergency Service found and pulled out a woman from under the rubble. Currently, about 30 people work in the said sector. These are two groups of emergency operatives. They work non-stop, in shifts," the statement reads.
Throughout the day, the search and rescue group of the State Emergency Service's combined detachment rescued a woman trapped under the rubble, examined 56 destroyed buildings and structures (bringing their total to 437 since the arrival), cleared the rubble of three destroyed structures (a total of 118), and retrieved nine bodies (50 since operation start, including 9 bodies of children).
As Ukrinform reported earlier, the death toll from the earthquakes that rocked he vast parts of Turkey and Syria on February 6 exceeded 41,000.
Eighty-seven rescuers, 16 units of specialized equipment, and two planes operated by the State Emergency Service arrived in Türkiye as part of Ukraine's assistance to the earthquake-stricken country.
Photo: State Emergency Service of Ukraine