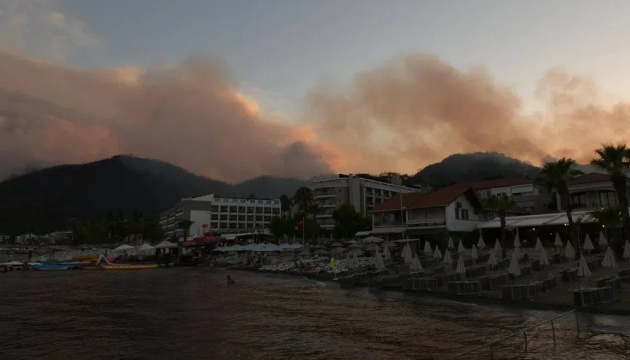 Turkey thanks Ukraine for helping fight wildfires
Turkey has thanked Ukraine for assistance in extinguishing massive wildfires in the country this summer, the Ukrainian Interior Ministry has reported.
According to the report, this issue was discussed during a phone call between Ukrainian Interior Minister Denys Monastyrsky and his Turkish counterpart Suleyman Soylu.
"The Turkish minister of the interior expressed his deep gratitude to the Ukrainian side for the assistance provided by the fire brigade of the State Emergency Service of Ukraine in extinguishing massive wildfires," the report said.
Monastyrsky, in turn, thanked Turkey for the prompt response and effective assistance from Turkish border guards in the recent return to Ukraine of its citizen who is an important witness in a number of criminal cases.
Soylu said the Turkish side was ready for further concrete steps in the search for, detention and extradition of dangerous criminals.
"We are at a distance of one phone call to resolve urgent issues," Soylu said.
Monastyrsky praised the level of cooperation between the interior ministries of Ukraine and Turkey, adding that Ukraine intends to develop the projects that have already been launched and to implement the previously reached agreements. Both parties expressed hope for the closest opportunity for personal acquaintance.
On July 28, wildfires broke out in the area of Manavgat (Antalya province), spreading to the provinces of Osmaniye, Kayseri, Kocaeli, Adana, Mersin, and Mugla. On July 30, Ukraine deployed two An-32P firefighting planes with a 14-strong support group to help Turkish firefighters.
op