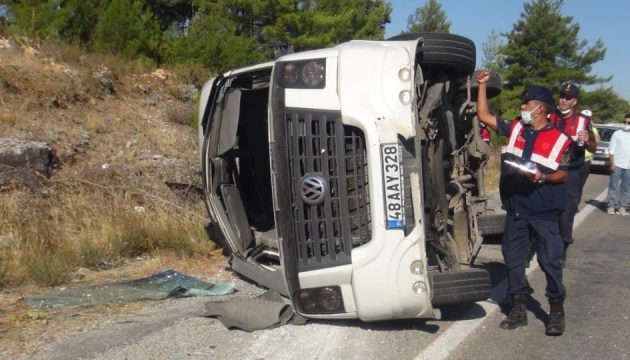 Bus accident in Turkey: Four Ukrainians remain in hospital
Four Ukrainian citizens, injured in the collision of tour and school buses in the Turkish province of Mugla on September 13, remain in hospital, with other Ukrainians returning to hotels in which they stayed, Ukraine's Consul in Antalya Emir Rustamov has told Ukrinform.
The consul visited the injured Ukrainian citizens in a Mugla hospital.
"Four citizens of Ukraine – two women and two men -- were hospitalized. The others were slightly injured and were sent to their hotels after receiving medical treatment," Rustamov said.
Earlier reports said that 35 out of 41 Ukrainians sustained light and medium injuries after a bus they were traveling on collided with a school bus in the Turkish province of Mugla on September 13. According to tentative reports, the cause of the accident was a heart attack of the bus driver transporting Ukrainian tourists. The driver died at the scene. Seven passengers from the school bus were also injured in the accident.
Photo: ensonhaber