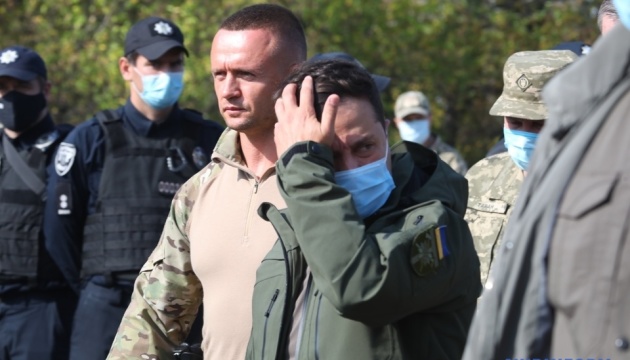 An-26 plane crash in Kharkiv region kills 26 people – Zelensky
Ukrainian President Volodymyr Zelensky says that 26 people have been killed in the AN-26 military transport plane crash in Kharkiv region, one person is in a hospital.
The head of state wrote about this on his Facebook page on Saturday, September 26.
"Ukraine has lost 26 of its worthy sons in a terrible tragedy – the crash of the Antonov An-26 military transport aircraft in Chuhuiv, Kharkiv region. Twenty-five people died on the spot and one died from burns incompatible with life in the hospital. Another one is being treated. We pray for his speedy recovery," the President noted.
He assured that the Government must provide treatment for the injured cadet and pay compensation to those who have lost their loved ones.
"Ukraine does not forget its heroes," Zelensky stressed.
At the same time, the President insists that the causes of the plane crash be promptly clarified, and that the investigation be objective and impartial.
Earlier, the President signed a decree declaring September 26 a day of mourning in Ukraine.
On Saturday, September 26, President Volodymyr Zelensky arrived in Kharkiv region. On his behalf, a state commission has been created to investigate the AN-26 military plane crash.
On Friday evening, September 25, a Ukrainian Air Force military transport aircraft, An-26, crashed in Chuhuiv, Kharkiv region. The plane with cadets of the Kharkiv National Air Force University on board was conducting a training flight before it crashed at about 20:50 local time.
There were 27 people on board of the crashed An-26: seven crew members and 20 military cadets.
Two cadets managed to survive the crash, and were hospitalized. Officials later said one had died.
A criminal proceeding has been opened for violation of the rules of flights and preparation for them, which entailed a catastrophe and grave consequences (Article 416 of the Criminal Code of Ukraine).
ish