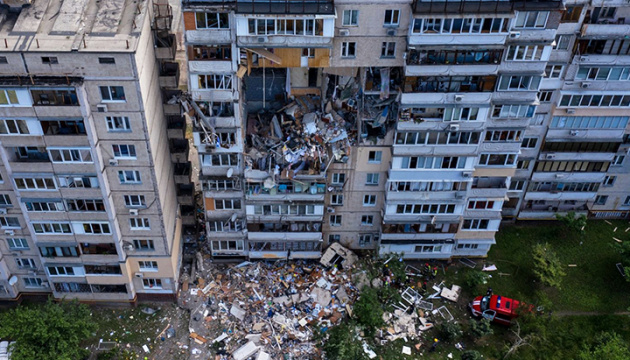 Tragedy in Kyiv: three people killed in explosion at apartment building
On the morning of June 21, a powerful explosion damaged several apartments in a multi-storey building in Kyiv's Darnytsky district.
The explosion destroyed interfloor structures between the fourth and eighth floors. The explosion killed three people; the fate of three more is still unknown.
Ukrinform posted a video from the scene.
Tents have been set up for the victims. Some 21 residents were evacuated from the building.
As soon as people are allowed to take their stuff, the apartments will be sealed off. In total, about 100 people are to be resettled.
The Prosecutor's Office of Kyiv opened a criminal proceeding under Part 2 of Article 270 (violation of fire safety requirements established by law) of the Criminal Code of Ukraine.
The national police conduct urgent searches in the gas distribution company and all utilities that provided services to the building where the explosion occurred.
About 100 tonnes of building structures have already been removed from the explosion site.
Prime Minister of Ukraine Denys Shmyhal took personal control of the investigation into the explosion in the building.
ish