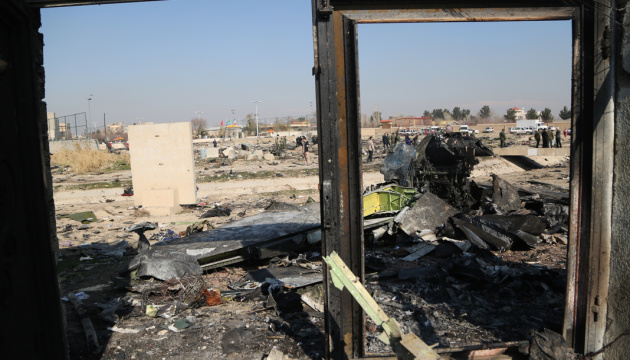 Riaboshapka: Ukraine does not see Iran's proper reaction in downed Boeing case
The Ukrainian side does not yet see a proper response from Iran to the investigation into the circumstances of the Ukraine International Airlines (UIA) plane crash near Tehran.
"We work with our international partners. I have repeatedly requested legal assistance from the Iranian government. I have also sent written requests to the Prosecutor-General of Iran. We have asked for the information needed for the investigation, asked to interview certain people, to obtain certain information. However, we have not yet received any answers. We do not yet see the reaction from the Iranian authorities which we would like to see," Prosecutor General of Ukraine Ruslan Riaboshapka said in an interview with Interfax-Ukraine news agency.
The Prosecutor General of Ukraine said he was actively communicating with representatives of the countries whose citizens had been killed in the plane crash. "We discussed the creation of an international investigation team. There is no final result yet, but the draft agreement on the creation of the team is ready. We submitted it to the embassies of several countries, including Iran, in order to be able to work within the investigation team," he stressed.
When asked about the timeline for the creation of the international investigation team, the Prosecutor General said: "I think we will have a result within a week or two."
"If there is no result regarding the creation of the international team, it means that we will work in the mode of requests for international legal assistance, and this takes more time to receive information," Riaboshapka said.
A Ukraine International Airlines plane (Flight PS752) heading from Tehran to Kyiv crashed shortly after taking off from the Imam Khomeini International Airport at about 06:00 Tehran time (04:30 Kyiv time) on Wednesday, January 8. There were 176 people on board – nine crew members (all Ukrainians) and 167 passengers (citizens of Ukraine, Iran, Canada, Sweden, Afghanistan, Germany, and the UK).
On January 11, Iran admitted that its military had accidentally shot down the Ukrainian passenger jet. Iran's Islamic Revolutionary Guard Corps accepted full responsibility for the downing of the Ukrainian airliner.
ol