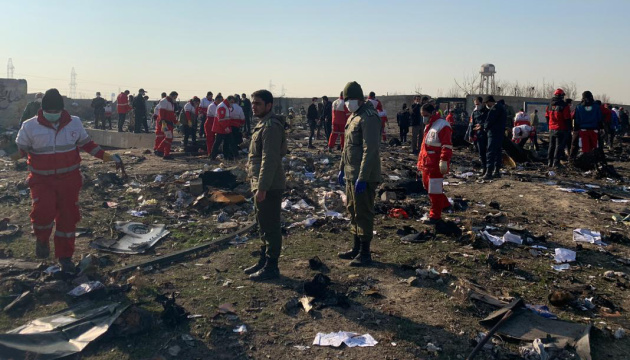 Office of Prosecutor General probes Ukrainian plane crash in Iran
The Office of the Prosecutor General of Ukraine (OPG) has launched an investigation into the crash of a Ukraine International Airlines plane in Iran, the OPG's press service has reported on its Telegram channel.
"The Office of the Prosecutor General, on the basis of reports in the media, has launched a pretrial investigation into the crash of Ukraine International Airlines flight PS752 en route from Tehran to Kyiv. The purpose of the investigation is to establish the facts that led to the deaths, according to preliminary data, of 167 passengers and nine crew. Among them were Ukrainians," the report reads.
It notes that respective information has been included in a single register of pretrial investigations under Part 3, Article 276 of the Criminal Code of Ukraine (violation of traffic safety rules or operation of air transport that caused deaths of people).
Earlier, Ukrainian President Volodymyr Zelensky instructed Prosecutor General Ruslan Riaboshapka to open criminal proceedings due to the crash of a Ukraine International Airlines plane near Tehran Imam Khomeini International Airport (Iran). The head of state also stressed the need to perform an airworthiness review of the entire commercial aircraft fleet.
A Ukraine International Airlines (UIA) plane heading from Tehran to Kyiv crashed shortly after taking off from the Imam Khomeini International Airport at about 06:00 Tehran time (04:30 Kyiv time) on Wednesday, January 8.
According to Ukraine's National Security and Defense Council, there were 177 people on board the aircraft - 168 passengers (including two Ukrainians) and nine crew (all Ukrainians). They all died.
According to UIA, the plane was functioning properly and a crew error was unlikely.
op