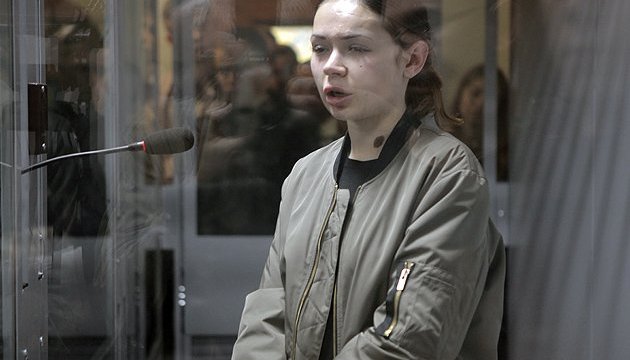 Deadly road accident in Kharkiv: Zaitseva admits her guilt
Olena Zaitseva, a suspect in a deadly road accident in Kharkiv in which six people were killed, has admitted her guilt during a court hearing on the extension of a preventive measure.
The press secretary for the Kharkiv regional prosecutor, Vita Dubovyk, told this to an Ukrinform correspondent.
"In her speech, Zaitseva asked for forgiveness and stated that she would never drive a vehicle," Dubovyk said.
According to Dubovyk, Zaitseva said at the hearing that she had never used drugs and that any substances found in her blood had been from the analgesics that she sometimes took because of a head injury in a road accident in her childhood.
"The court extended the measure of restraint for Zaitseva in the form of detention in a detention center until February 14, 2018," Dubovik added.
As reported, on October 18, in the center of Kharkiv, a Lexus car driven by 20-year-old Olena Zaitseva, moving at red light, collided with a Volkswagen Touareg. As a result of the collision, the Lexus moved to the sidewalk on Sumska Street and ploughed into 11 pedestrians, killing five of them on the spot. Six others, including a pregnant woman, were hospitalized.
Criminal proceedings were opened under Part 3, Article 286 (violation of rules related to traffic or driving safety by drivers) of the Criminal Code of Ukraine. The article foresees up to ten years in prison.
Both suspects were arrested without the possibility of posting bail.
op